Brisbane, the third-largest city in Australia that many people overlook and alternatively travel to the bigger cities like Sydney or Melbourne. How can you turn a blind eye to Brisbane? Since it is the capital city of Queensland, with an iconic man-made swimming beach, Streets Beach, located in the heart of the CBD (The Brisbane Central Business District). There are no such places in Australia that provide this kind of feature. Besides, Brisbane also has countless chic cafes that can be found in every corner of the street. The museum is very nice there, and the weather is neither too cold nor too hot like other cities. As my account, all of Brisbane is so attractive and function, you must come along to travel together!
Aside from traveling to Brisbane, this time, I'll take you to the nearby sister city 'Gold Coast' where you can take the train for just over an hour, and access the 'Surfer Paradise' with white sand beaches, over there, you can see visitors who have a well-proportioned shape all over the place. Time waits for no man, let's jump out and have a great journey right now!
Brisbane-Gold Coast Itinerary: 5 Days 4 Nights
Those who want to follow Brisbane-Gold Coast travel plan, I have already completed the brief guideline. This time, I traveled for a total of 5 days 4 nights with a convenient direct flight. If you're lazy to plan or do the tourist destination research, save and follow the trip below.
Traveling in Queensland with a GO Card
For all trips in Queensland whether by train, bus, or tram, you'll be able to use the GO Card, which I recommend buying before getting on the train into Brisbane. The benefits of the Go Card are also numerous. Certainly, the fare will be cheaper than buying a ticket per trip about 30% (a lot cheaper). Moreover, you don't have to worry about coins or banknotes in paying for the different transports. So, this is a should-select for an access service since it's a lot easier in terms of traveling.
GO Card can be purchased at every train station and every 7-Eleven branch, but as I mentioned earlier, you should buy it before taking a train into the city because you can use the GO Card to approach the city straight away. As for the card price, there will be a deposit of $ 5, if your plan is only traveling in downtown Brisbane, the ticket officer will top up $ 45 into your card (this price, alongside with the remaining deposit of $5, it means you have to pay about $ 45 in total for a GO Card). For the returning journey, before departing to get back home, if you wish to return the card, you can do it at the airport train station ticket office.
Day 1:

Brisbane City Hall / Museum of Brisbane: MOB

To begin this Brisbane trip, I'd like to take you to the Brisbane City Hall, which is considered the heart of the city first. I saw visitors, including many travel guide reviews, just passing through the front and only taking pictures of the building. But I suggest visiting inside too because there is the Museum of Brisbane (MOB) that is so neat and well-built, then, you can also go up to the top clock tower to see beautiful landscapes of Brisbane. These aforementioned attractions are free of charge! Yet, it's indeed good places to visit!
Museum of Brisbane (MOB)
By the title, Museum of Brisbane, at first, I thought the place would offer an ancient appearance, containing a history about Brisbane, but when I practically visited the place, it is revealed to be a very modern design decorated. Not only you can learn the beginnings of Brisbane and Queenstown construction from here, but you'll also see another aspect that reflects the way Brisbane local living showed through mixed media arts, including photographs, paintings, music, and many more. This is worth stopping by.
And in the Museum of Brisbane (MOB), there is one service people don't recognize much, the museum is complimentary organized walking tours for guests to go up to the Clock Tower and view the city of Brisbane in just 15 minutes. Due to many visitors are interested and waiting for a long queue. When entering the museum, it's advisable to book a tour at the counter first. After that, exploring the exhibition inside to wait for the clock tower appointed time.
Albert Street Uniting Church
Adjacent to Brisbane City Hall, you'll see a red brick church, the Albert Street Uniting Church stands out prominently, wherewith is respected to be the oldest church in Queensland for more than 100 years long, the church architecture is applied a Victorian-Gothic style that is now registered as a Queensland heritage. Many Brisbane residents choose to hold a wedding here.
For those who plan to travel either Brisbane City Hall or the Albert Street Uniting Church. Don't forget to take a picture of the landmarks that is opposite one another. Hahaha
Queen Street Mall + Shopping Recommendations
To all people who are a shopping enthusiast, it's a wise idea to stop by the Queen Street Mall in the heart of CBD, since this place is the Brisbane's largest and most complete shopping street, consists of Fast Fashion Brands such as H&M, Zara, Uniqlo, and Cotton On. Other interesting brands like COS (COS in Australia is a lot cheaper than in my hometown, Thailand, about 32 USD) or cool Multi-brand stores that combine street brands of clothing, shoes, that mix and match under the stores named Universal Store, Foot Locker, and City Beach are all cheaper to buy it here. In fact, every brand store except for Uniqlo offers a better price here (you'd better buy Uniqlo with better price in Asia countries). Moreover, involving the Australian currency that was quite weak during my visit, causing my shopping experience in Queen Street Mall was extremely fun.
If you are a High-end Fashion Brand lover, I'm not really sure, how the price in Australia is like compared to other famous shopping countries, such as Hong Kong, Japan, or in Europe (because I'm not into a brand name myself). But if you want to check out and browse around, there will be a street called Edward Street and Queens Plaza next to The Queen Street Mall includes all the high-end fashion brands like Chanel, Gucci, Louis Vuitton, and Hermes. Let's have a look.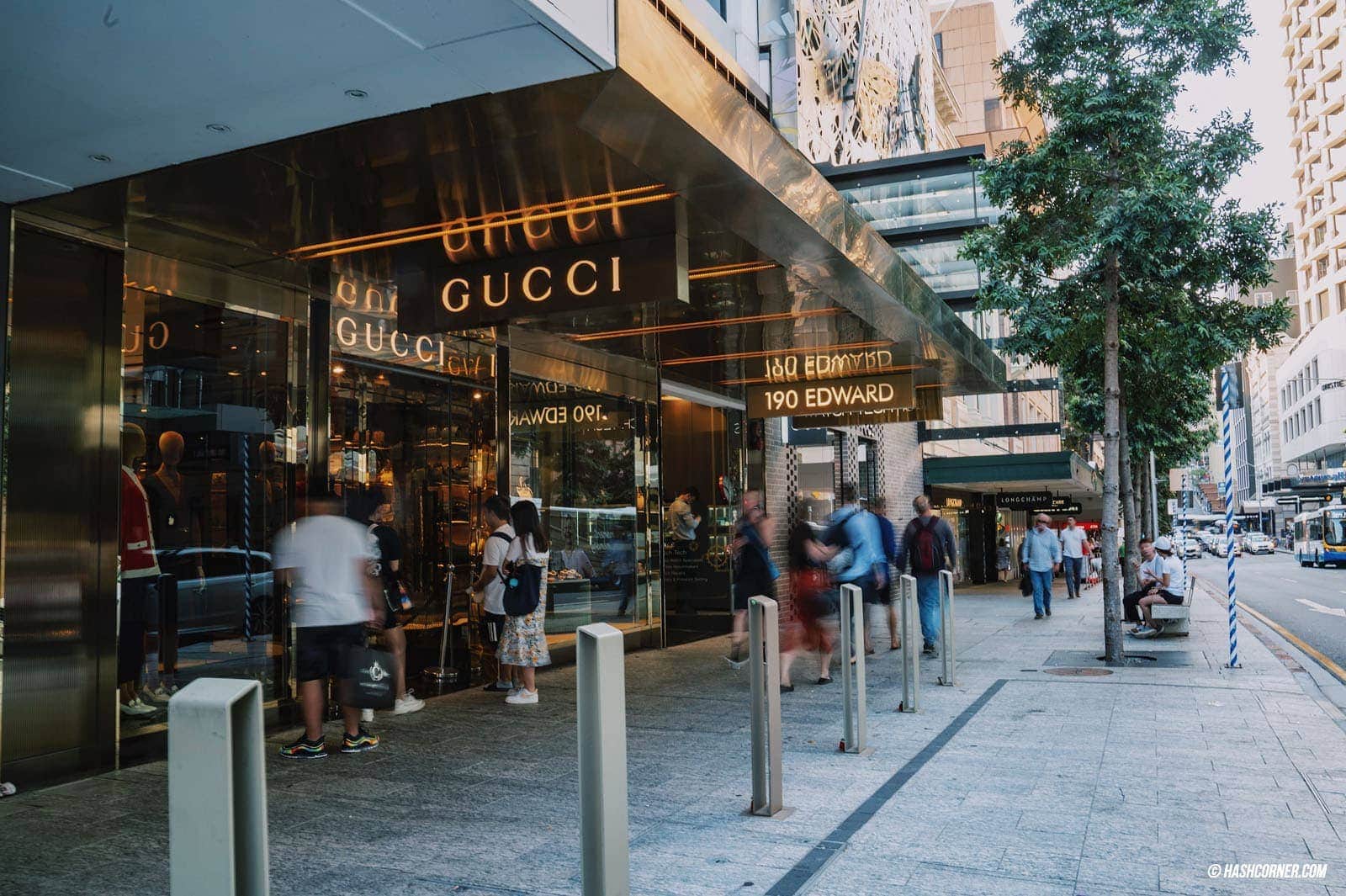 The other products I'd like to recommend buying from Australia are various vitamins, both Blackmores and Swisse. As well as cosmetics, because the prices are affordable here, and maybe cheaper to find in your home country as well. From my perspective, I think Australia is another country that offers superlative shopping. I went on a shopping spree, resulting in money burned a hole in my pocket. Lol
Coffee Iconic Cafe Garden
Finished shopping, I'd like to take a break by heading to the cafe to have some coffee and meal. The cafe I chose on the first day was the Coffee Iconic Cafe Garden . When looking at the front shop, it seems to be an ordinary cafe, nothing particularly caught my attention. But when I stepped behind the shop, it was a big surprise that there was a lovely-shady garden, decorated to allow customers to take a break, relax, sip a coffee, chit chat, or even having a serious meal. I personally love this cool concept.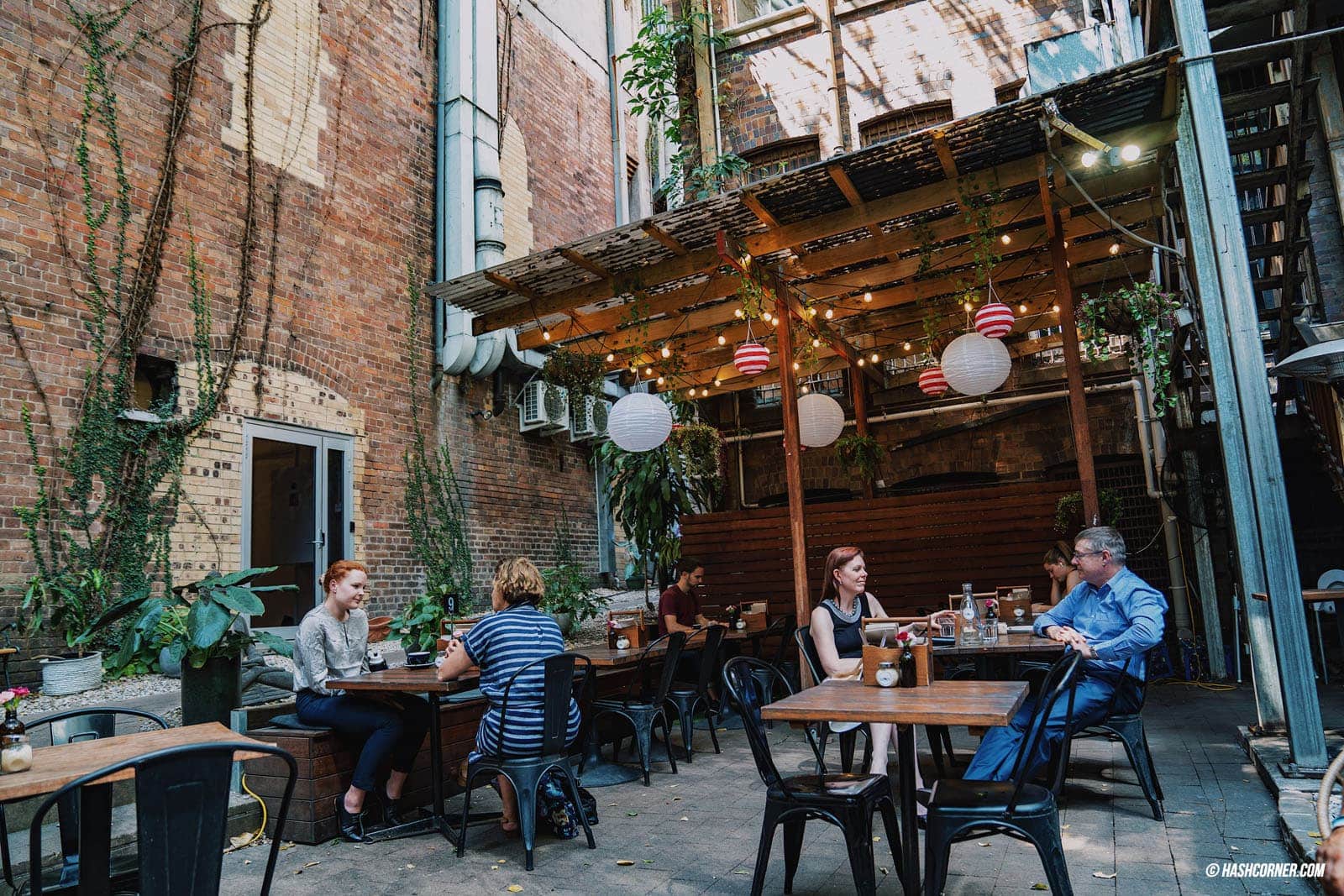 For the drinks and food, I ordered a Latte Mug ($4.5) that you can choose either as an Iconic Blend or a Single Origin. I chose the Iconic Blend as it is created to be the shop's signature coffee blends. And there was no disappointment because the coffee was aromatic and tasty. My main dish was the Bulgogi Beef Burger ($16), Bulgogi cooked in Korean style and laid on top of a milk bun. This recipe is a perfect combination! After finished all of this, I was satiated and filled with energy to travel anywhere!
As a whole, the food, the coffee, the atmosphere, everything is all excellent. Personally, I like this cozy surrounding very much. It feels comfortable like sitting in friend's or acquaintance's backyard. In brief, Coffee Iconic Cafe Garden is my high recommendation.
Gallery of Modern Art (GOMA)
Already in power-up mode, I'd like to continue going to the place revolving with art, which my next determined destination is the Gallery of Modern Art (GOMA). If you like visiting the art museum, I suggest coming together because this place is considered the largest Contemporary Art and Modern Art gallery in Australia. Consequently, there are various cool works and events on a display for sure. One more brilliant thing about the museum in Australia is FREE ADMISSION. YAY!
I quite like the Art Gallery here, because the displayed works can be easily accessed through various art media whether it be multimedia, photography, lighting, art installation, and interactive work. Most of all produce in the Contemporary Arts / Modern Arts style which I prefer over the Canvas Oil Painting in different art movements. Since it is understandable with great variety. If I can't convince you much, you can view the shown images here. See? It is chic and can also be a photo spot.
Brisbane Sign
Before ending the first day of Brisbane trip, don't forget to take a picture with the popular Brisbane Sign, along with the CBD landscape behind to let everyone on this planet knows that, you've already conquered Brisbane right now! Lol. The behind story of this city sign was initially made to be used at the G20 Summit in 2014. But back and forth, Brisbane city sign has become a hot tourist destination and photo spot, resulting in it still remains until this day.
Day 2:

Brisbane
Nodo Donuts CBD

Before officially starting the second-day trip, let's find something to fill the stomach first. In Brisbane, there is one famous donut shop called Nodo Donuts. The branch I went to is in the CBD. But if you plan on traveling to South Bank Parklands for the next destination like me, you can go to the branch there as well. It depends on your choice.

Even though the name is written to sell donuts, but actually, Nodo Donuts sell various kind of food. Of course, the main product is still a donut with the glamor of all Gluten-free. Additionally, the shop menu also contains coffee, brunch food, lunch boxes, as well as healthy foods and desserts. There are too many options that I was extremely shocked. If you want to eat something delicious, including taking a palatable food image to post on Instagram. This place is recommended.

Of course, I ordered donuts. I also asked the staff about what to eat for the first time, which she recommended a Raspberry White Chocolate ($5.5) that has a little sour flavor of raspberries, contrasting with white chocolate. if you ask is it delicious? Well, it is, but I don't know if I put too high expectations because the shop is famous for donuts, so I think it could be more delicious.
Besides, I also ordered Brioche Benedict /w Smoked Salmon ($15.5). To say it frankly, Benedict is very tasty. Both egg and salmon are eaten with a soft smooth bun that resembles a cake texture, I've rarely seen. The taste is so delectable that I feel donuts are just plain-vanilla. Lol
As for the coffee, there are two menus I ordered, the Latte Mug ($4.5) which is beautifully made and deliciously Latte Art. The other is Iced Long Black ($4.5), the good and flawless black coffee menu. // To explain this easier, this shop deserves an absolute YES!
South Bank Parklands
South Bank Parklands is a recreation area that combines many world-class entertainments and landmarks whether it is the Cultural Center with considerable museums located, one of them is the Gallery of Modern Art (GOMA) that we visited on day-1. Traversing to the bend of the Brisbane River that features the picnic area, walking tracks, the man-made swimming facilities like Streets Beach, bars, eateries, and the Wheel of Brisbane. This place is regarded to be a large, beautiful public space, and shouldn't be missed when coming to Brisbane, as you can see, this is another highlight of the city.
During 1840, at first, the South Bank Parklands area was considered a center of an original meeting point from Aboriginal native until the era of immigrants from Europe, it can be said, this area was the center of Brisbane CBD business since the construction era, but later in 1893, when the flood had taken over the place, the business center moved to the north side with a higher ground level instead, which is now the current CBD area. // But the stunning record is in 1988, South Bank Parklands used to hold the World Expo 88 causing the area has flourished until this day.
Anyone visiting South Bank Parklands, I want to mention that, there are a lot of activities to do here. You can prepare a snack, sandwich, or even beer to hold a picnic, it is fully appreciated, plus, the wind is comfortably breezy. During my time, I saw visitors occupied the area abundantly. Or if you'd like to stroll along the Brisbane River, it would definitely be my recommendation as well, because just crossing the river bridge, then, you can find the relaxation space deemed as the great spot due to its out of the CBD area.
Streets Beach
Streets Beach in South Bank Parklands is virtually a highlight that everyone has to visit. Because Australia is said to be a beach country, and the Aussie people also like to swim, surf, and sunbathe. Brisbane, therefore, created an artificial beach in the city. In which all the sand that is seen is the real sand conducted from a nearby beach and Moreton Bay. So, when you touch the sand, as well as the pool here, you can feel realistic about the beach ambient. As though you are actually on the naturalistic beach.
Many people may think that it is similar to the artificial sea in general. Well, that's right. But this place is modesty with a nice compact space whereas convenient to travel because it is located right next to the CBD, more importantly, you can enjoy the swimming facilities without additional expenses! Since this place truly operates as a public space for everyone to be at leisure.
Tourists who come here practically do beach activities seriously, there are; sunbathing, swimming, relaxing, taking a walk, eating, including enjoying the seascape with modern buildings in the background. it's favorable and makes the atmosphere here identical to the real beach. I think, there is no other place to provide this kind of vibe like Brisbane anymore. It has to be here only! // Truth be told, I didn't prepare a swimsuit. I only had a fitness pants, so I just dipped the legs into the water (hands were ready to cover my tummy). Lol
Kangaroo Point Lookout
If talking about one of Brisbane's most beautiful viewpoints, I'd like to introduce the Kangaroo Point Lookout, where you can see the breathtaking scenery of Brisbane CBD along with the Brisbane river for free. The golden time for visiting, I recommend coming in the late evening before the sunset, you will be jaw-dropping from the stunning Brisbane city aspect.
For those who like spending time unhurriedly, you can bring refreshments or beer along to sit and relax at Kangaroo Point Lookout, because there are picnic spots settling with a set of tables and seats. You can eat while absorbing the Brisbane scenic. I promise you'll undeniably love the sight!
Boundary Street Markets
Visiting Brisbane on Friday-Saturday-Sunday by chance, it's advisable to stop over and chill out at Boundary Street Markets in the West End near the South Bank Parklands. There be a flea market where local Aussies like to hang around there, trucks selling various ethnic foods, range from Turkish, Korean, Japanese, French to Brazilian food are turned up. The good thing is the foods here are delicious and inexpensive. Moreover, the happening is also truly awesome.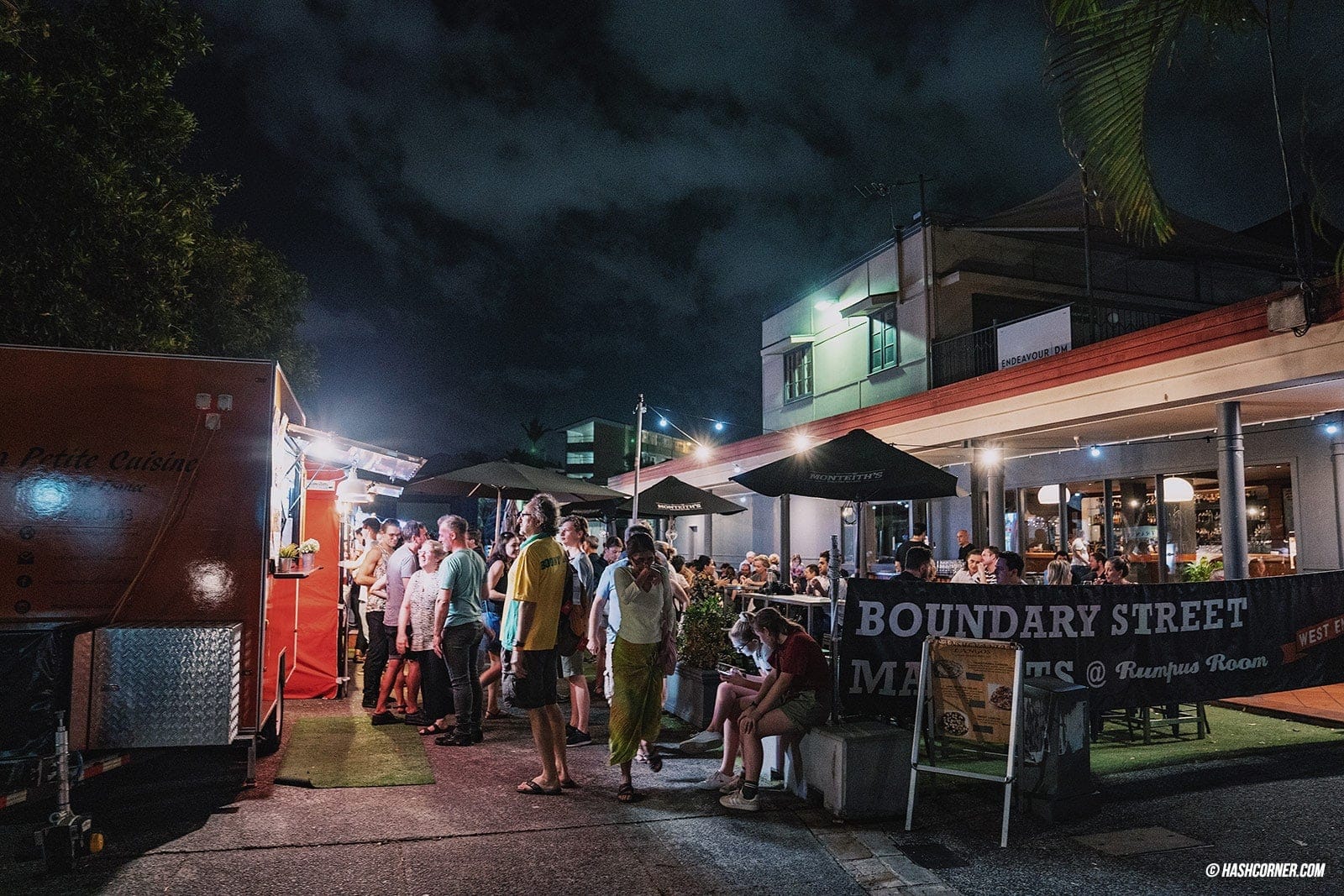 This place is a must-come in my opinion. Tables and seats are ready to serve, additionally, there arrange cool draft beers for sale + live music to enjoy. If you want to feel the Aussie way of life in a cool Brisbane atmosphere, you can drop by to eat, drink, and having fun with your friends. // it's a good way to sit back and relax after a long journey.
Day 3:

Brisbane
Lone Pine Koala Sanctuary

Begin the Brisbane 3rd day trip with traversing a bit outside the center of Brisbane to observe the koalas and kangaroos at Lone Pine Koala Sanctuary. Traveling to Australia, of course, it's unmissable to meet them, especially koalas and kangaroos. Otherwise, you'll be declared on failing to reach Australia. Lol

The access from Brisbane downtown to the Lone Pine Koala Sanctuary, it is recommended to take the bus no.430 from the origin bus station, Queen Street Mall, situated underground at the 2C stop, or you can also take this line at the Queensland Cultural Center. Google Maps is another helpful option for surveying because each traveler starts off at a different location, so please check through the app for further confirmation.
Aside from meeting the koalas and kangaroos at Lone Pine Koala Sanctuary, there are a variety of animal species for visitors to explore. Particularly the animals that can only be seen in Australia, such as Dingo, Tasmanian Devil, Wombat, and other animals like reptiles and birds. The place-name clarified only koalas, but there verily are a lot of animals.
Admission Tickets can be purchased at the front entrance, or if you want to get a cheaper ticket price, I suggest buying it from KLOOK. Buy and receive a free confirmation card, including getting your own KLOOK monthly discount. Great deal, isn't it? Buy the Lone Pine Koala Sanctuary ticket, click here
When already entering inside, you'll first meet both birds and bats. After that, there will be koalas in many stalls which dividing into proportion. Inside the stalls are arranged a tree for a koala to climb and sleep, with eucalyptus trees that allow them to eat full time. Whoever seeing their daily life or movement, you undoubtedly feel love toward them. Seriously, whether sleeping, sitting, or chewing eucalyptus leaves, every gesture of them are very cute. Whee!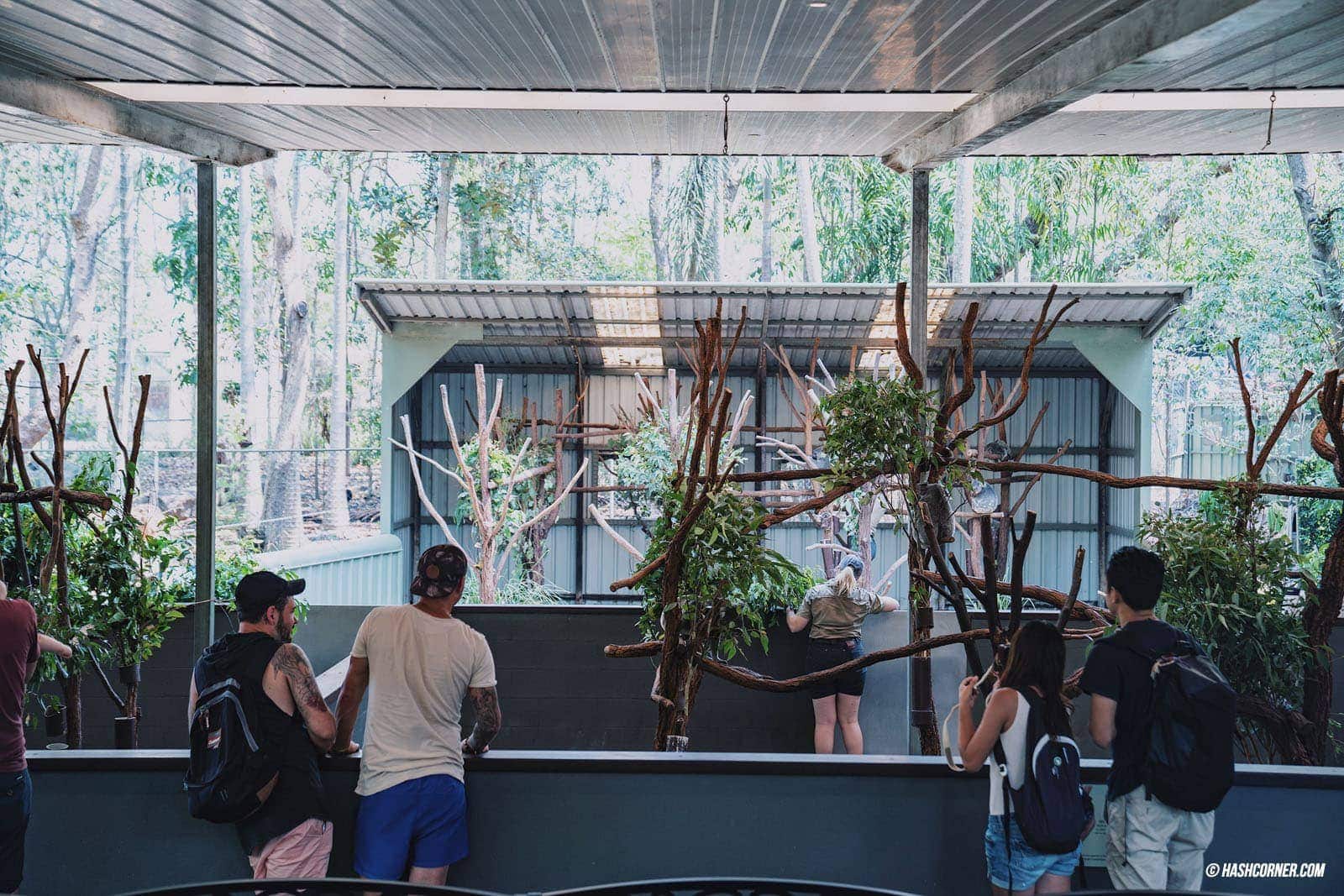 We may have heard that Koalas are bear or even call them 'Koala bear'. But as a matter of fact, Koalas are not bears, they are mammals that have a marsupial or Possum (similar to a kangaroo). The closest animal to a koala is the wombat.
Those who wish to take pictures with koalas, required to pay for an extra opportunity. In which the place will sell koala hold photos pass from 9 am each day. To let guests experience holding a koala, touching its fur, as well as taking pictures together. If you don't buy the pass like me. You can only take a snapshot of the koalas from outside the stall barrier. // Well, let them eat their leaves or lie down for a nap are also a good idea! Lol
Another highlight of the Lone Pine Koala Sanctuary is the kangaroo encounter, which they will leave kangaroos to run here and there freely without being locked or built a barrier. Allowing guests to go in and play with them expediently. If you're afraid of getting punch, I reassure that there is no such thing. They are tame and very lovely, if they are lazy and no longer want to mess with humans, they just jump away. To lure kangaroos to take pictures with you, I advise buying them a snack to feed and easily get a photoshoot.
Brisbane Botanic Gardens, Mt Coot-tha
Completed watching koalas, let's continue traveling together at Brisbane Botanic Gardens, Mt Coot-tha, Brisbane's second botanical garden. The first one is located in the center of the city, but I chose to attend here due to its area is vast, it's approximately 128.5 Acre. There is so much to see, whether it is a fern garden, a Japanese garden, combined with landmarks such as the Tropical Display Dome, which draws many visitors to approach and take unique photos. Furthermore, you can go up to the top of Mt Coot-tha to see the Brisbane city view. And all of the above, it's without cost again. Australia provides almost free admission, that's very impressive.
The displayed Japanese Garden used to demonstrate at the World Expo 88 at South Bank Parklands, hosted by Brisbane in 1988. Japan, later, gave this garden as a gift to the Brisbane people before moving to Brisbane Botanic Gardens, Mt Coot-tha, which respects to be an attractive visual as its showcased original charm and garden layout style.
Tropical Display Dome is an Instagramable Shot landmark for many people. Here, they will collaboratively gather tropical trees, which sometimes these trees cannot survive Brisbane weather. Therefore, they have to plant in a dome to control perfect weather conditions and allow them to survive on their own. The dome inner part is very hot, comparing to the breeze weather outside. It's hot as hell. Lol // but getting a nicely taken photo is okay for me too!
Brisbane Lookout, Mt Coot-tha
Before returning to the center of Brisbane, coming this far to the Brisbane Botanic Garden, Mt Coot-tha, then, you might as well not forget to take a bus to the Brisbane Lookout, Mt Coot-tha, because these two are considered a perfect match.
The viewpoint above is a long balcony offering both the restaurant and the cafe. it was desirably sad that, on the day I visited, I didn't see much of the Brisbane perspective due to the forest fire in Queenstown, the atmosphere covered with dust. But those of you who read this travel guide review and are interested in planning to see the Brisbane scenery here, I advise coming in the morning before sunrise, or in the evening before sunset. I certify that it will be a wonderful outlook because I'd seen the tagged pictures on Instagram before. 😄
Fish Lane + Gelato Messina South Brisbane
Back to the Brisbane city, I'll take you to the Fish Lane, a small road lane stretching over many building blocks, where are placed restaurants, bars, cafes, and street art. If you crave for chic photography or cool-design street art, the Fish lane is the answer. There are many corners for Instagram photography.
Gelato Messina South Brisbane
For modern hangouts, you can try browsing around because Fish Lane and Melbourne Street include countless stylish eateries and stores. At first, I was planning to hang out too, but I was quite tired so I went for the famous gelato ice-cream shop, Gelato Messina South Brisbane to relax instead. The shop displays almost 40 flavors of ice-cream, and each one looks mouth-watering!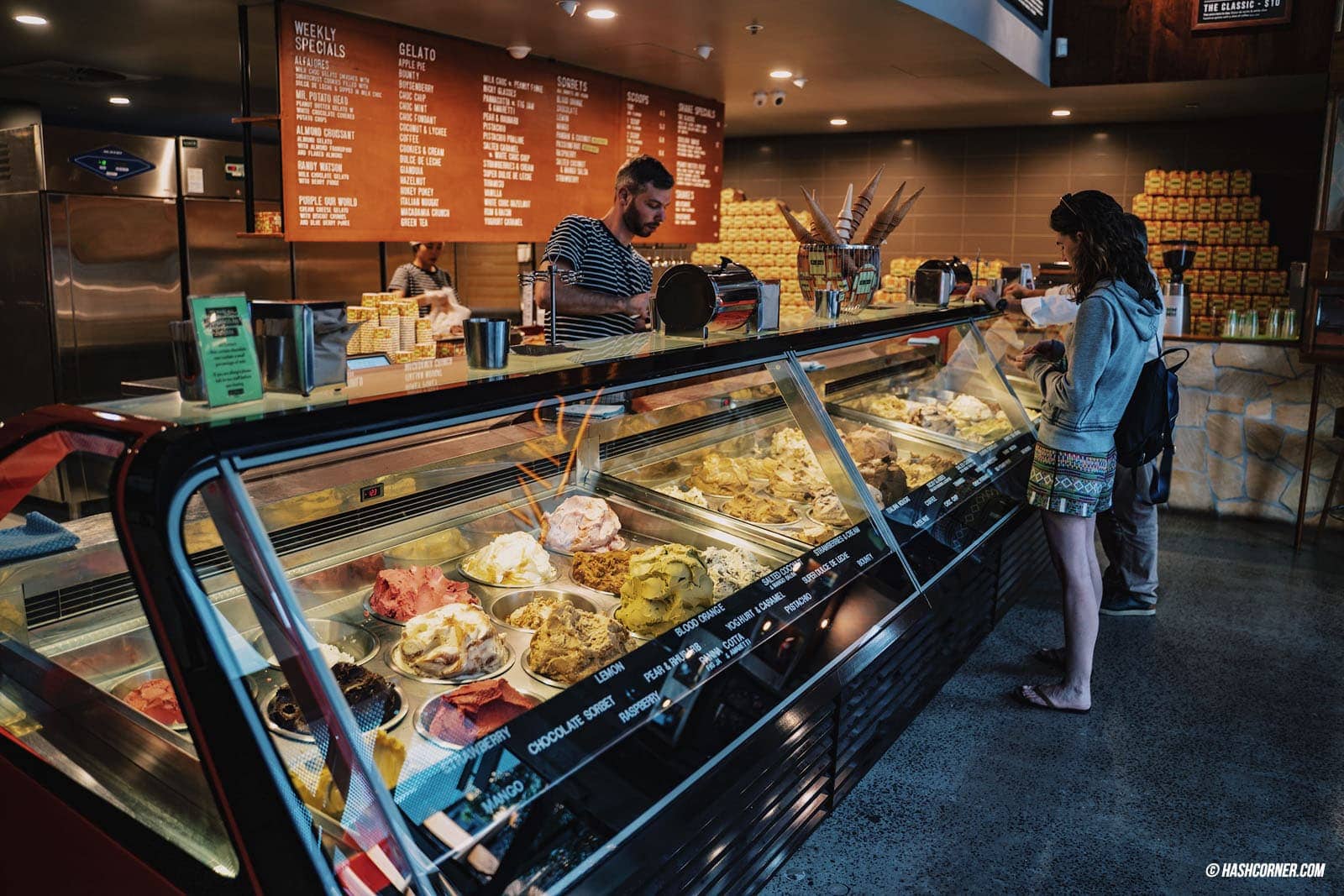 The flavors I ordered was the Weekly Special called Alfajores with milk chocolate and cookies, the other one was Nick Glasses, a coffee with caramel flavor. Both are very rich and tasty. This shop is my high recommendation. Based on my try taste, you can reliably choose the flavor you like.
Day 4:

Gold Coast

The last day of the Brisbane trip is to schedule for the Gold Coast, which this time I traveled for just a short while, a single day trip. For the accessibility, if starting from Brisbane, visiting the Gold Coast is not difficult because you can take the direct train, and connect to a bus or tram to get to the city by using a single Go Card. All of this takes about 1 hour and 40 mins. It's easy to access with convenient paying. Yeah! Let's take a look at how cool the Gold Coast can be!
Paradox Coffee Roasters
First, before starting our journey, let's warming up the Gold Coast travel plan by finding a good coffee shop first. The shop I coincidentally bumped into was the Paradox Coffee Roasters, which they clarified to apply Specialty Coffee since started from finding coffee beans, self-roasting coffee for sale, organized coffee shop, including coffee-making classes, feature many more activities and product lines. Paradox Coffee Roasters is considered as another famous coffee shop around the city.
Paradox Coffee Roasters is spacious, refurbished with the industrial loft design. Coming here, I tried ordering both coffee and breakfast to eat. The dish is called Barra Burger ($17), a charcoal burger with pan-fried sea bass. This one is delicious and fuller than expected. The coffee ordered was White Flat ($4.5) with aromatic and nice fresh coffee flavor.
In brief, if you look for a good cup of coffee, you shouldn't be missed grabbing one here. Or if you're hungry, they also provide all-day dining available throughout the day. It regarded to be an impressive start to the Gold Coast.
Surfer Paradise
After gaining energy with food, I'll take you to Surfer Paradise, where is truly a paradise for surfers according to its title. If anyone has come across the image of a long beach with a tall skyline as the backdrop. There it is! The signature of the Surfer Paradise on the Gold Coast. In the past, this place was just a farm. Later on, it was sold to the large capital 'Johann Meyer' and constructed a hotel to become an impactful tourist destination. Further background is, previously people called this area 'Elston', but for marketing in promoting tourism, consequently changed its title to be the Surfer Paradise instead. It's successful in terms of tourism management, don't you think?
Surfer Paradise has now become the center of the Gold Coast, with hotels, shops, restaurants, cafes, that are suitable to be a resort town and also served as the Aussie vacation town. Most tourists come here to swim, sunbathe, surf on the white sand beach. The environmental condition is very good.
I myself went to lay the cloth, sitting on the beach, watching people enjoy themselves. A lot of eye candy caught my attention as well. Believe me, I have a moment of my life. Lol // Anyone who plans to stop here, before spreading out the cloth to sit or lie down, I suggest applying a thick sunscreen, because the sun is intense, be careful your skin will get easily burn.
Burleigh Heads Beach
Wishing to get away from the hustle and bustle of Surfer Paradise, I recommend heading down to the Burleigh Heads Beach because it is much quieter and more peaceful. I intended to come in the evening to see the sunset here. From this beach, you can see beautiful light, moreover, if you look at the Surfer Paradise side, you still see a skyline of tall building further away. It's an impressive visual image!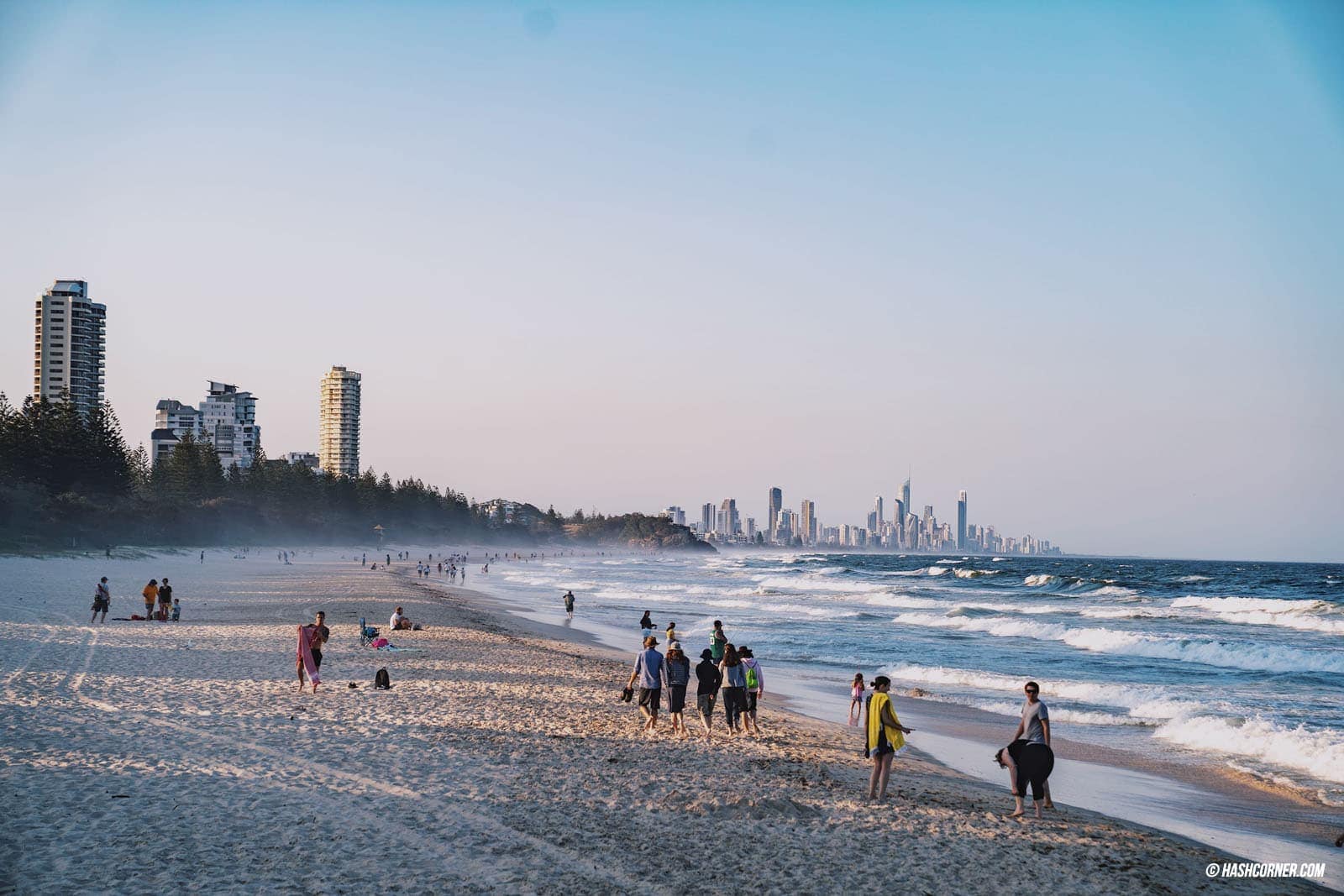 Waiting until the sundown, then, heading to take a bus and continue with the train to return to Brisbane. Throughout the trip in visiting the Gold Coast is leisurely enjoyable, like having a vacation with so much free time, relaxing in the sun, beach, and sea. Whoever wants to have more adventures, you can surf or enroll in the surf course. They instruct classes here as well.
Other Popular Activities in Brisbane!
Apart from this Brisbane travel guide review to follow the travel path reflecting the modern hangouts. There are still many other activities for you to do and visit. It would be simpler if you can check out some of the most popular activities in the Brisbane links below. I already picked them up with love!
Accommodation in Brisbane
Ibis Brisbane Hotel
For this Brisbane accommodation, I stayed at the Ibis Brisbane Hotel, located in the heart of the CBD, which is very convenient to travel elsewhere. Because it's not far from the Roma Street train station, where you can easily travel from the airport. You can also have a short walk to the CBD shopping centers like the Queen Street Mall. The benefit of this hotel is surrounded by many unique cafes that I refer to in this travel guide review. Furthermore, the price is not as expensive as other hotels in the CBD area.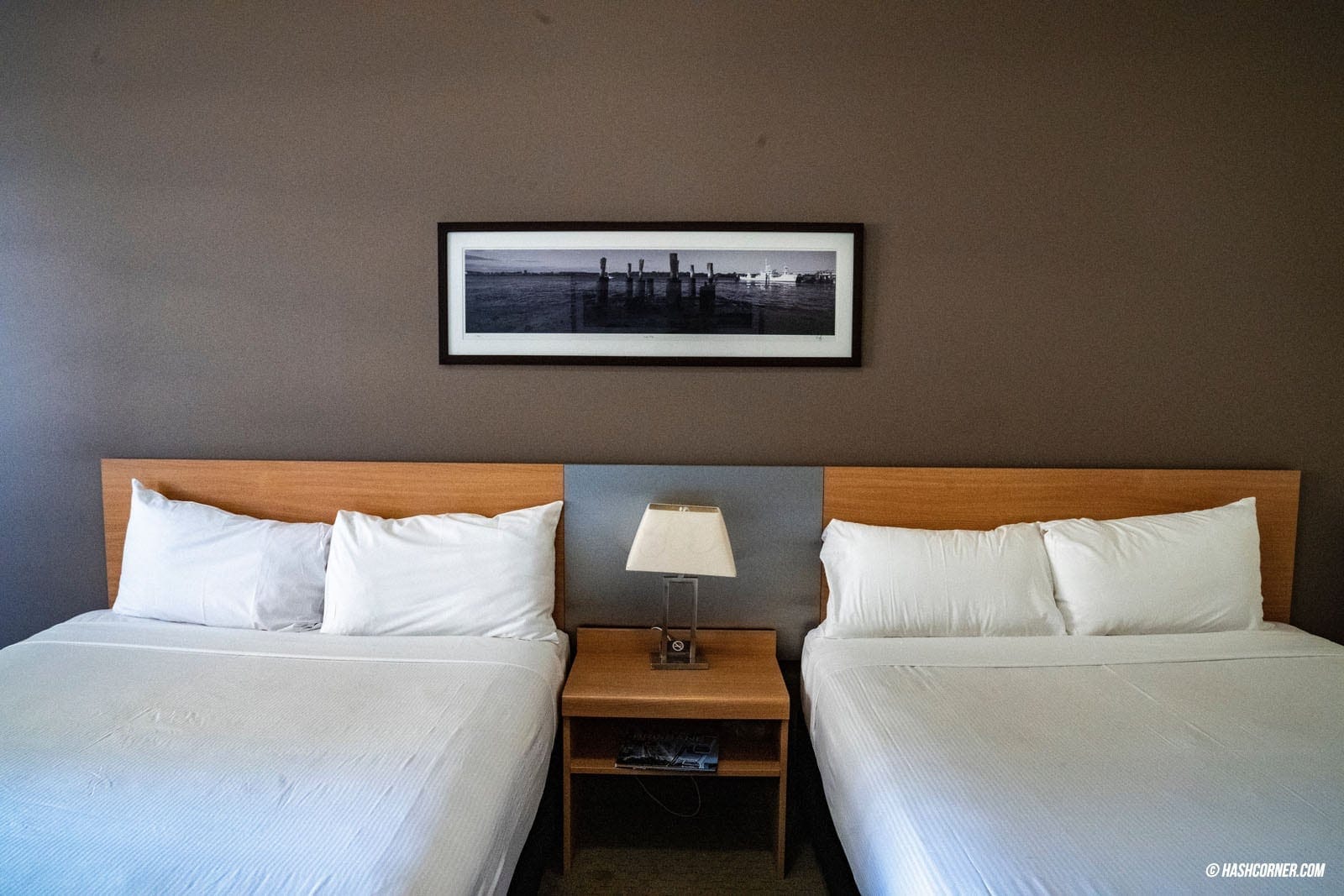 Even though Ibis Brisbane Hotel is not as brand new as other hotels, but the room is very big. I booked a standard double bedroom for 2 people and the room I received provides two queen-sized beds. According to the room size with so much free space, plus, sleeping alone on the big bed is very comfortable. Beyond that is all worthiness. There is a fridge, TV, kettle, but unfortunately, there is no microwave. The bathroom, therefore, is a bit old. Hahaha // In comparison, the price is very good. Who is looking for a hotel? Check it here as an option.
Ibis Brisbane Hotel
Room rate starting at 69 USD / night. View rates and book Ibis Brisbane Hotel, click on the link below to check and reserve through your favorite OTA right away.

Book via Agoda

Book via Booking

Book via Expedia
Book via Trip
Book via Hotels
รีวิวเที่ยวออสเตรเลีย ทั้งหมดจาก HASHCORNER
— QUEENSLAND (QLD) SERIES —
► รีวิว Brisbane – Gold Coast / บริสเบน – โกลด์โคสต์ (EP1)
— TASMANIA (TAS) ROAD TRIP SERIES —
► รีวิว Hobart + Bruney Island (EP1)
► รีวิว Mount Field National Park + Lake Pedder (EP2)
► รีวิว Tassman National Park + Freycinet National Park (EP3)
► รีวิว Bay of Fires + Launceston (EP4)
► รีวิว Cradle Mountain National Park (EP5)