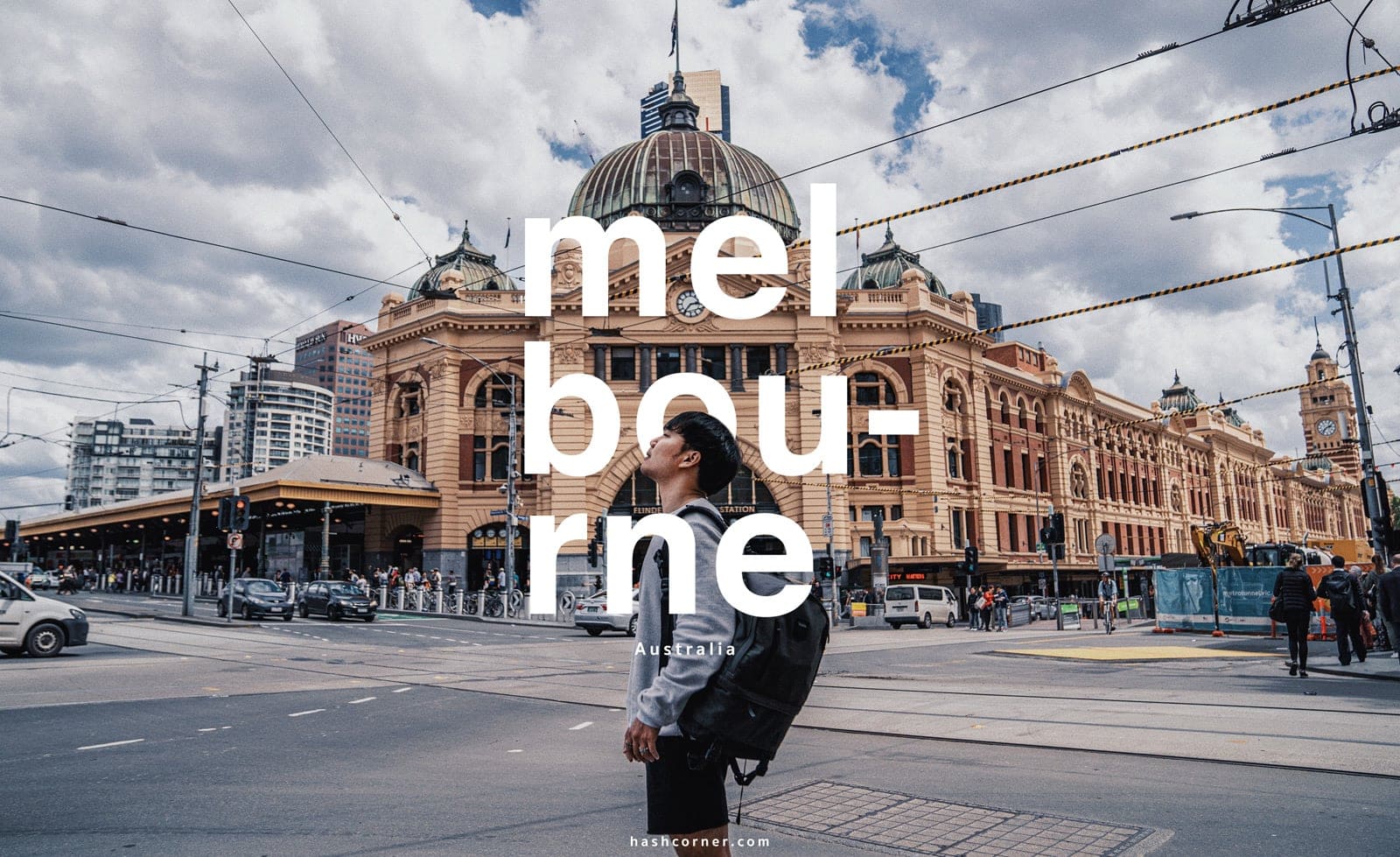 Melbourne is known as the most livable city in the world, while also being renowned for its delicious world-class coffee. Plus, many styles of food to choose from due to people here migrating from many different races. Melbourne, therefore, becomes an orderly city with friendly people, as well as modern architectures and cool street arts. With these full supplements, I'd like to disclose first that Melbourne is the city I love the most, and amongst the other Australia cities, I want to revisit again and again. It's enjoyable to make me want to urge you to travel into this charming city.
My Australia travel guide review is quite detailed because aside from Melbourne city, I include the reviews of 1-day trip from Melbourne as well. Certainly, you can make the ins and outs plan for this. Whoever is considering coming to visit here momentarily. Then, reconsider it! Otherwise, you'll definitely miss the highlight!
Itinerary of Melbourne and Around for 8 Days 7 Nights
I would say that visiting Melbourne in this guideline isn't just showing Melbourne's nifty coffee and vividness, but they also contain a lot of lush verdure places to visit around the Melbourne outskirts. The unmissable nature destination is the Great Ocean Road, where is one of the world's most beautiful road trips that lead you to see the Twelve Apostles stone pillars set in the middle of the sea, giving the vibe like you're in a sci-fi movie. It means if you have enough time to travel to the outskirts of Melbourne, Great Ocean Road should be the first destination that must be added to your travel plan.
For those who have more time than touring the aforementioned attraction, I suggest counting Phillip Island in too, it will be a leisure one-day trip that many of you should like it since you can see the koala inclusively, while also watching the world's smallest penguins walking ashore to return to their nests. This is favorable! Lastly, for those who even have more time left, and is a natural preference. I advise you to walk the picturesque trail at Grampians National Park, which is another place to escape from the busy city to calm down and enjoy the wonderful surroundings. Okay, if you're planning a trip right now, click to view the full itinerary below.
Enter Melbourne with the SkyBus Airport Transfers
The easiest way to get to the city from Melbourne Tullamarine Airport (MEL) is by taking the SkyBus express, which provides a total of 6 destinations, but there are 3 destinations that tourists tend to use the most that are; Melbourne City, Southbank Docklands, and St Kilda. Now, which bus express route should you take? It depends on where your hotel/accommodation area is.
Melbourne City Express Route: Airport pickup, terminated at the Southern Cross Station, in the center of CBD. // Anyone staying in CBD is recommended to take this one.
Southbank Docklands Route: Airport pickup, there are multiple drop-off points in the Docklands and Southbank districts, where are adjacent to the CBD.
St Kilda Route: Airport pickup, with many drop off points around St Kilda, starting from the center of St. Kilda, St. Kilda Pier, to Fitzroy.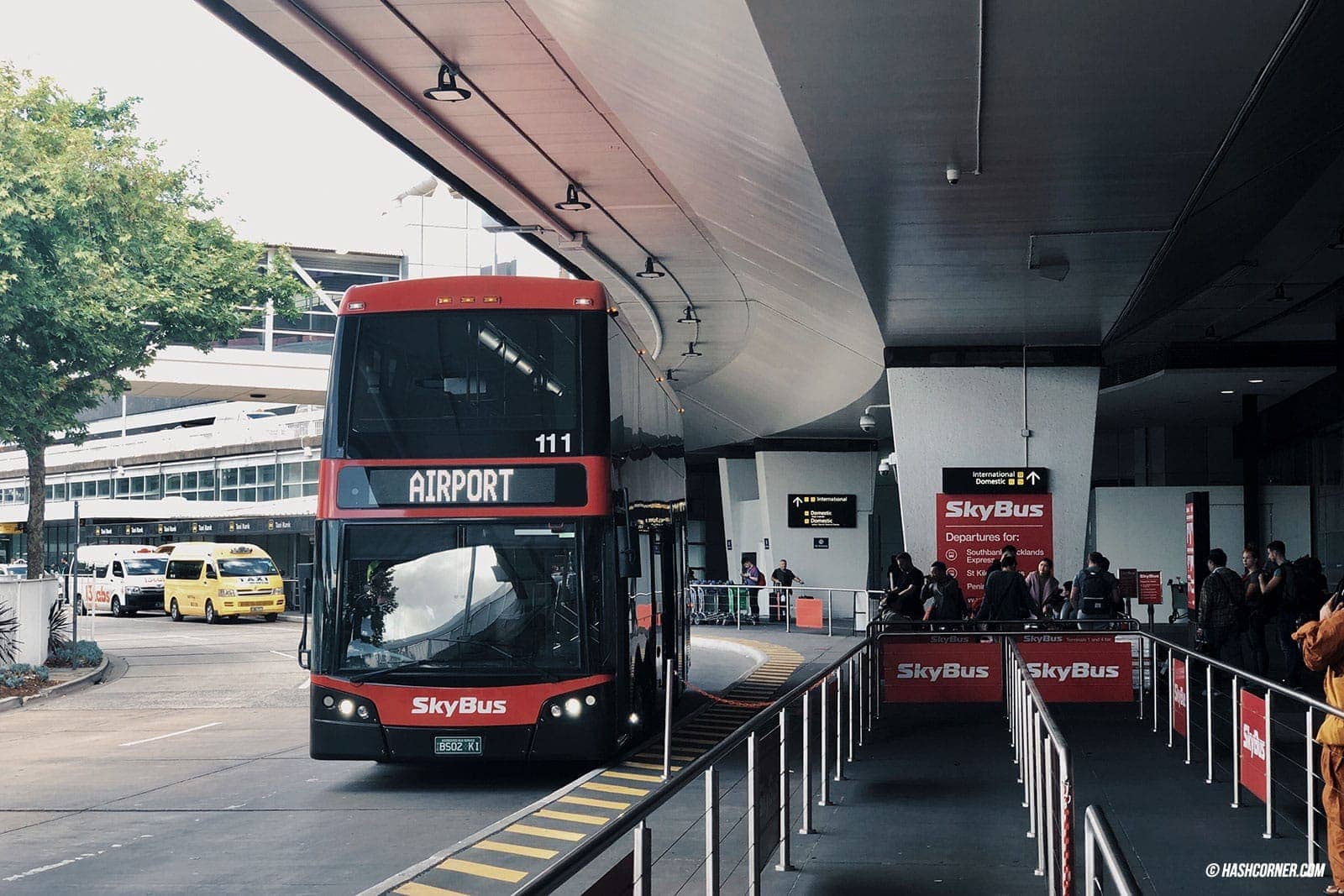 To purchase the ticket, you can walk-in to the SkyBus ticket booths at the airport and buy your ticket straight away. But if you know the exact date and time of departure, including demanding for a cheaper price. I suggest buying the SkyBus ticket through KLOOK because it's certainly cheaper than the airport booths. Now, I think buying a roundtrip ticket is a great value, because the price is way cheaper than a single trip, while also avail of an open ticket to be able to use the deal for up to 3 months with specifying the departure date for the first ride, but the latter can be used at any time. Click to buy the SkyBus ticket through KLOOK here!
Getting Around Melbourne
To access the destinations within Melbourne, you can board the tram, bus, train, and scooter. All of which covers the entire city, so, you don't have to rely on taxis at all. Oh! There are a few things that need to be explained, specifically, Myki, a travel card that everyone must buy to use public transports. Also, when using the tram, there is the Free Tram Zone which you don't need to use a Myki card, you can board the tram for free within the CBD. But if you are taking a tram to and from 'non-free tram zone', you need to tap on/off with Myki card accordingly, the Myki system will automatically calculate for a fare and deduct money from your card.
Free Tram Zone
For anyone staying or traveling only around the Free Tram Zone in the CBD, it's comfortable and can save a lot of money, because you can jump on all the trams in this area without paying. You don't have to touch the Myki card at all (otherwise, your money will be deducted from your card). You can check the boundary of the free tram zone from the map below. P.S. This is free for tram only, not related to buses and trains that you still have to pay for it. Hahaha. (Click on the image for a larger view)
Myki Card
Tourists who travel to Melbourne are advised to buy a Myki card for your convenient traveling within the city. If you don't buy it and prefer to pay cash, please take note that it's extremely difficult. Train or bus, you may buy tickets at the station or pay to the driver, but for the tram network, you can only buy the ticket from certain tram stops with machines, which can be found only in crowded stations. The Myki Card will have a deposit of only $6, and the amount of money in the card will be the amount of top-up depending on your need. You can buy this card at every railway station, SkyBus booths, 7-Eleven branches.
For tourists like us, you may consider buying a Myki Card – Myki Explorer for $16 (includes a deposit of $ 6, along with a $ 10 in the card) that is enough for a day trip, while also having a discount on entrance fees for various tourist attractions. You can buy at the Skybus booth and PTV counter, Southern Cross Station. // Discount on admission to various attractions in Melbourne, click here
Fare Rate
Whether tram, bus, metro railway or all forms of public transports in Melbourne, the fare calculation will be charging the combined fare regardless of what combination of traveling you use, each will charge evenly, you don't have to worry or getting a headache about a card's amount deduction. The few complications are the zones and the riding duration only.
Now, you need no concern about the zone of your traveling area, because most of the tourist locations will commonly be in Zone 1 (the inner city of Melbourne). The way of charging fare will be chartered as Zone 1 + 2 (no condition of only zone 1 purchasing). If you ride within 2 hours on weekdays and weekends, the fare will charge a total of $4.4 for an unlimited number of trips. But if you use it for more than 2 hours, the price will be changed to the daily ticket type immediately, you must pay for $8.8 on weekdays, and $6.4 on weekends.
The way to calculate the duration of public transport uses for more than 2 hours is not while you're riding on vehicles, but the systems will start counting when you touch on to pass through a Myki reader at the start station/stop, and ending the last count when you touch off to exit the final station/stop. Which means, assuming you get in the metro at 8 am and re-enter again at 11 am. This is already counted as a daily fare payment. It's not too confusing, right? Lol
Basic knowledge is already filled in. Then, start your Melbourne trip as soon!
Melbourne Day 1:

CBD + Yarra River

On the first day of the Melbourne trip, I'd like you to get to know and get acquainted with Melbourne first, so I choose to start with the Central Business District, also known as the CBD. This area is overflowing with high-rise buildings, such as condominiums, offices, restaurants, and Melbourne's main shopping areas. It means that the CBD is truly the center of everything. If you are looking for or determined on accommodation, this is advisable for you to stay in the CBD zone, because aside from being convenient due to a prosperous environment, you can also get on the Free Tram Zone. Yeah, this selection can be very economical.
After leaving belongings at the hotel, then, let's start wandering in Melbourne. The commence attraction I'd like you to heading there first is the Yarra River at the bottom of the CBD. The reason I choose to begin here, as it commands a scenic of Melbourne, which you can enjoy its delightful view by walking across the Yarra River to the Southbank and strolling along the river. After that, I suggest crossing over to the CBD side at the Princes Bridge to continue to Flinders Street Railway Station.
Flinders Street Railway Station
Walk across the Princes Bridge, you will run into the Flinders Street Railway Station, Melbourne's iconic landmark, in consequence of being the first railway station in Australia. Besides its antiquated, the shape and color of the train station structure appearance are also splendid with an emerald green dome, together with a yellow building, causing this to be one of Melbourne's most distinctive architecture.
Taking into consideration, Melbourne may seem like an emerging city. But Flinders Street Railway Station was the world's most crowded train station in 1926. The passenger traffic reached 200,000 people per day, surpassing the Gare Saint-Lazare railway station in Paris, and Grand Central Terminal in New York.
Hosier Lane
A short walk from Flinders Street Railway Station, we will continue at Hosier Lane, a famous bypath with street art and the most playful graffiti spot in Melbourne. On top of Melbourne being famous for world-class coffee, Street Art is also one of the attractions that made Melbourne distinguished, as well as making the vividness spread all over the city. Hosier Lane regards to be the best-known photo spot that visitors like to take pictures with. The hidden gem of the street art here is behind all of these colorful walls, there are bars, restaurants, and cafes. Whoever feel starving hungry during traversing, you can stop by to have dinner or chill out here.
If street art at Hosier Lane doesn't fulfill your satisfaction. I recommend taking a short walk to continue to the AC/DC Lane Graffiti. I promise you can do a photoshoot as much as you want until you're tired of it. Lol
Brighton Bathing Boxes – Brighton Beach
The last destination of the first-day trip, I'll take you to another Melbourne's iconic attraction, Brighton Bathing Boxes at Brighton Beach, which I believe many of you may have seen the small colored houses that are lined up along the beach. Yes! The pictures you see are the Brighton Beach location. The way to get there is to go out of the CBD for quite a bit, but it's not too difficult as you can take the train from CBD Southern Cross Station to go to the Middle Brighton station, and walk a bit to reach there.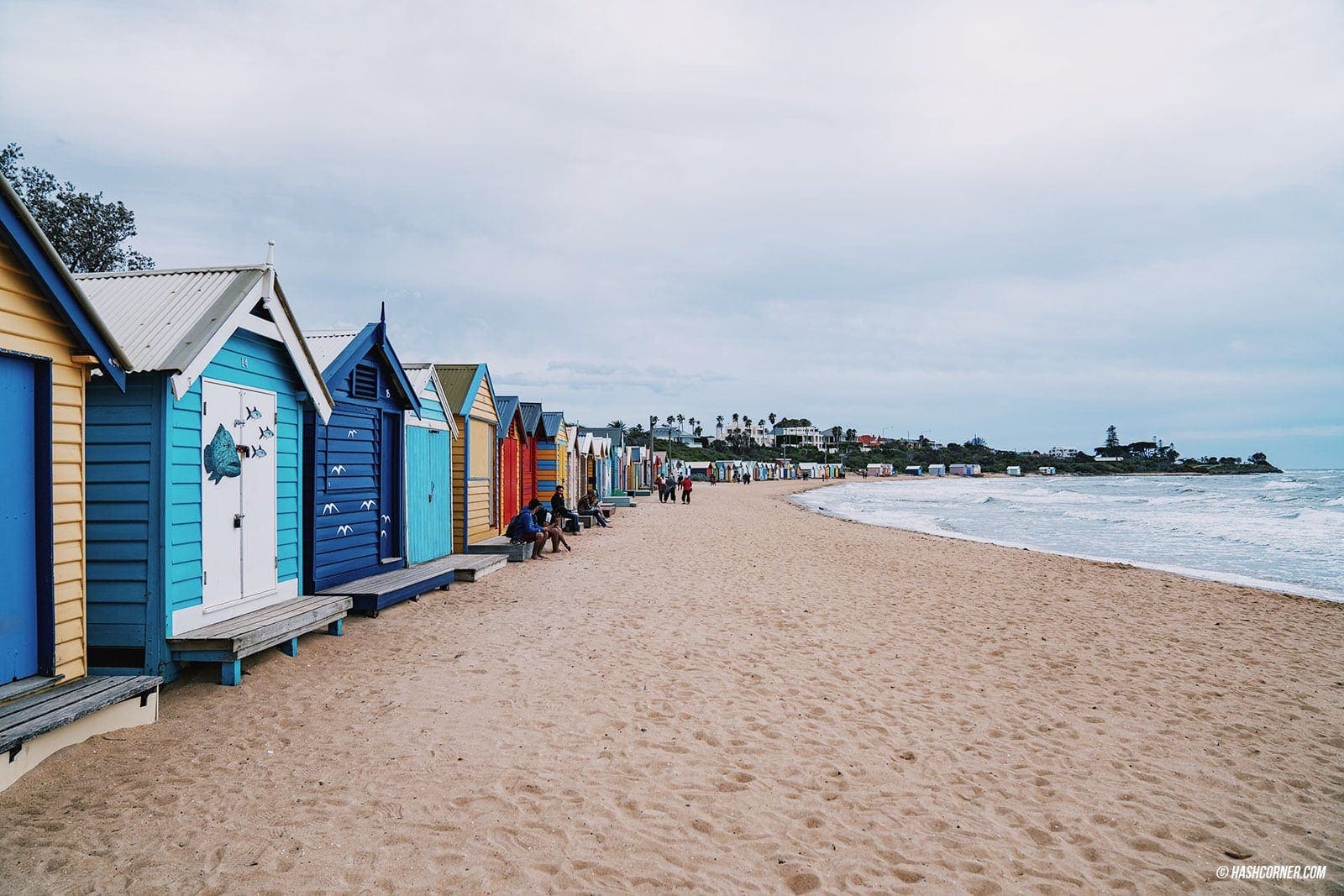 You may be wondering whether these colorful bathing boxes are still in use or not. The answer is 'not anymore', now, they just have brought a total of 96 baths with different designs lining up to become one of Melbourne's famous tourist spots for guests to take a photo. Nevertheless, I still doubt that if it is necessary to have a bathing house or a dressing room? Normally, on the beach, I saw only an open-air bath, besides, foreigners, especially westerners, are not awkward about revealing their bodies in a swimsuit at all.
The answer to my doubt is back in 1860, the prosperity of the city began to spread along the coast. Then, the shower rooms/dressing rooms were starting to keep increasing due to the past, it was prohibited to change clothes or swimsuits outdoor at the beach. Or even wearing swimsuits while walking to the public streets. For that reason, these bathing houses were constructed. After the end of World War II, the bathing box was destroyed in many places. So, all these baths have been collected at Brighton Beach and renovated until it became different colorful design houses.
Bourke Street Mall
For the shopping enthusiast, Melbourne's most fun shopping spot, I'd like to present to you the Bourke Street Mall, where is locked to become a pedestrian street, along with the tramway only. The street is overfilled with stores such as H&M and Zara, a flagship store branch, including the famous Australian brand Cotton On. There is also a luxurious mall full of top brands like Myer and David Jones inside. In Melbourne, this is the most complete and perfect shopping experience. Okie, I have nothing to say more, I'd like to continue shopping for now!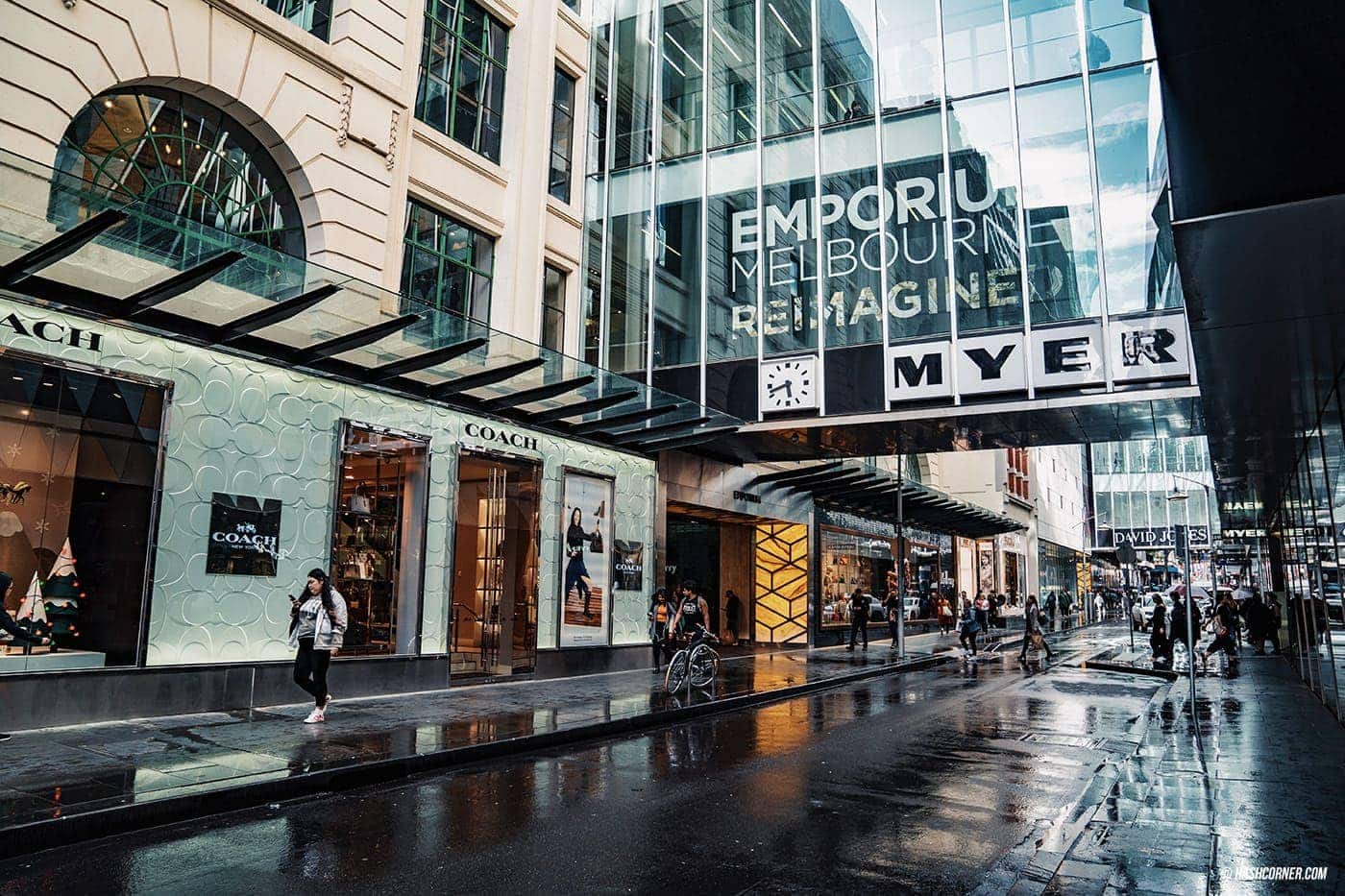 Melbourne Day 2:

Higher Ground Cafe
Waking up a little late for the second day, let's heading out to find Brunch and eat it leisurely. The aimed cafe is not far from my accommodation, wherewith is a chic cafe decorated as loft-style with raw bricks. The 'Higher Ground Cafe' near the Southern Cross Station, serves the Specialty Coffee, Brunch, and Main Course menus, as well as wine, arranged orderly in the display. The atmosphere is very good. The decorative design is well-blend between the raw bricks and the temporary interior furniture. It's pretty satisfying.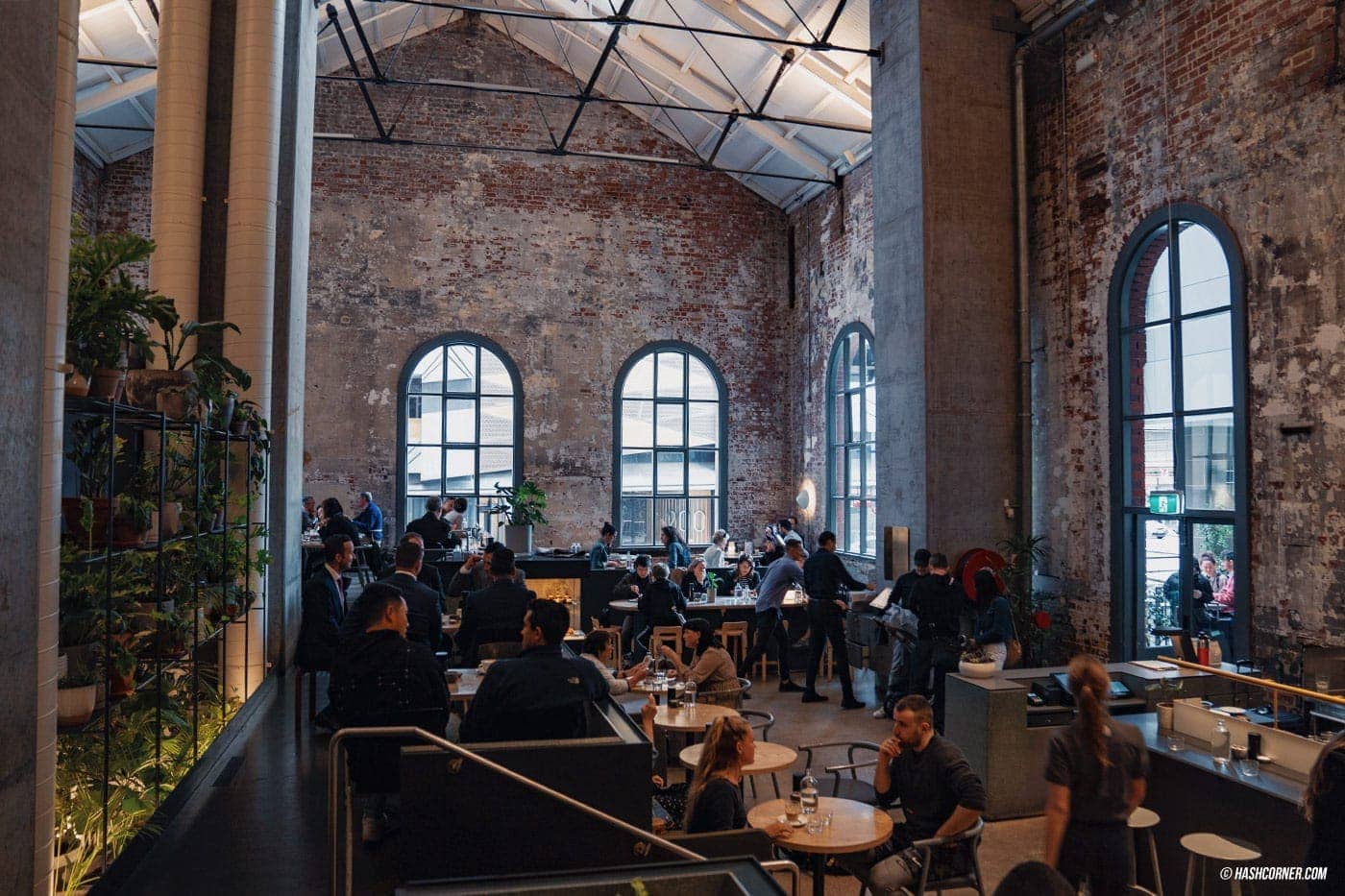 The menu I ordered was Braised Mushrooms with Fried Polenta, Poached Egg, and Sourdough ($22). This one is very palatable, especially the mushroom is well-done. The other dish was Slow Cooked Tasmanian Salmon ($28.5), which consists of a Tasmanian Salmon, eaten with beetroot dip cream and poached egg. It was also delicious, but personally, I think salmon can be cooked even tastier, and the salmon was a little small, despite it's very cheap in Australia. So, the mushroom dish is a winner for me. Hahaha
For the coffee, you can trust almost every cafe in Melbourne, which certifies a good to an excellent degree of coffee production control. This cafe is no exception, I ordered Flat White ($4.2) which they did well in Melbourne standard, fragrant and tasty that I couldn't find any point to complain about, I could only praise actually. Haha.
Queen Victoria Market
For those who like to explore the market and want to experience the local life, I advise you to stop by Queen Victoria Market, where is considered to be Melbourne's largest open-air market with the long run for older than 140 years and provides more than 700 stores. By the enormous size of this market, there are so many things to see here, whether it is general sales such as clothing, secondhand goods, craftworks, handicrafts. There is also a bazaar that sells vegetables, butchers, and plenty of food, including a food court for guests who want to easily grab something to eat. You should drop by to shop here because the price is affordable, compared to the supermarket. I got a lot of cute pattern socks, and the price is also very good. Hahaha
Queen Victoria Market is open daily except for Monday and Wednesday. The extraordinary point about this market is, maintaining a night market only on Wednesday at 5 pm to 10 pm during the summer months from November to March, and during the winter months from June to August. Those who pay a visit during this period, you can drop by to browse around. I heard, the atmosphere there is charmingly nice, there be food trucks and live music as well.
Market Lane Coffee: Queen Vic Market – Victoria ST
Strolling around Queen Victoria Market until being too knackered to walk more. I suggest you take a break by stopping at the famous coffee shop before leaving the place. Market Lane Coffee, now has about 6 branches all over Melbourne. The branch I'll take you to is the part of the market, which is Queen Vic Market – Victoria ST branch, that purposes a cute homey vibe, situated in a wooden structure that is hidden within the market.
Market Lane Coffee in Melbourne is a specialty coffee roastery and cafe, where it is searching and sourcing finest quality coffee beans from around the world to roast under their production process until finalizing into a superior coffee that you should go and have a try. Besides serving coffee in a cup, they also sell coffee beans, espresso machines, including opening coffee-making classes.
For the coffees I ordered were Espresso and Hot Latte ($ 5.5) that served with a white minimal paper cup, printed with a purposive sentence, causing the taken coffee pictures to look nice and clean.
The coffee is high-quality. The aroma and flavor of the coffee are outstanding. Personally, I like it a lot, both the coffee and the lovely cafe atmosphere. As for the price, this might be a little more expensive than other cafes but considered acceptable due to its excellent characteristic. Well, if you have a chance to visit the market, sipping a coffee here is unmissable. But if you exclude the market in your attraction list, you can try on other branches because it provides the same standard.
National Gallery of Victoria: NGV
Talking about art galleries in Australia, then I recall that the National Gallery of Victoria (NGV) is a champion of the venerable and grandeur. The place is also the most visited gallery in Melbourne, gathering workpieces and holding exhibitions relating to all branches of art, including paintings, fashion and textiles, photography, and a variety of creativity around the world. To say it briefly, every time you attend, it means, there are world-class exhibitions that will indeed wait to welcome you. For the first time I visited, I met the Dior exhibition. The latest time in this review, I saw KAW's works. All of them are cool and masterful works!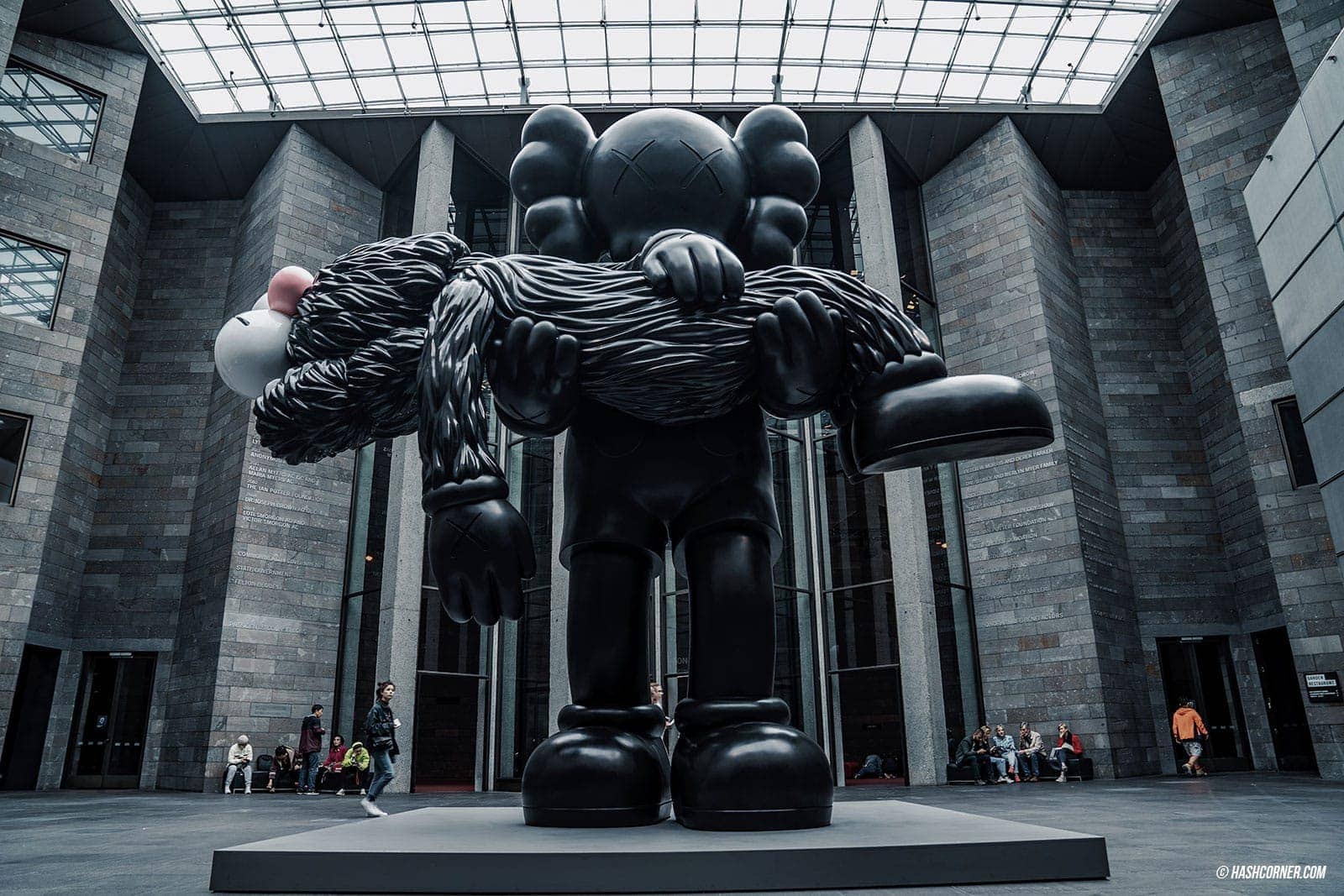 It was a bit disappointing that this time, I walked for a little while. Because having to hurry to go somewhere else, but if you have leisure time and are interested in Art, then, it's recommended to give some time to explore, since there organizes a dozen exhibitions/events at the exact same moment. If attending every event, it may take half a day. Regarding the entrance fee, 60% is at no cost. Some special masterpiece events may have to pay for separate entrance fees. The exhibition such as KAWS had to purchase an admission ticket as well.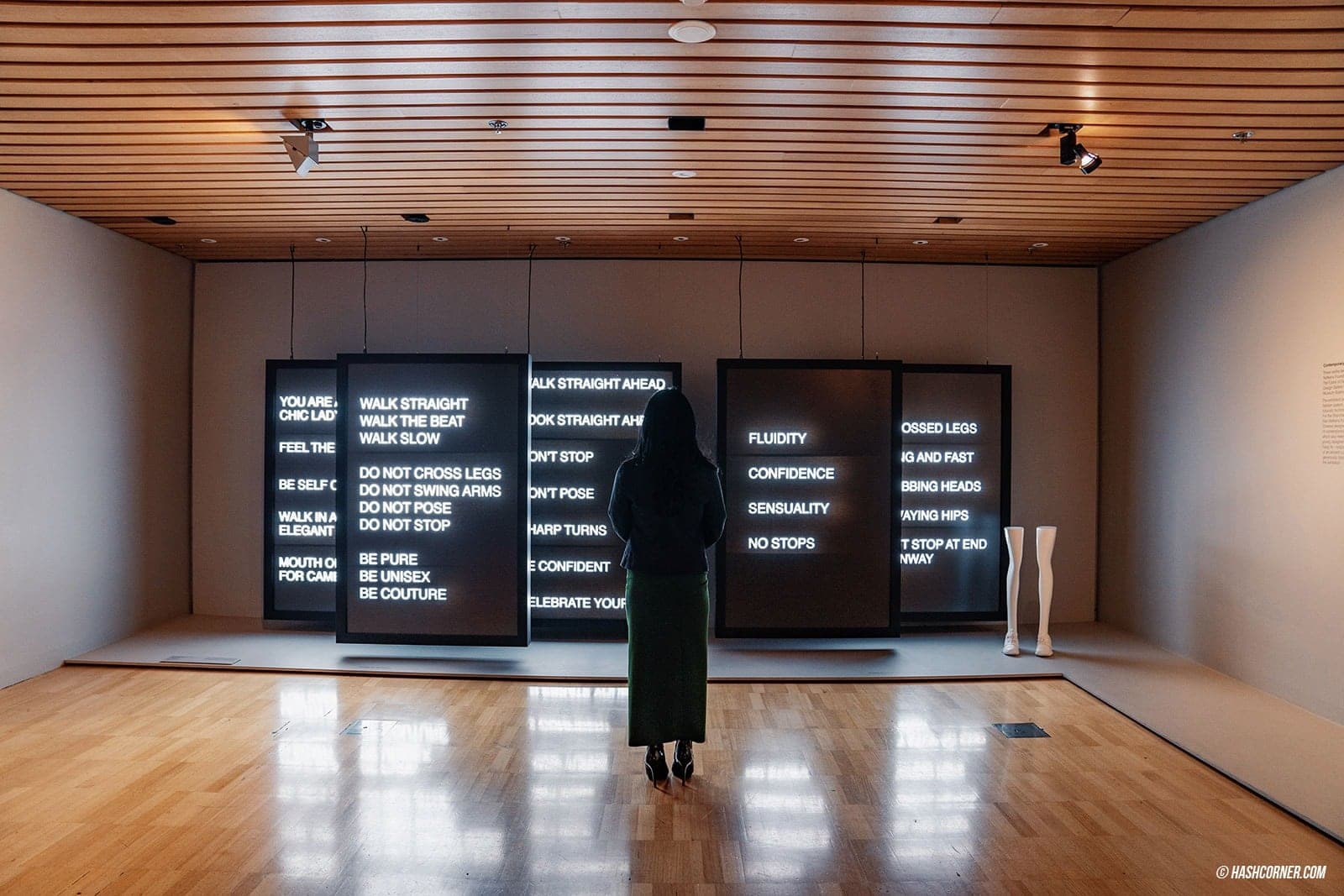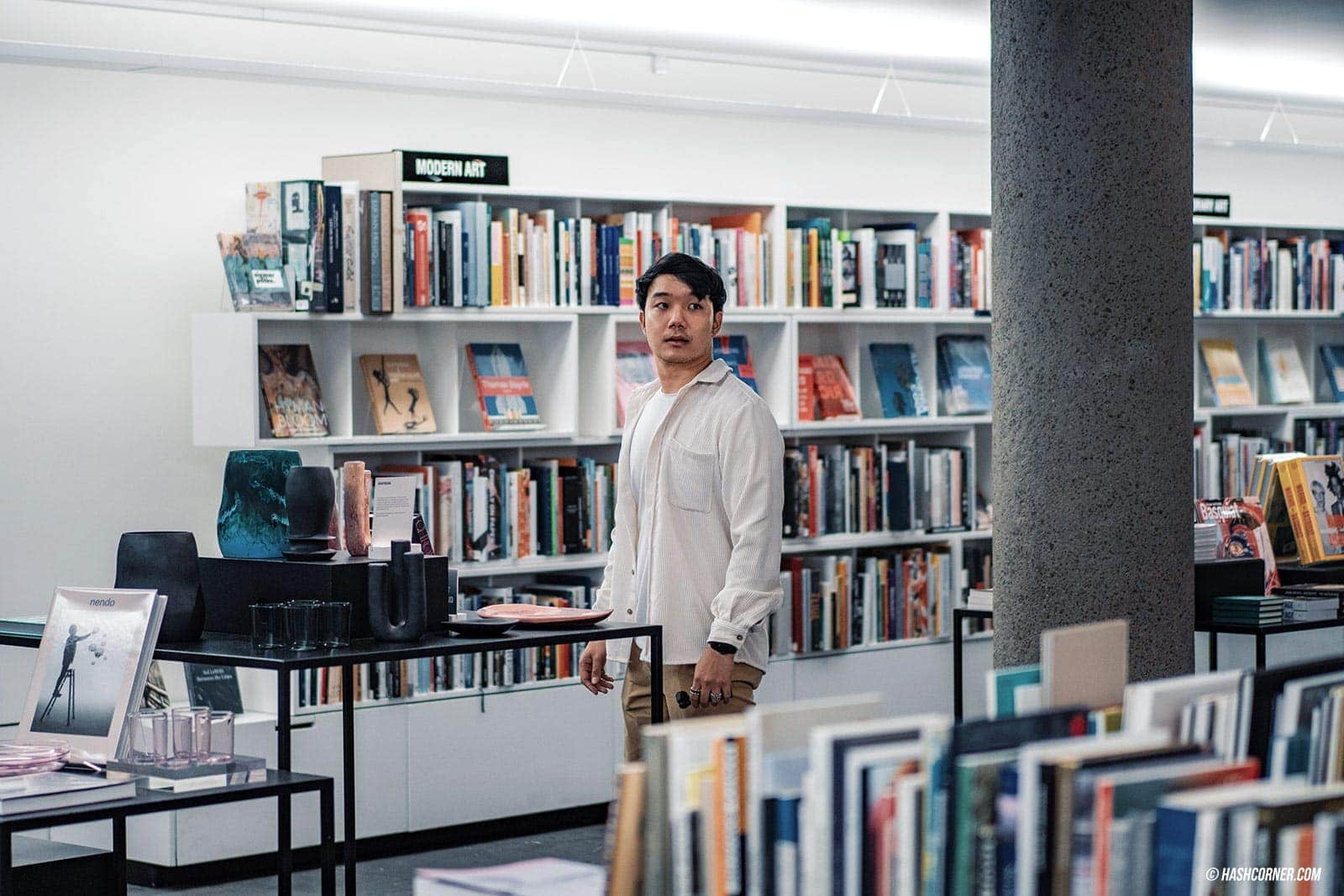 The State Library of Victoria
Believe it or not? Now, The State Library of Victoria is respected as one of Melbourne's most popular tourist attractions that tourists should not miss to visit because the library interior is well-crafted and distinctive. The cool thing about this library is, it is Australia's oldest public library that has been established since 1854, along with the record of being the first free libraries in the world.
The highlight that I want you to look inside the State Library of Victoria is the La Trobe Reading Room, which is a large dome hall, containing over 320 reading tables, lined up into a beautiful eight-pointed shape. If anyone wants to see the top view of this reading room, you can take the elevator to the 6th floor to look straight down. This is a must-see, don't you ever sleep on it!
Aside from the magnificent reading room, the library also has galleries displaying permanent exhibitions. Including a variety of embellishment of the reading rooms with great spaces. If you are free and enjoying library ambiance or reading books, I suggest finding a book you may like, then, looking for a vacant chair to sit down and relax. The feeling is incredible!
Melbourne Day 3:

Lune Croissanterie CBD
Leaving the hotel late in the morning, no need to be in a hurry since we have time off. The first activity of the day is, finding food to survive!. My friends who had been in Melbourne chatted and asked that 'Have you tried Melbourne's famous Lune Croissanterie yet?'. I fumbled because I didn't go there at the time. With this last day with so much free time, here, I plan to visit the shop according to friends' advice. The Lune Croissanterie that I'll take you to is a branch, located in the CBD. The access is easy, no need to go faraway area. Another branch of Lune Croissanterie is in the Fitzroy district.
In my viewpoint, Lune Croissanterie is a croissant + cafe with an extreme specialness. Clients who come to eat here or grab a takeaway, have to line up from the cashier until spreading out of the store. To eat inside, there will only be a counter bar without any seat, which means, you have to eat while standing along with crowded customers. I pretty like it; the atmosphere and shop identity are kinda cool. The logo is a Croissant rocket that I love the idea so much.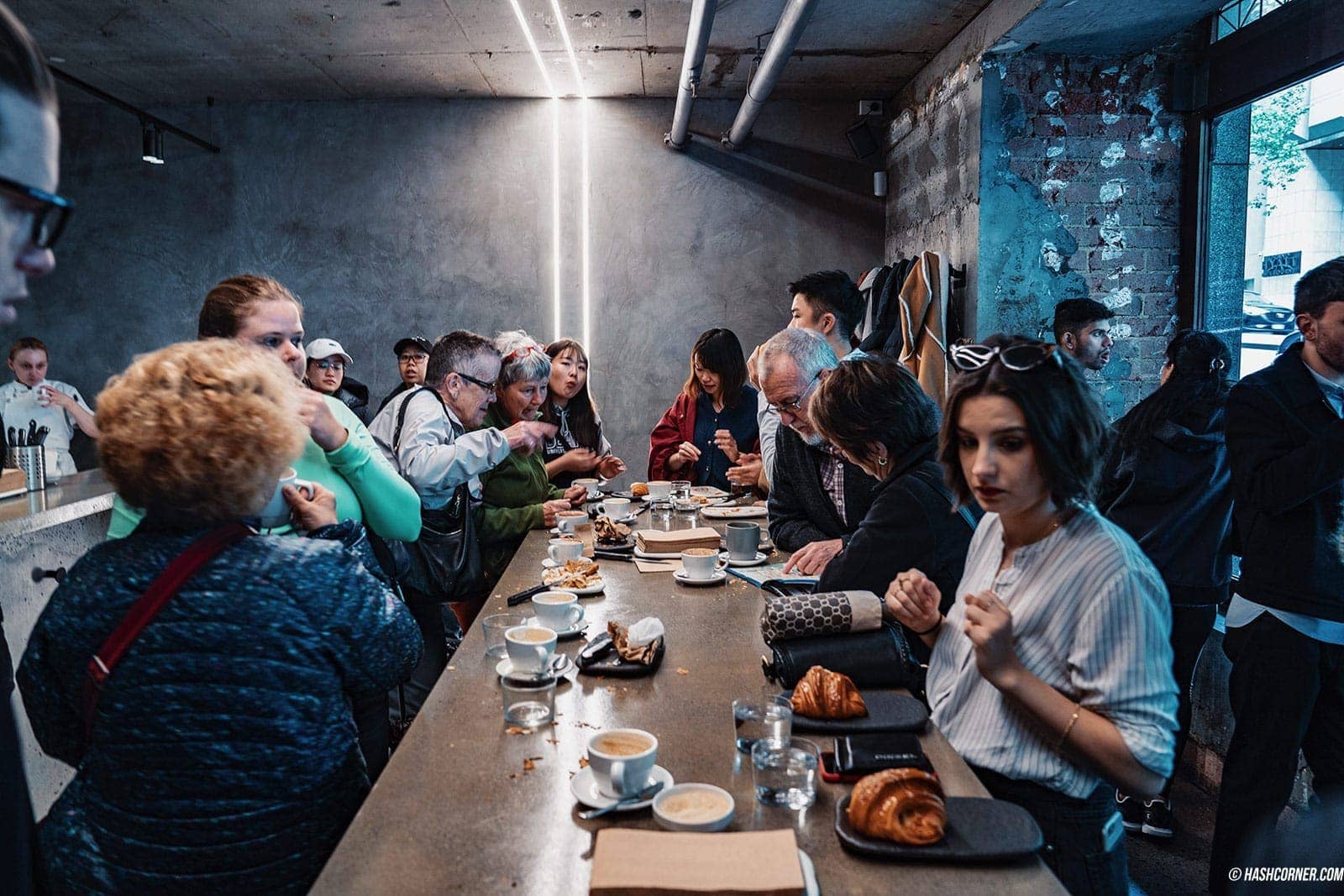 For Croissant lists, there presents many types and flavors to choose from. The one I chose was Almond Croissant ($9.5) and Flat White Coffee ($4.5). The croissant is tasty but I was a little disappointed because I might have high expectations base on a wonderful compliment from friends. Lol
If the croissant can be warming up for just a minute, it may be soft, fragrant, and more flavorful. As for the coffee, it is delicious and can be drunk together with a croissant perfectly. Anyhow, this is recommended to try. It is nice, but I stunned a little by the croissant price, it's quite spendy. Hahaha!
Melbourne Museum
One of Melbourne's most wanted museums for exploring is the Melbourne Museum. Where brings together a variety of interesting exhibitions, particularly natural and cultural history displaying for free (Some parts are with entrance fees, but very few). If you like visiting museums, this place is promising to enclose with notable references to gain new knowledge. This is another Australian museum that I think is one of their best.
The Wild Animal Zone is one of the highlights here. I myself don't know the displayed animal models are replica or taxidermy. But there exhibit all animal species from the birds, mammals, reptiles, and amphibians. The children should be very happy and enjoy throughout the exhibition hall.
Let me state a little off-topic, Melbourne already organizes a diverting animal showroom, but there are other places with no less magnificent production that is; The 'Natural History Museum' in London, and the most tremendous amongst these three is, the Shanghai Natural History Museum, China. Anyone interesting in this and have the opportunity to travel to Shanghai, it's a must-visit attraction, you can try probing into my Shanghai travel review for more comprehension.
Another leave open-mouthed zone of this museum is the Bugs Alive! The insect zone that actually collects insects to let us see and examine. Seriously, this zone is an open world for me as the shown insects including butterflies, or even hundreds of cockroaches from the most commonly seen species to the rarest to find one. This is a lot to experience, I had been walking for such a long time. Super fun!
Besides the aforementioned two zones, there are many thought-provoking exhibitions whether it be the science of the mind (The Mind), the sensation-intuition (Gut Feelings), the world of dinosaurs (Dinosaur Walk), and the Forest Secrets. You can see that the exhibition here is widely diverse, moreover, all of the mentioned is free entrance, no need to pay for any extra cost. It's super awesome with a strong recommendation to visit.
Fitzroy Garden
Without any specific plan, accordingly, I had plenty of time left. So, I walked to Fitzroy Garden to sight the flowers, plants, and green grass. If visiting public parks is your preference, the Fitzroy Garden is another good choice to experience a walk in Melbourne. The trees are in abundance, the lawn is extensive, also many pretty flowers along the pavements to take pleasure in.
In Fitzroy Garden, there is Captain James Cook's Cottage. James Cook is a British explorer and navigator who discovered Australia and declared Australia to be a British colony. This authentic cottage used to be placed in Yorkshire, England, before being delivered as a gift to Australia. Then, it has established here afterward. Practically, the cottage allows guests for a visit, but I didn't get in due to the admission fee. Lol
Other than the Cook's Cottage, you can also take a walk to see the Model Tudor Village, a model of the small lovely village, that is the gratitude gift Australia received from Lambeth, England from helping them to deliver food during World War II. Strolling and relaxing for a while. Then, let's continue on the next travel spot.
Luna Park Melbourne
Speaking of theme parks in Melbourne, I can recall nothing except the Luna Park Melbourne, where you can spot it easily with the distinguishing feature of a clown entrance gate. You have to walk through its mouth to enter the theme park. The atmosphere is as classic as an amusement park or a carnival scene-setting in Western movies. Yeah, it's characterized that sort of vibe.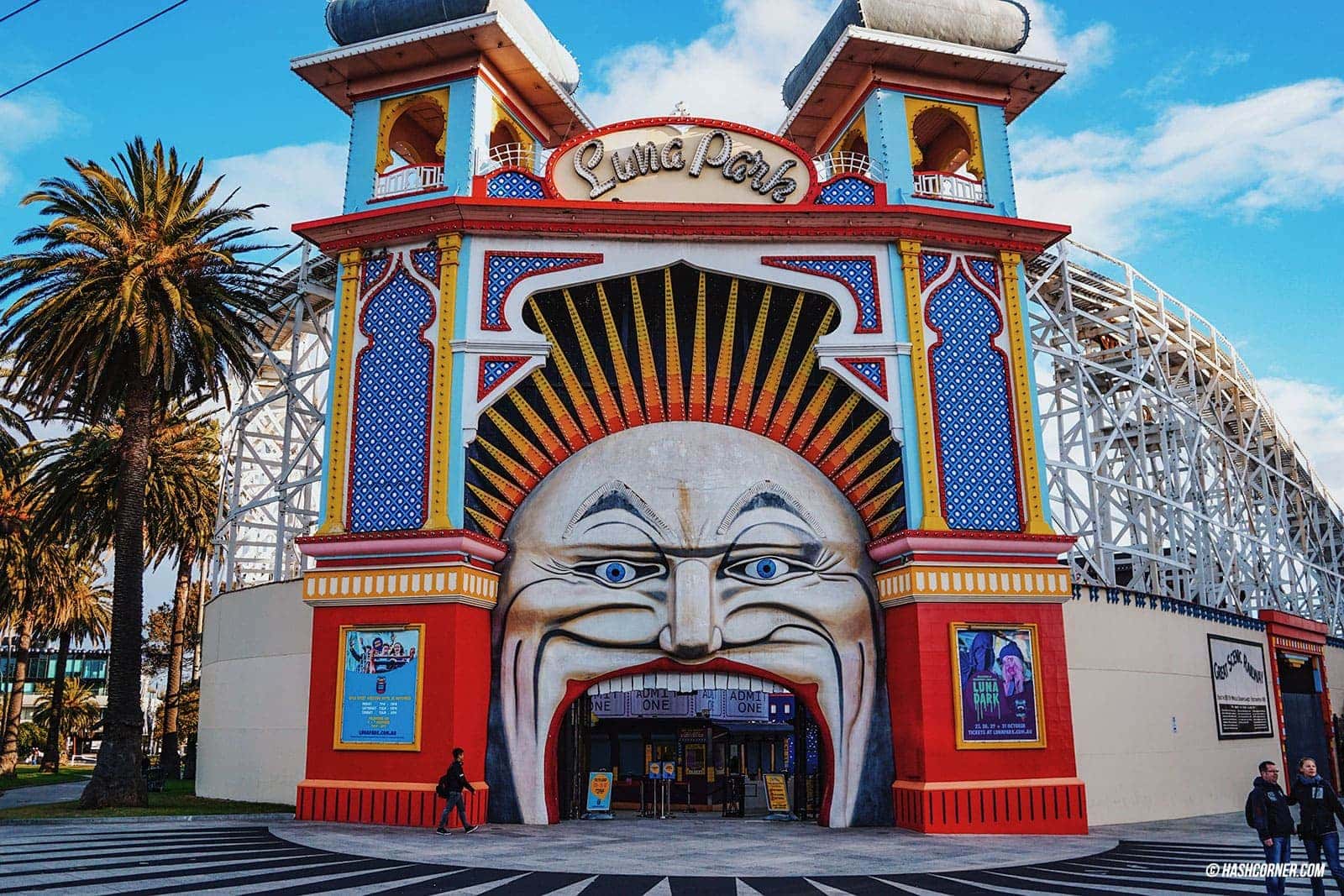 Would you believe it if I say, Luna Park is operated all over the world? The original one is in New York and expanded its branches throughout the world, including here, in Australia. The parks happened before World War I, until now, it has closed down a lot. There are 2 Luna Park residences in Australia, that are Melbourne and Sydney. It's very old and classic!
When arriving, I was determined not to jump on any rides, I just wanted to go in, observed, and took some photos. The entrance fee to the park is $5, the cost of each ride, you can buy it separately in front of the ride straight away. Luckily, at the time, I was arriving so late. Therefore, the staff did not charge any fees, let me enter without paying. YAY!!!
Because of late visiting, the theme park looked rather desolate, also it is not very big, but the strong point is a superior atmosphere which can be portrayed as an excellent photo spot. If you're free, don't hesitate to come to this great place and take a picture.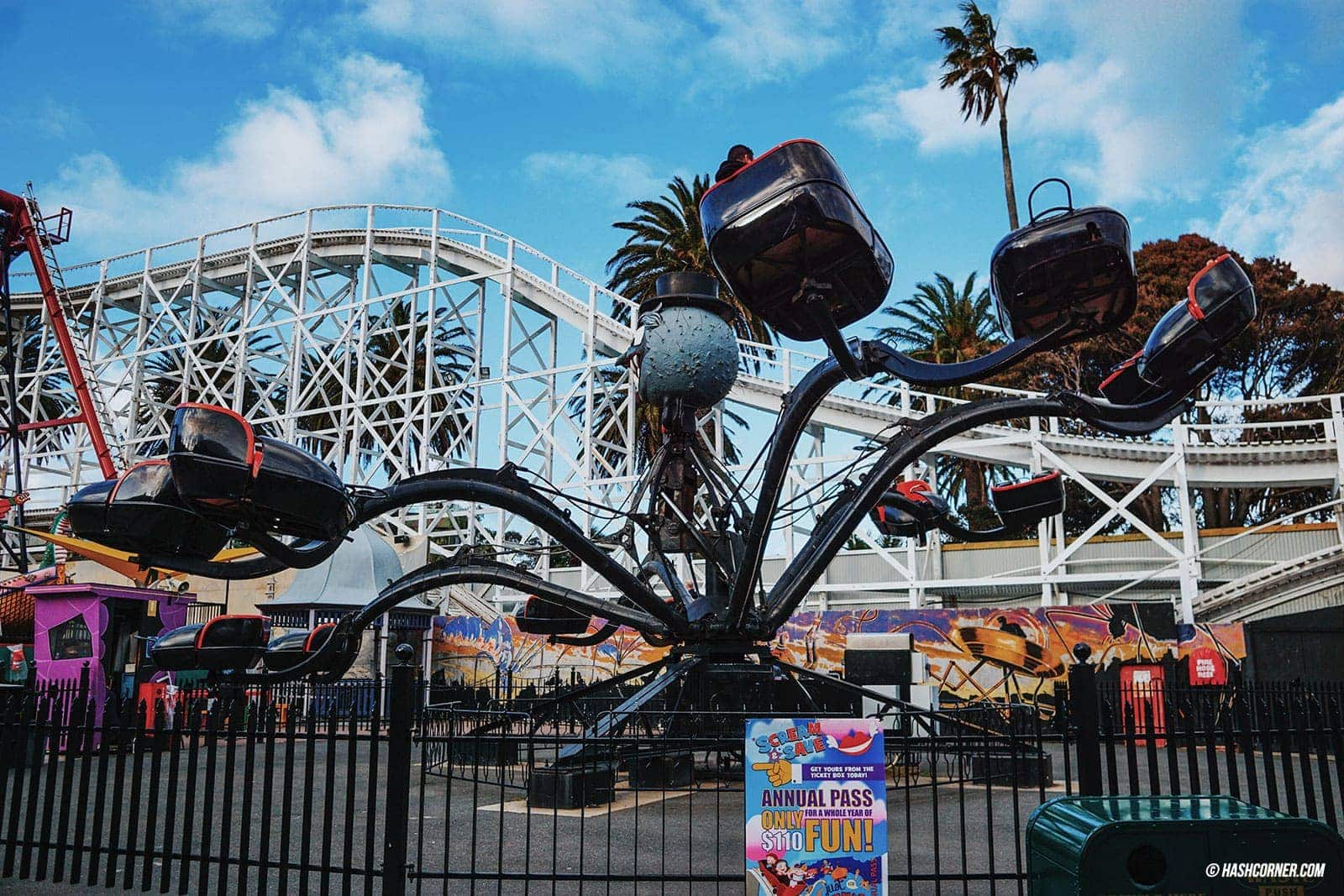 St. Kilda Beach
In the last part of the Melbourne city center trip, we should end it at St. Kilda beach that you can walk for recreation. The beach here in the evening is very good, the surroundings and happening are full of life, many parents take their children out to play, lovers spending time together, there is also a group of friends playing beach volleyball. It is so lively. For those who are lazy to take a walk or do any active activities, you can look for restaurants and cafes around there as well. There is a lot to eat and chill out.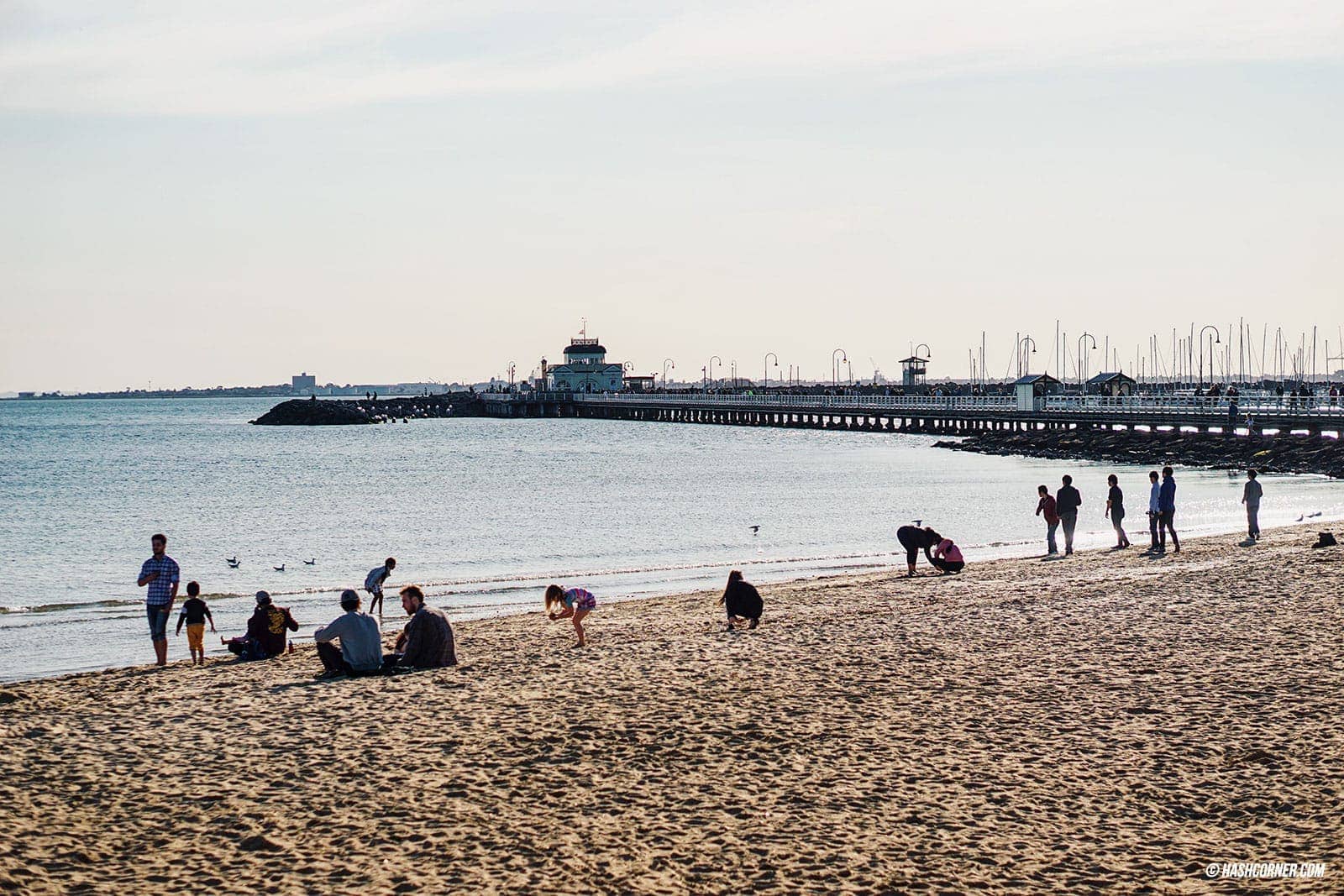 Aside from St. Kilda Beach, I recommend walking to St Kilda Pier, especially if desiring to see the sunset, this place provides breathtaking seascape. In the evening, if you are fortunate, you may see a few penguins that rise from the sea and return to their nests. It's a lovable picture (based on what I saw at Phillip Island, I wasn't blessed enough to see it here, haha.). I think coming for a walk here, regarded as the perfect closing of the Melbourne city trip and makes me appreciate Melbourne even more!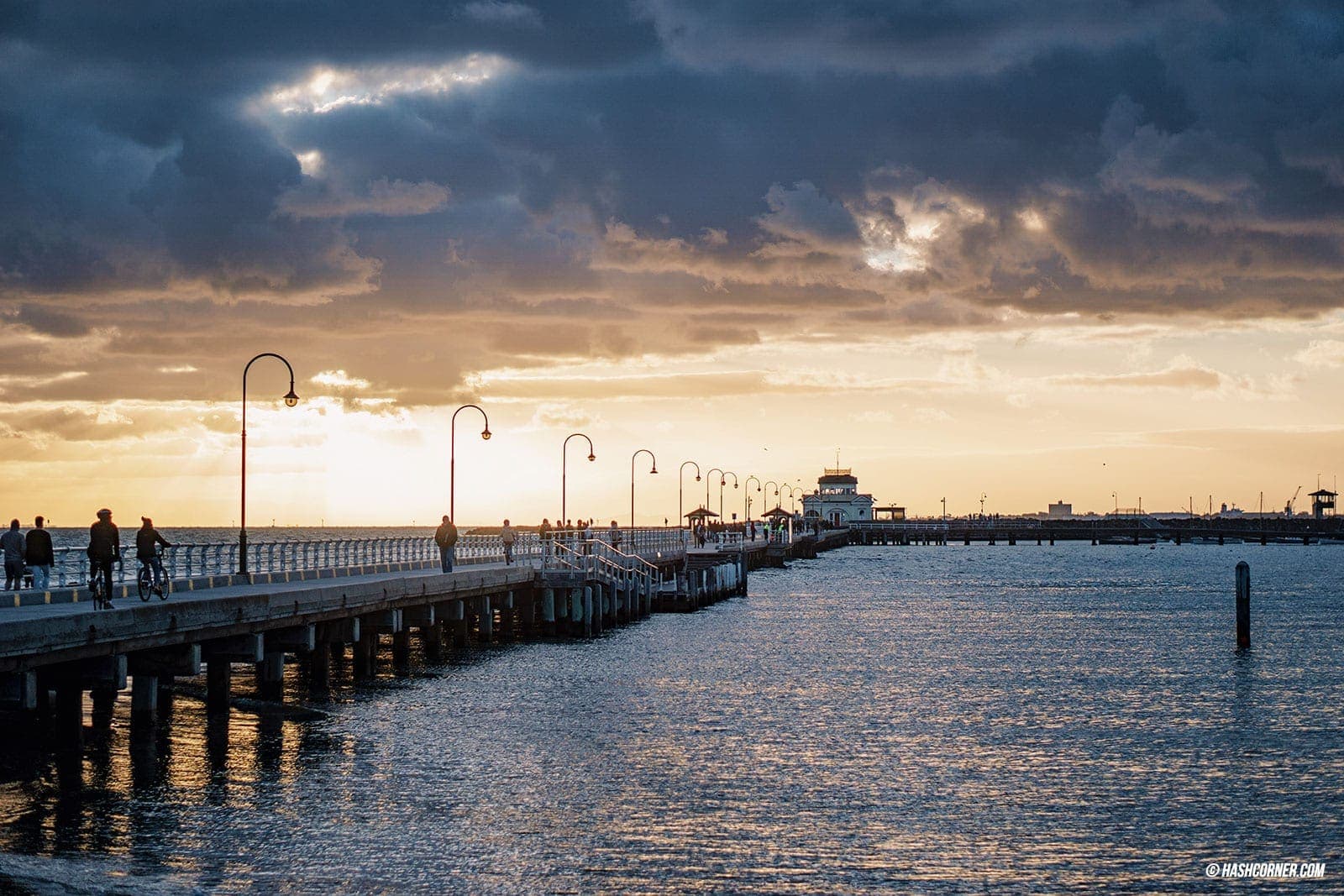 Accommodation in Melbourne
City Tempo – Lonsdale St
The accommodation I chose in Melbourne was City Tempo – Lonsdale St, which was located near the Southern Cross railway station. This location regards to be my most important reason for choosing to stayover this place. Because not only it's closed to the railway station, but it's also nearby the tram stop and the airport Skybus drop-off point. That means I needed no worry about dragging or carrying a heavy suitcase into the tram. I could comfortably access accommodation. The other reward is the place is embraced by restaurants, cafes, supermarkets like Coles. More importantly, the Free Tram Zone includes in this location area as well. Sound excellent, don't you think?
Let's discuss the room. GREAT is only one word to describe, I also want to make a high recommendation to stop overnight here, since City Tempo – Lonsdale St. is a condo building that is divided into a hotel. Consequently, the room development is similar to a condo formation. I traveled Melbourne with 2 companions, the room I booked is very huge, comprised of two bedrooms, with a free space living room and a private kitchen.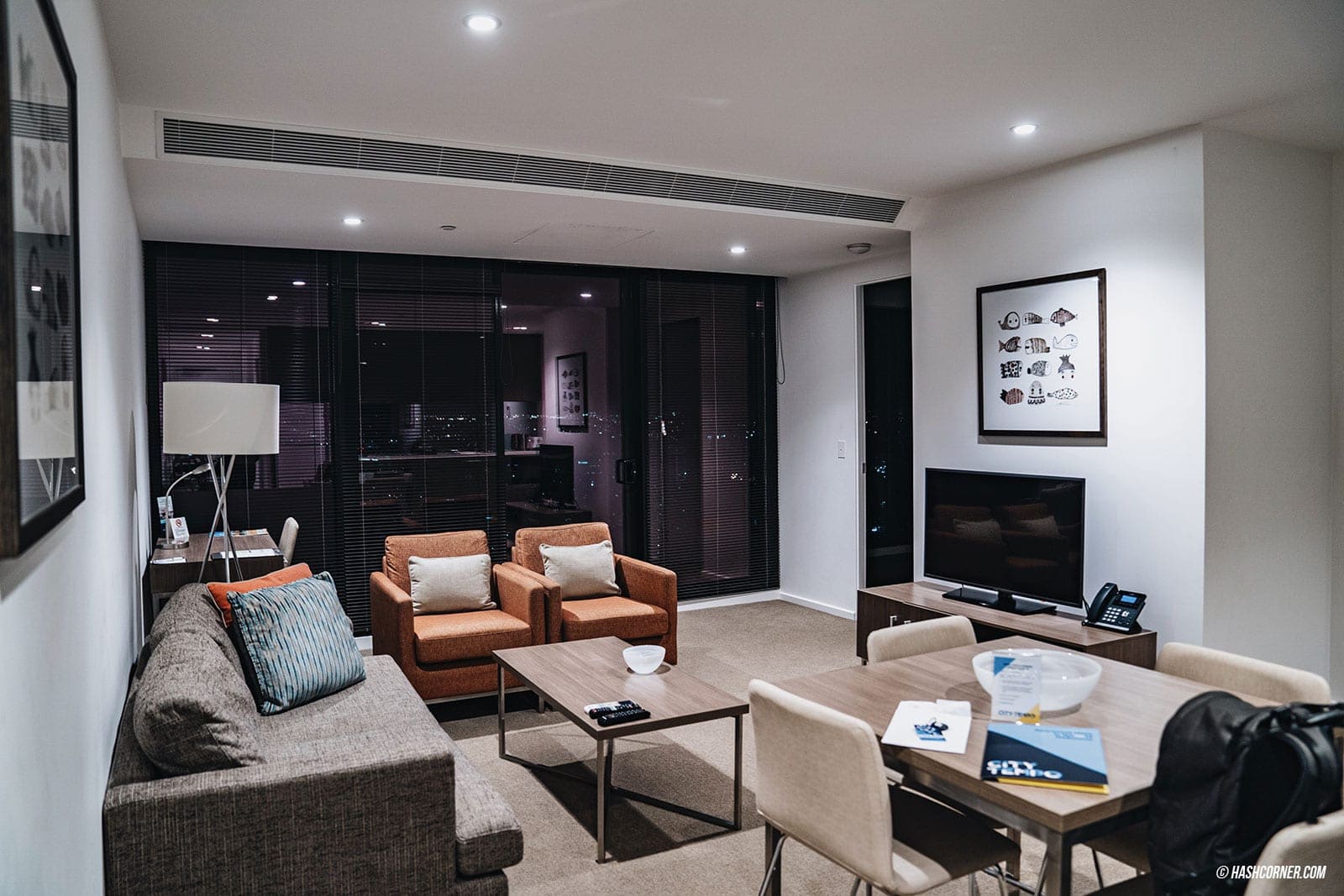 The room, overall, is clean, the bed is comfortable, strong wifi, including a spacious area. Luckily, I was staying on the 20th floor, through my room windows, I can enjoy the beautiful vista. It even looks more stunning at nighttime. Yeah! It's just great and highly recommended without hesitation.
Other Popular Activities in Melbourne!
Apart from this Melbourne travel guide review to follow the travel path reflecting the modern hangouts. There are still many other activities for you to do and visit. It would be simpler if you can check out some of the most popular activities in the Melbourne links below. I already picked them up with love!
Finished Exploring Melbourne City, Where Next?
As I mentioned earlier, Melbourne offers more than what you expect. There are many more places to travel around the edge of Melbourne. Mainly, I went to the Great Ocean Road, Phillip Island, and the Grampians. However, if you're interested in these places, you can continue traveling with me, but if you already achieve it. Flying to Sydney or Tasmania by getting off at Hobart is also a satisfying idea!