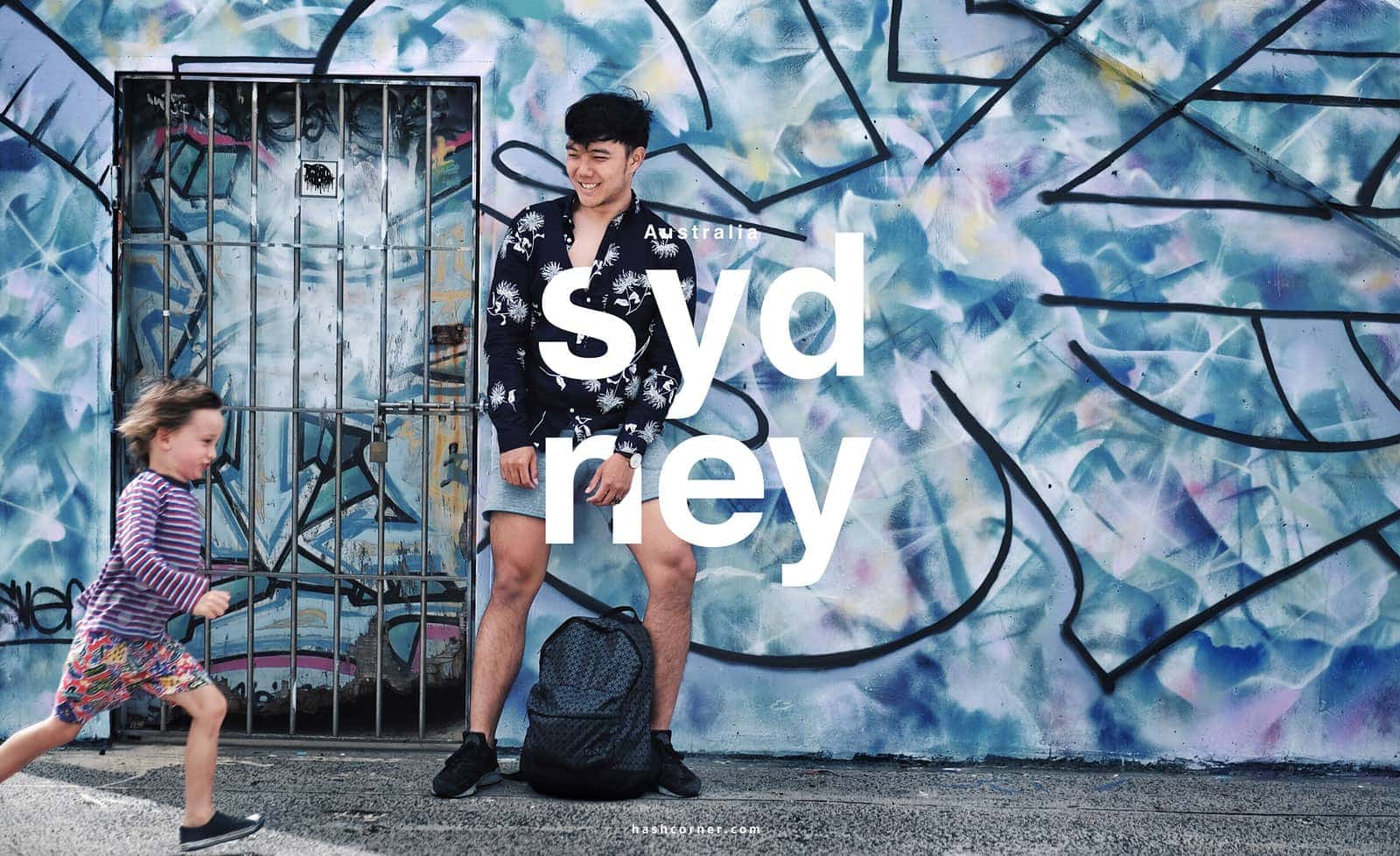 Sydney is first Australia's determined destination for travelers to make a journey due to its significance, the large airport with many arrivals' flights, as well as an easy connecting to other major cities in Australia. Sydney, therefore, is the starting point for passengers to advance in various destinations. Sometimes, people are confusing whether in Sydney the capital city of Australia? If any of you accidentally question back, 'Oh, isn't it the capital?'. Hello! I'll give you a second chance to search for the new answer on Google. Please, find out now! Lol!
Well, I myself didn't start my Australia trip in Sydney. But it was the last city to visit before returning to my country. All of my plan routes are for 5 days and 4 nights. Yet, in this travel guide review, I will be written only 4 days because of the day-5, I spent the whole day boarding on a plane. Well, let's start traveling now!
The Overview Trip to 3 Australian States
Victoria → Tasmania→ New South Wales
Originally, I was in Melbourne for 2 months. As I had to fly back home, consequently, this great trip was made to take 20 days of traveling, including these 3 states; Victoria → Tasmania→ New South Wales It will consist of major cities that everyone is familiar with such as Melbourne, Hobart, and Sydney. Apart from these three large cities, I also planned for a small-town trip. There are a lot of other nearby cities that should be visited, which I will definitely write separate reviews to introduce and conform to my travel idea. But this time, take Sydney first. ❤
Getting Around Sydney
PANTIP
Traveling inside Sydney, the train is probably the most convenient and economical. Before leaving the airport, I advise getting the Opal Card, they provide it for free at the train station connected to the airport, but there is a condition, you must top-up at a minimum of $20 for the first use. This card can be used to travel within Sydney on every transport from trains, buses, to ferries.
The railway line in Sydney is so puzzling. There are many train lines, as well as platforms in each station, such as the Central station with about 25 platforms. I recommend downloading the TripView app on your mobile to view the train schedule and information. It helps a lot! It reveals all train lines you can get in to reach the destination, including which platform you should wait at. It's very convenient.
Seeing the train in Sydney at that time was like, oh! This is super cool! Because it is 2-floor passenger rails that are not old (but not new) and comfortable. I've never seen a double-decker train before. I was extremely excited about this!
Let's Start the Sydney Trip!

Day 1:

Circular Quay

Of course, for the first day of the Sydney trip, many of you may like to visit the best-known landmarks first, those are the Sydney Opera House and the Sydney Habour Bridge. Seriously, these two are the perfect combination. If coming to Sydney, but have not seen or gone to these places, it assumes that you are failed to approach Sydney, Australia!
The Sydney Opera House and the Sydney Habour Bridge are located around the Circular Quay train station. We will begin our first day here! Let's come along together and drop off at the Circular Quay station.
Now, speaking of access to the Circular Quay area, we should explore other places as well. We will take a long circle walk, turn clockwise, starting from, (1) Circular Quay Station → (2) Museum of Contemporary Art Australia → (3) The Rocks / Pancakes on The Rocks → (4) Sydney Harbour Bridge → (5) Royal Botanic Gardens / Sydney Opera House
When arriving at Sydney, it's advisable to take this guidebook from the Visitor Information Centre. It suggests a very good place to eat and visit. There also provides a map inside. I picked mine from the Visitor Information Centre near Darling Habour. // Don't worry, this book is distributed for free.
Get off from the Circular Quay station, the first touch is, there are crowded with people. The front view is the harbor where you can take a boat to sightsee Sydney in various aspects. But we will skip the boat trip, as I want to continue walking to the left, then, straight to the Museum of Contemporary Art Australia (MOCA) first.
Museum of Contemporary Art Australia (MOCA)
Museum of Contemporary Art Australia, I'll onward call it as MOCA for short, is a free admission museum, except for special exhibitions that may cost you some money. As you may know, MOCA is displayed in contemporary art as its name and specifying. So, it's not much of fine art, which I prefer because I majored and graduated in graphic design, making me have a passion for this art field. Hahaha!
I walked MOCA without any special consideration, just have a look around until it ended with 2 hours in total duration. There will be many contemporary artworks, installations, graphics, photography, films. If you are an art enthusiast, you may enjoy this all day. But for those who are not into arts at all, there are a lot of chic photo spots, including the selected store with design items that are worth seeing.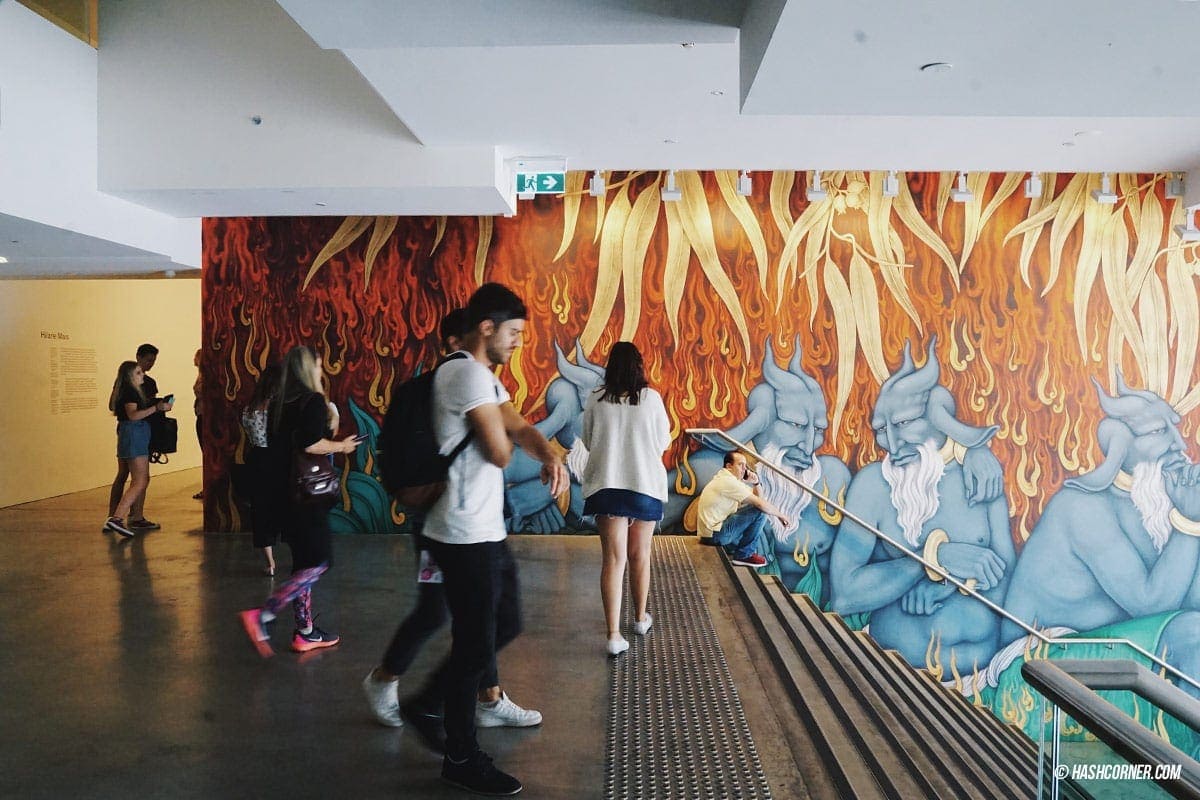 The Rocks
Between progressing to The Rocks, on some days, you might see a yacht at the Overseas Passenger Terminal, as the spot is a giant yacht harbor, it is giant to the point of passerby always stop and snap some photos. There is also Dinner in The Sky, a restaurant that uses a crane to lift its diners and table into the air for guests to eat and enjoy the breathtaking experience. // I have only seen this on TV. Hahaha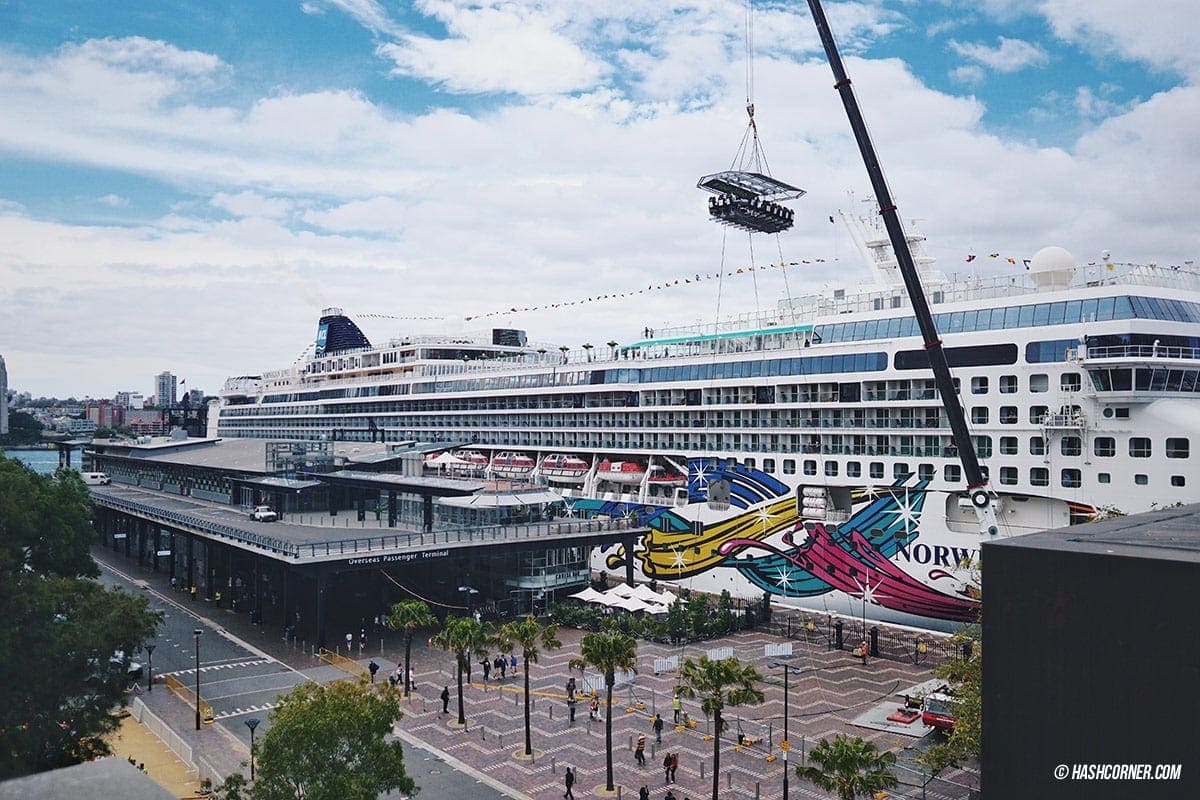 Walking through the Overseas Passenger Terminal to the end, there will be an open courtyard and a public park. Let you look for the Sydney Opera House on the opposite side, including the Sydney Habour Bridge where visitors buy the Bridge Climb tour to climb up the bridge that is considered as one of Sydney's iconic landmarks. I want to climb too, but it is a bit expensive. Goshh.
Walking to the end, you will meet the South Park of Sydney Harbour Bridge. Here, you can see Luna Park, Australia's oldest amusement park, across the river. This corner is another Sydney Harbor Bridge corner that provides attractive scenery.
After finished, let's walk back to The Rocks because I plan to stop at Pancakes on The Rocks.
This restaurant is famous for pancake served and has been around with The Rocks for quite a long record. Many travelers recommended eating here, so I decide to follow along. I ordered Macadamia Madness with another menu which I can't remember the name. In my view straightforward, it is average. Pancakes and Macadamia nuts are in great size, but the top ice-cream is too small, comparable to a meatball, it does not gratify me much.
Pancakes on The Rocks is a fair choice to drop by, but if you can't manage schedules on visiting it, it's not a shame to skip over.
Sydney Harbour Bridge
After stomach filled, later on, you can burn fat by walking to the Sydney Harbour Bridge. As I mentioned, this bridge is considered to be Sydney's landmark, along with the Sydney Opera House. Strolling on a bridge overlooking the city of Sydney, besides indulging significant landmark scenic is a pleasurable moment. Sydney locals also love to jog or biking here as a daily routine. If you are curious about how far can I go? I walked up from The Rocks to the center of the bridge, passing slightly after Pylon Lookout.
At first, I wanted to stop at the Pylon Lookout, but the entrance fee costs $ 15. I'd like to save money to do other things instead because I believed underneath the Pylon Lookout can also view the Sydney Opera House, which causes no hugely different. Moreover, other visitors didn't seem to motivate in going up much either, so I stood there steadily!
Reaching the center of the bridge, then, I stopped and walked back to the Circular Quay. There was a sign guiding to the bridge walkway that leads you to the Sydney Opera House. I, therefore, took that path with a detour at Circular Quay, before appearing at the Royal Botanic Garden.
Royal Botanic Gardens + Sydney Opera House
Walking down to the Royal Botanic Gardens with a little tiredness. I decided to bypass and headed straight to the Sydney Opera house. Truth to be told, if I had more time and not very worn out, stopover at the Royal Botanic Gardens is also a wisely good idea, as the place is a huge and lovely public botanical park. Supposing to have a lot of free time, bonus with the breezy weather, I would surely take this wonderful walk.
After arriving at the Sydney Opera House, it was late afternoon. Of course, there were a lot of people taking pictures with the exquisite landmark. I spent quite some time taking pictures with it as well. Heh-heh. Subsequently, I walked inside, but there was nothing much around since it is a venue for various performances and concerts. I accordingly didn't watch any show, so, I just explored a little while, then, took an exit.
Walkout towards Circular Quay, following the path that packed with people in the shown image below. You'll get a popular public corner (photo spot for capturing the Sydney Opera House landscape) everyone is familiar with. Lol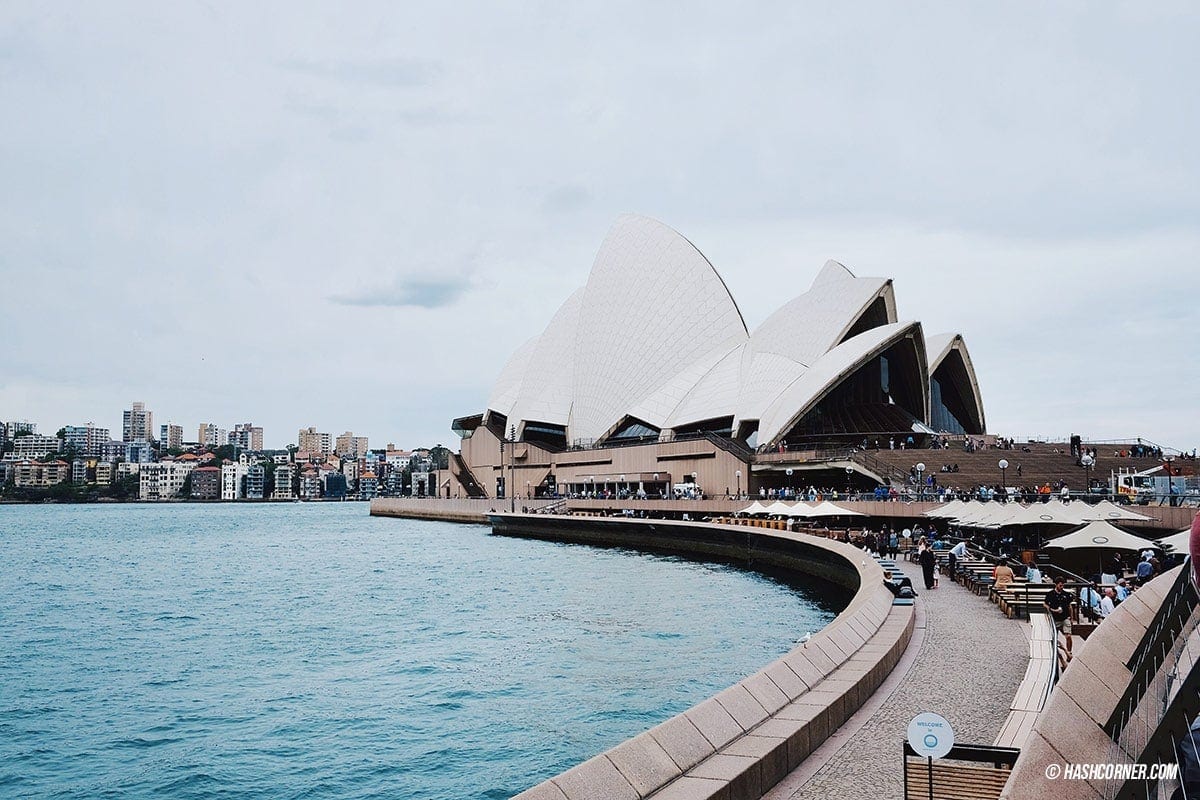 After that, walking back to the Sydney Opera House to settle down for the night lights-up. // I confess, I had no idea where to go next. 😂
I sat there until the sun went down. Later with a mere moment, there was Lighting of the Sails, illuminating the Sydney Opera House. It was stunning!
The light projection is not held every day, it depends on the day event. Nevertheless, checking the activity schedule to make sure if there is a light-up or not. After the projection was over, tourists gathering to take an exit. So, I hung around there and took some photos for a little while until the venue was less crowded. The walkway from Circular Quay became a beer garden at that moment. Actually, I wanted to remain there a bit longer, but I was dead-tried so I decided to go back to the hotel, and slept. Lol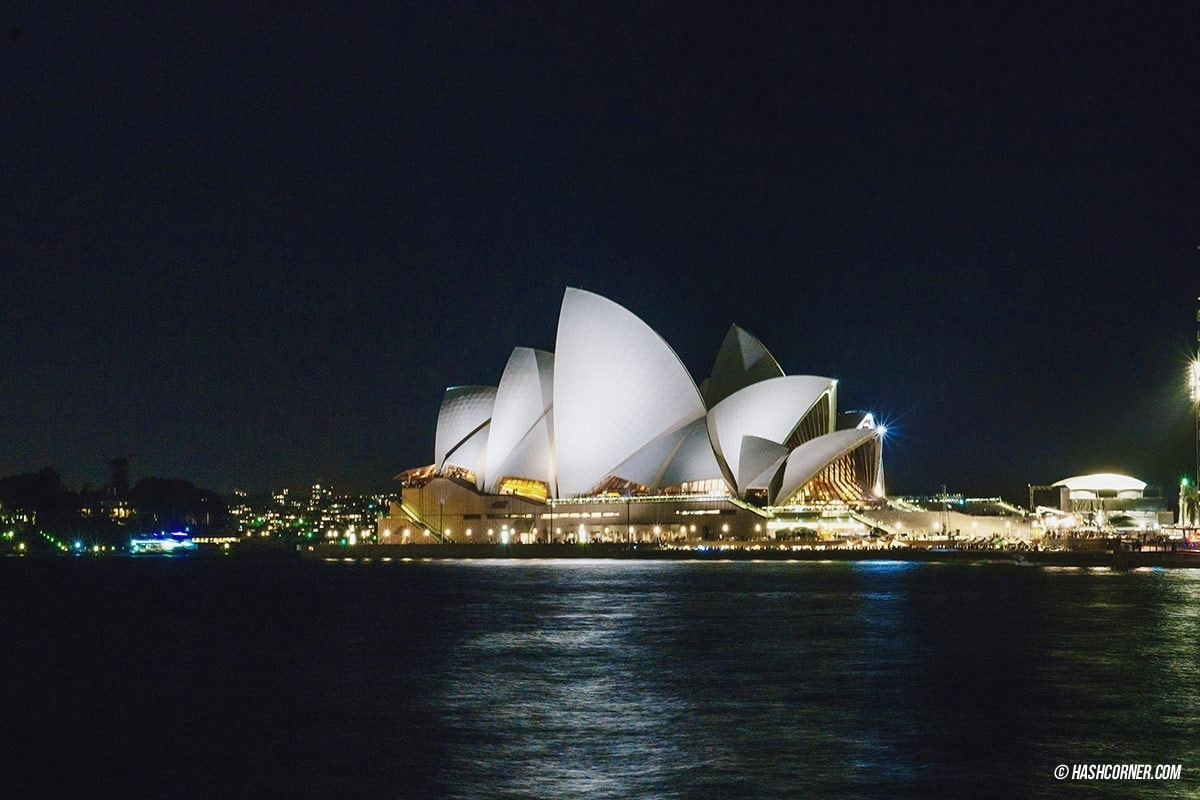 Day 2: Bondi
Let's walk away from the buildings and head to the beach in Bondi. At first, I mispronounced 'Bondi' as bond-ee, with misapprehension and unsureness. Now, the correct pronunciation is bond-i. It was a bit embarrassing because I told many people that, I will go to Bond-ee multiple times. Lol
How to get to the Bondi area, let's take the train to the Bondi Junction Station. If you wish to shop, you can stroll around here first, since there are a bunch of malls and brand stores. But if you decide to head straight forward to Bondi Beach, then, get on the bus no. 380, 381, 382, or 333 from Bondi Junction train station. It takes only 15 mins.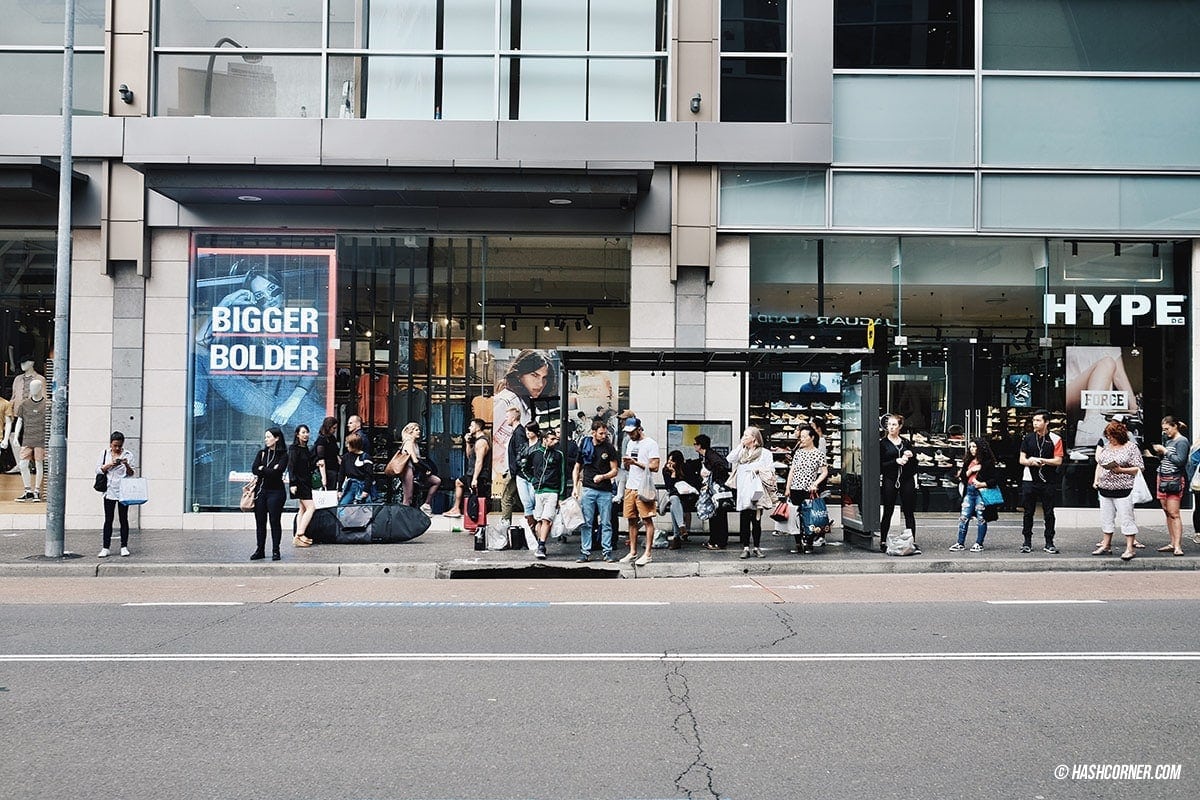 Bondi Beach
Bondi Beach is Australia's most distinguished beach, where is not far from the Sydney CBD. So, it's easy to approach. With a diversity of activities accompanying skateboarding, sunbathing, swimming, surfing, picnicking, or even just walking. In consequence, Aussie people like to come and relax here through a variety of ways to relieve the stress from routine, this is another place I'd like you to come. I woke up late during my visit, before dragging myself out of the hotel, I arrived there in the afternoon. Fortunately, it was not very sunny that day. Yippie!
There establish a quality skate park. I went to watch the local children skateboarding. It was fun.
Along the promenade of Bondi Beach, there is a long graffiti wall where you can walk and take photos with it. Many visitors are attracted to this evocative art as well.
And this is the cover image of this travel guide review. I like it a lot… Because the children ran into the frame exactly when I was taking this picture, making the whole image filling up with a background story. I look like a child lover, do you agree? 😂
Although, I did not prepare to swim here (the wave was too strong, I was timid to jump into the sea. Hahaha), walking, chilling, watching people surf further away was favorable enough.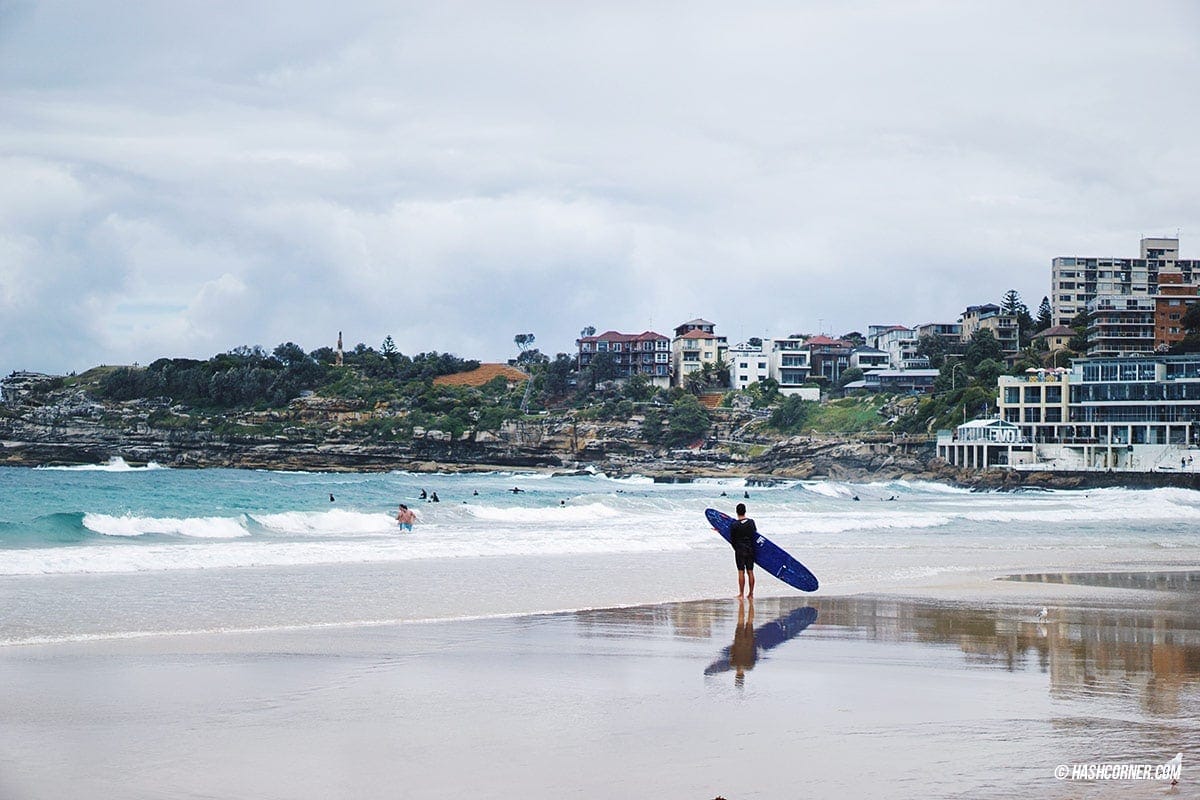 Bondi Icebergs
Aside from the sea and Bondi beach, it is also home to Australia's oldest swimming club, which is called Bondi Icebergs, one of Sydney's oldest international landmarks. The uniqueness of the swimming pool is located by the sea with the waves breaking in, it regards to be the signature of this place that you can't find anywhere else, only here in Sydney.
The accessibility to Bondi Icebergs, keep walking to the right of Bondi Beach. There will be a walkway up to Bondi Icebergs Club.
Bondi Iceburgs were built since 1929 for the purpose of giving local lifesavers on Bondi Beach maintaining their fitness during the winter months.
For those who want to swim at Bondi Icebergs, they are open publicly and welcome all guests to experience the exclusive pool. The admission price is $ 9. This price includes the use of hot showers, sauna, and change room facilities.
Bondi to Coogee Walk
Watching swimmers until your eyes getting wet. Next to Bondi Icebergs is the starting point of the Bondi to Coogee Walk. This pathway is beautiful and well-built that you don't require any effort, children and elder are safe to walk on this path as well. It will lead you to walk along the edge of the coast until it ends at Coogee Beach. During the voyage, you will see Bondi Bay view, rock formations, and surfers distantly. There is a lot to see on the move. In closing, I reached only at Tamarama Beach, estimated to be a half-way to Coogee Beach.
Turn to the right side from Bondi Icebergs, you will see this perspective. The walkway is terrific. Please examine it up close, you'll see they constructed it brilliantly. You don't have to be afraid of walking amidst natural.
When walking a little further, then, try looking back. You'll see Bondi Beach Bay. It's Stunning!
Bondi Beach is likely equivalence to a tourist attraction, isn't it? Let's take a look at Tamarama Beach, where is smaller and a lot less crowded. The view from the walkway that is descending towards Tamarama Beach is picturesque. As for the reason why you can spot many surfers in the shown image below, it is due to stronger waves here.
From Tamarama Beach, you can actually take the bus back, but I was too lazy to search up for the bus information, so I opened Google Maps, and find the way back to Bondi Junction to take the train to Sydney instead. The returning journey was not that terrible, I, therefore, can walk back leisurely, regarded as to walk while browsing around the neighborhood, which is very livable. I prefer this over in many zones of Sydney.
Day 3:

Chinatown + CBD

In this day-3, we will experience in another area of Sydney. A lot of walk includes in today's plan, but in truth, we walk a lot every day. Lol. The train fares are quite costly, so I group the places nearby that are easily approachable by walking. Okie! Let's start our journey at Chinatown. First, you may take the train to Central Station, then, walk to the CBD (Central Business District), next to it, there is the location of Hyde Park, our final destination where we will wrap up there. That's all about it!
Paddy's Haymarket
The first place I'll bring you is Paddy's Haymarket in Chinatown. If you want to buy gifts, souvenirs, or even have no idea and seeking for something new. I advise you to come here, there are simple souvenirs such as keychain, dolls, magnet, including some art crafts with Australian identities. Everything can be found here.
The cool thing about Paddy's Haymarket is, it's a bazaar with cheaper products than many other locations. Vegetables and fresh fruits can be obtained from here. Plus, the market offers a friendly Asian feel, which is due to the vendors are all Asian!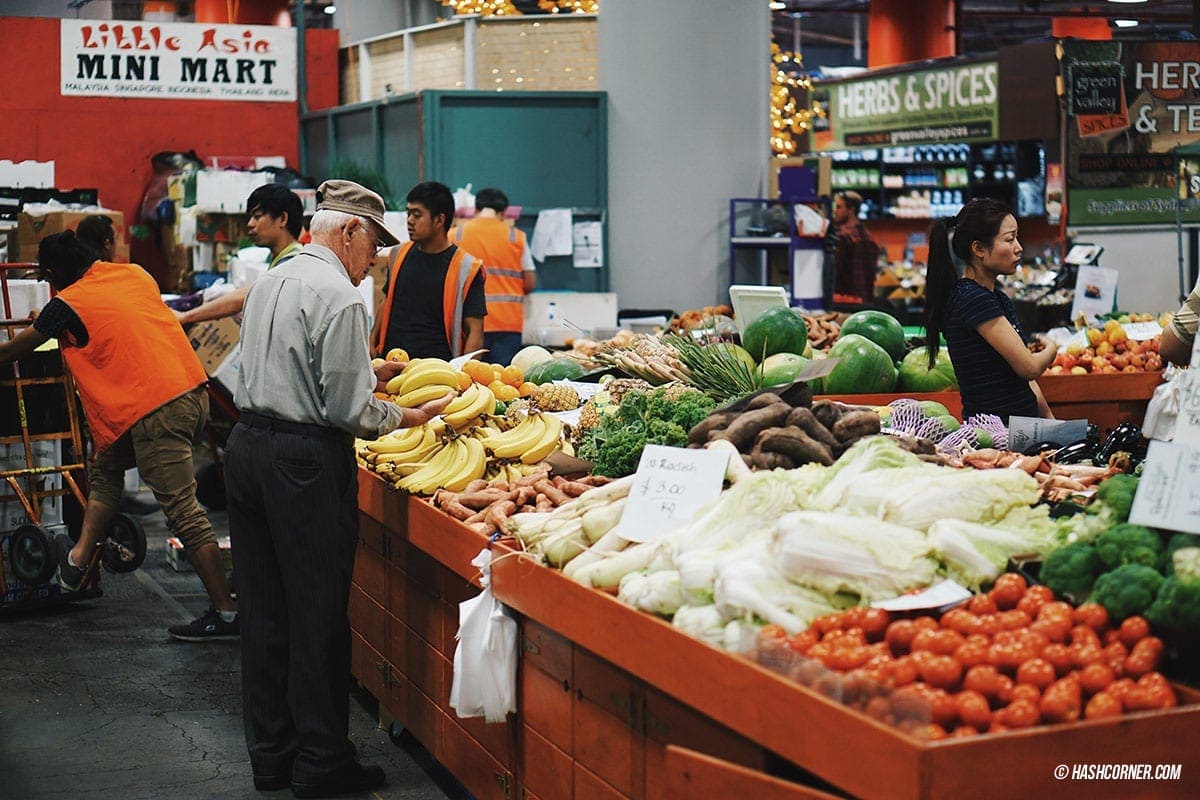 The sold bananas at Paddy's Haymarket costs $ 1.79 per kg, it's very cheap, compared to the branded supermarkets like the Coles or Woolworths that sell daily fresh products, these two are selling for $ 3 per kg.
Doo Dee Paidang Sydney
PANTIP
After Paddy's Haymarket, I'll introduce you to the famous Thai eatery in Australia, Doo Dee Paidang, located a short distance from Paddy's Haymarket, where is now expanding 2 branches within Australian. From the very beginning, it's only operated in Sydney, but now, you can enjoy Thai cuisine at Melbourne as well. The restaurant is considered a place to naturally gather Thai people. // During my stay in Melbourne, most of my Thai friends invited me to Doo Dee. Hahaha. I do recall when the restaurant was first opened in Melbourne. Everyone seemed to be excited and tempting over this happening.
The must-try menu is undeniable their noodles, they are very delicious. Besides noodles, the restaurant also serves various Thai dishes with variations of spiciness. There are courses eaten with steamed rice, as well as the A la carte menus, such as papaya salad, barbecued red pork in sauce with rice, and rice crispy pork. More importantly, all the price is affordable, a small bowl of noodles costs $6, a large bowl is $11, and the papaya salad is about $14.
Chinatown + Sydney Town Hall
Once already full, let's drag our legs through Chinatown to Sydney Town Hall, in there, we can observe the symbol of Chinatown, which is the Chinese arch in front of the street, close to Paddy's Haymarket. Chinatown street is full of food. Omg! With a swollen stomach, I think skipping over food is the best choice now! …but finally, I still buy a pearl milk tea to drink. Lol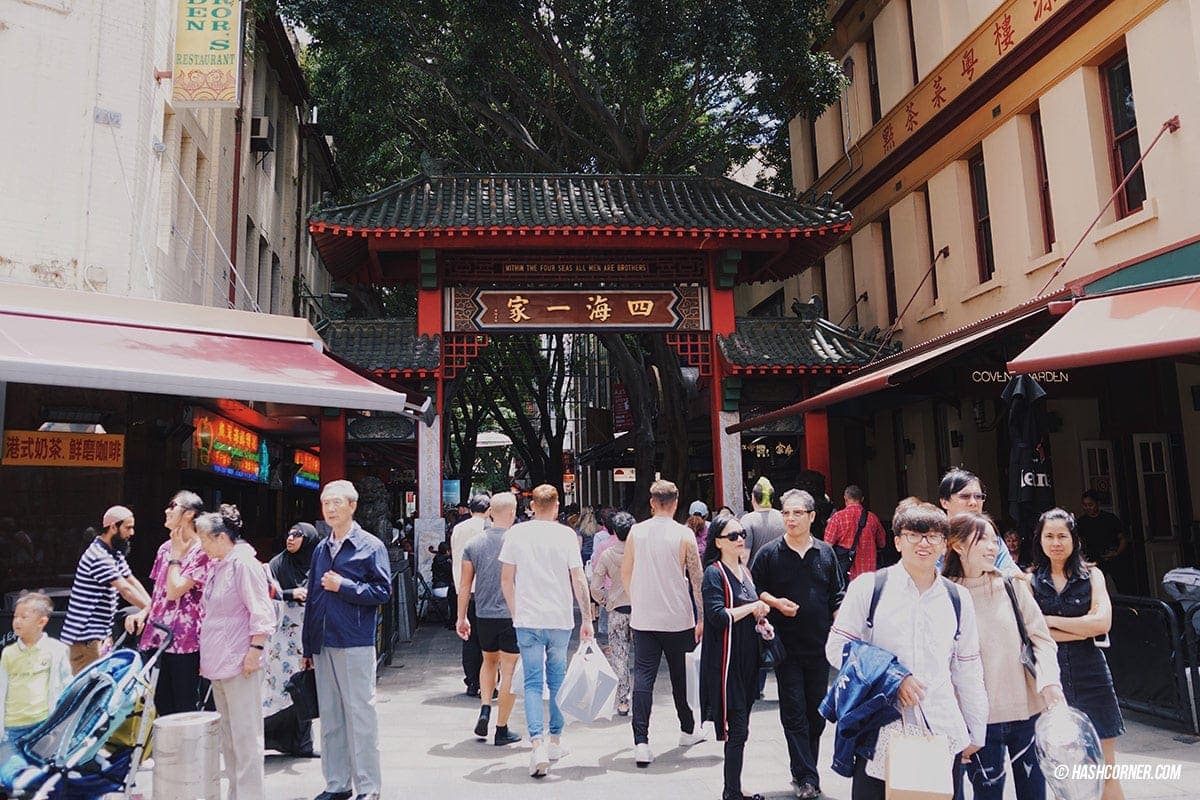 After that, I explored and took in the sights of architecture and stores along the street, until I arrived at Sydney Town Hall, which appeared to have an event. Since there were a lot of onlookers, including the 'VIP Access only' signage. For that reason, I chose not to go in because I was full and sluggish. Hahaha. But it practically allowed people to enter, I saw a Public Access track. If it looks interesting and inviting you, you can go for it.
Queen Victoria Building (QVB)
Across the street, then, take a short walk, you'll find the Queen Victoria Building (QVB). It is a shopping arcade with a heritage architecture design applied in the Romanesque Revival style, that outwardly looks venerable and magical. The seen building seems small, but you'll indeed change your mind when getting inside. It's huge with massive luxurious stores. Furthermore, the interior is well-crafted and delicate referring to the Romanesque Architecture.
With QVB being built for almost 200 years, the building is architecturally splendid and has been appointed for various occasions. Due to these reasons, the government has registered QVB as a heritage of New South Wales. In my perspective, this place is a high recommendation to come. Although you have nothing to buy, at least, just come to see its rich history and wonderfully visual, I promise, this visit is worth your time. Especially during Christmas month, the building is brilliantly decorated.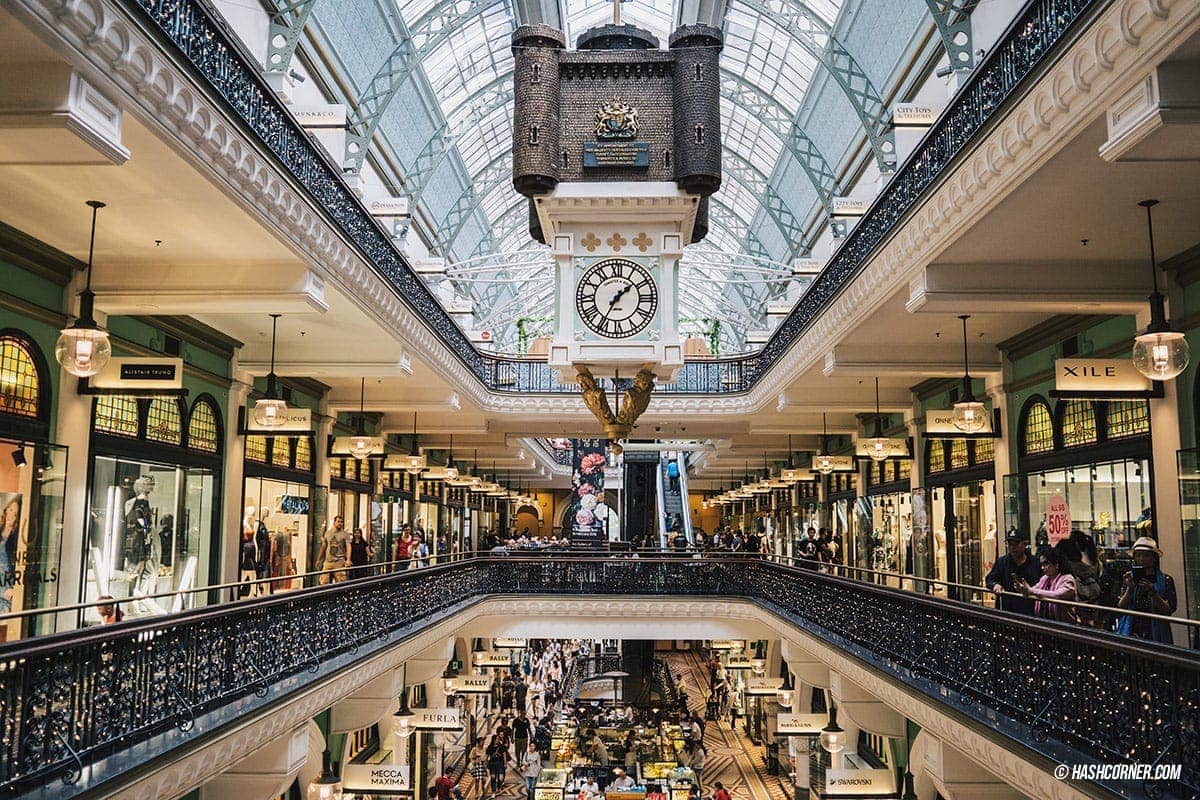 At Queen Victoria Building (QVB), there are a lot of tea shops, located in the middle hall. Or if it is on the 2nd or 3rd floor, Tea shops will lay a table surrounded by a corridor fence. If you want to sip a cup of tea to relax under this charming ambient, please do! For those who disfavor teas, they also serve coffees. I already observed the price… the coffee is at a normal price of $5 – $6, but the tea set price is seriously expensive. 🤑
Pitt Street
Trivially walk to a small alley, known as Pitt Street, where is regarded to be a paradise for shopping lovers. Looking or demanding for a new trendy outfit, I recommend stopping by here. Pitt Street offers almost all brands including fast-fashion brands such as Zara, H&M, Uniqlo, Topshop / Topman, or Cotton on. The latter, many of you may not know, the brand is from Australia that has just been expanding in many countries over the past few years. Almost every brand purchasing from here is cheaper than in my home country about 3-15 USD.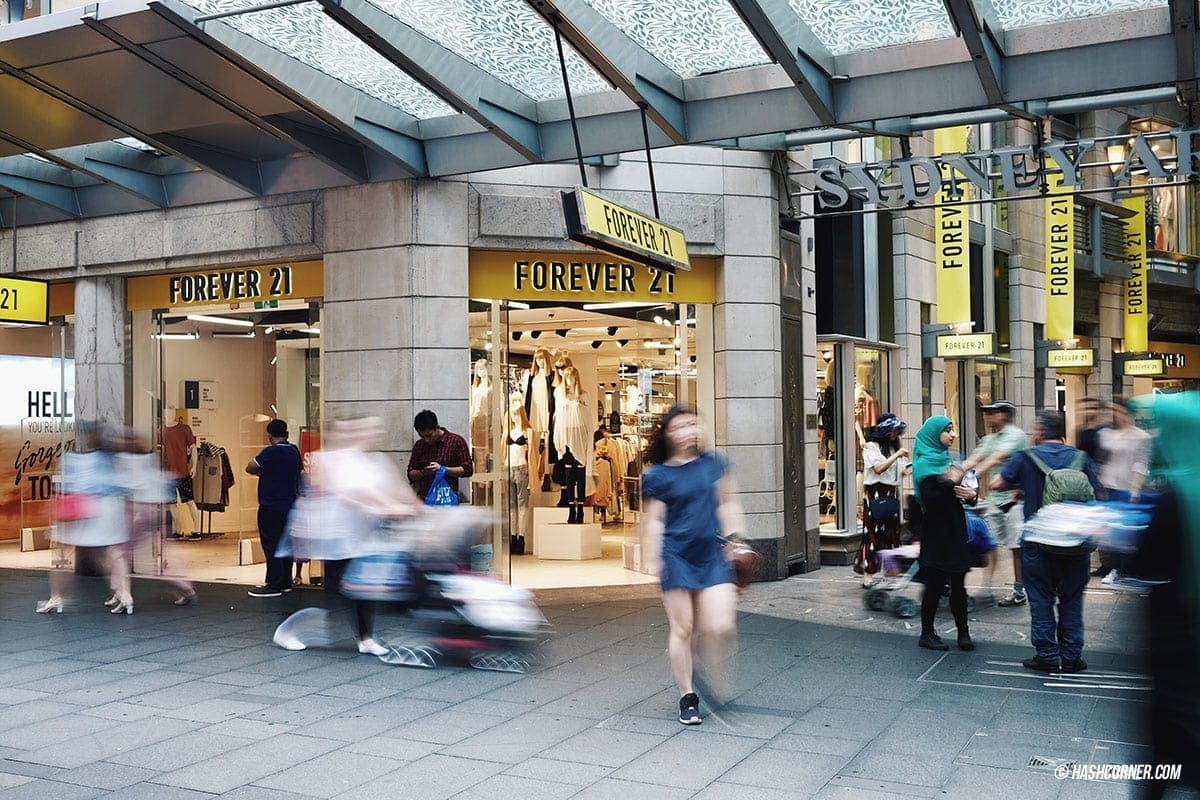 Pitt Street is the pedestrian zone with a not only scheme for a shopper but also for people who want to expose their talents. During the weekends, the street is crowded with singing or live music performances. The atmosphere is truly great!
Hyde Park
The last of today, we will end at Hyde Park. Because the location is within reach from Pitt Street, so you may walk only a minute to get there. Hyde Park is Australia's oldest public park and borrowed the name from Hype Park in London, England. After I had been to both places, it gives me a totally different feeling. Sydney is modern, located in the heart of the city. As for London, I spotted green everywhere. Both are charming beauty in their uniqueness.
Hyde Park has three main sections that I'd love you to have a look around, there are; Archibald Fountain, St Mary's Cathedral, and ANZAC Memorial, which are magnificent. The Archibald Fountain is the first eye-catching spot when you walk into Hype Park. The fountain, along with the statue are attractively built. In the center is a statue of Apollo pointing at the St Mary's Cathedral.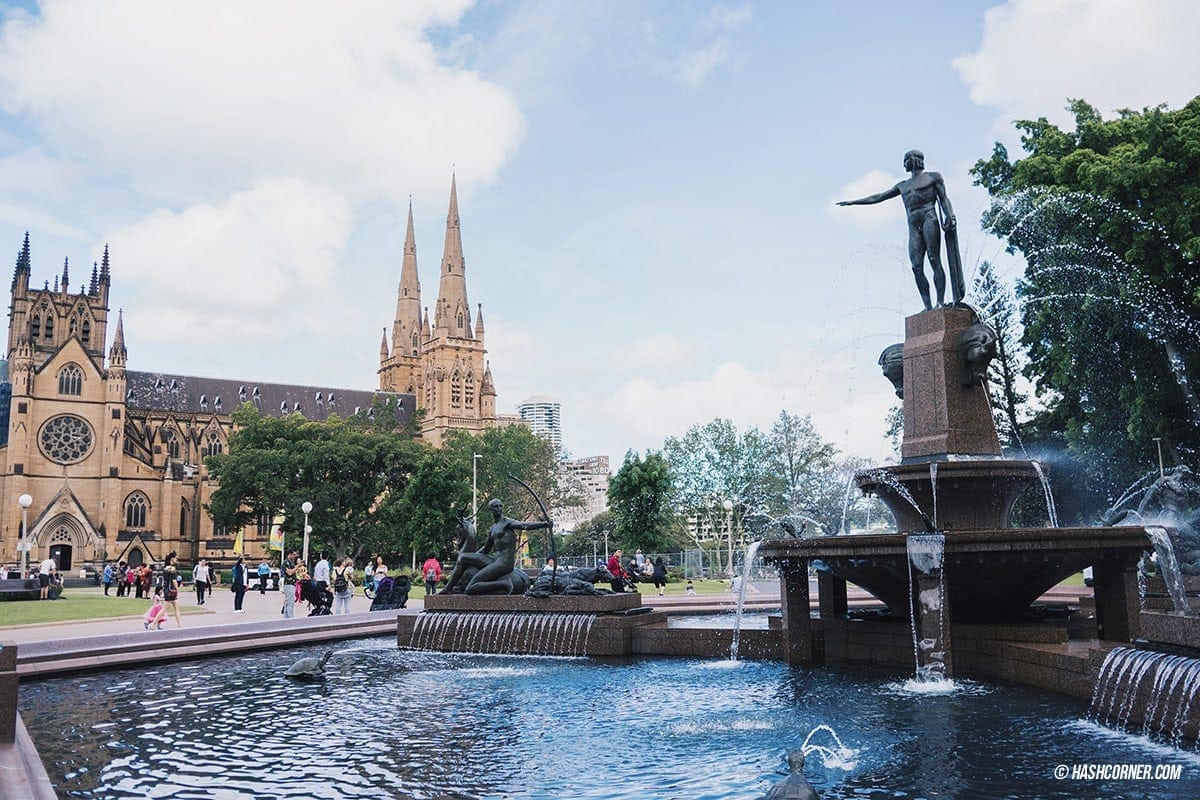 St Mary's Cathedral, I did not walk to absorb its historical site closely, just watch it from a long distance, because at first, I plan to come back to pay a visit properly. But in the end, I was too lazy to walk back.
The ANZAC Memorial is situated at the end of Hype Park, the passageway to the ANZAC Memorial is remarkable with high-rise trees along roadsides. Later on, you'll meet a pond in front of the memorial. There are a lot of teenagers skateboarding around here.
The ANZAC Memorial was constructed to commemorate the sacrifice of Australian soldiers during World War I. By the total number of stars on the ceiling is equal to the total number of Australian soldiers who sacrificed for this war.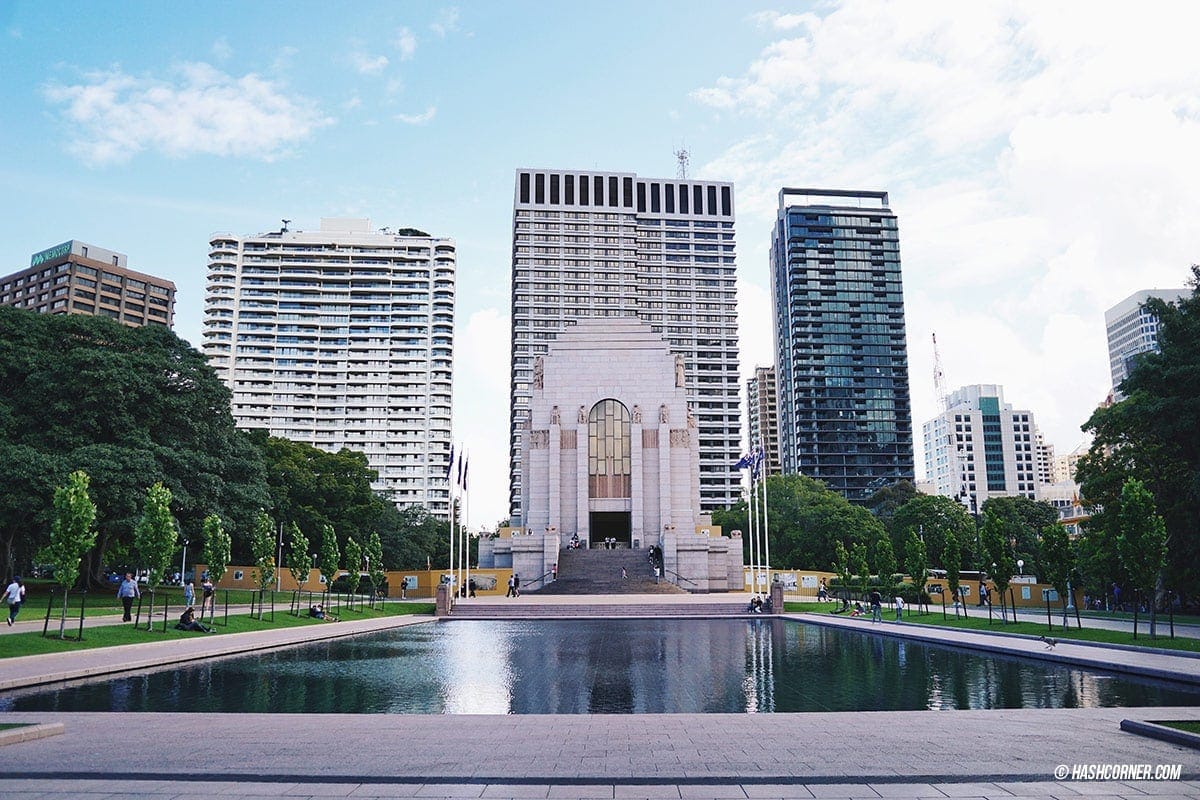 After the ANZAC Memorial exploration was completed. With a few historical pieces of knowledge, when discussing World War I, I can only recognize the main countries such as Germany, England, and France. But after visiting the place, I also gained new particular detail from Australia record that they had assigned soldiers to take part in the war. Although, Australia was far away from the battlefield, but sending troops to help since their country is also considered a member of the Commonwealth. It's emotionally touched which I can't describe in words.
Finished strolling in Hyde Park, I walked back to the hotel unhurriedly. In fact, my reserved hotel is far from the CBD for about an hour. Throughout the way, I felt a bit exhausted and somewhat far. Lol
Day 4:

Blue Mountains

The last day of the Sydney trip before returning home the next day. Let's leave the concrete forest for real trekking to the Blue Mountains. This is much better than I expected because at first, I already traveled to the extreme nature in Tasmania. Therefore, I thought the place may be ineffectual. But it turned out different results, plus, it's also easily accessible from Sydney, which is able to take a train, bus, and car. For me, I drove there due to craving for freedom, lol. Actually, it's not that far, it just takes only 2 hours. 😆
Other Popular Activities in Sydney!
Apart from this Sydney travel guide review to follow the travel path reflecting the modern hangouts. There are still many other activities for you to do and visit. It would be simpler if you can check out some of the most popular activities in the Sydney links below. I already picked them up with love!
(function(d, sc, u) { var s = d.createElement(sc), p = d.getElementsByTagName(sc)[0]; s.type = 'text/javascript'; s.async = true; s.src = u; p.parentNode.insertBefore(s,p); })(document, 'script', '//cdn.klook.com/affiliate_web/s/dist/desktop/affiliate_base_v3.5.js')
รีวิวเที่ยวออสเตรเลีย ทั้งหมดจาก HASHCORNER