Disneyland Paris is the only Disneyland Park in Europe. If you are a big fan of an amusement park, theme park, or real Disney lover. When traveling to Paris, don't miss out on fairy tales, classic attractions, and street parades here. Even though Disneyland Paris is not as large as in Shanghai, but there are constructed 2 major parks for visitors to enjoy. The rides are also amazing. If you had traveled a lot in Disneyland elsewhere and feel clichéd. I still suggest you coming because each Disneyland Park in different regions have their own unique characteristics, and some of the attractions don't have anywhere. If you're ready, let's explore around together!
Get to Know Disneyland Paris / How Many Day Should I Visit?
Many people may not know that Disneyland Paris consists of two major parks: Disneyland Park, which was built in 1992. And Later in 2002, Walt Disney Studios Park created after, its layout is similar to Disneyland in California and Florida.
Plenty of ticket options to select includes 1-day ticket, multi-day ticket, flexible ticket (you can choose to visit 2 parks in 1-4 days), it depends on how suitable your plan is. In my case, I spent one full day but couldn't complete all attractions either in Disneyland Park or Walt Disney Studio Park. I just experienced all must-try attractions in Disneyland Park, while getting on only one attraction in Walt Disney Studios Park. Hahaha
How to Get to Disneyland Paris?
🚈 The access to Disneyland Paris: Take the train to Gare de Marne la Vallée Chessy station, it is about an hour from downtown Paris. But if you prefer an easier way like taking a single bus, let's buy tickets + Shuttle Bus Express. It means you can take the Disneyland Bus at the heart of Paris and straight to the theme park. There are many providing stops to get on such as the Eiffel Tower, Gard du Nord, Opéra, and Châtelet at around 8 am.
Where to Buy Disneyland Paris Tickets?
Disneyland Paris tickets are recommended to buy via KLOOK because it is cheaper than the Disneyland Paris official website for about 31 USD. OMG! KLOOK offers a 1-day-1-park ticket starting price of 48 USD, while the official website starts at $82.24. The price differences are very shocking. See the price or buy a Disneyland Paris Ticket, let click the links from the list below.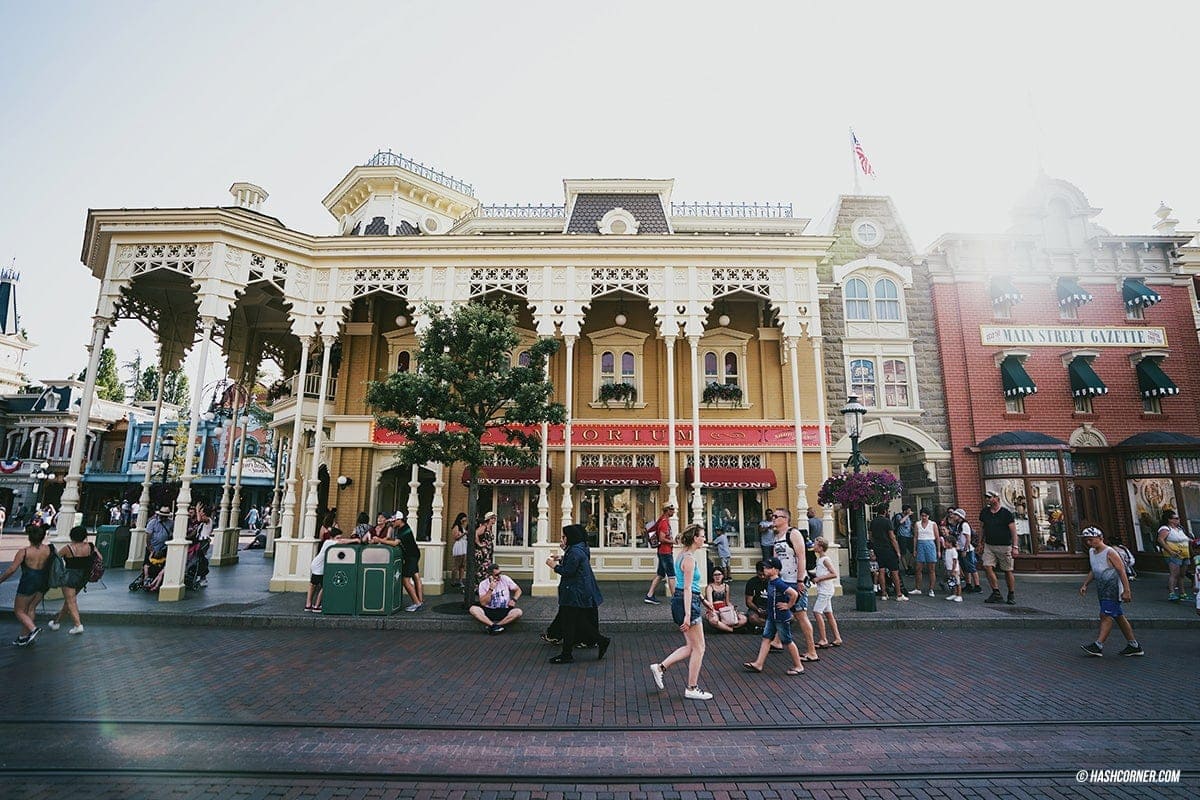 Those who want to buy or book travel services, tickets, transportation passes, or everything on this planet in KLOOK. I suggest checking the KLOOK monthly discounts (click here) because KLOOK offers promotions every month at a fairly good deal. Finished checking the discount, then, gradually proceed to buy various admission tickets. You'll pay a lot cheaper than the regular price, I emphasized on this again, there are many reductions which helps you saving a budget.
Highlight Attractions You Shouldn't Be Missed
I must mention first that I'm very fond of thrilling rides, therefore, in this highlight attraction list is based on the individual opinion and from my own preferences. OFC, there's no fairytale or cute attraction, also, I often prioritize with roller coasters or a ride with magnificent special effects.
⚡️ Disneyland Paris's must-try attractions include Big Thunder Mountain, Indiana Jones™ and the Temple of Peril, Phantom Manor, Pirates of the Caribbean, Star Wars Hyperspace Mountain, and The Twilight Zone Tower of Terror™
How to Get a Free FAST PASS!
Of course, popular attractions are needed to queue up for quite some time. At least half an hour, or during the peak period probably takes more than 2 hours. The theme park's solution to distribute people to catch on other attractions at the time is to organize a FAST PASS service. Which you have to press the FASTPASS® machine to determine the time of attending. The machines of each attraction will be located near the entrance of the attraction, including a wait time sign showing if you use the FAST PASS system then when will be your allotted time to return to skip a long queue line, and getting inside within a minute.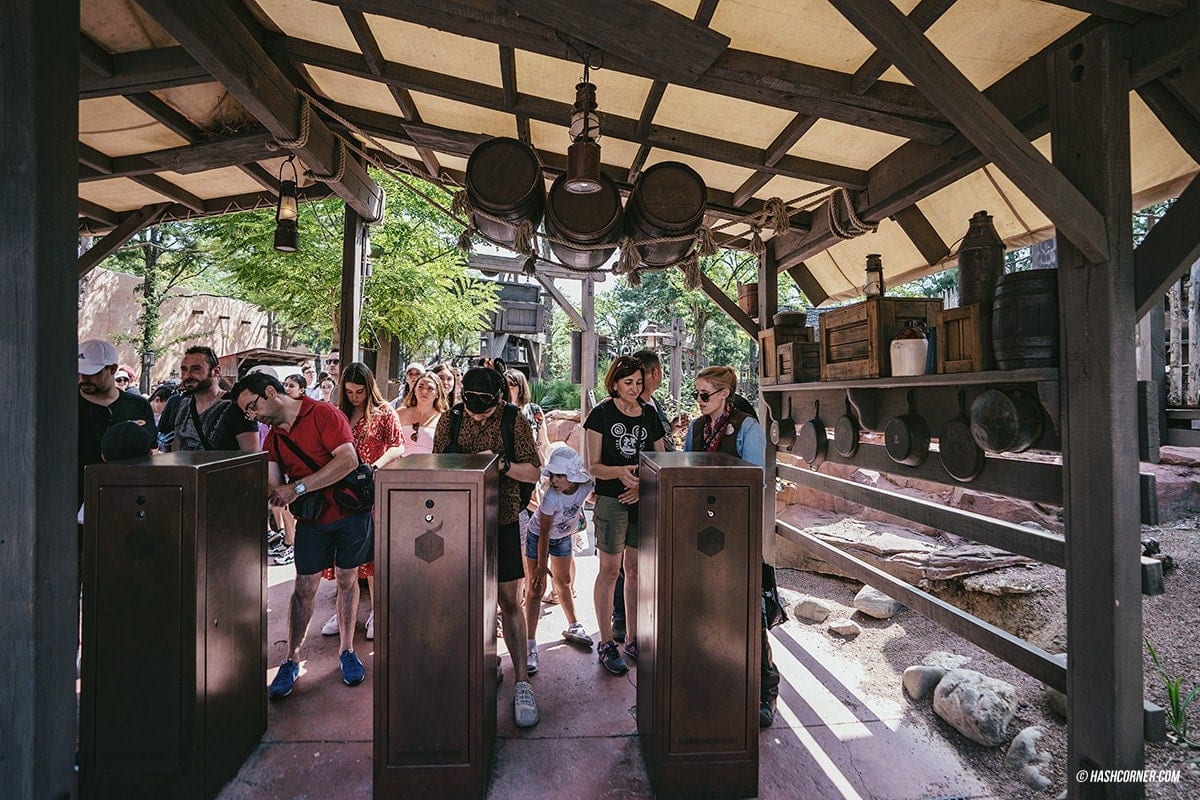 ⚡️ If you had been to Shanghai Disneyland, you may feel familiar with the FAST PASS system using the theme park app. But Disneyland Paris excludes the FAST PASS option, you can only use the app to view maps and see a waiting time of each attraction. I insist, Shanghai Disney is much more convenient. I hope Paris will develop in this area soon.
For my advice, getting 2-3 FAST PASS tickets of your selected attractions, then, feel free to do something else whether it be eating, watching shows, or taking pictures. After that, return to those attractions at the time indicated on your FAST PASS ticket and skip a queue line (the FAST PASS lane is separate from the regular lane). When showing FAST PASS to staff, you save a considerable amount of queuing time. Inadvertently, you may jump on right then. Or if there're a lot of people, you may have to wait about 15 minutes.
Frontierland
Frontierland is the first themed land that we will visit. If walking from the Mainstreet, the main road from the entrance to the theme park, Frontierland will be on the left side. The background story of Frontierland in Disneyland Paris is the most interesting and entertaining amongst all the themed lands here. The story is also available only at Disneyland Paris!
The story of Frontierland's fictional town called Thunder Mesa which was built as a town from the mining business, founded by Henry Ravenswood after he discovered a gold treasure in the Big Thunder Mountain. But the indigenous populates believe the mountain is sacred with the protection of Thunderbird. If the Big Thunder Mountain is invaded, there will be in great danger.
Henry didn't believe it, he set up a mining company to dig gold. Afterward, the town of Thunder Mesa became profitable. Henry was so rich that he built a luxurious mansion. Later on, an extreme earthquake was occurred according to the villagers' belief of Thunderbird's infuriating towards earth excavating and digging all the gold. The heavy earthquake caused deaths, the bankruptcy of the gold mining business, and ultimately Thunder Mesa turned into an abandoned city.
The attractions in Frontierland are related to the theme story. There are 2 highlights that I'd loved to recommend: The Big Thunder Mountain roller coaster, and Phantom Manor, the haunted mansion of Henry Ravenswood. Once you know the background story, it makes you more immersed in the attractions. Okie! Let's queue up and play!
Big Thunder Mountain
The most striking point in Frontierland is the enormous red mountain, it is the Big Thunder Mountain where you have to board a mysterious mine train cart deep in the heart of a haunted mountain. Despite being an abandoned town but the train still runs routinely like the miner ghosts are still working every day. LOL // it has a background story!
In my perspective, the Big Thunder Mountain ride is fun, it's not that thrilling but it can be fun to ride on. There's a steep height to climb up and down, a zig-zag runway with a speeding mine cart. The playing duration is quite long which gives me full enjoyment time. So let's say the attraction is good and family-friendly. Kids, tweens, teens, adults are all can jump on to experience a hidden journey.
Phantom Manor
Phantom Manor is one of the oldest attractions that has been around for nearly 30 years since Disneyland Paris is the originally Euro Disneyland. Lately, in 2019, Disney has just refurbished it with a new version. I affirm you to try-on because it's considered to be the iconic Disneyland Paris attraction.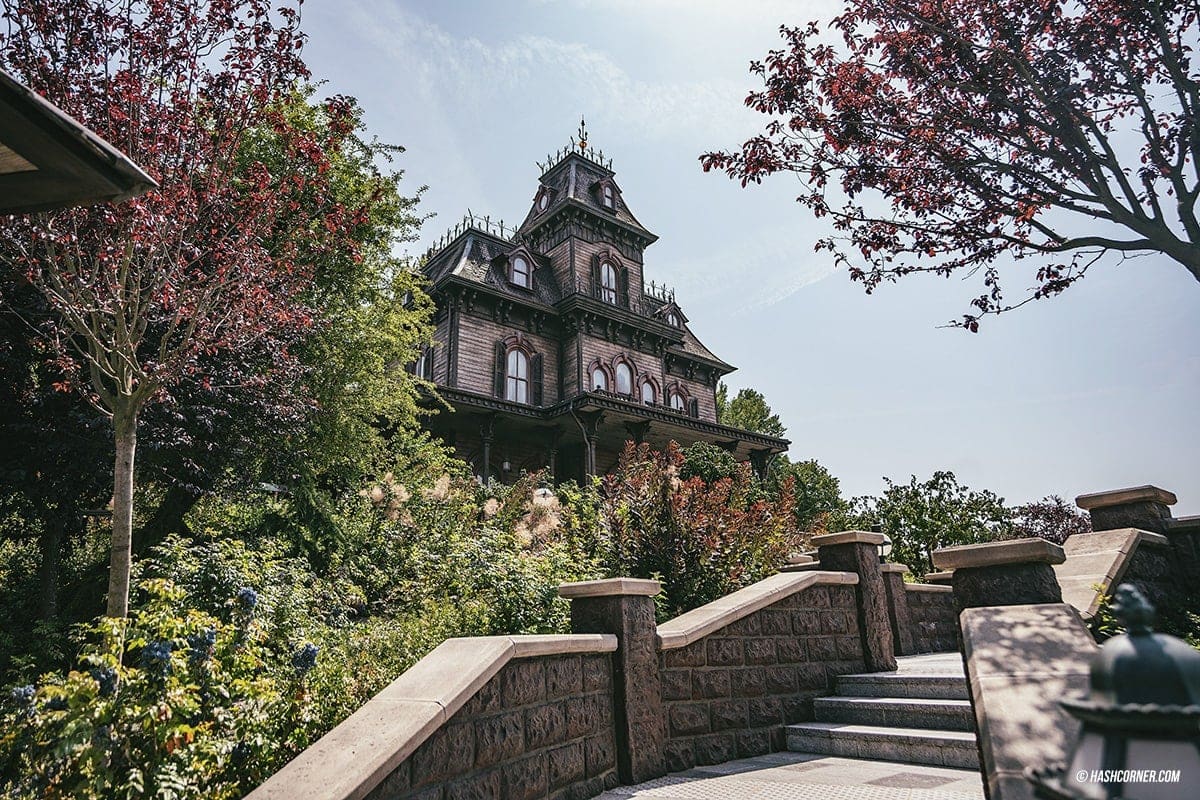 The story for this ride is Henry Ravenswood, whose daughter Melanie Ravenswood was so charming that the several suitors confronted and purposed to marry her. But then, they were all ended up with various cruel fates. At last, Melanie was in love with the train engineer, he wanted to take her away from Thunder Mesa. When her father realized their plan, he attempted to stop them from escaping. Unfortunately, he was unable to stop this affiant, yet, there was a terrible earthquake that caused her father to death. Until the day of Melanie's wedding at the mansion, a mysterious Phantom appeared in the house and deceived Melanie's groom into the attic where it murdered him by hanging his neck from the rafters.
At a luxurious wedding ceremony, Melanie waited for the groom, she kept on waiting but there was no sign of him. Guests were gradually out of sight and left her alone in the house. She still insisted to hold the wedding ceremony full of hope that the groom would return to her one day. The phantom was pleased and invited dead, demonic friends to attend Melanie's wedding + celebrated in an eternal party. The attraction is connected with this fictional background. It offers you a Dark Ride and leads you to see various events happening in this mansion. The lighting and effect are extraordinary. For those who doubt about who is that mysterious phantom? I won't tell you. Try making a visit plan here and look for the answer by yourself. 😈
Adventureland
Indiana Jones™ and the Temple of Peril
Adventureland is themed to replica the touch of India and Morocco. The highlight attraction is Indiana Jones™ and the Temple of Peril that has occupied since 1993, which has a total age of over 20 years. OFC, the name of this roller coaster ride is based on the movie Indiana Jones, that allows you to take on an adventure riding in a mining train through a mysterious temple. As for the sensational, personally, it's more thrilled than the Big Thunder Mountain due to its faster speed with an inversion loop, curves, and turns.
For the most part, it is good and thrilling. But the duration is a little short. And I was so puzzled that the ride seemed out of control at the last moment before returning to the station. I'm not sure, the train had technical problems or its intentional design.
Another unmissable attraction of Adventureland is the Pirates of the Caribbean ride. Unlucky of me, because during my visit, it closed for maintenance. So, in this guide review, I have to unwillingly skip writing the part. But as far as I know, the ride layout is similar to Shanghai Disneyland, which boarding a boat to explore the world of Pirates of the Caribbean. After I experienced it in Shanghai. I think, the throughout ride caused me an excitement, which consequences to be one of my recommendations.
Discoveryland
Continue to the last themed land, Discoveryland. If comparing to other Disneyland locations, the themed is equivalent to Tomorrowland in the future world. The must-try attraction includes Star Wars with both of the highlight attractions, Star Tours I'Aventure Continue, and Star Wars Hyperspace Mountain. If you are a movie fan of Star Wars, don't miss out. Though I'm not a big supporter, I still suggest you playing because the ride experiences are incredible!
For those who have never played Buzz Lightyear Laser Blast from Disneyland elsewhere. This one is also interesting. But the fact that I played this often both in Shanghai and Hong Kong. Let's pass over it then. LOL
Star Tours L'Aventure Continue
Star Tours L'Aventure Continue will be a spaceship touring that takes passengers on a frantic journey through the Star Wars galaxy. You have to put on 3D glasses and watch the 3D high-definition screen features the stunning visual effect combines with a motion simulator. If you ask is this fun? Yes, it is. But I'm not quite sure about the storyline since I'm not hooked on the Star Wars movie franchise. The attraction offers 60 random segments of the film, so it means, there is less opportunity to come across the same journey when you repeat touring. To sum up, the ride is exciting and fun, as well as a must-come to experience outer space. YAY!
Star Wars Hyperspace Mountain
In my opinion, amongst all roller coasters in Disneyland Paris, I favor Star Wars Hyperspace Mountain the most. Especially the first part of the launch was super awesome! Other than that, it will be a jaw-dropping ride with the speedily and darkness amidst the blaster fire of the galaxy war. I was enjoying this a lot. A roller coaster fan shouldn't be missed for all reasons.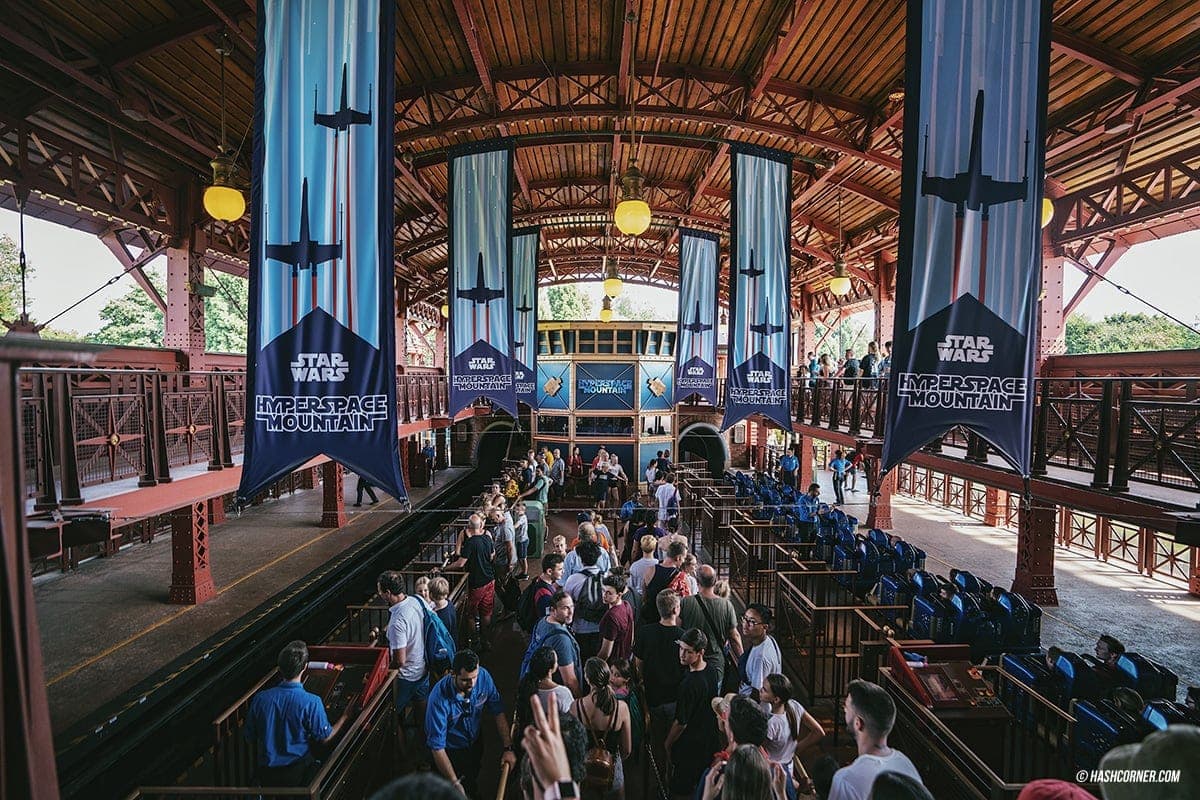 Walt Disney Studios Park
Exploring and enjoy taking pictures until looking at the time. Then cried out, OMG! I made a tragic mistake. I obsessed with Disneyland Park too much, bringing on an insufficient time left for Walt Disney Studios Park. Sadly, during my trip in Summer, the closing time of both parks are different as well.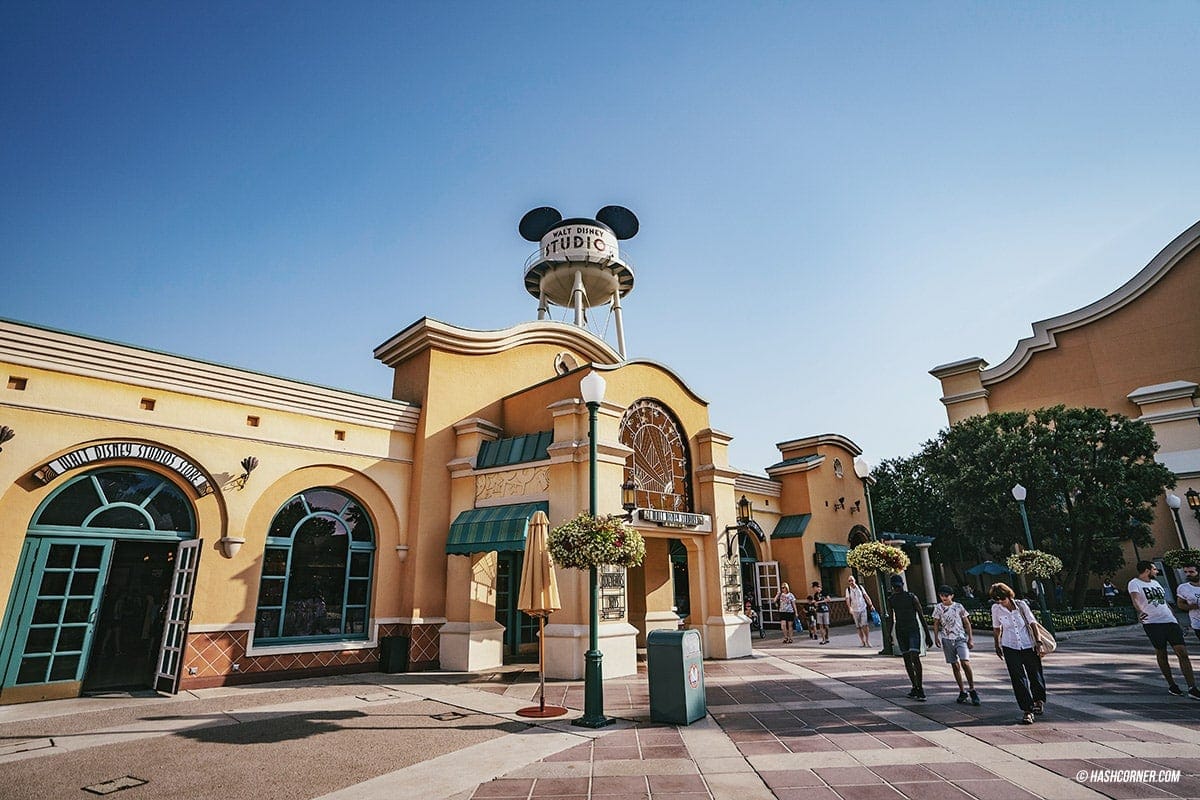 Walt Disney Studios Park will be closed at 6 pm, while 9-10 pm is the closing hour of Disneyland Park. In the end, I rushed to get another popular attraction in the remaining half an hour. I could only jump on The Twilight Zone Tower of Terror™. And that was the end of my day! Boohoo!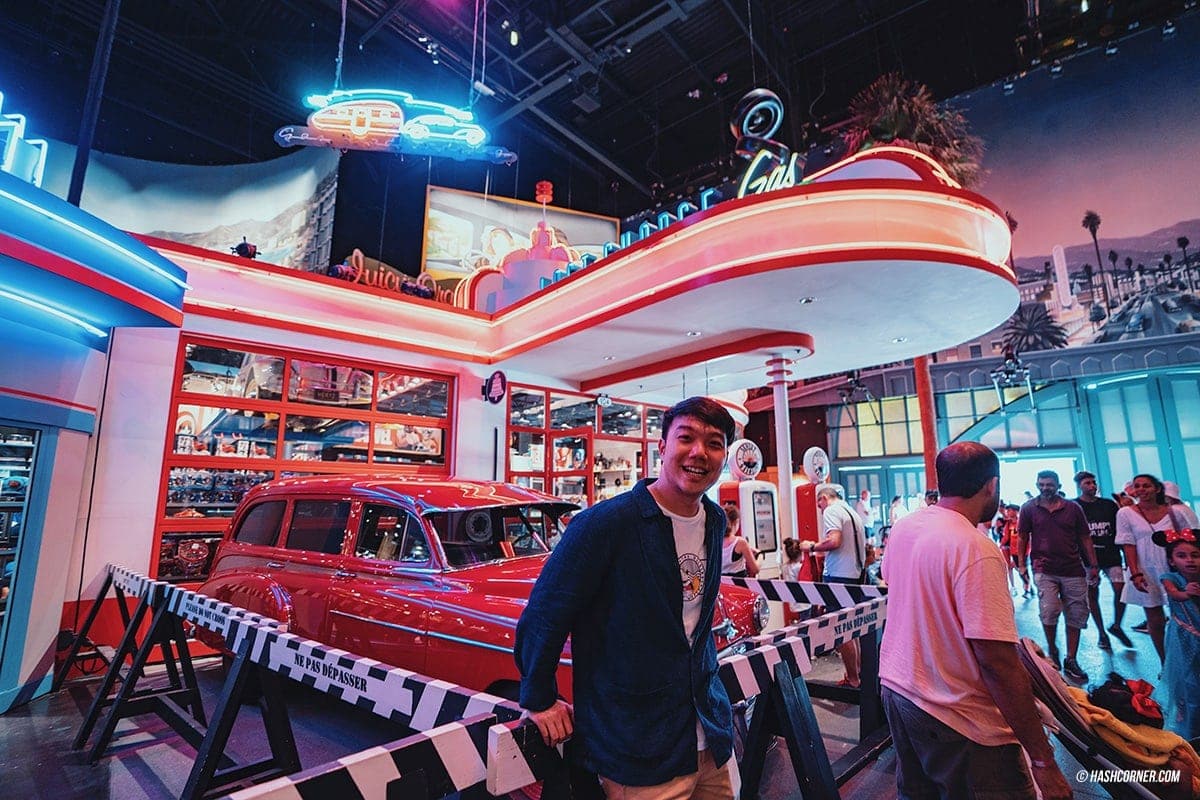 The Twilight Zone Tower of Terror™
This ride is inspired by the famous American series, The Twilight Zone, even though I didn't know what this all about, but the attraction is well laid out and trap me with a supreme excitement. The story begins with a former glorious hotel, Hollywood Tower Hotel raised in the golden age of Hollywood. Until one day, there was a mysterious incident of 5 guests took the elevator, then a violent storm struck the building that caused a cable sling to ripped. The elevator descended quickly and all the guests found death. As a result, the hotel eventually became a scary-haunting hotel. Base on the background story, the attraction seems to challenge us to prove the dreadfulness by inviting us to take the available in-service elevator.
Yeah, how they project the story is quite nice. You don't have to watch the series, you get to understand the whole situations. As the ride begins, the elevator will launch you upward to the top of the building and sequentially drop-down. I screamed so hard at this. There is also a glimpse of Disneyland Paris top view until the elevator falling down and rising up several times. Each round of a drop, the elevator door will open to reveal scenes with the cool visual effects. It's fun, thrilled, full of sensational. I approved this attraction to be the best out of all!
⚡️Unbelievable that in Walt Disney Studios Park, The Twilight Zone Tower of Terror™ was the only attraction I had a chance to get onto. And it becomes my most favorite attraction of all Disneyland Paris as well. Isn't this called a strong impact?
Disneyland Paris Inference
Excellent! No need to repeat this over and over that I insist you to come whether you are a Disney lover or not. A tourist who already visited other Disneyland locations but never travel or include Paris in your destination plan, I still recommend you coming here because the atmosphere of each Disneyland is unique, some attractions are also different with its own charming. If you have not much time, the 1-day trip is advisable, but if you rather complete all of the popular attractions, 2-day is a fair deal.
It was a shame I didn't see the fireworks at the end. I traveled during the summer in Europe, so the sunset time was almost at 9 pm. Plus, that day was super-hot! If you can recall, there was a news article about Heatwave hit the city in France. Causing Paris, the hottest temperature in history since it was recorded at 42.6 degrees. Well, that was my Disneyland Paris trip day. LOL. I couldn't bear with the hotness, so I went back before the firework event would blast up.
Anyway, let's enjoy it here. For those who are looking to buy tickets, don't forget that KLOOK is guaranteed to be cheaper.
1. Disneyland Paris Ticket for 1-2 Days | Click to view or buy via KLOOK
2. Disneyland Paris 1 Day Ticket + Shuttle Bus Express | Click to view or buy via KLOOK
3. Disneyland Paris Ticket for 2/3/4 Days | Click to view or buy via KLOOK
4. KLOOK Monthly Discounts (click here)
รีวิวสวนสนุกทั่วโลกจาก HASHCORNER 💛💙🧡
ส่วนตัวเป็นคนที่ชอบเล่นสวนสนุกมากกกกก นี่ก็พยายามจะเก็บแต้มสวนสนุกทั่วโลกแล้วเอามาเขียนรีวิวแบบละเอียดๆ ให้ทุกคนได้อ่านและตามกันเนอะ สำหรับใครที่มีแพลนไปเที่ยวสวนสนุกที่ไหนตามลิสด้านล่างนี้ คลิกอ่านรีวิวได้เล้ยย
1. Universal Studios Japan (USJ) | โอซาก้า ญี่ปุ่น
2. Universal Studios Singapore (USS) | สิงคโปร์
3. Shanghai Disneyland | เซี่ยงไฮ้ จีน
4. Disneyland Paris | ปารีส ฝรั่งเศส
5. Disneyland Park California | แคลิฟอร์เนีย อเมริกา
6. Disney California Adventure Park | แคลิฟอร์เนีย อเมริกา
7. Universal Studios Hollywood | ลอสแองเจลิส อเมริกา
8. Lotte World | โซล เกาหลีใต้ กำลังเขียน
ส่วนลดจองโรงแรมจาก Agoda, Expedia, Booking และบัตรสวนสนุก ตั๋วรถไฟ กิจกรรมท่องเที่ยวจาก Klook และ KKday ปี 2023
⚡️ สำหรับใครที่กำลังจะจองที่พักและหาส่วนลดจองโรงแรมอยู่ ลองดูตามลิงค์ด้านล่างได้เลย มีทั้ง Agoda, Expedia, Booking รวมถึง Hotels.com ด้วย ประหยัดไปได้อีกเกือบ 10-20% ใช้ได้กับโรงแรมทั่วโลก
หลายคนอาจจะไม่รู้ว่าเว็บไซต์จองโรงแรมพวกนี้ มีส่วนลดท็อปอัพจากบัตรเครดิตเพิ่มเกือบทุกธนาคาร ไม่ว่าจะเป็นบัตรเครดิต Citibank, KBANK, SCB, Krungsri, KTC, Bangkok Bank, UOB และ TMB หรือแม้แต่ส่วนลดจากค่ายมือถืออย่าง AIS, DTAC หรือ True ซึ่งส่วนลดพวกนี้จะเปลี่ยนตลอดทุกเดือน และเก๊าก็อัพเดทให้ตลอดเวลาเน้อ 🧡