Fukuoka – a city that many may be familiar with, but perhaps not fully appreciate its grandeur. Nestled on the island of Kyushu in western Japan, this metropolis is not only the largest city on the island but also the 5th most populous in the entire country. From lush natural landscapes to ancient temples and shrines, shopping hotspots to culinary delights, Fukuoka has something to offer everyone. And what better way to start your journey to the island of Kyushu than with a visit to this vibrant and cosmopolitan city? Fukuoka, is a must-see destination for all those looking for an authentic Japanese experience.
Northern Kyushu Island itinerary
Embark on a journey to the northern island of Kyushu, a land of contrasts and diversity, where modern cities and ancient traditions coexist in harmony. On my 8-day trip, I had the opportunity to explore the best that this island has to offer – from the vibrant metropolis of Fukuoka to the historical and picturesque Nagasaki, the idyllic hot spring town of Yufuin, and the charming castle town of Kumamoto. I also ventured to the lesser-known gems of Takachiho and Mount Aso, immersing myself in the island's natural splendor. Each day was a new adventure, and I urge you to plan your own trip to this incredible destination and follow my journey through my detailed reviews of each city I visited. Click to discover the hidden gems and must-see attractions of Kyushu Island in each city on the itinerary below.
Do I Need to Buy a Pass to Travel to Kyushu?
If you're planning to travel to the island of Kyushu, specifically to cities outside of Fukuoka, it's recommended to purchase a JR train pass for cost savings, convenience, and speed. The most recommended pass is the JR Kyushu Rail Pass, which comes in three variations: the All Kyushu Area Pass, the Northern Kyushu Area Pass, and the Southern Kyushu Area Pass. The best pass for you will depend on your travel itinerary.
🚅✨ Based on the review you're reading here, I only traveled to the northern part of Kyushu Island, specifically to the cities of Fukuoka, Nagasaki, Yufuin, and Kumamoto. For those who are looking for an economical, convenient, and easy way to travel, I recommend purchasing the Northern Kyushu Area Pass. This pass can be used on JR trains between cities, but keep in mind that it cannot be used on the Fukuoka subway or trams in other cities.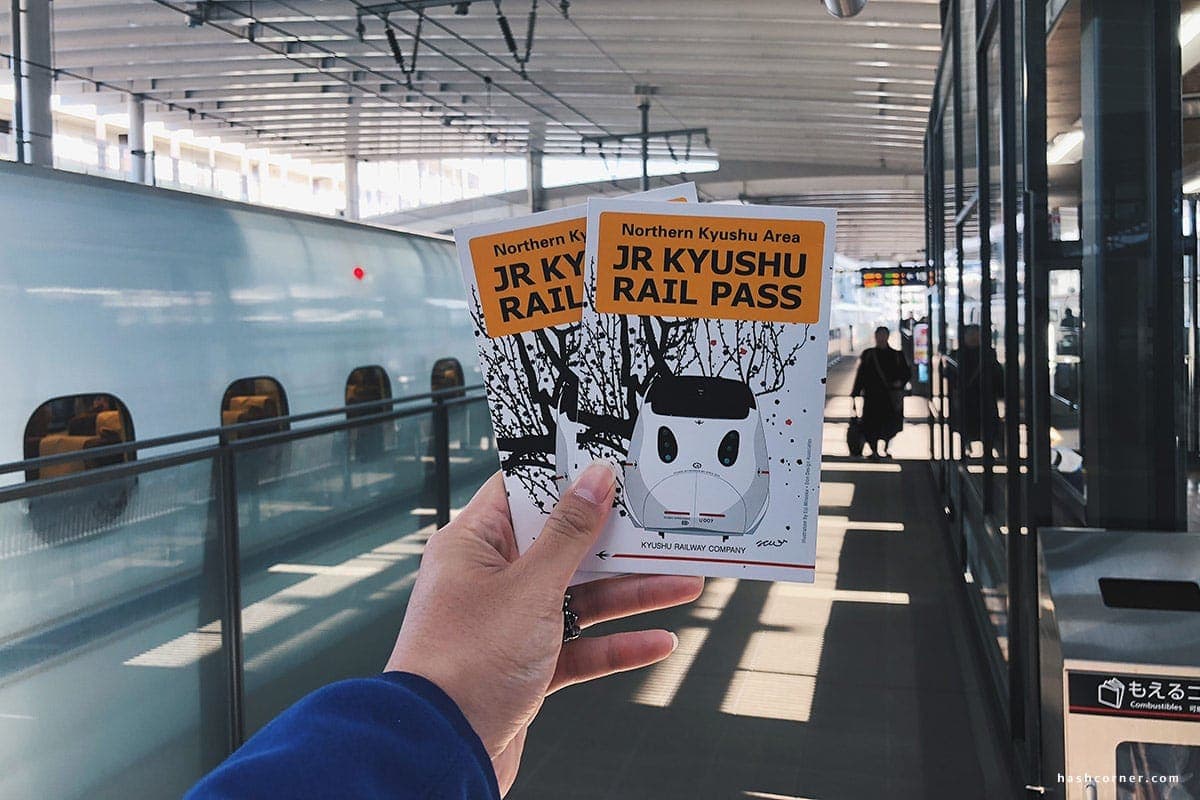 I highly recommend purchasing your JR train pass online through the Klook website, which sells almost every travel ticket in the world at a cheaper price compared to other websites. The process of buying, paying, and picking up the pass is easy and convenient. You can purchase the pass and pay using a credit card on the website. Once your purchase is complete, Klook will send an exchange order or booking confirmation to your email, which you can then print out and exchange for a physical pass at the JR Ticket Office. The specific location I used for this exchange was at the JR Hakata Station.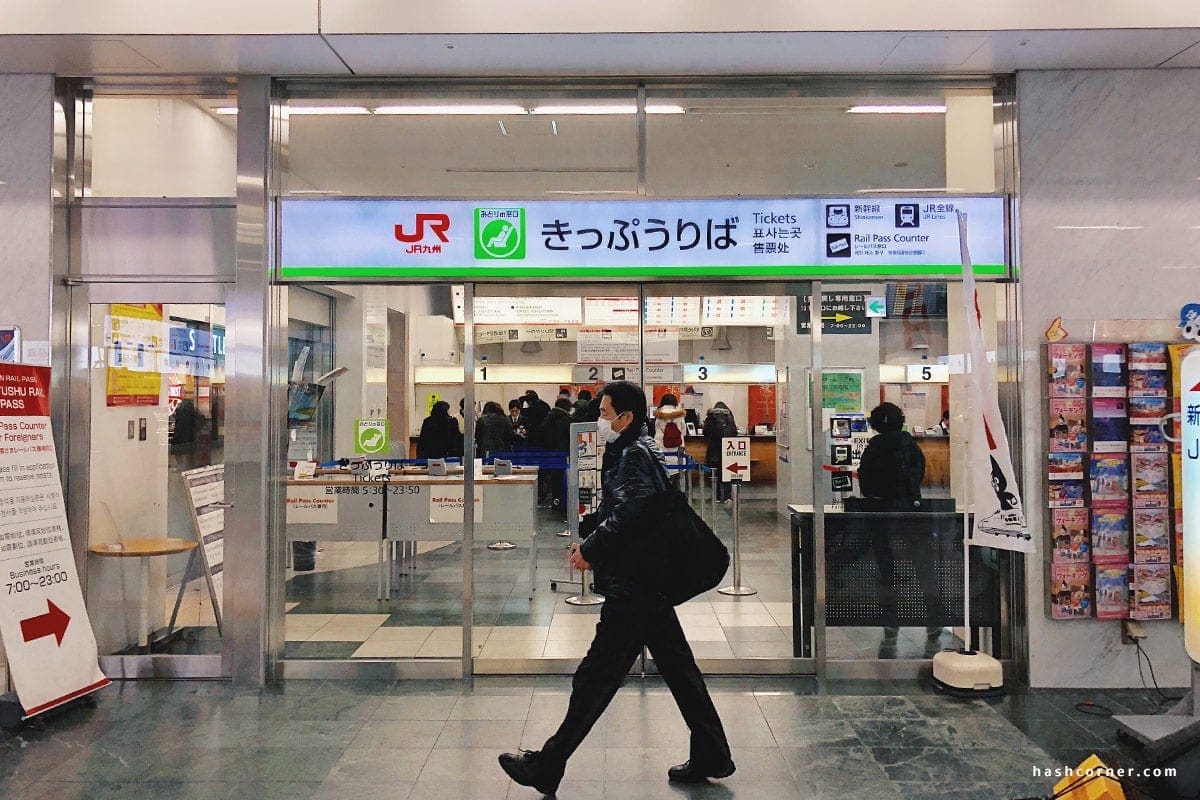 From my personal experience, I can say that buying the JR Northern Kyushu Pass through Klook was incredibly convenient. I purchased it only 2 days before my trip to Japan and was able to easily print the confirmation from my email and exchange it for the physical pass in Japan. It was much simpler than I had expected.
For those with different plans, if you are only planning to visit Southern Kyushu, the Southern Kyushu Area Pass would be the best option. But if your plans include both Northern Kyushu and other areas like Hiroshima or the Kansai region, such as Osaka, I recommend purchasing the Sanyo-San'in-Northern Kyushu Area Pass instead. It will give you more flexibility and allow you to fully explore all the different areas that you are interested in.
⚡️ The Fukuoka review on this page has not used the JR Kyushu Pass, however, it is possible to exchange the Exchange Order for a physical ticket at Hakata Station. The staff there will be able to help you activate the pass on the desired start date and also assist with reserving train tickets with reserved seats in advance if needed.
Where to stay in Fukuoka
When looking for a place to stay in Fukuoka, I recommend considering two main areas: Hakata and Tenjin. Both areas have their own unique features and offer different types of accommodations, so it's important to choose the one that best fits your needs and preferences.
Day 1: Fukuoka
Nanzoin Temple
Before visiting Fukuoka and Kyushu Island, I traveled to Okinawa. After finishing my trip in Okinawa, I flew domestically to Fukuoka. By the time I arrived, it was already noon, so the first day of my Fukuoka trip would only be spent at one place, Nanzoin Temple.
Nanzoin Temple is located in Sasaguri City and is just a short train ride from Fukuoka. It takes only half an hour to reach the temple. The journey is not difficult, simply take the JR Sasaguri Line to Kido Nanzoin-Mae Station and then walk a short distance further.
Nanzoin Temple is a famous temple in Kyushu, but it is not as well-known among tourists. The temple is considered the starting point of the Sasaguri pilgrimage, which consists of 88 temples along the way. This Sasaguri route is one of the three famous pilgrimage routes in Japan.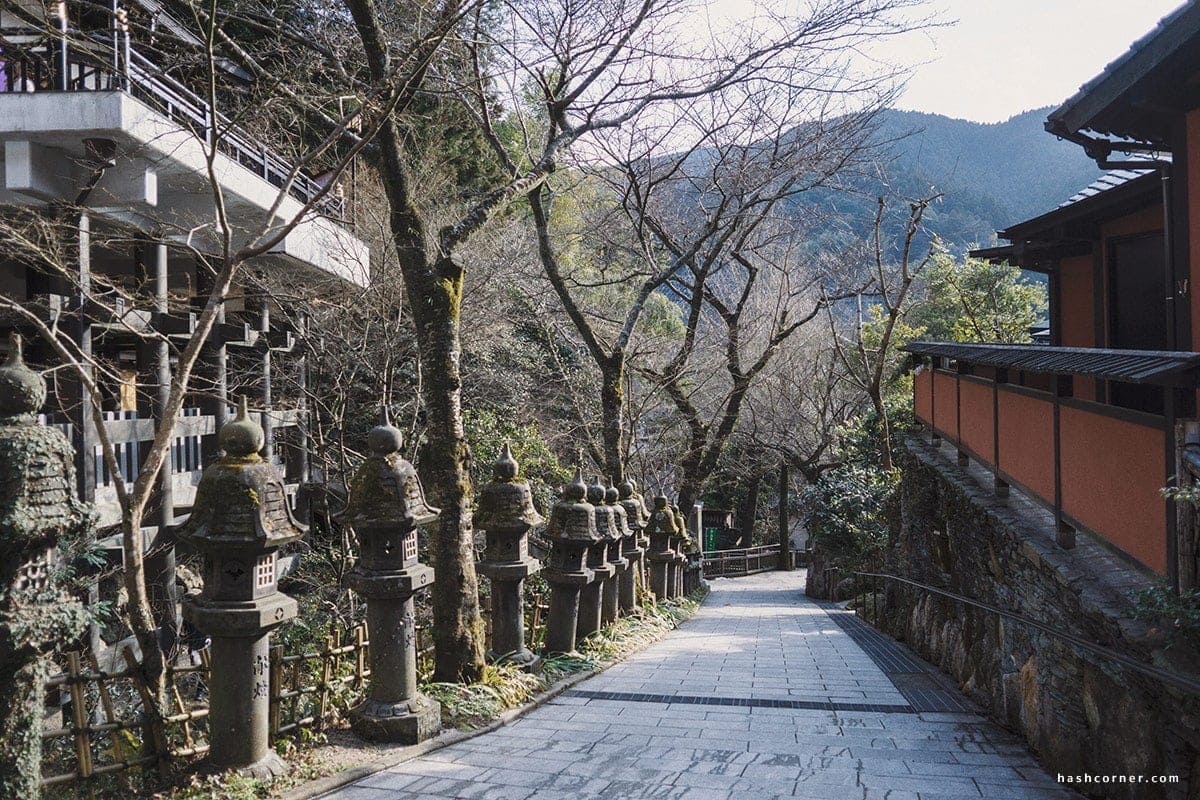 Nanzoin Temple, It's very peaceful and has the feel of an actual temple unlike a tourist temple (there were fewer people at that time, probably because I arrived at 3 pm. Haha). It makes me feel good and I really like this temple. When we walk in, we will see a Buddha image whose belly has changed from bronze to copper color because of being rubbed by someone who believes that if we rub the belly of this Buddha image, we will be lucky 😁
If you have some time to spare, you can take a stroll around the temple grounds. As you walk through the corridor, you will come across a large statue of a deity. If you look to your left, you will find a path that leads up to a small shrine on top of the hill.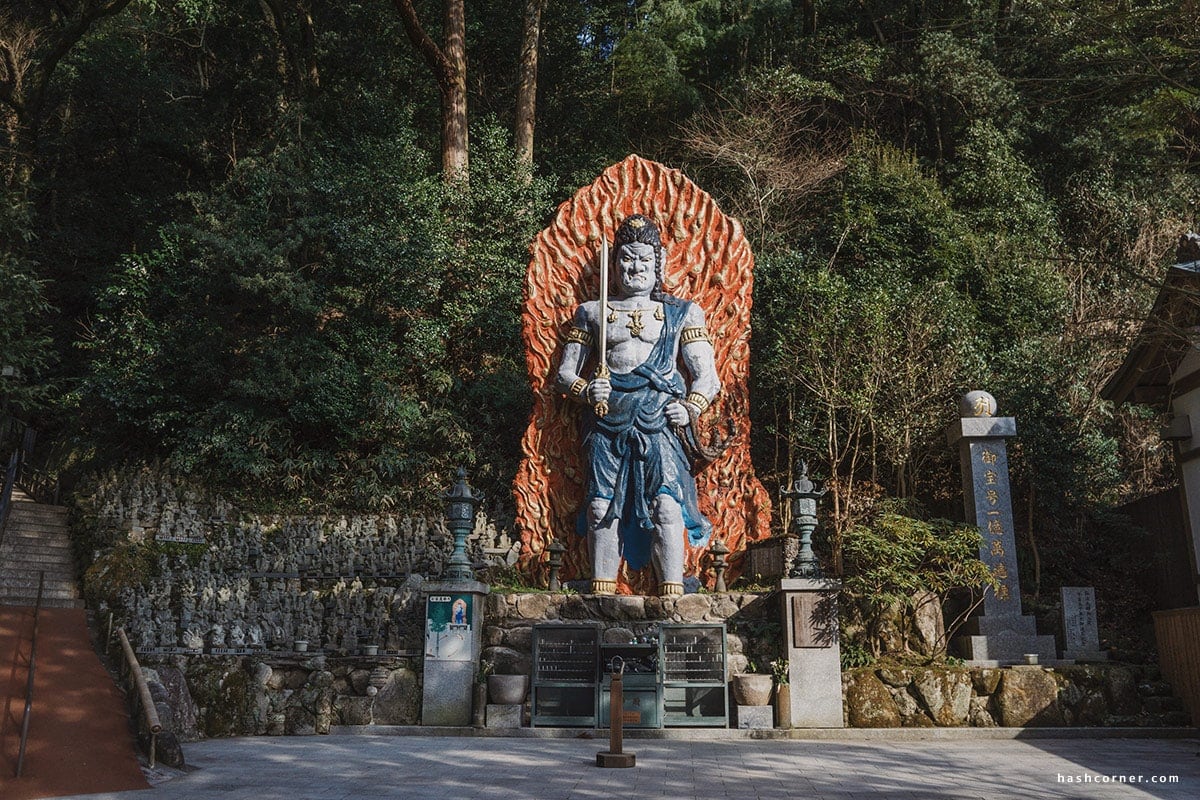 We then proceed to the highlight of this temple. which is a reclining bronze Buddha image In Japan, they claim to be the largest in the world. For the path to the bronze reclining Buddha, we have to walk back to the temple area and notice the English sign that says 'Big Buddha', then follow the path until we find a tunnel that will lead us to the bronze reclining Buddha itself. Along the way, we will meet The 7 Lucky Gods (七 福神, Shichifukujin) of Japan are recommended to stop paying respect and make a wish. Which here is famous for asking for good fortune
I have read that the abbot of Nanzoin Temple once won a 130 million yen lottery after placing a lottery ticket next to a statue of Daikokuten, the god of wealth and commerce. Now, when someone follows this practice and wins the lottery, the temple becomes famous for praying for good fortune. When visiting Nanzo-in Temple, you may want to try placing a lottery ticket next to the statue of Daikokuten, the god of wealth and commerce, as the abbot did, in hopes of good luck and winning a prize. 😆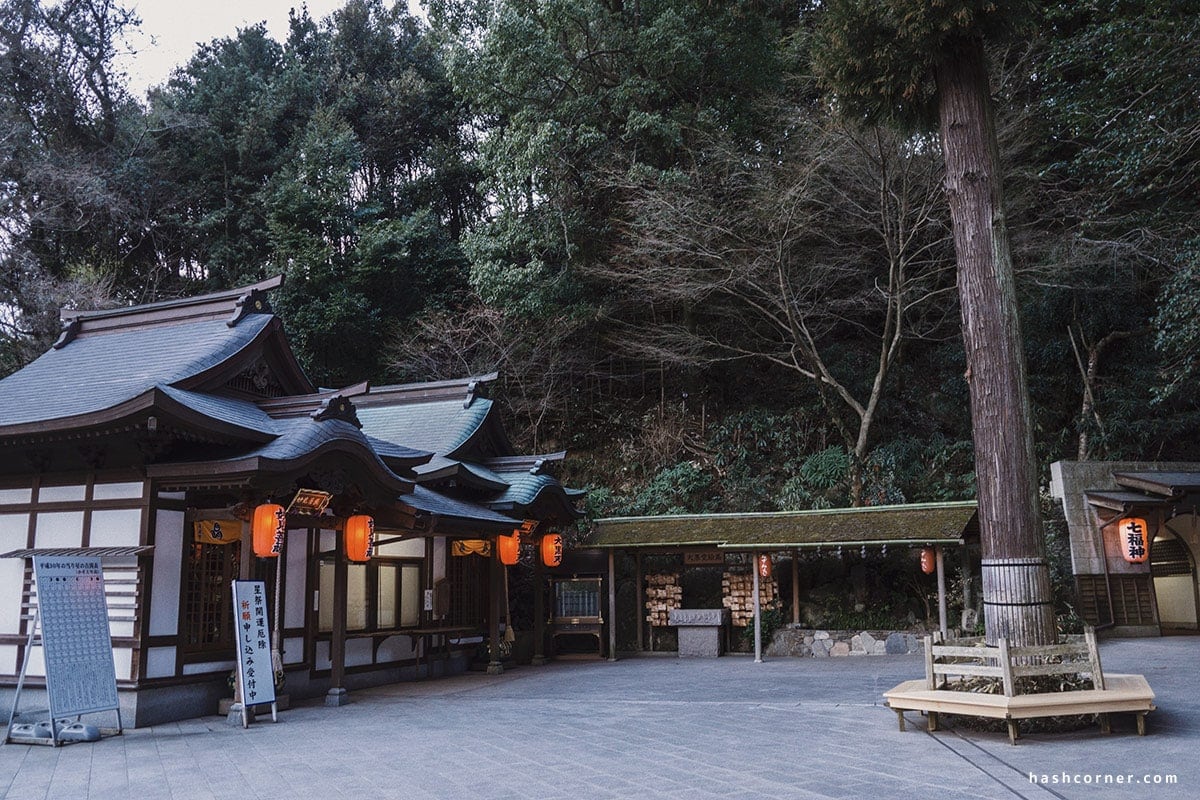 After exiting the tunnel, you'll come across an open courtyard with two paths. One leads to the upper shrine, while the other leads to the bronze reclining Buddha image. I recommend visiting the Buddha image first and then making your way back to the upper shrine. When I reached the Buddha image, I was struck by its size and beauty. I arrived at a time when there were no other visitors, making for a peaceful and serene experience. It's surprising that not many tourists know about this place or might come too late to see the temple in such a tranquil state.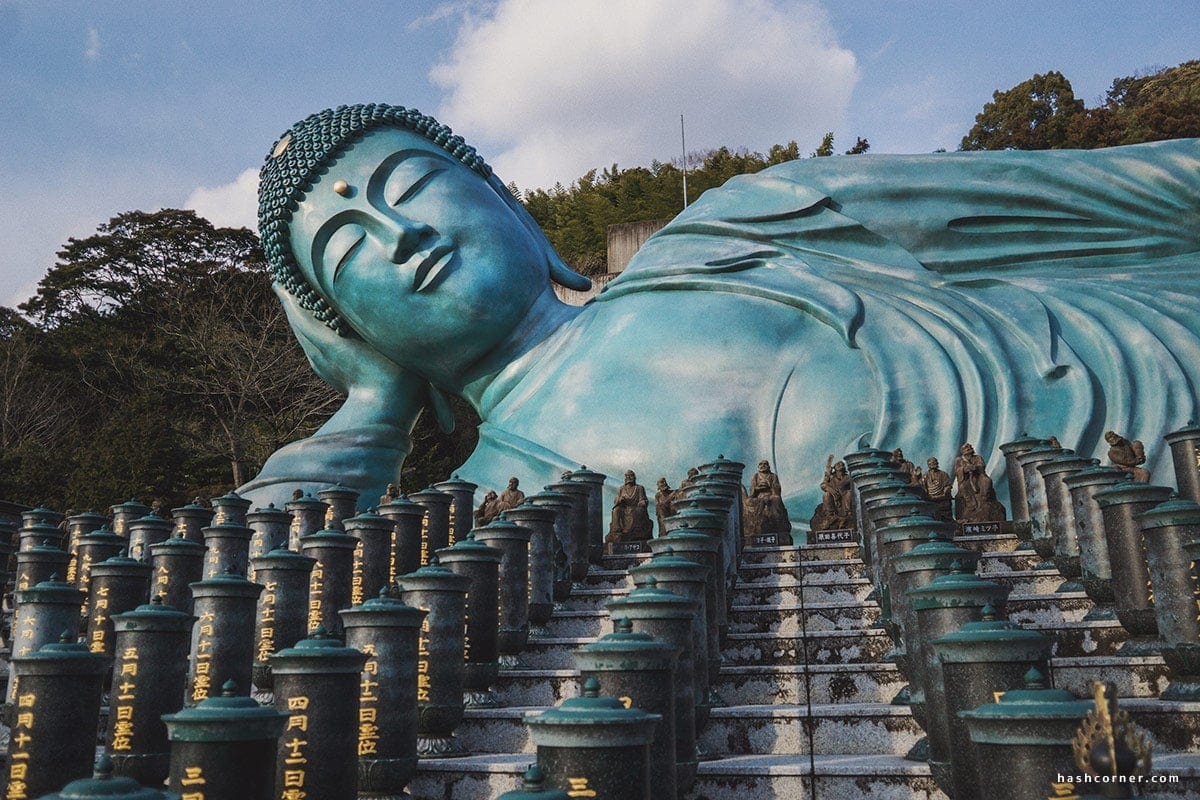 The story behind this reclining Buddha statue at Nanzo-in Temple is that the temple has donated aid to Burma multiple times, and in return, Burma sent relics as a gesture of gratitude. Additionally, the temple's abbot has won the lottery multiple times and used the funds to build this bronze reclining Buddha statue to serve as a repository for the Buddha's relics under the base. If you wish to enter the base and view the relics, will need to pay an additional admission fee of 500 yen.
While visiting Nanzo-in Temple, I didn't have the chance to enter the base beneath the Buddha statue as I had to leave before sunset. However, just walking around the area was already quite impressive. After admiring the bronze reclining Buddha, I made my way to the upper shrine by retracing my steps and passing by the colorful statues of the 7 Lucky Gods. Along the way, we will find a path leading up to the shrine.
The upper shrine at Nanzo-in Temple features a beautiful corridor lined with torii gates. According to Japanese tradition, it is customary to bow before passing through the gates as a sign of respect for the sacred space within. Additionally, it is considered polite to walk to the left or right of the central aisle, as the central is believed to be reserved for the gods.
Personally, I believe that visiting the temple in the evening is more visually striking than during the day. When I visited, it was around 5 pm and the light was fading. The shrine lights were turned on, illuminating the pathway lined with torii gates, creating a beautiful and magical ambiance. I assure you, pictures do not do this place justice. Additionally, as I was there at a less busy time, the temple was peaceful and quiet, almost giving me goosebumps.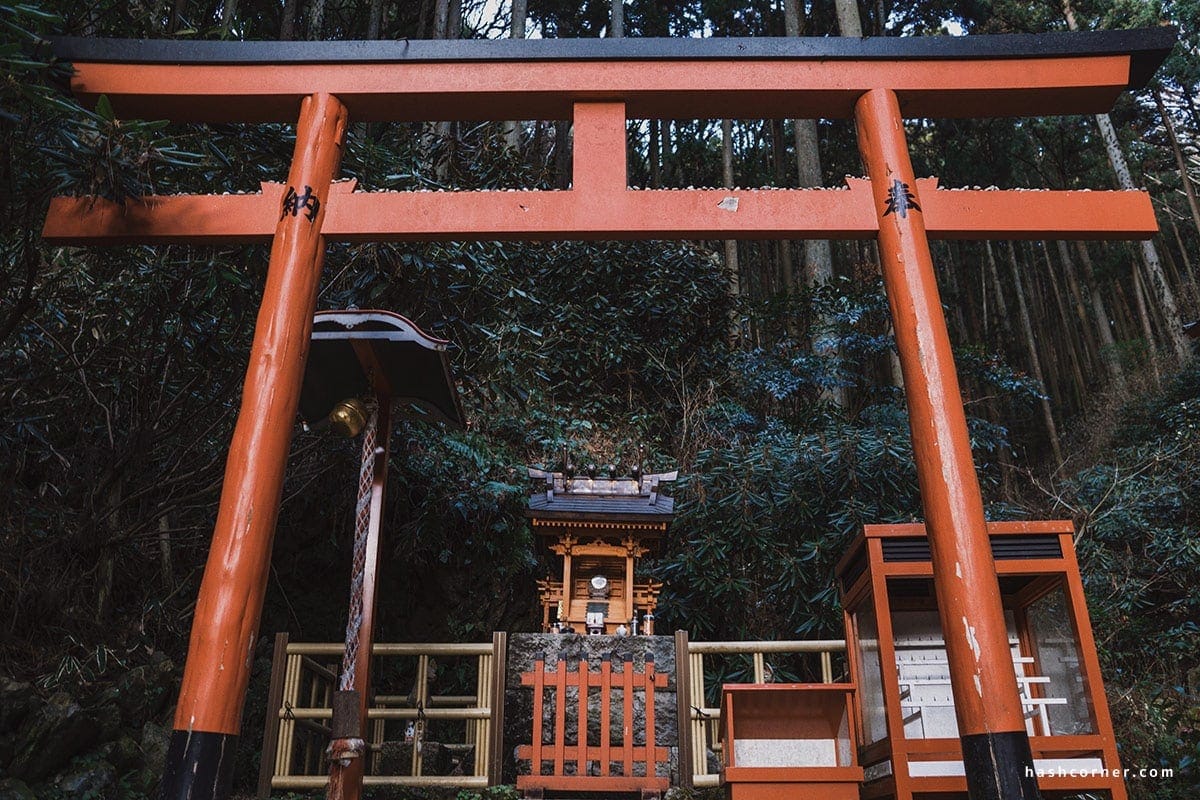 In summary, on the first day of my Fukuoka trip, I was quite impressed with Nanzo-in Temple. To be honest, I wasn't really interested in temples or shrines before, but I found myself enjoying a leisurely walk in this peaceful temple. I'm not sure if it's because I'm getting older, but it was a fun and satisfying experience. On a side note, before leaving, I encountered a cute cat and wanted to pet it, but it was scared and ran away. Hahaha. 🤣
DAY 2: Dazaifu + Fukuoka
Buy the Fukuoka Tourist City Pass First!
If you're looking for an economical way to travel in Fukuoka, I recommend purchasing the Fukuoka Tourist City Pass. This card can be used for subway, overground train, and bus transportation within the city. It's important to plan out which forms of public transportation you'll need to use and select the appropriate pass.
The Fukuoka Tourist City Pass has two options available, the 820 yen pass and the 1,340 yen pass. If you plan to visit Dazaifu, you'll need to purchase the 1,340 yen pass in order to use the special Nishitetsu train, which is not operated by JR, and reach Dazaifu Station.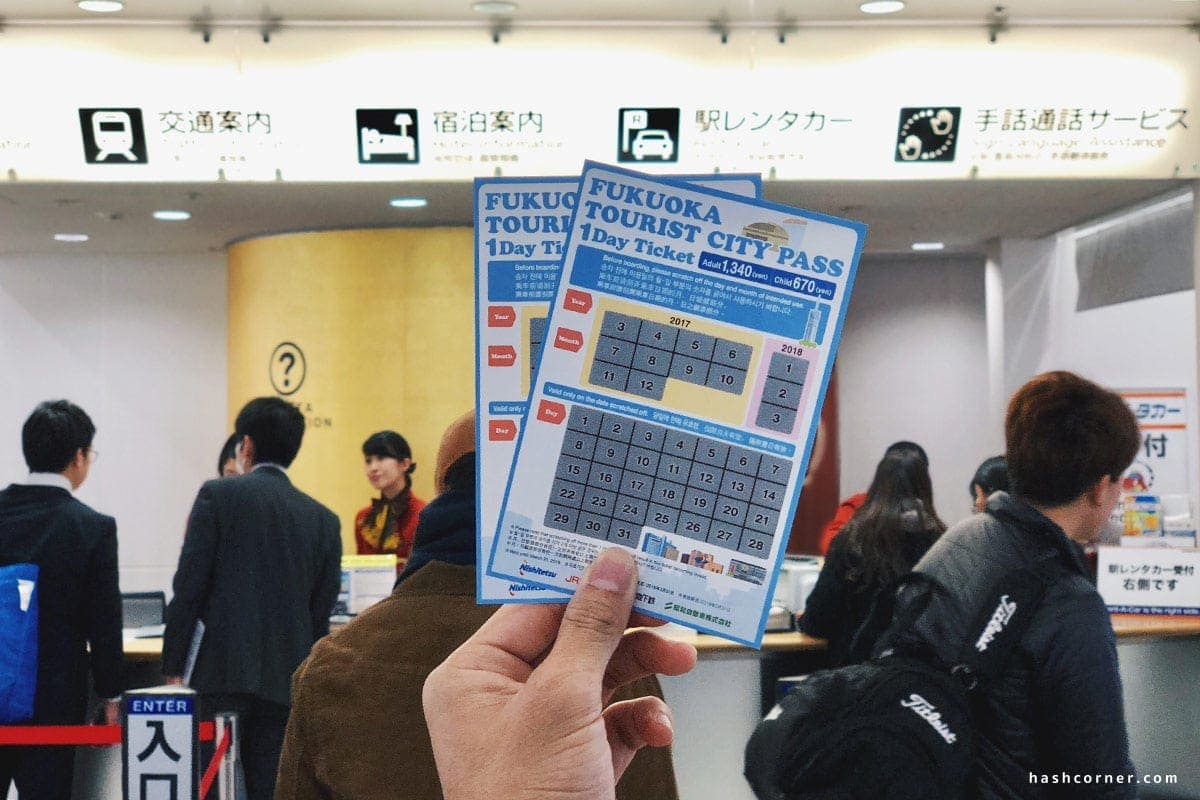 The difference between the Fukuoka Tourist City Pass between the 820-yen and 1340-yen plans is that the 820-yen pass can be used on some subway lines, JR lines (between the stations, Uminonakamichi to Takeshita Station), Nishitetsu Bus Company buses and Showa Bus Company buses. The 1,340-yen type will include everything that is included in the 820-yen pass, in addition, it also allows for use of Nishitetsu trains, which are necessary for visiting Dazaifu City. If you are confused, it is recommended to view the pamphlet for this pass at the following link: nishitetsu.jp/docs/en/tourist_pass.pdf. It will provide more information to help you understand.
The plan in this review is to spend half the day in Dazaifu City and the other half in Fukuoka. For all my journeys, I will be using the subway, so if you follow this plan, you can buy the Fukuoka Tourist City Pass for 1,340 yen. The most convenient place to buy it is at the Tourist Information Center in JR Hakata Station.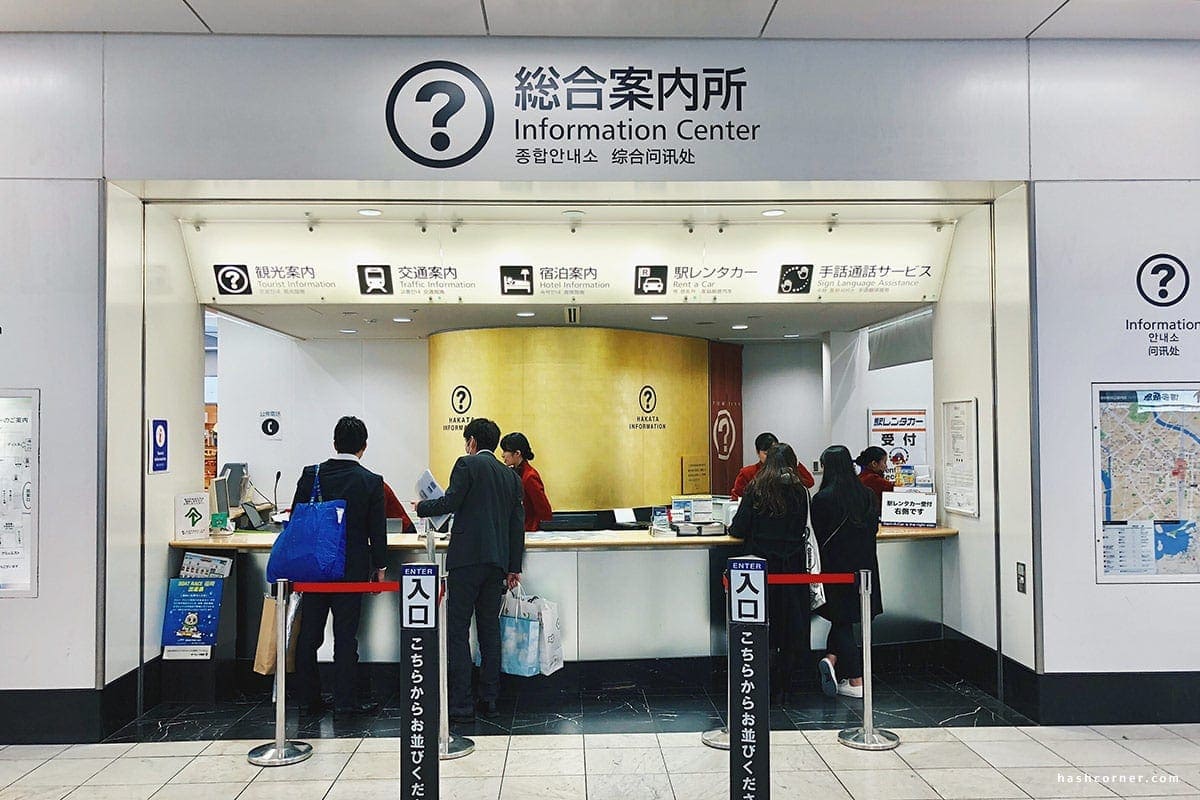 So, if you're planning to visit Dazaifu and Yanagawa, which is known for its famous boat rides, I recommend getting the Dazaifu and Yanagawa Sightseeing Ticket. It's a great deal and you can find more information about it by doing a quick Google search. Trust me, there's a lot of information out there. Haha!
Dazaifu
As mentioned above, at half in the morning we will travel to Dazaifu, a small, old town that is now a full-fledged tourist town. Getting there is easy because we can take a train from Fukuoka to Dazaifu in only half an hour. Most people who travel here end up at the foodie paradise walking street, where you can find the famous stylish design of the Starbucks store, Dazaifu Tenmangu Shrine, and Komyozenji Temple. Unfortunately, the Komyozenji Temple was closed the day I visited.
To get to Dazaifu, we first have to come to the Tenjin area and take the Nishitetsu train to Futsukaichi Station. Then, we change trains and continue on to Dazaifu Station.
Walking Street to the Dazaifu Tenmangu
When I left Dazaifu Station, I was shocked by the crowds of people. And it was still raining. But don't let that discourage you, just walk straight and turn right, and you'll find yourself on a street lined with shops. This is the road that leads to the famous Dazaifu Tenmangu Shrine.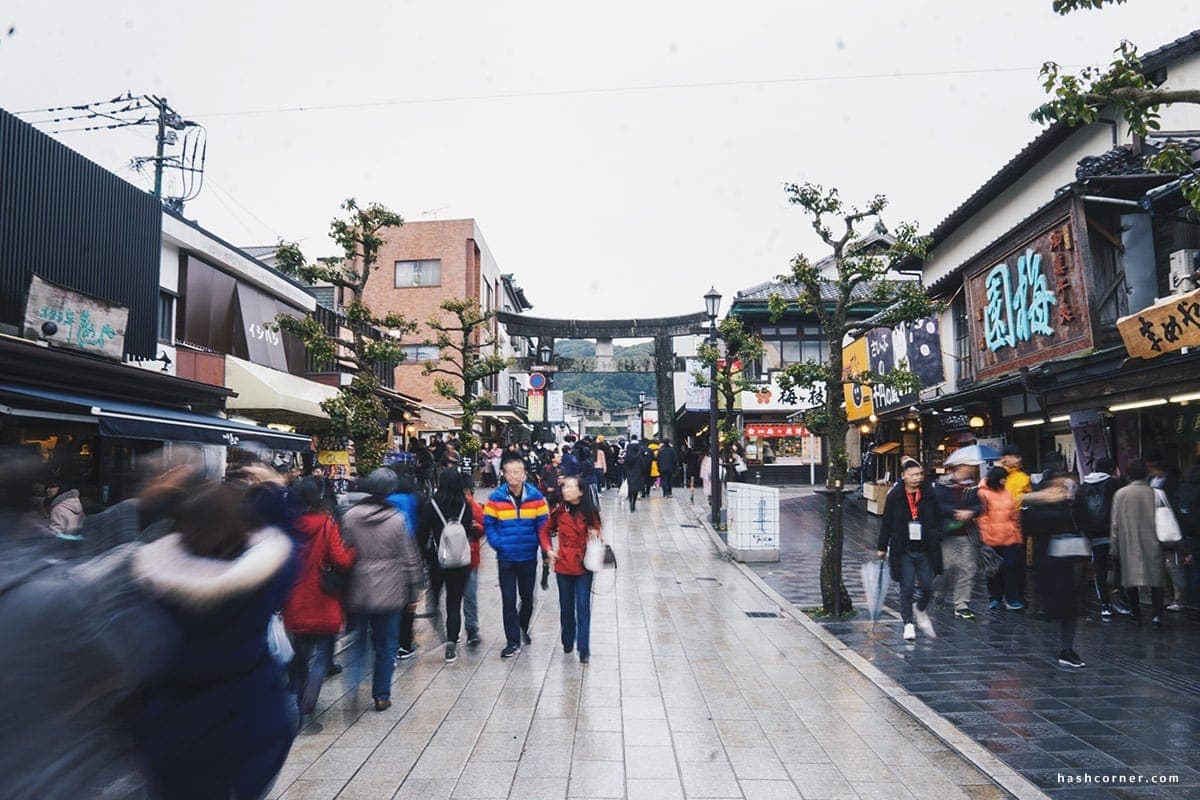 If you're hungry and haven't had breakfast yet, don't worry, you won't have to go far for a meal. The street leading to Dazaifu Tenmangu Shrine is packed with food options. There are restaurants, dessert shops, souvenir shops, and more. There's even a famous Starbucks with a unique design that looks like it's straight out of an architecture magazine. I thought about sitting down for a cup of coffee at Starbucks, but it was too crowded and there were no seats available. So I ended up walking out and grabbing some Japanese snacks from a street vendor instead.
One snack you definitely have to try when you're in Dazaifu is Umegae Mochi, which is grilled mochi filled with red bean paste. It's incredibly delicious and the mochi is freshly made. The red bean paste is soft and melts in your mouth. It's a must-eat!
Trust me, if you're in Dazaifu, you gotta try the grilled mochi. There are so many shops to choose from, it can be overwhelming. But I personally tried a couple and I can highly recommend this one – I don't know the name, but just look for the store with the photo of the storefront. The mochi is super soft and delicious.
Another shop that I want you to try is dessert shop Tenzan (天山 本店) that has strawberry daifuku sweets. Which I bought two types to eat, one with strawberries filled with red bean paste and green tea. The other one is with strawberry on top of the dough. The strawberries are very big and very sweet. Highly recommended. I heard that this store has won many awards as well.
Alright, time to stuff your face! And after all that delicious food, we'll head to the end of the walking street to visit the Dazaifu Tenmangu Shrine.
Dazaifu Tenmangu
Dazaifu Tenmangu Shrine has a story and origin. When I came to know about the story about the deity that this shrine worships, I found out why this shrine is so crowded and is highly revered by Japanese people.
Dazaifu Tenmangu Shrine is the shrine dedicated to Tenjin, the Japanese god of learning. Tenjin is actually a historical figure who lived in Japan during the Heian period, over a thousand years ago. His real name was Sugawara no Michizane and he rose through the ranks in government positions with his talents and hard work, eventually becoming a nobleman at the 5th level and a close friend of Emperor Uda and the powerful Fujiwara family.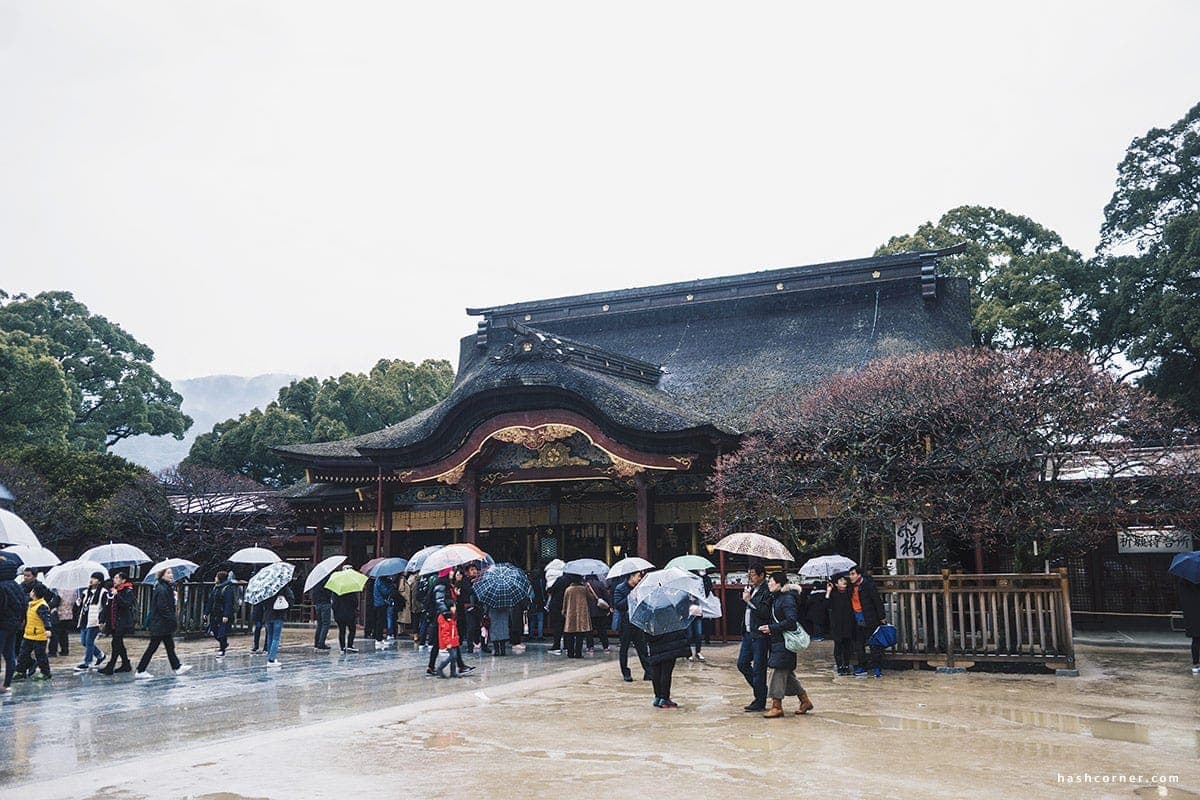 But, as the story goes, when Emperor Uda and Emperor Daigo came to power, the Fujiwara clan falsely accused Michizane and he was exiled to the island of Kyushu in the city of Dazaifu. He died soon after and was buried alongside the Dazaifu Tenmangu Shrine.
According to legend, Michizane's spirit took revenge on the nobles of the Fujiwara clan and the sons of Emperor Daigo. Some died of disease, some were struck by lightning, and others died for no apparent reason. Fearing Michizane's wrath, the remaining members of the Fujiwara clan built Kitano Tenmangū Shrine in Kyoto and Dazaifu Tenmangu Shrine in Dazaifu as a way of seeking forgiveness and appeasing his spirit. Michizane is now worshipped as a sage deity or Tenjin deity, and the shrines continue to draw many visitors seeking blessings in the areas of education and learning.
In front of the Dazaifu Tenmangu Shrine, you'll notice a long line of people waiting to take a photo with a statue of a cow. Legend has it that this cow carried Michizane's body after he passed away. It's said that if you rub the head and horns of the statue, you'll be blessed with good luck. I didn't get a chance to do it myself since the line was too long, but maybe you'll be luckier!
As you make your way further into the shrine, you'll come across two arched bridges that cross over a pond. These bridges are said to symbolize the transition from the past to the present and the present to the future. The pond is shaped like the kanji character for "heart" (心). It's definitely worth taking a look!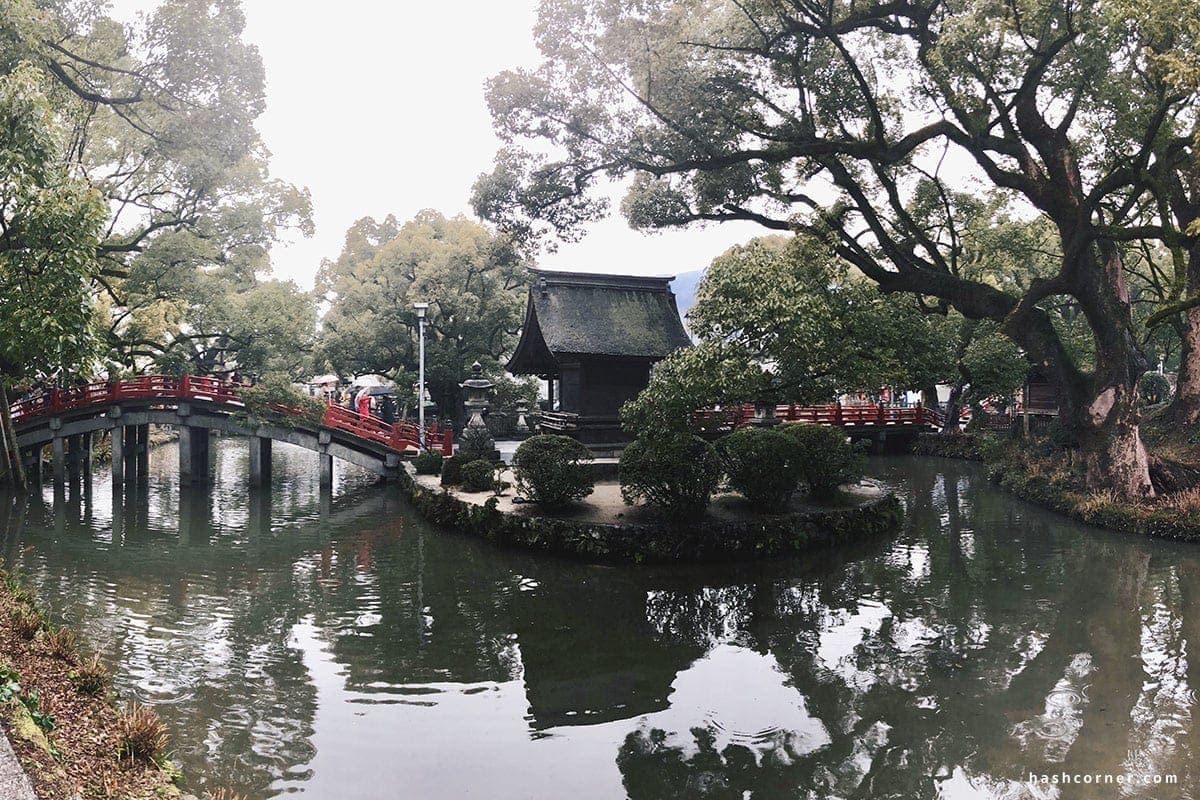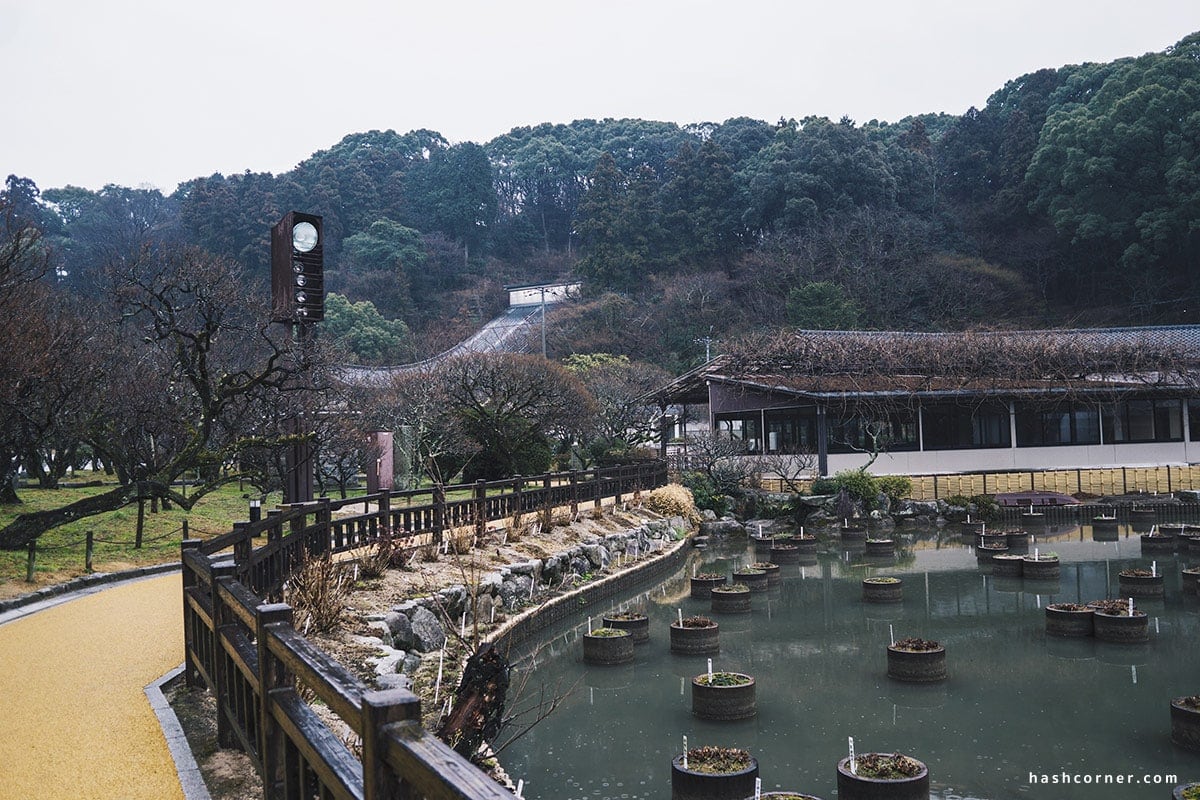 After you've finished praying at Dazaifu Tenmangu Shrine, you should take a walk around the back of the shrine. You'll come across a bunch of restaurants and vendors calling out to you to try their food. If you're not hungry, just keep walking!
Further on, there's a path that leads up to another shrine called Tenkai Inari Shrine. It's the oldest Inari shrine in Kyushu. On the way up, you'll see a beautiful long torii gate that leads to the shrine. It's definitely worth the climb!"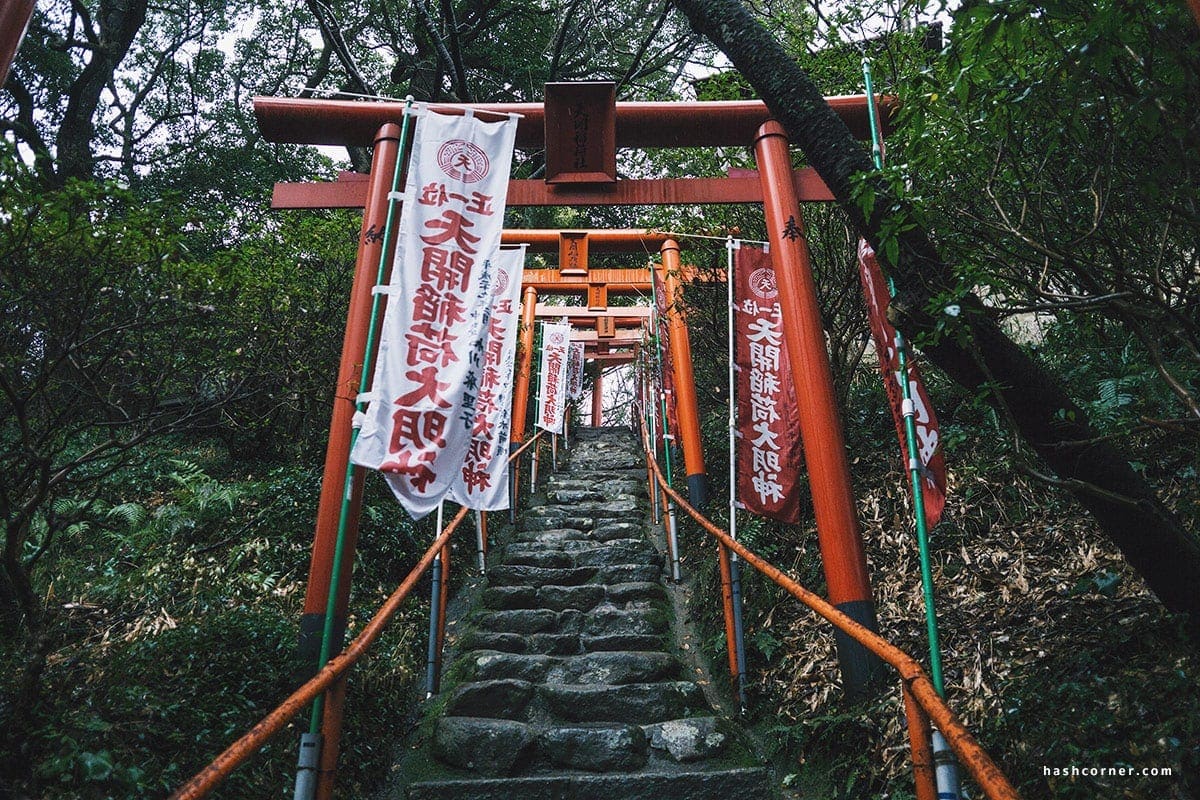 Tenkai Inari Shrine is definitely worth visiting if you're at Dazaifu Tenmangu Shrine. Not many people know about it, so it's usually pretty quiet. But don't let that fool you, this shrine is great for praying for all kinds of things. It's a hidden gem that's definitely worth checking out.
Komyozenji Temple
After leaving Dazaifu Tenmangu Shrine, I checked my map to find the location of Komyozenji Temple, and it turned out to be right next to the shrine. As I walked towards the temple, I couldn't help but notice how quiet it was compared to the bustling shrine area. When I finally arrived at Komyozenji Temple, I was disappointed to find that it was closed. I had seen pictures of it online before and knew it was supposed to be beautiful. I couldn't wait to see it for myself.
The area was so peaceful and quiet, with a sign hanging at the entrance that read "Closed" 🥹.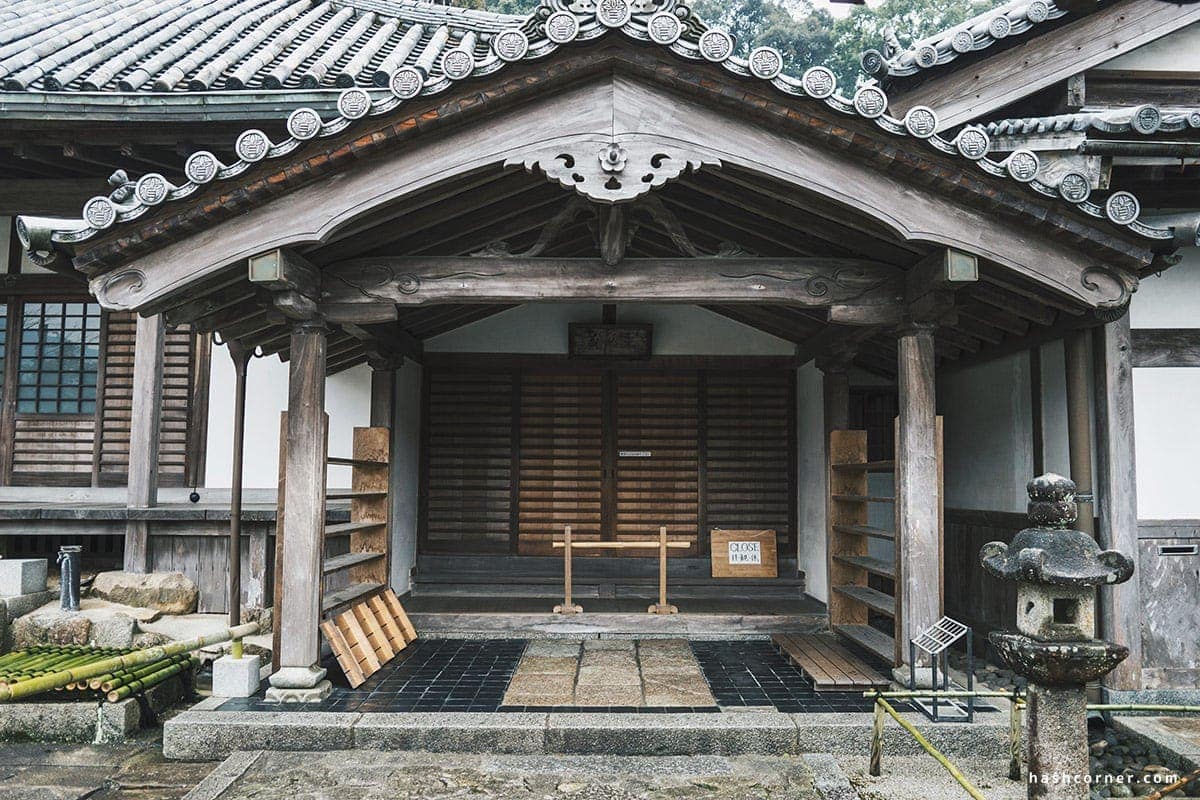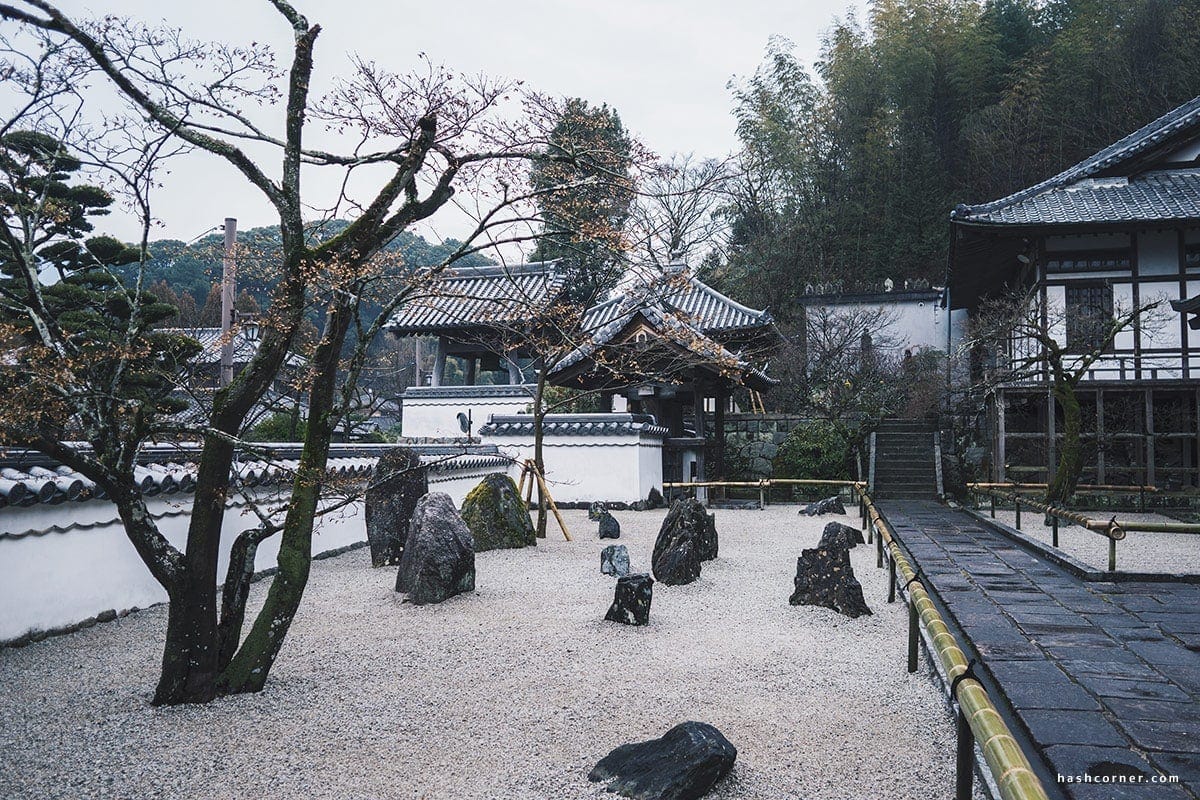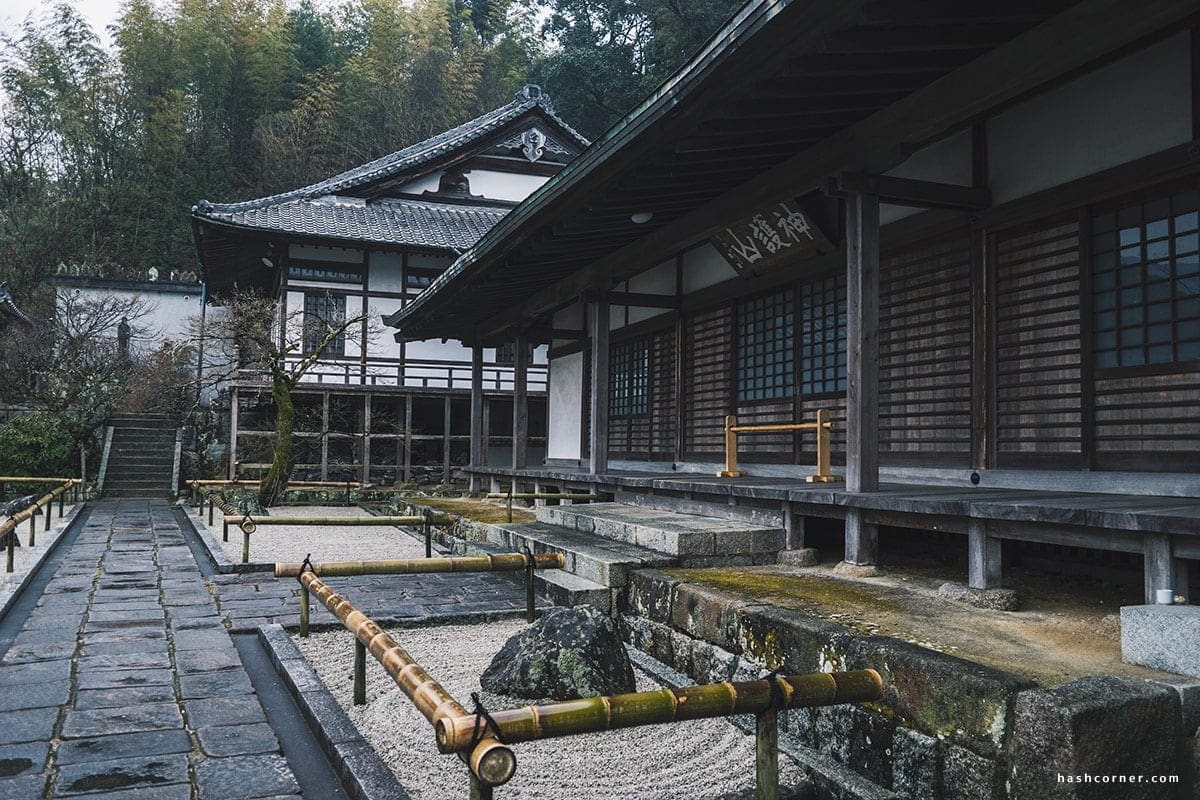 I was a little disappointed but decided to walk back to the train station, passing by the crowded pedestrian street and buying some snacks to eat on the way. I couldn't help but think about how delicious food can also be so unhealthy, but I couldn't resist the temptation to indulge in a few treats.
Return to Fukuoka in the afternoon
Kushida Shrine
After making our way back to the bustling city of Fukuoka, we decided to visit one more shrine. I couldn't help but feel like this trip had turned into a pilgrimage of sorts, visiting shrine after shrine. But, I promised you and myself that this would be our last stop, the famous Kushida Shrine. We hopped on the subway and made our way to Gion Station, then took a short walk to finally reach our destination. I was excited to see what this final shrine had in store for us. 😘
Visiting Kushida Shrine in Fukuoka is like taking a step back in time. This ancient shrine has been around for over 1,200 years and is considered one of the oldest in the city. The main focus of prayer at Kushida Shrine is for business and commerce, so it's a popular spot for those looking to improve their financial success.
When I visited, the shrine was much less crowded than the Dazaifu Tenmangu Shrine we had visited earlier that morning. I followed the traditional Japanese customs of washing my hands and gargling before entering the shrine and made a wish by throwing a coin in the offering box. Both yesterday and today have been incredibly blessed.
If you happen to be in Fukuoka during July, be sure to check out the Hakata Gion Yamakasa Festival, which is centered around Kushida Shrine. It's a grand parade that takes place throughout the city, and it's considered a must-see event. It's truly a unique and exciting experience.
Canal City Hakata
At first, I wasn't planning on shopping at Canal City Hakata at all, but as I walked out of Kushida Shrine and saw the department store escalator at the exit, I thought, 'Why not stop by the department store?' It's beautiful and grand (although not as beautiful as the department stores in my home country, Thailand, different styles, haha) but the mall's layout is a bit confusing, it's so big that it has 3-4 buildings and the walkways connecting each building are a bit confusing, haha.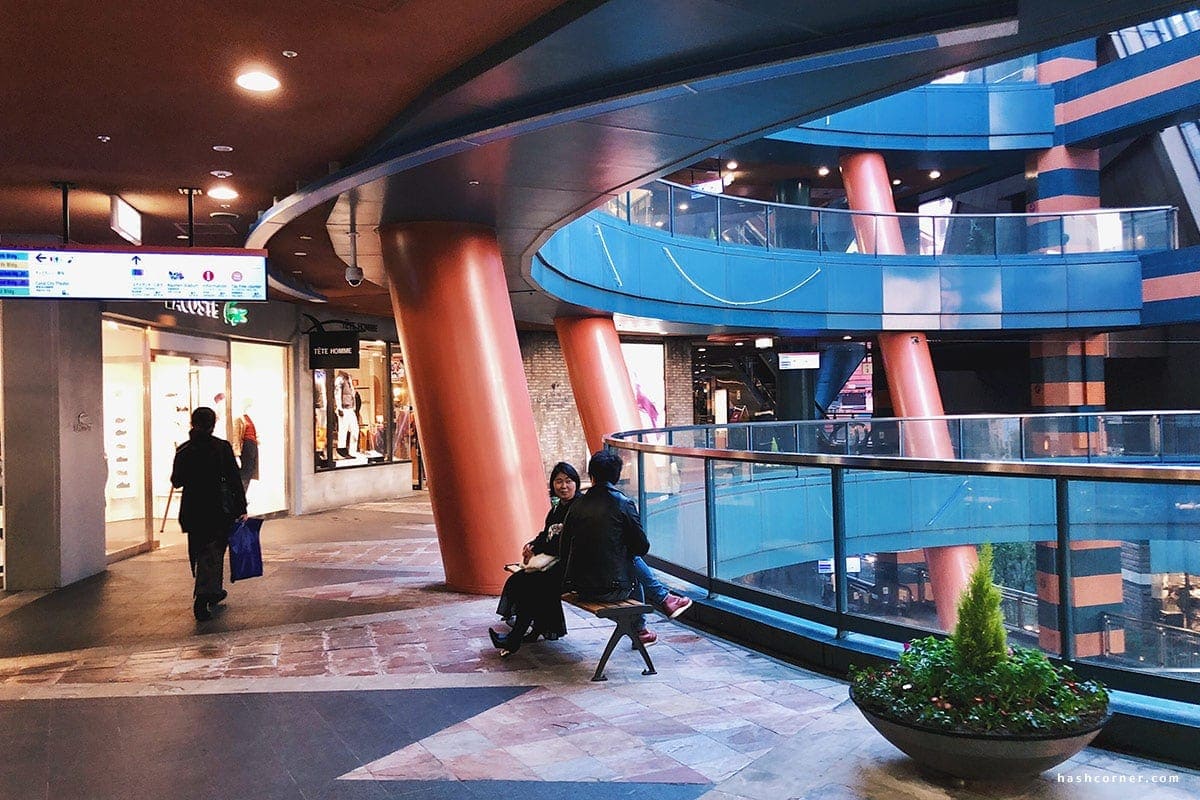 Canal City Hakata has many popular brands among young people such as Adidas, Stussy, ABC Mart, Dr Martens, Muji, H&M, Zara, Uniqlo, Onitsuka Tiger, Bershka, and many multi-brand stores. You'll find streetwear for sale and the current hot item is Champion. If you come here, be prepared to go broke and make sure to take advantage of the Tax-Free option at every shop.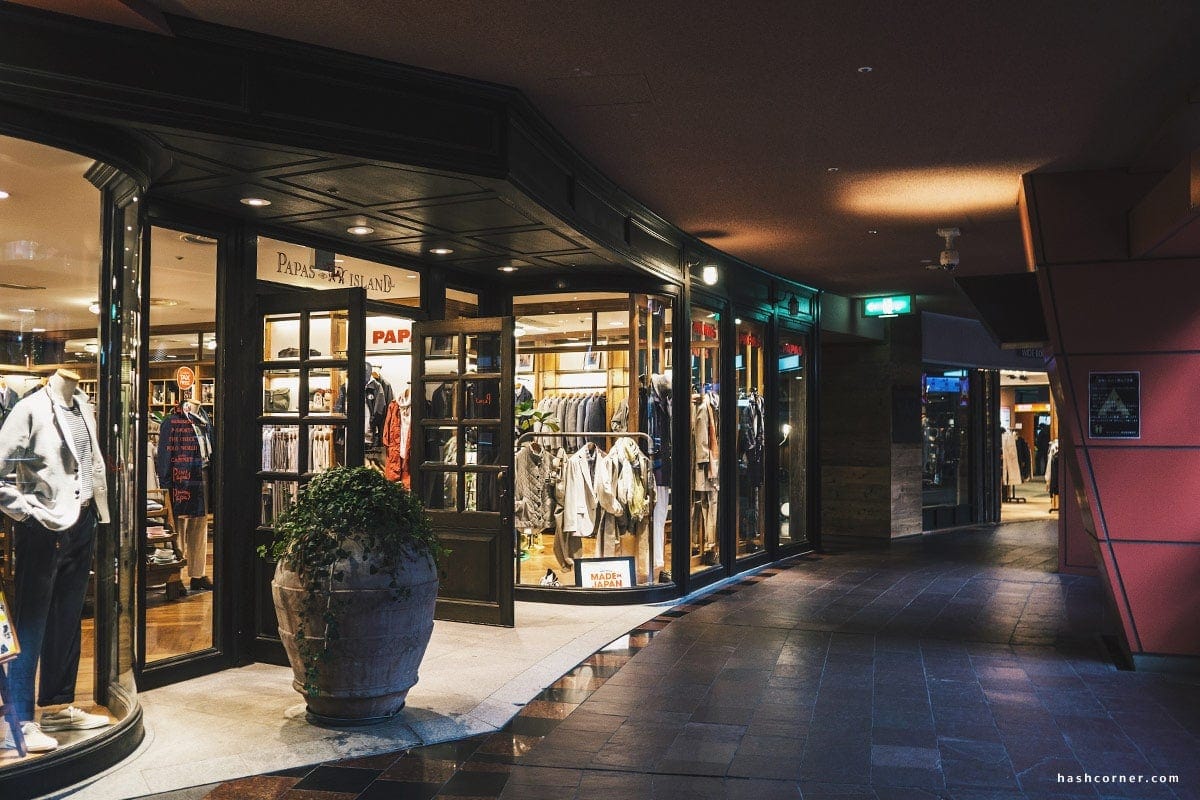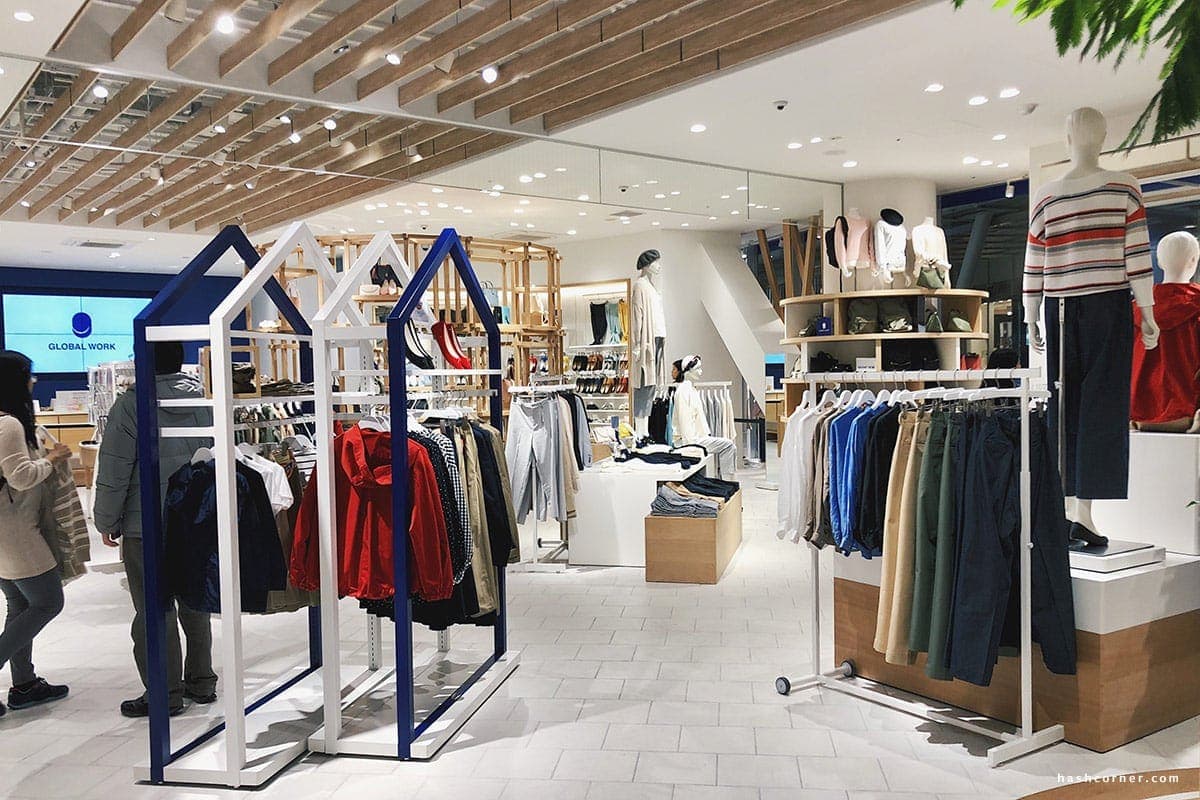 I did a price comparison and almost 80% of the branded clothes are cheaper than in Thailand. Even Japanese brands are almost half the price. I couldn't resist and ended up buying a lot, haha. And the best part is, I traveled to Japan during Chinese New Year and prices were even lower during the Final Sale period.
Shopping here is a stress reliever. If you come to walk in the evening, the mall also has a fountain show that dances to the music. It's a nice way to end the day. If you're thinking of buying clothing brands, I think this place is the best in Fukuoka."
Yatai Food Stalls
After a day of exploring Dazaifu and shopping at Canal City Hakata, I couldn't wait to try the famous street food of Fukuoka. I suggested we head to Nakasu Island, just a short walk from the Grand Hyatt Fukuoka hotel's exit, where we would find rows of Yatai-style food stalls. These mobile food stands, unique to this area of Japan, open from 6:00 p.m. until around 2:00 a.m. and offer a variety of simple yet delicious dishes.
When it comes to choosing a yatai stall, I have to admit I picked one at random. I looked for a stall with an English menu, and we ended up at a shop towards the end of the row. Once we were seated, we were asked to place our order before we even entered the stall. I ordered their famous Hakata Ramen and a mixed grilled chicken platter.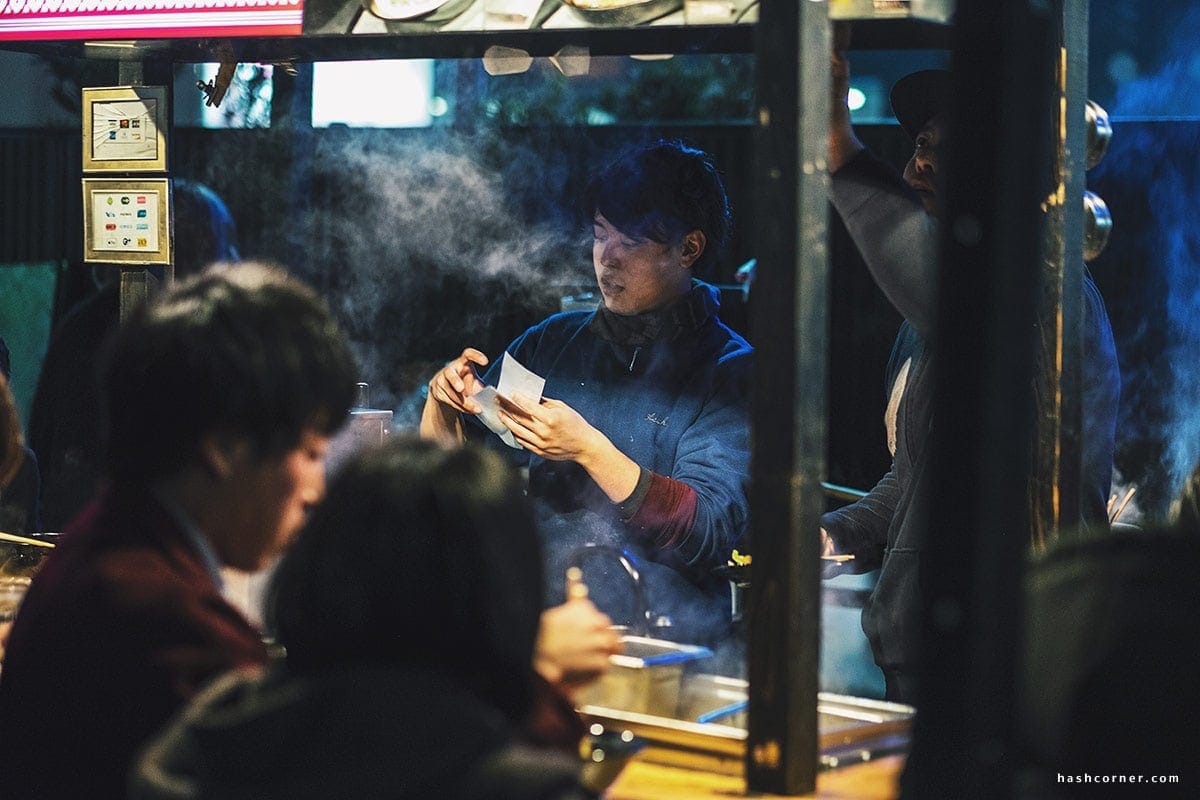 The Hakata Ramen was amazing, the broth was thick and fragrant with a pork bone base and the noodles were chewy and soft. The grilled chicken was also delicious, it came with six skewers of different parts of the chicken and paired perfectly with a cold beer. Although, the price of beer at the yatai stalls is a bit steep, so I decided to skip on it this time.
We ate until we were full and satisfied. Afterward, we walked to the subway station to head back to the hotel. Overall, it was an amazing experience and a great way to end the day."
Real Stayed Hotel in Fukuoka
montan HAKATA Hostel
Montan HAKATA Hostel is a trendy and stylish hostel that's located in a renovated old apartment building. One of the best things about this hostel is that it's only a short walk away from Hakata Station, around 800 meters. The ground floor of the hostel has a common area that feels like a co-working space with plenty of tables. There's also a communal kitchen that I didn't see many people using, and they offer free coffee all day and a simple breakfast. Just a heads up, you'll have to wake up early if you want to eat breakfast here.
The hostel has a mix of dormitory-style rooms and private rooms that are larger than what you'll find in most hotels in Japan. I booked a private room for 2 people on Expedia and it cost me around $82 per night.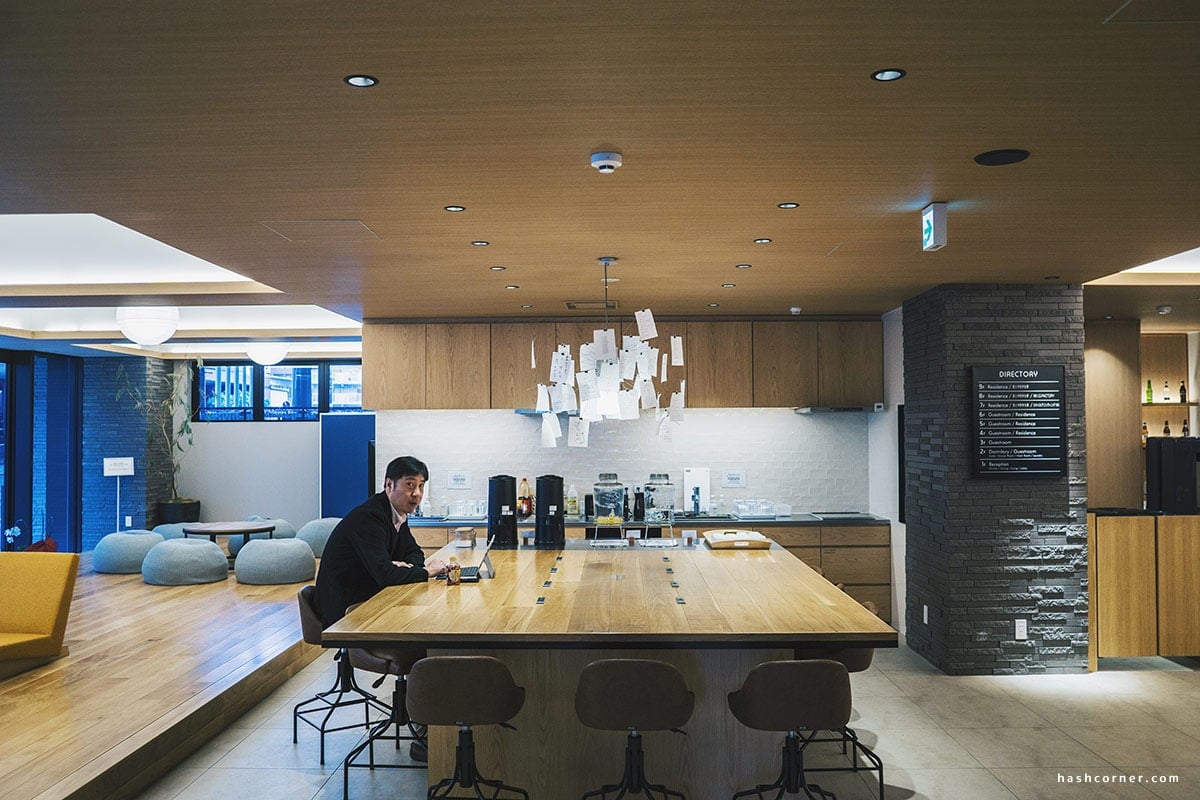 I stayed in a private room and it felt like an apartment, which is great because they have renovated an old apartment building. The room was spacious and had a sofa and balcony with a view of the city. The bathroom was small, as is typical in Japan, but it was well-equipped with a refrigerator and comfortable bed. Overall, I highly recommend Montan HAKATA Hostel as a great place to stay in Fukuoka.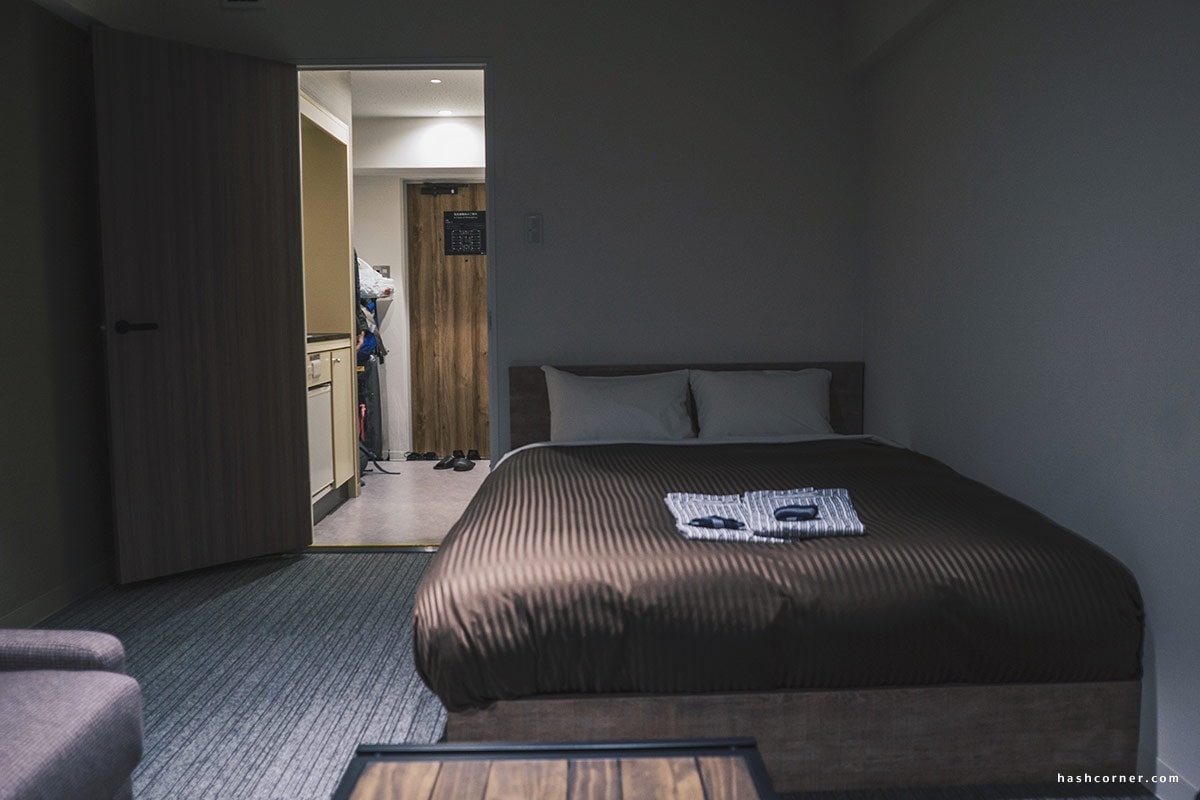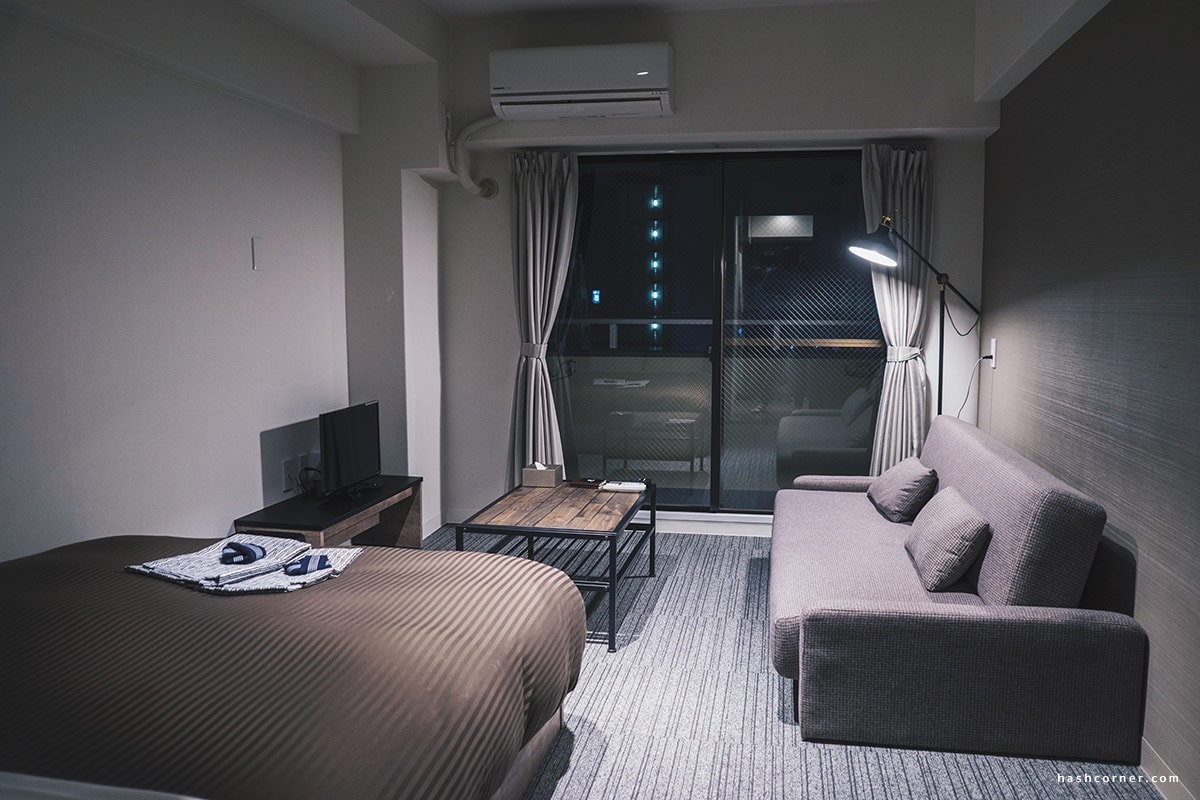 อ่านรีวิวเมืองนี้จบแล้ว
อ่านรีวิวเมืองอื่นในญี่ปุ่นต่อกันเลย 🤗
ญี่ปุ่นเป็นประเทศไม่กี่ประเทศที่นี่รู้สึกว่า ไปกี่ครั้งก็ไม่น่าเบื่อ ไปแล้วไปอีกได้ตลอด และยังประเทศที่ตัวเองตั้งมิชชั่นว่า อยากจะเก็บให้หมดทั่วประเทศ ฮ่าา เอาเป็นว่า HASHCORNER นี่ก็มีรีวิวญี่ปุ่นให้อ่านและตามรอยเยอะพอสมควร ทั้งหมดนับแล้วประมาณ 29 เมืองแล้ว เยอะโคตร ใครที่มีแพลนไปเมืองไหนในญี่ปุ่นที่มีชื่อเมืองตามลิสด้านล่าง สามารถคลิกลิงค์อ่านต่อได้เล้ย