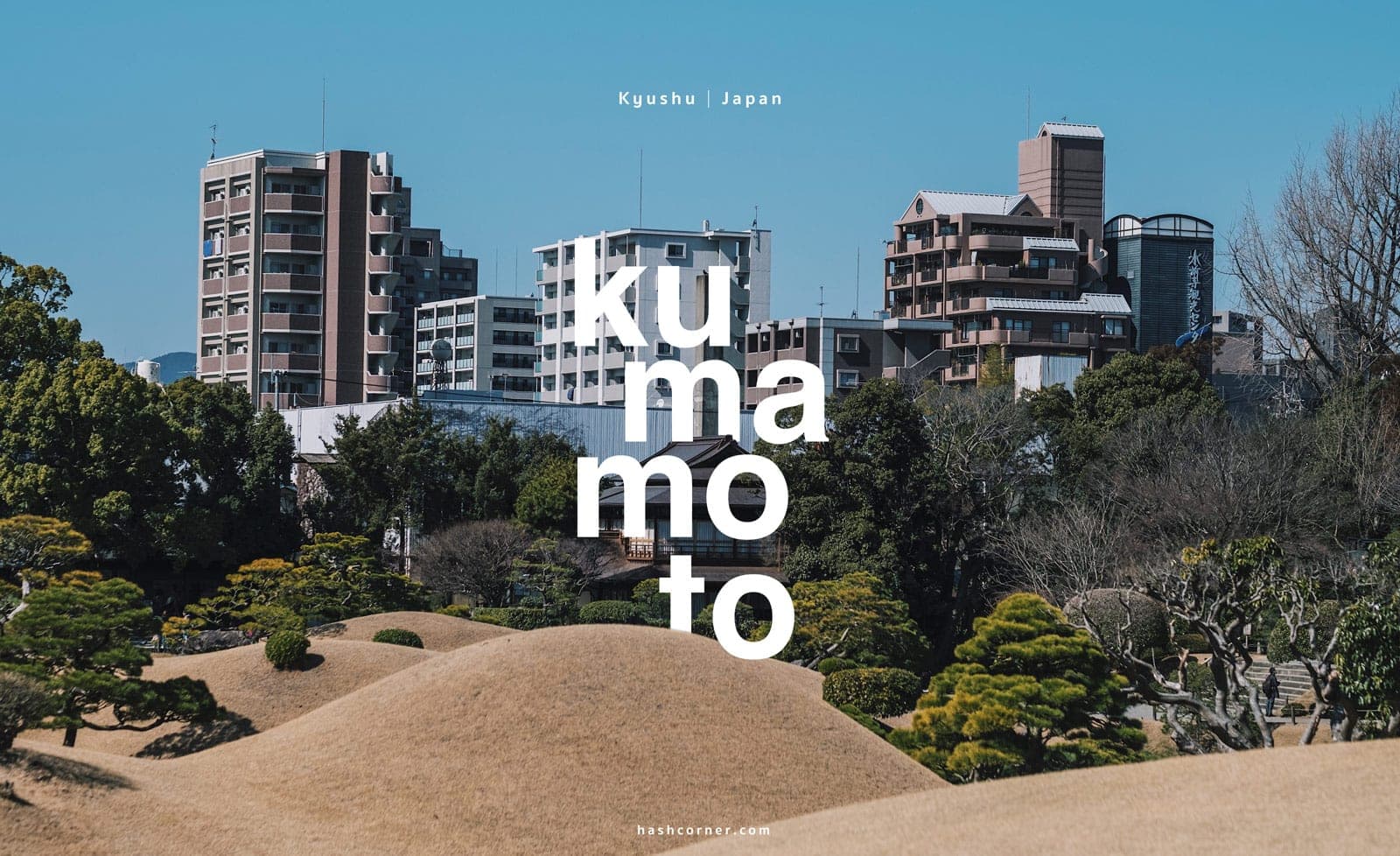 Kumamoto, many people probably know a black bear with red round cheeks named Kumamon. The bear is the Kumamoto's mascot. Is there anyone who likes this bear? OFC, you'll meet it everywhere around the city. It looks adorable! However, Kumamoto just got through the natural disaster in 2016 with the magnitude 7.0 earthquake struck, and the province volcanoes also erupted in the same year. The city was damaged and destroyed quite a lot. And now is in the recovery period. But don't worry… the travel spots are still in service, plus the places are remarkable as usual. 😁
Overview of Northern Kyushu Island Trip Plan
For this Kyushu trip, I traveled for 8 days with the main cities and locations which were Fukuoka, Nagasaki, Yufuin, Kumamoto, and two other places in Kumamoto prefecture; Takachiho and Mount Aso that I will write the separate reviews because it was a superb full day trip. 😚
Read an overview of all Northern Kyushu trips here


All info including the JR Kyushu Pass, car rentals, and cheap hotel booking tricks in Japan
A Collection of All Hashcorner Kyushu Travel Reviews
1. Review: Fukuoka + Dazaifu
2. Review: Nagasaki
3. Review: Yufuin
4. Review: Kumamoto
5. Review: Mount Aso
6. Review: Takachiho
Kumamoto
As a matter of fact, Kumamoto is the capital city of Kumamoto Prefecture. In my opinion, there are not many things to do or happenings in the city. But there is one town in Kumamoto prefecture that is very popular and I savor it a lot. If you're a nature lover, you will love Aso, a small town with the largest volcano in the world. Including, Takachiho, the neighbor city where is sited in the province next to Kumamoto, I recommend you stopping by as well. And as for the Kumamoto city, I just roamed around with no fixed plan. Chilling out like a lazy day. Come on, I'll take you on a trip!
Day 1:

Kumamoto City

The first day of the Kumamoto trip was very relaxing, relax to point of no idea what to do, haha. Because the city has a non-outstanding attraction so I just visited 2 locations which are Suizenji Garden and Kumamoto Castle. Apart from these, I can't think of any other places. Another activity idea was just exploring around, shopping, finding good food or hunting for Kumamon souvenirs. Yeah, something like that LOL.
Suizenji Garden
The starting place for Kumamoto was the Suizenji Garden, a wide Japanese garden that turned yellow-glow throughout the area at the time I visited. For those who come in the summertime, you might see a green garden. This tourist destination has a loosen atmosphere vibe. If you ask me if it's beautiful? …Yes, it is. The weather was nice, there were a lot of swimming ducks, flying birds, and koi fishes in the pond. I enjoyed strolling around. It was nice and relaxing.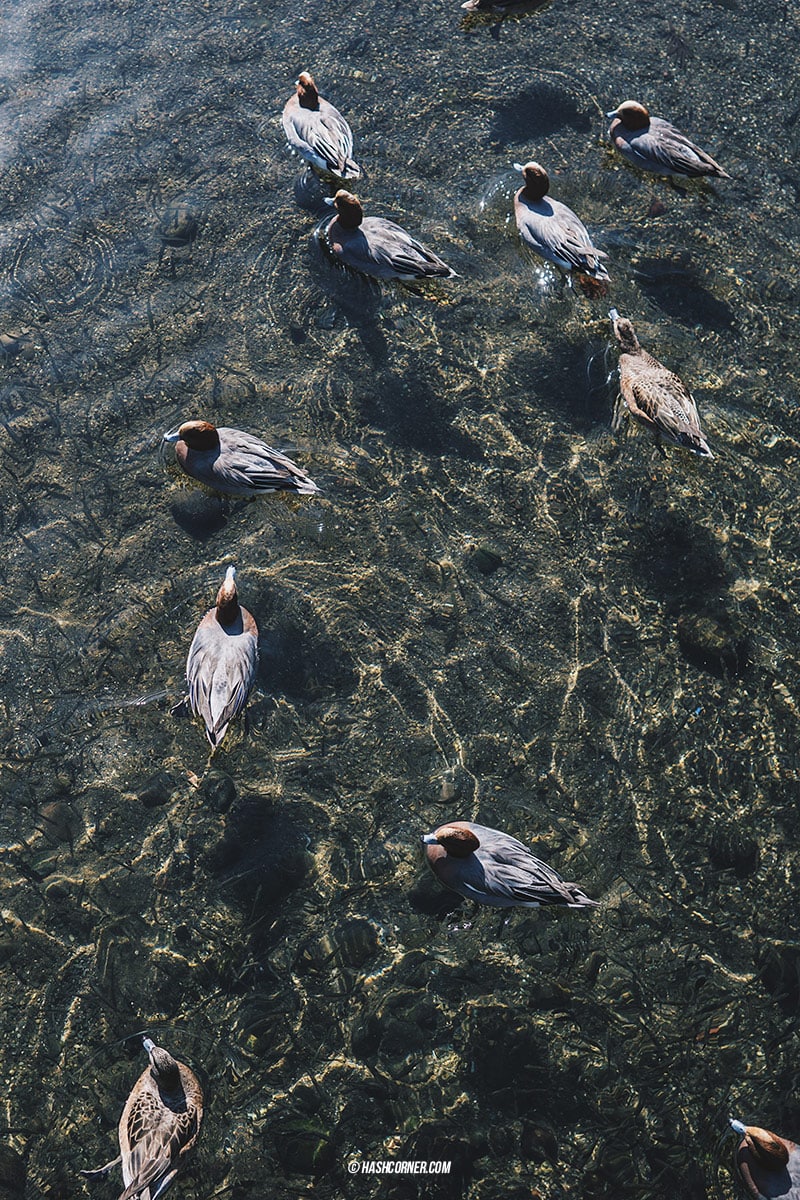 Again, if you ask me whether I like it? …Yes, I like it. I'm not sure is this revolving with aging. But I started to favor this kind of trip or place. Hahaha // oh, there's a reminder, you have to pay 400 yen for the entrance fee.
If you keep an eye on the below image, you'll discover a high mountain in the garden that is constructed to imitate Mount Fuji 🗻. Aside from cute animals surrounding there, Izumi Shrine is also placed to pay respect and ask for good fortune.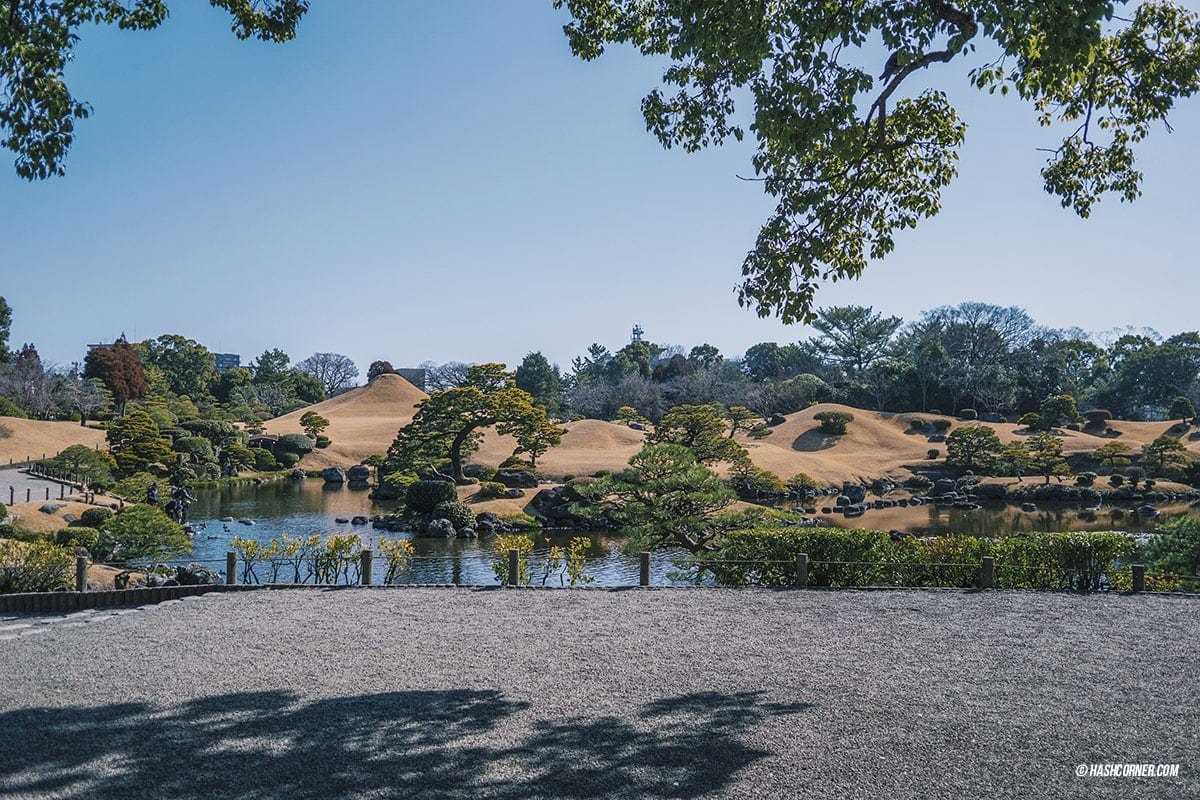 Kumamoto Castle
I indeed didn't plan for Kumamoto Castle because I heard it was closed and under maintenance. But that day, there was the Kumamoto marathon organizing in the area. With so much free time, and because of this was a city special event, I decided to attend in case the castle might reopen. I walked past the crowd that had just finish running. Then, went up to the venue beside the castle.
⚠️ For your note, I went to Kumamoto Castle in April 2018 which the castle was closed for renovation. As of now, you can enter to the walkway where you can see the close-up main castle building. Later in 2020, an elevated walkway of the inner castle grounds will be opened to the public. And in Spring 2021, the interior of the castle will be fully accessible.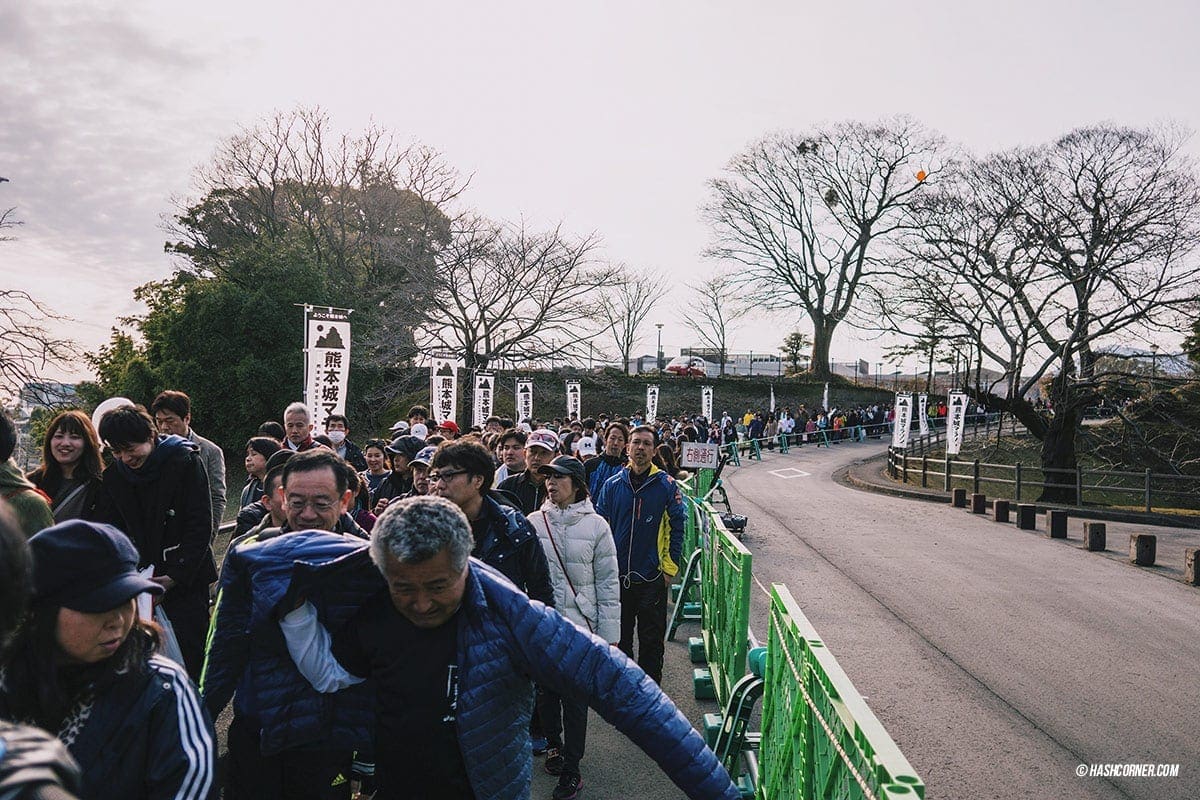 Before walking up to the castle, you'll pass Sakurano-baba Josaien which has a touch of Japanese community mall with a variety of shops and restaurants. If you don't have any particular plans, you can drop by. Here is a good choice too!
When approaching the destination, the fact still remained, the castle was damaged and closed for renovation. You may have heard or seen the campaign of Kumamon raised funds for the 2016 earthquake. Kumamoto Castle was also gotten effect and heavily ruined by this disaster. Until now, it has been closed for 2 years.
Well, that was it! I could do nothing except standing in front of the fence and took some photos of the damaged castle. According to the plan, it was said the main castle should be finished renovating in 2019 and completely restored in 2036. It takes a very long-long time. But if reckoning from the destruction I'd seen. it was regrettable because the Kumamoto Castle is a historical and architectural heritage for older than 500 years.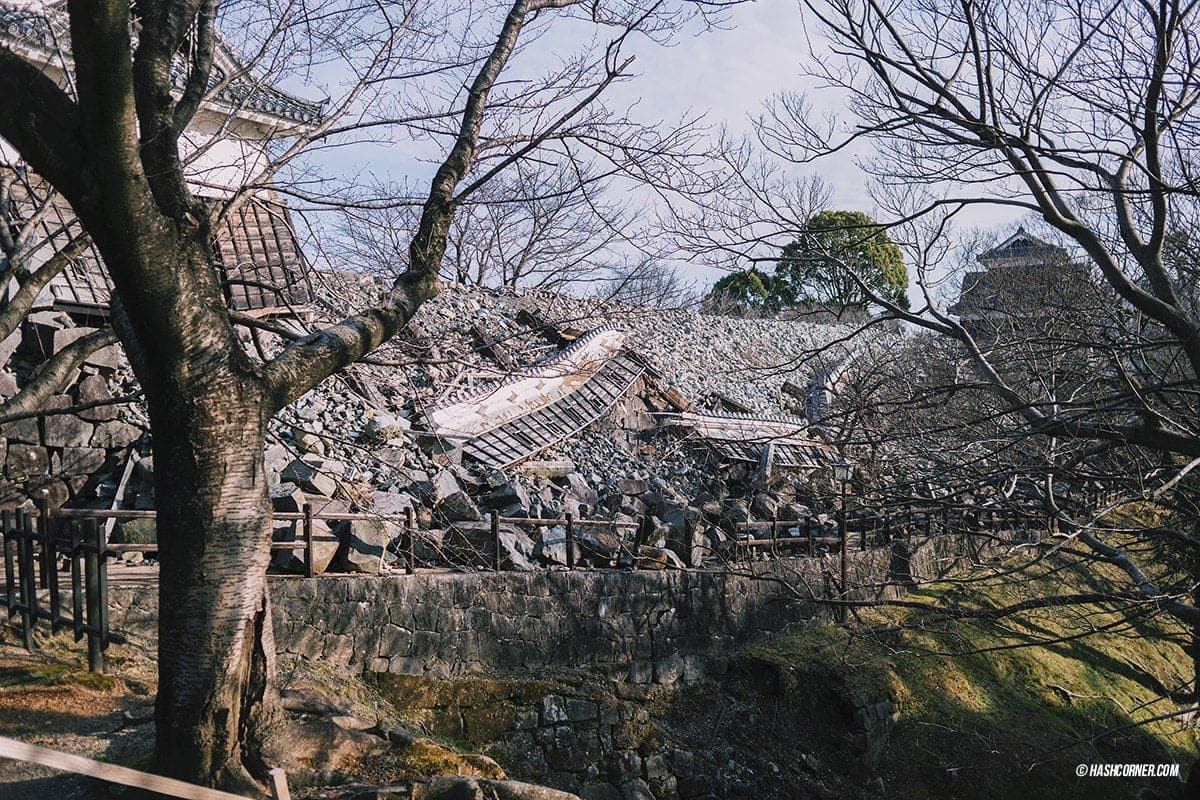 Kamitori + Shimotori Shopping Arcade
In the Kumamoto main town, these are only popular attractions. Other than that, you can browse around Kamitori + Shimotori, which is the main shopping street in the city center. There are restaurants, shops for skincare, cosmetics, and clothing along the walkway like an outlet mall. I was on a spending spree. 😱 You can see souvenirs (such as Kumamon) around here as well.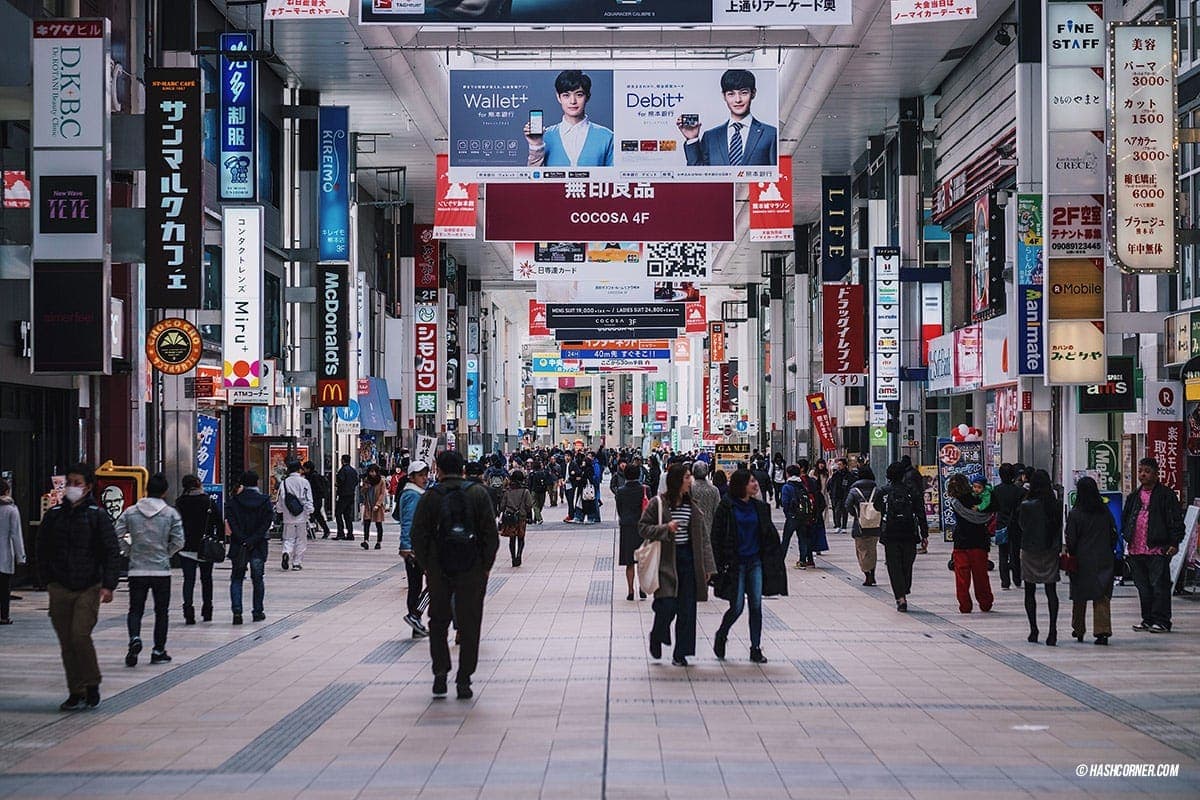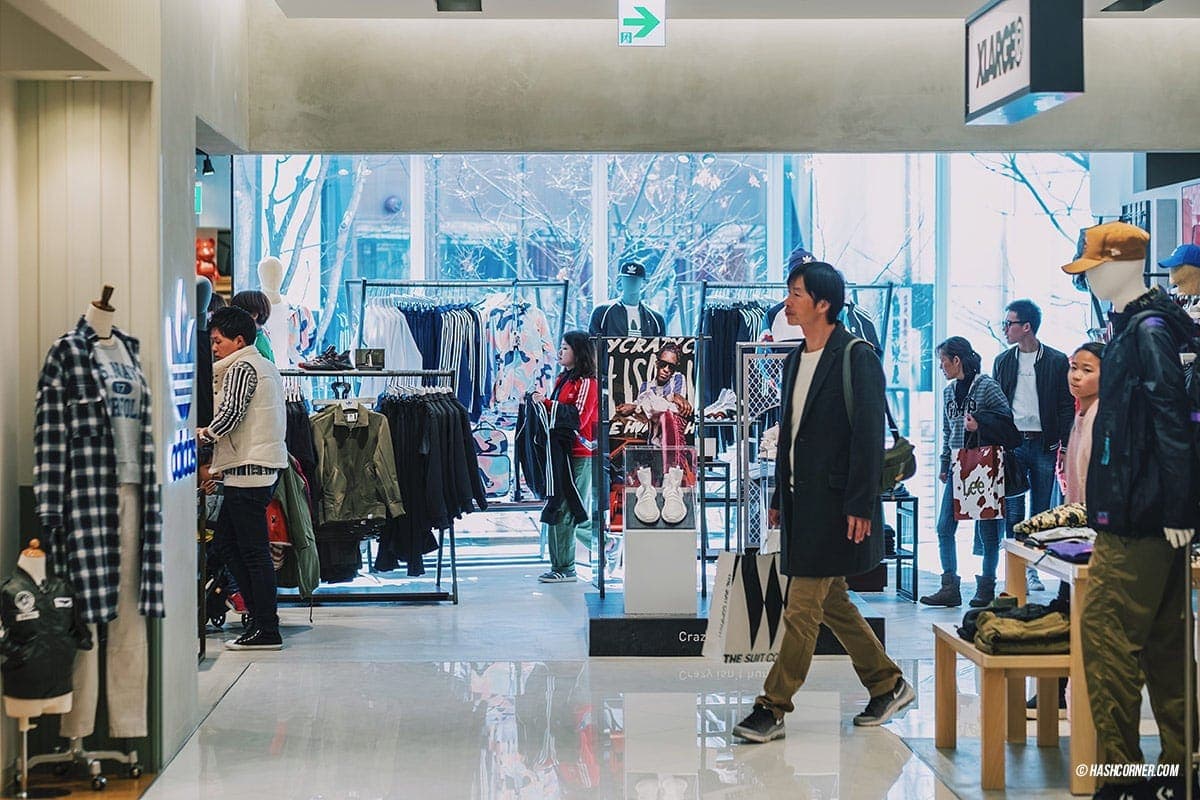 ※ Base on my experience, Kumamon souvenirs at Kumamoto Station offers the best price. Stores on the 1st floor may have a few products. I suggest going up to the 2nd floor, there are 2-3 stores next to each other, that's the trove!
Clothes? This area has almost everything; Nike / Adidas / GU / Champion / or else you wish to look for. For those who want to see Muji, the store here is so HUGE and providing Muji Café too. Cool ❤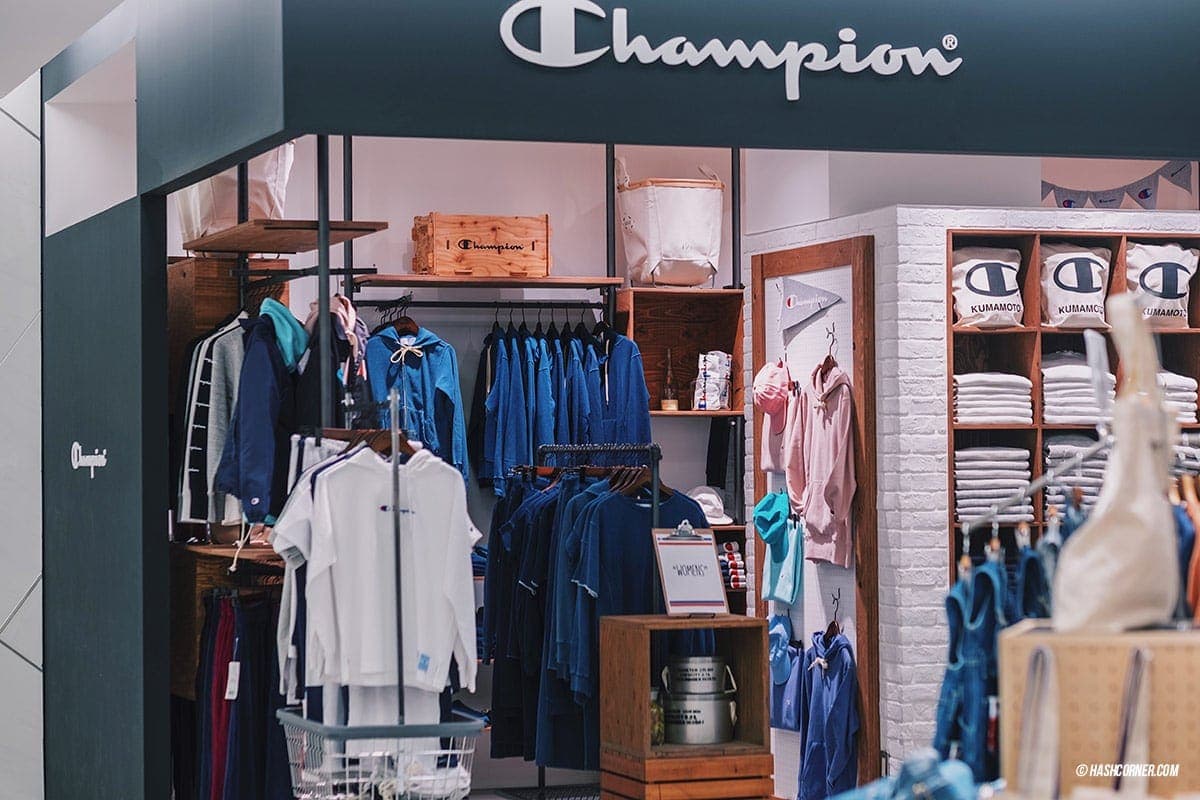 Accommodation in Kumamoto
※ The most convenient area to accommodate in Kumamoto, I myself recommend choosing a hotel near JR Kumamoto Station.
I suggest place around JR Kumamoto Station because when you get off from the Shinkansen, you can drag your suitcases and straight into the accommodation right away, you don't have to change for the tram or other transport to reach another location. Although there are no shopping malls around the train station, you'll never feel starving because restaurants are spreading all over the area. Plus, a convenience store, a car rental is also located there. The hotel I would like to recommend is Hotel the Gate Kumamoto (for those who's traveling alone and deciding for a hostel), Toyoko INN Kumamoto Ekimae (for a cheap single room, I spent overnights here).
And anyone who wishes to stay at the center of downtown, the midst of entertainment and shopping, there are 2 other hotels I'd like to suggest: Hotel Nikko Kumamoto and Dormy Inn Kumamoto. You can read more details below.
Hotel The Gate Kumamoto
Coming alone and want to sleep in a hostel to save the budget? At the JR Kumamoto Station, there's only one hostel called Hotel the Gate Kumamoto. Even though you only have one option but the place is excellent quality, clean, well-design. The location is near the station which is convenient and easy to get in and travel elsewhere.
Room rate starting at 26 USD / night
View rates and book Hotel The Gate Kumamoto, click on the link below to check and reserve through your favorite OTA right away.

Book via Agoda

Book via Booking

Book via Expedia
Book via Trip
Book via Hotels
Toyoko INN Kumamoto Ekimae
I stayed overnight at this hotel. Toyoko INN Kumamoto Ekimae is the Toyoko INN hotel chain that holds nearly 300 hotels all over Japan. It's a backup idea plan when I can't find a pleasant or a good price accommodation with an excellent location (it's seriously true 😊 because most of the Toyoko INN hotel chain is settled around the train station).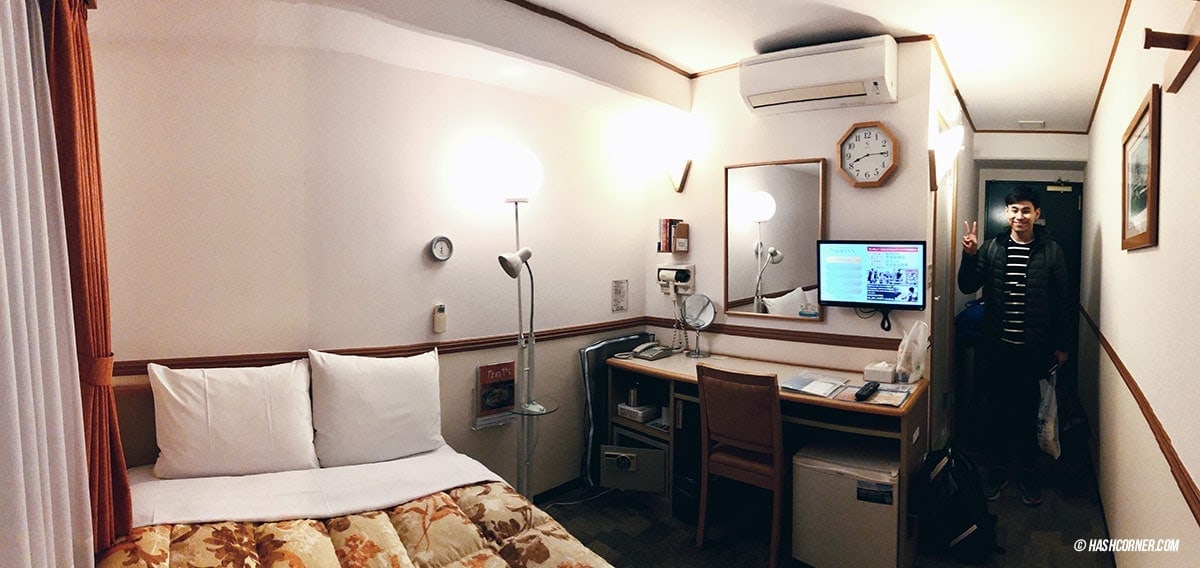 ※ Toyoko INN Kumamoto Ekimae is served to the standard quality of the famed hotel brand. There are single rooms with an orange bedsheet, comfortable to sleep. The room is not very big but full of equipment and facilities. The breakfast is included, the staffs are friendly. It's like a family-owned hotel which I felt relaxed during my stay. Heh-heh // The price I got an offer from Expedia was around 48 USD per night. Very cheap!
Room rate starting at 46 USD / night
View rates and book Toyoko INN Kumamoto Ekimae, click on the link below to check and reserve through your favorite OTA right away.

Book via Agoda

Book via Booking

Book via Expedia
Book via Trip
Book via Hotels
Hotel Nikko Kumamoto
I would consider Hotel Nikko Kumamoto as the best hotel in the city and also put up in my settlement choice list. Not only it is located in the center downtown where is famous for shopping (not at JR Kumamoto) but also a 5-star hotel offering a bigger room than the other Japanese standard hotels, the room size starting at 21 square meters (yeah, It's quite wide). And if you have the fate to get a good location room, you may see the Kumamoto Castle view. As for breakfast, it's perfect and varied. If you're looking for a comfortable stay, choose here!
Room rate starting at 213 USD / night
View rates and book Hotel Nikko Kumamoto, click on the link below to check and reserve through your favorite OTA right away.

Book via Agoda

Book via Booking

Book via Expedia
Book via Trip
Book via Hotels
Dormy Inn Kumamoto
The last hotel for this trip review, Dormy Inn Kumamoto is under supervision of the famous Dormy Inn Chain, located in the city center which is not very far from shopping areas, surrounding by minimarts, and also being near to the tram stop (I heard there is a free shuttle service from Kumamoto Station. To make sure, please ask the hotel again for better understanding). The superbly point here is the buffet breakfast, including free daily ramen giving out at around 9 pm + a public bath on the rooftop which allows you to soak and relax in the water. As for the room, facilities and size are according to the Japanese standard, room size starting from 15-30 square meters.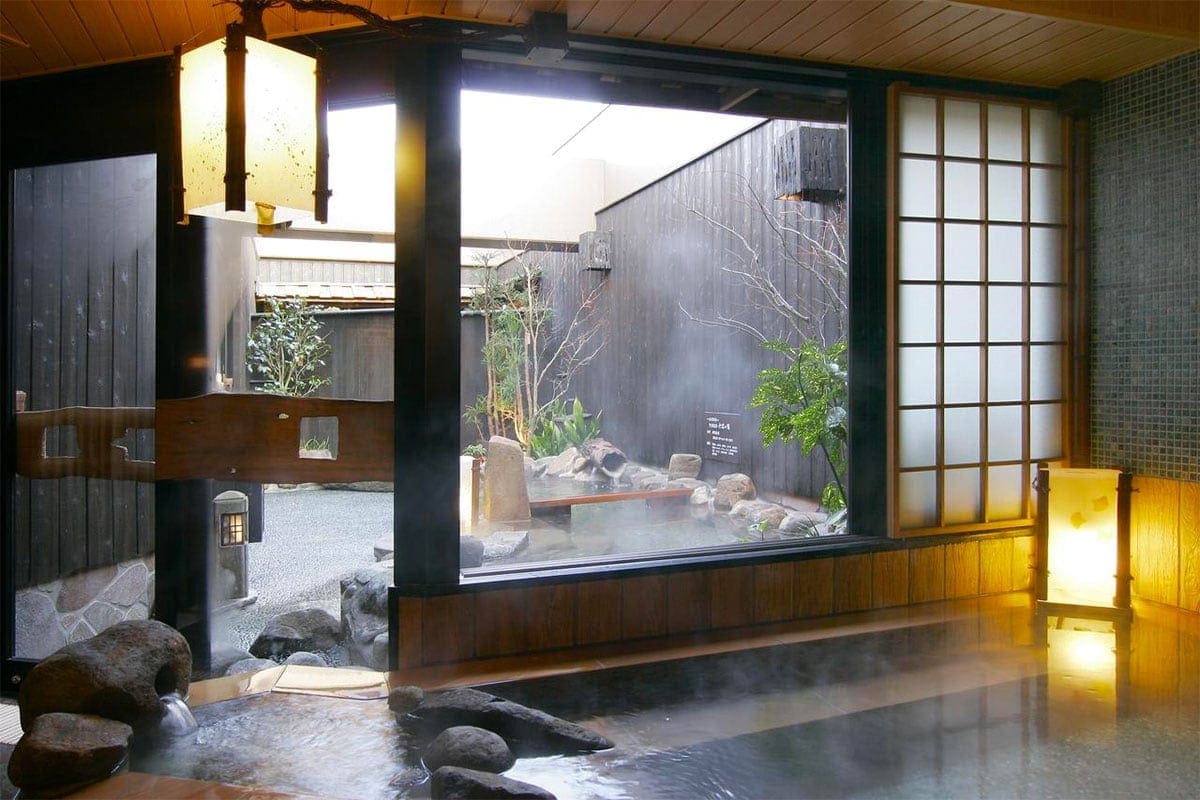 Room rate starting at 213 USD / night
View rates and book Dormy Inn Kumamoto, click on the link below to check and reserve through your favorite OTA right away.

Book via Agoda

Book via Booking

Book via Expedia
Book via Trip
Book via Hotels
อ่านรีวิวเมืองนี้จบแล้ว
อ่านรีวิวเมืองอื่นในญี่ปุ่นต่อกันเลย 🤗
ญี่ปุ่นเป็นประเทศไม่กี่ประเทศที่นี่รู้สึกว่า ไปกี่ครั้งก็ไม่น่าเบื่อ ไปแล้วไปอีกได้ตลอด และยังประเทศที่ตัวเองตั้งมิชชั่นว่า อยากจะเก็บให้หมดทั่วประเทศ ฮ่าา เอาเป็นว่า HASHCORNER นี่ก็มีรีวิวญี่ปุ่นให้อ่านและตามรอยเยอะพอสมควร ทั้งหมดนับแล้วประมาณ 29 เมืองแล้ว เยอะโคตร ใครที่มีแพลนไปเมืองไหนในญี่ปุ่นที่มีชื่อเมืองตามลิสด้านล่าง สามารถคลิกลิงค์อ่านต่อได้เล้ย
ภูมิภาคคันไซ (Kansai Region)
——————————————
ภูมิภาคชูบุ (Chubu Region)
——————————————
ภูมิภาคคิวชู (Kyushu Region)
——————————————
ภูมิภาคโอกินาว่า (Okinawa Region)
——————————————
ภูมิภาคฮอกไกโด (Hokkaido Region)
——————————————
ภูมิภาคชูโกกุ (Chugoku Region)
——————————————
แนะนำโรงแรม / พาสรถไฟ