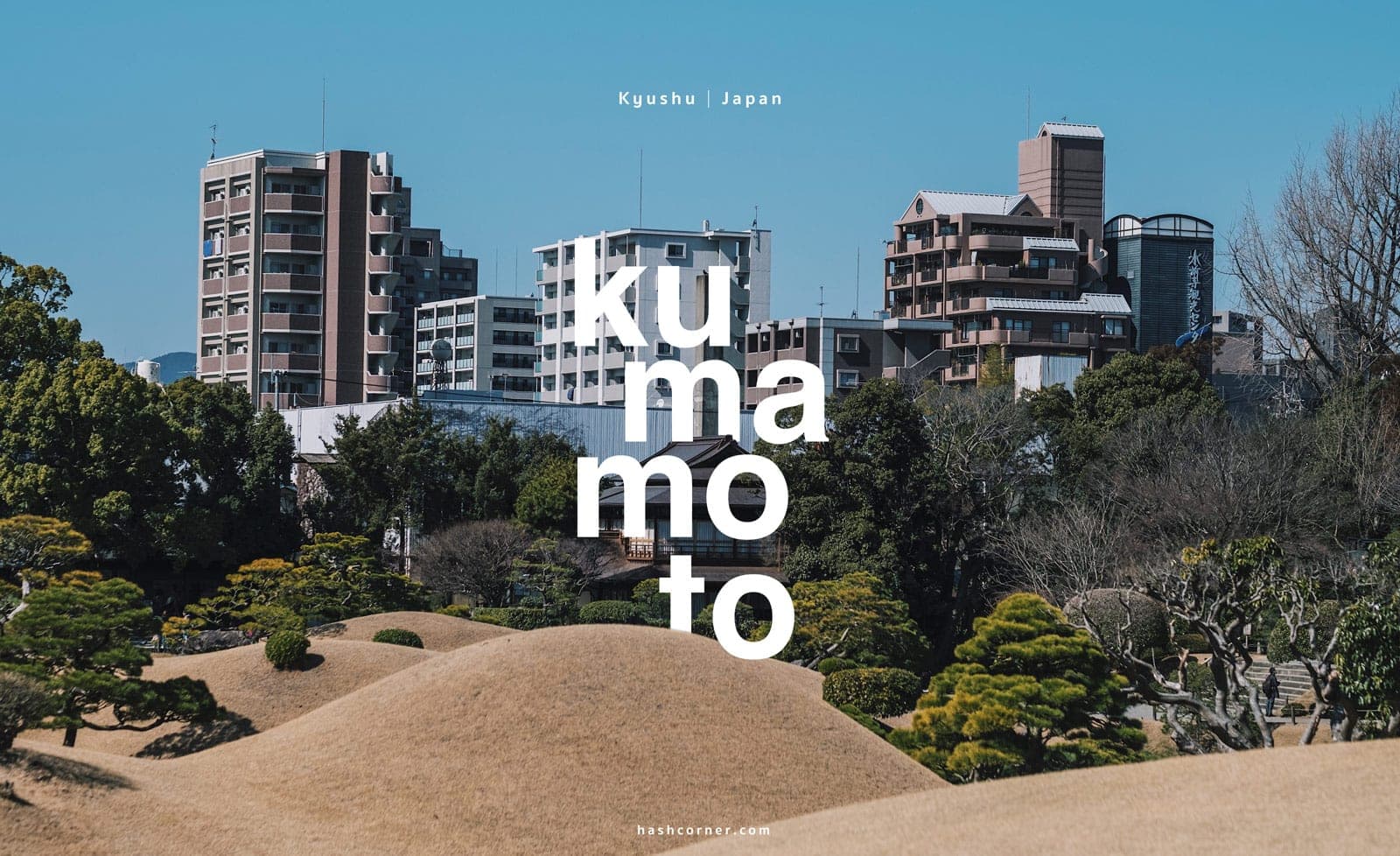 Kumamoto, a charming city in Kyushu, Japan, is known for its rich history, beautiful landscapes, and vibrant culture. One of the most recognizable symbols of the city is Kumamon, the adorable black bear mascot with red round cheeks. This lovable bear has captured the hearts of both locals and tourists alike and can be found throughout the city, promoting Kumamoto's attractions and products.
In 2016, Kumamoto faced a major natural disaster when a magnitude 7.0 earthquake struck, causing significant damage and destruction. Additionally, the province's volcanoes also erupted that same year, further impacting the region. Despite these challenges, Kumamoto has been steadily recovering and rebuilding, showcasing its resilience and spirit. Today, the city's travel spots remain open and as remarkable as ever, inviting visitors to experience its unique charm and beauty.
Northern Kyushu Island itinerary
Embark on a journey to the northern island of Kyushu, a land of contrasts and diversity, where modern cities and ancient traditions coexist in harmony. On my 8-day trip, I had the opportunity to explore the best that this island has to offer – from the vibrant metropolis of Fukuoka to the historical and picturesque Nagasaki, the idyllic hot spring town of Yufuin, and the charming castle town of Kumamoto. I also ventured to the lesser-known gems of Takachiho and Mount Aso, immersing myself in the island's natural splendor. Each day was a new adventure, and I urge you to plan your own trip to this incredible destination and follow my journey through my detailed reviews of each city I visited. Click to discover the hidden gems and must-see attractions of Kyushu Island in each city on the itinerary below.
Do I Need to Buy a Pass to Travel to Kyushu?
If you're planning to travel to the island of Kyushu, specifically to cities outside of Fukuoka, it's recommended to purchase a JR train pass for cost savings, convenience, and speed. The most recommended pass is the JR Kyushu Rail Pass, which comes in three variations: the All Kyushu Area Pass, the Northern Kyushu Area Pass, and the Southern Kyushu Area Pass. The best pass for you will depend on your travel itinerary.
🚅✨ Based on the review you're reading here, I only traveled to the northern part of Kyushu Island, specifically to the cities of Fukuoka, Nagasaki, Yufuin, and Kumamoto. For those who are looking for an economical, convenient, and easy way to travel, I recommend purchasing the Northern Kyushu Area Pass. This pass can be used on JR trains between cities, but keep in mind that it cannot be used on the Fukuoka subway or trams in other cities.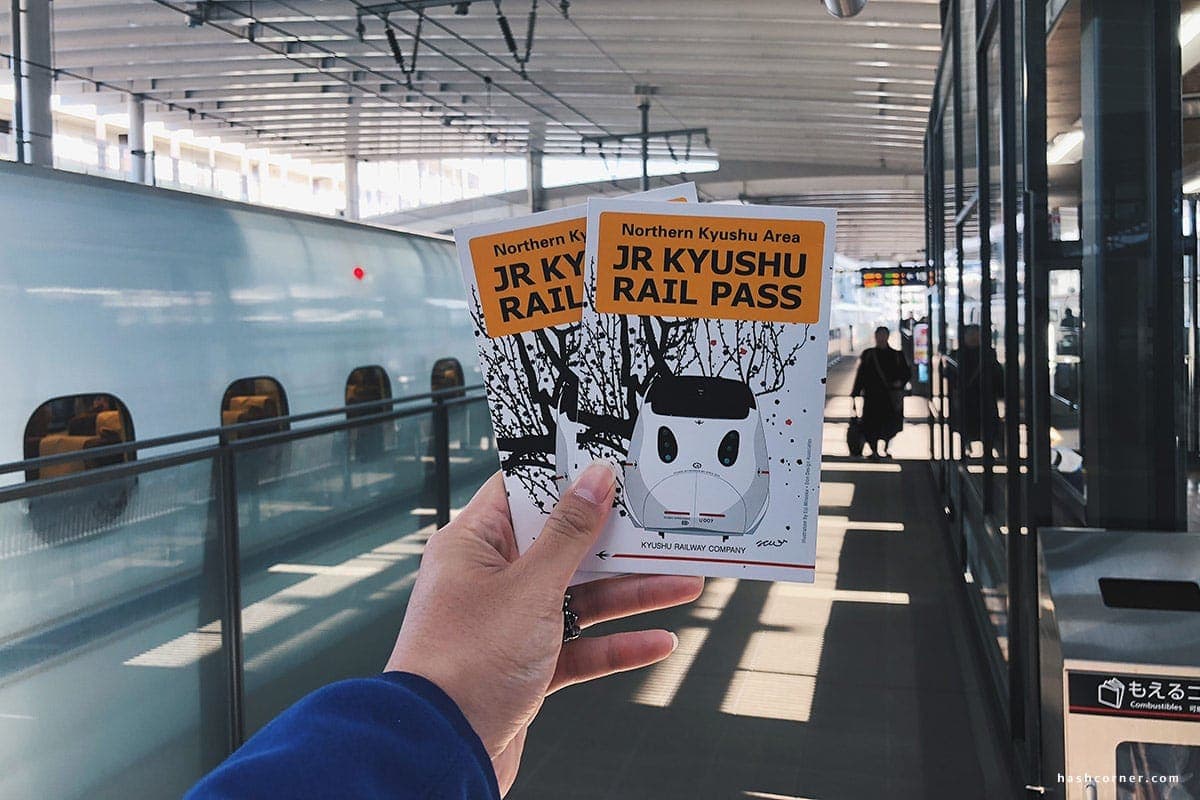 I highly recommend purchasing your JR train pass online through the Klook website, which sells almost every travel ticket in the world at a cheaper price compared to other websites. The process of buying, paying, and picking up the pass is easy and convenient. You can purchase the pass and pay using a credit card on the website. Once your purchase is complete, Klook will send an exchange order or booking confirmation to your email, which you can then print out and exchange for a physical pass at the JR Ticket Office. The specific location I used for this exchange was at the JR Hakata Station.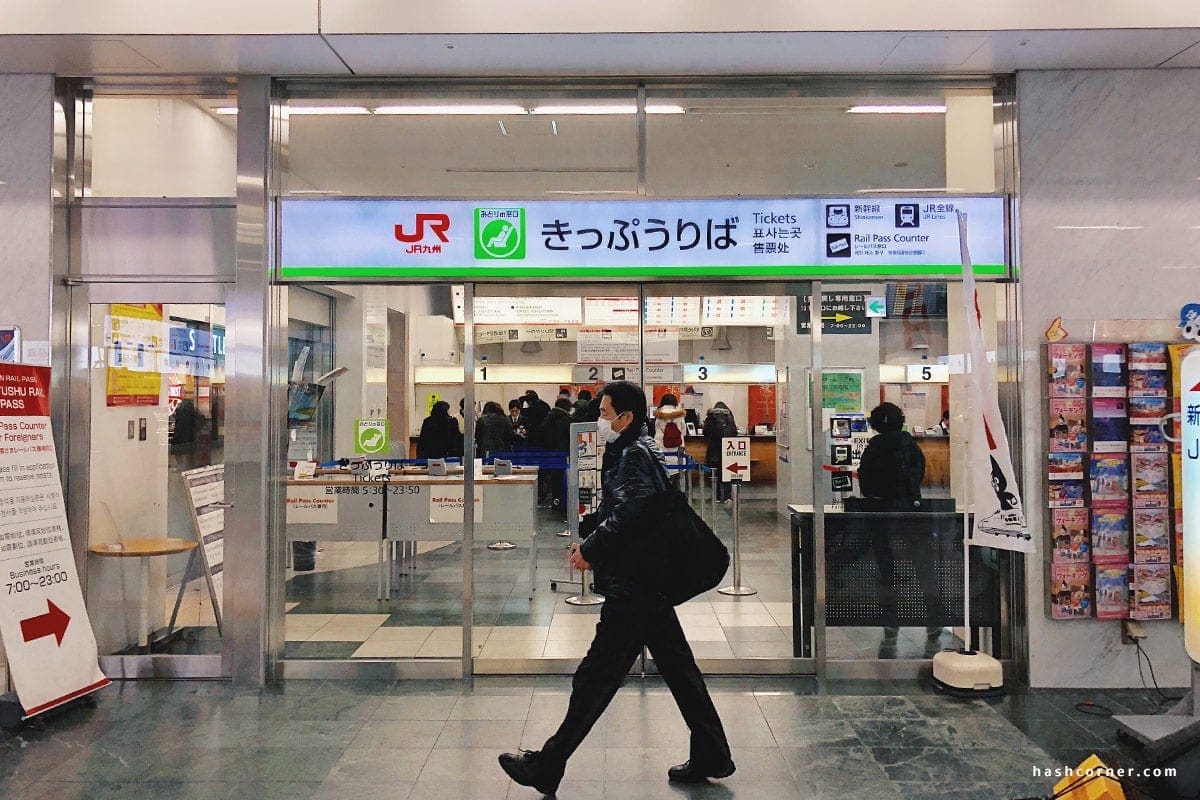 From my personal experience, I can say that buying the JR Northern Kyushu Pass through Klook was incredibly convenient. I purchased it only 2 days before my trip to Japan and was able to easily print the confirmation from my email and exchange it for the physical pass in Japan. It was much simpler than I had expected.
For those with different plans, if you are only planning to visit Southern Kyushu, the Southern Kyushu Area Pass would be the best option. But if your plans include both Northern Kyushu and other areas like Hiroshima or the Kansai region, such as Osaka, I recommend purchasing the Sanyo-San'in-Northern Kyushu Area Pass instead. It will give you more flexibility and allow you to fully explore all the different areas that you are interested in.
⚡️ The Fukuoka review on this page has not used the JR Kyushu Pass, however, it is possible to exchange the Exchange Order for a physical ticket at Hakata Station. The staff there will be able to help you activate the pass on the desired start date and also assist with reserving train tickets with reserved seats in advance if needed.
Kyushu Rail Pass Summary for Visiting Kumamoto
🎫 JR Kyushu Passis divided into 3 different passes: all Kyushu region, Northern Kyushu and Southern Kyushu.

JR Kyushu Pass (All Area): This pass allows you to travel on JR lines for sightseeing in various cities in Kyushu such as Hakata (Fukuoka), Nagasaki, Kumamoto, Yufuin, Beppu, Miyazaki, and Kagoshima. You can take the Yufuin no Mori sightseeing train to Yufuin and reserve seats in advance via the JR Kyushu website. There are 3, 5, and 7-day plans available, with starting prices at JPY 17,000 (~$130). [Purchase via Klook] [Purchase via KKday]
JR Northern Kyushu Pass : (I've used this pass in this review.) This pass allows you to travel on JR lines for sightseeing in various cities in Northern Kyushu such as Hakata (Fukuoka), Nagasaki, Kumamoto, Yufuin, Beppu, and Oita. You can take the Yufuin no Mori sightseeing train to Yufuin and reserve seats in advance via the JR Kyushu website. There are 3 and 5-day plans available, with starting prices at JPY 10,000 (~$77). [Purchase via Klook] [Purchase via KKday]
JR Southern Kyushu Pass: This pass allows you to travel on JR lines for sightseeing in Southern Kyushu such as Kumamoto, Oita, Miyazaki, and Kagoshima. However, it cannot be used on the Yufuin no Mori sightseeing train. It's available in a 3-day pass, starting price at JPY 8,000 (~$62). [Purchase via Klook][Purchase via KKday]

🎫 Sanyo-San'in-Northern Kyushu Area Pass: This pass is for traveling on JR train lines to prominent cities such as Osaka, Kyoto, Nara, Kobe, Wakayama, Himeji, Okayama, Hiroshima, Yamaguchi, Fukuoka, Kumamoto, and Nagasaki. You can take Sanyo-Kyushu Shinkansen round trip Osaka-Kobe-Okayama-Hiroshima-Yamaguchi-Hakata(Fukuoka)-Kumamoto, Kansai-Airport Express Haruka from Kansai Airport (KIX) and Yufuin no Mori Sightseeing Train (however, online seat reservation is not possible with this pass). It's available in a 7-day plan, starting price at JPY 23,000 (~$177). [Purchase via Klook] [Purchase via KKday]
🎫 Japan Rail Pass – All Area (JR Pass): This pass allows you to ride JR trains across the entire country, including almost all Shinkansen bullet trains. It also allows you to ride on the Yufuin no Mori sightseeing train, but you cannot reserve seats online with this pass, you must do it at the JR station. This pass is available in a 7-day plan and the price is about JPY 44,810 (~$344). [Purchase via Klook] [Purchase via KKday]
Where to stay in Kumamoto
To make the most of your time in this enchanting city, it's crucial to choose the right area to stay in, depending on your preferences and priorities. In this guide, I'll be sharing my top three recommendations for the best areas to stay in Kumamoto, along with the reasons why each area is special and well-connected by public transportation. So, let's dive right in and discover the perfect base for your Kumamoto adventure!
#1 Kumamoto Station
If convenience is your top priority, I recommend staying near Kumamoto Station. As a major transportation hub, the station serves local trains, buses, and the Kyushu Shinkansen, making it easy to explore other parts of the region. There are also various shopping centers and dining options in the area, catering to different budgets and tastes. Staying near the station means you'll always have access to various transportation options, making it easy to get around both within Kumamoto and to other destinations in Kyushu.
Recommended hotels in the Kumamoto Station area include:
#2 Kumamoto City Center
For those who want to be right in the heart of the action, staying in the city center is an excellent choice. This area is close to major attractions like Kumamoto Castle, Sakuranobaba Josaien, and Suizenji Garden. The city center offers plenty of options for dining and shopping, with a wide range of cuisines and stores to choose from. What I love about this area is the easy access to public transportation, with tram stops, bus stops, and nearby train stations like Kumamoto Station and Kami-Kumamoto Station. This makes exploring the city and nearby towns a breeze!
Recommended hotels in the Kumamoto City Center area include:
Let's get started traveling in Kumamoto, Kyushu!
Indeed, Kumamoto is the capital city of Kumamoto Prefecture. While there may not be an abundance of activities within the city itself, there's a nearby town that is quite popular and enjoyable. For nature enthusiasts, Aso is an amazing destination, boasting the world's largest volcano and offering stunning landscapes and outdoor activities. Additionally, Takachiho, a neighboring city in the adjacent prefecture, is also worth a visit due to its picturesque gorge, sacred shrines, and rich mythology. As for Kumamoto city, a laid-back approach without a fixed plan is perfect for a relaxing day. So, join me on this journey!
Day 1: Kumamoto City
On the first day of my Kumamoto trip, I took a leisurely approach with no specific plan in mind. The city has a few notable attractions, so I visited Suizenji Garden and Kumamoto Castle. Aside from these, my activities mainly consisted of exploring, shopping, finding delicious food, and hunting for Kumamon souvenirs.
Suizenji Garden
My journey in Kumamoto began at Suizenji Garden, a spacious Japanese garden built in the 17th century by the Hosokawa family. The garden displayed a golden hue when I visited, but those who come during the summer might witness a lush green landscape instead. Known for its beautiful landscape and miniature representations of the 53 stations of the historic Tokaido Road, the garden offers a tranquil atmosphere that is quite enjoyable. With pleasant weather, ducks swimming, birds flying, and koi fish in the pond, I found strolling around the garden to be quite relaxing.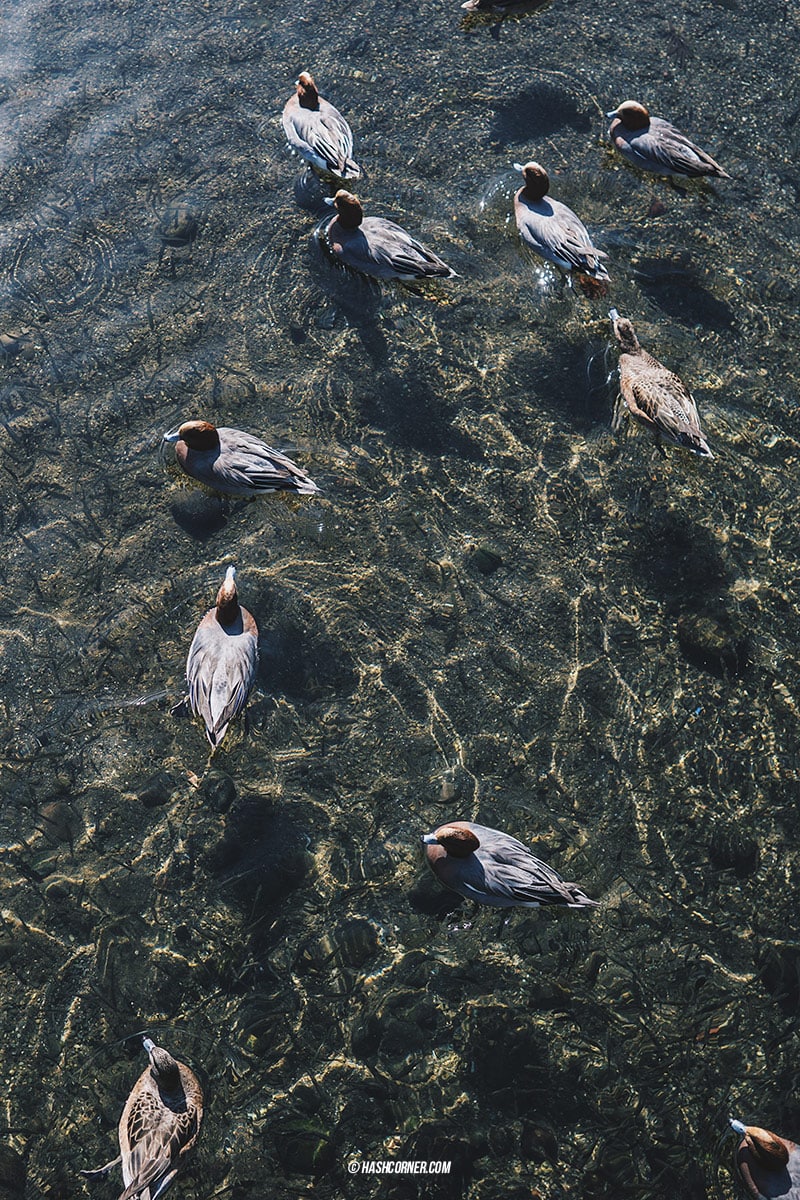 Admittedly, my appreciation for this type of serene experience might be related to getting older, but I genuinely enjoyed the visit. Please note that there is a 400 yen entrance fee for Suizenji Garden.
Izumi Shrine, located within the Suizenji Garden, is dedicated to the Hosokawa family's ancestors and is a peaceful spot for paying respect and asking for good fortune. The shrine's architecture and serene surroundings add to the overall charm of the garden.
In the image below, you can see a tall, artificial mountain designed to resemble Mount Fuji. The garden is also home to an array of charming animals, making it an enjoyable experience for visitors of all ages.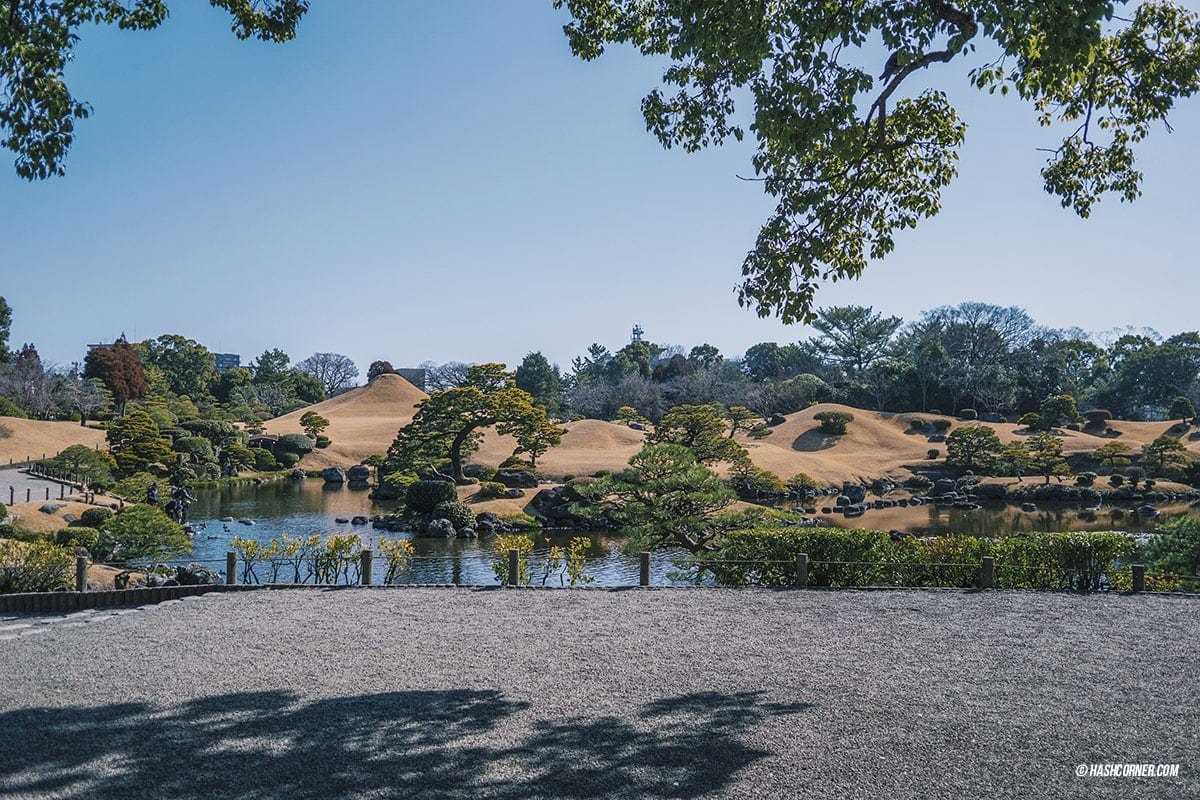 Kumamoto Castle
Initially, I didn't plan on visiting Kumamoto Castle, as I had heard it was closed and undergoing maintenance. However, with the Kumamoto marathon taking place in the area and plenty of free time on my hands, I decided to check it out in case it had reopened. I walked past the crowds of people who had just finished running and headed up to the venue beside the castle.
Kumamoto Castle is one of the most impressive and well-preserved castles in Japan. Originally built in 1607 by the famed daimyo Kato Kiyomasa, the castle has played a significant role in Japan's history. Known for its unique architectural features, such as the stone walls and the iconic "Uto Turret," the castle has been a symbol of power and prestige in the region for centuries.
In April 2016, Kumamoto experienced a devastating earthquake with a magnitude of 7.0. The disaster caused significant damage to the city, including the historic Kumamoto Castle. Many of the castle's structures, including its stone walls and turrets, were severely damaged, with some collapsing entirely. The event highlighted the vulnerability of the castle and the importance of preserving it for future generations.
⚠️ Please note that I visited Kumamoto Castle in April 2018, when the castle was closed for renovation. As of now, you can enter the walkway to see the main castle building up close. In 2020, an elevated walkway within the inner castle grounds opened to the public, and in Spring 2021, the castle's interior became fully accessible.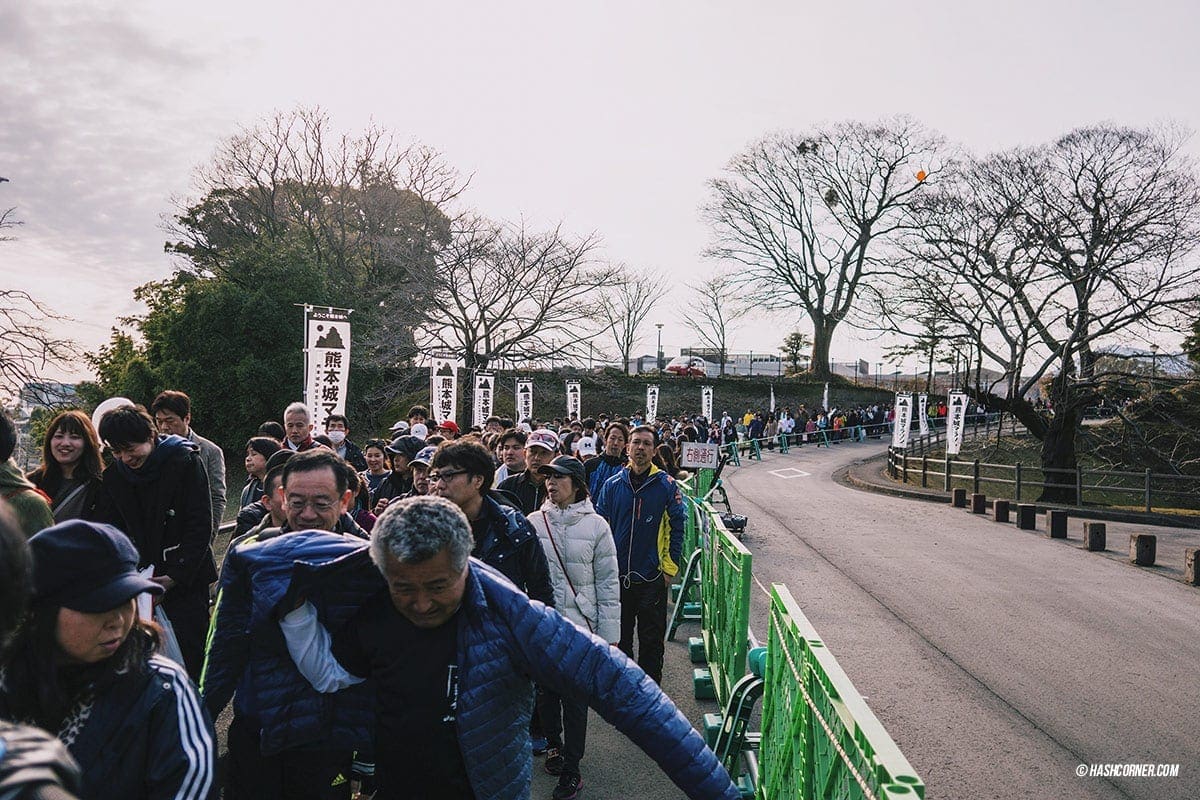 Before walking up to the castle, you'll pass Sakurano-baba Josaien, which has a touch of a Japanese community mall with a variety of shops and restaurants. If you don't have any particular plans, you can drop by. Here is a good choice too!
When approaching the destination, it's essential to note that the castle was heavily damaged by the 2016 earthquake. Kumamoto Castle has been under restoration since then. As of my last knowledge update in September 2021, some areas of the castle have already been made accessible to visitors, with the Main Tower reopening to the public in October 2021. However, restoration work on other parts of the castle is still ongoing, so it's crucial to check the latest updates before planning your visit.
The 2016 earthquake in Kumamoto caused significant damage to the historical and architectural heritage of the castle, which is over 500 years old. The restoration process has been extensive, and efforts are being made to preserve and restore this important landmark for future generations to appreciate.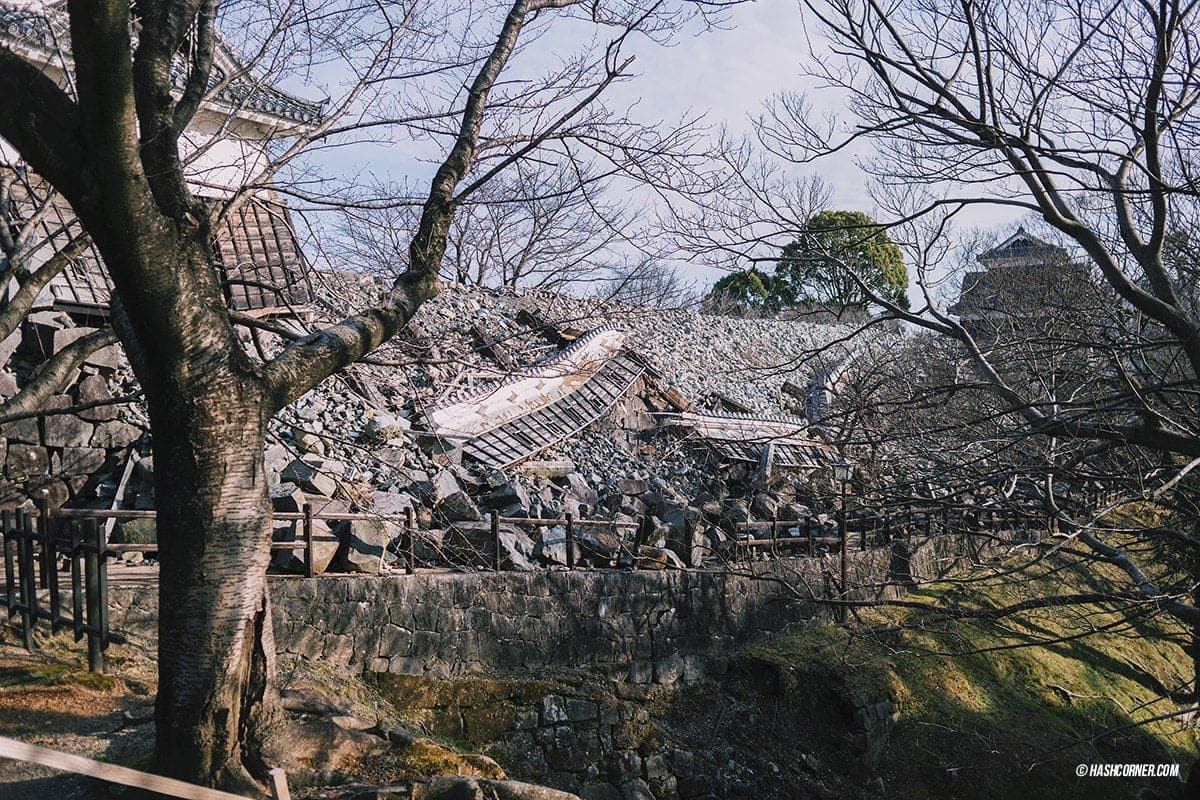 Kamitori + Shimotori Shopping Arcade
In the heart of Kumamoto, the Kamitori + Shimotori Shopping Arcade is a popular attraction for both tourists and locals. This bustling shopping street in the city center is lined with various restaurants, skincare, cosmetics, and clothing stores, reminiscent of an outlet mall. It's easy to get carried away with spending here! You can also find plenty of Kumamon souvenirs in this area.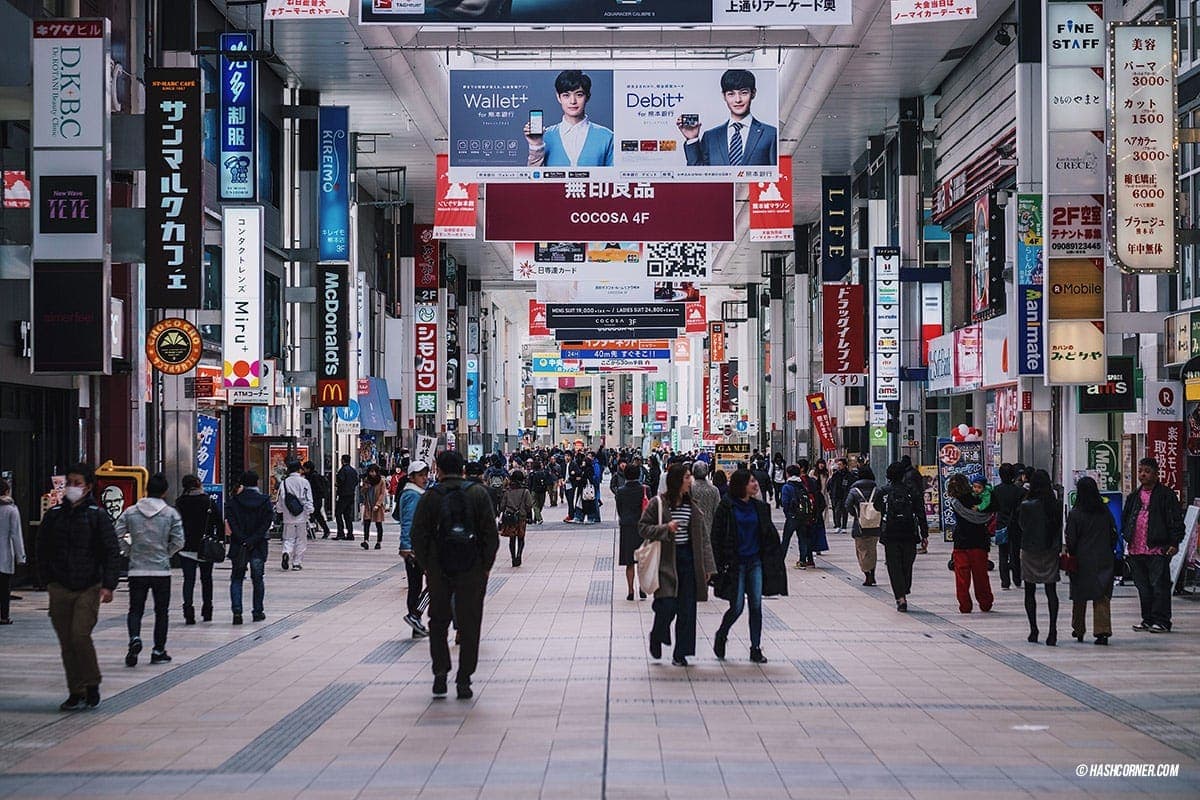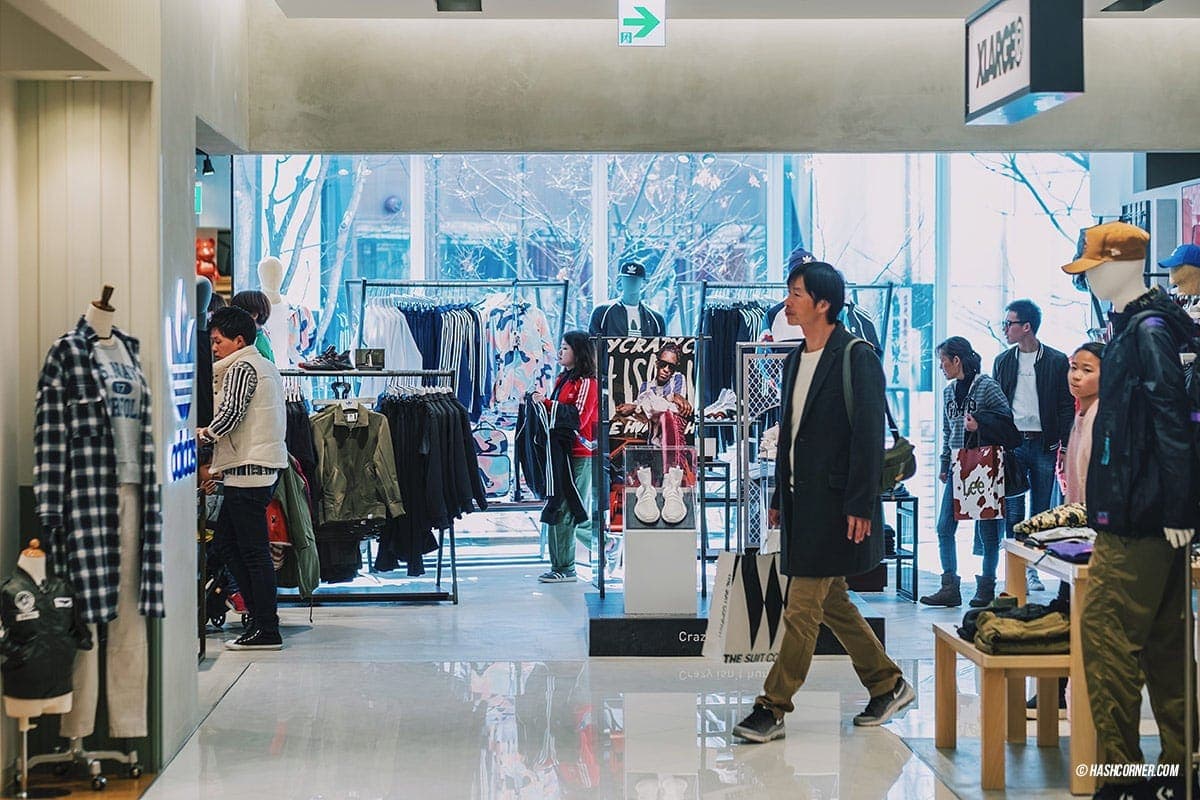 Based on my experience, the best prices for Kumamon souvenirs can be found at Kumamoto Station. While the 1st floor has a few stores, I suggest heading up to the 2nd floor, where you'll find 2-3 stores next to each other offering a treasure trove of items.
As for clothing, the area offers a diverse range of options, including Nike, Adidas, GU, Champion, and many more. If you're a fan of Muji, you'll be delighted to find a large store in this area, complete with a Muji Café. A perfect spot to unwind and indulge!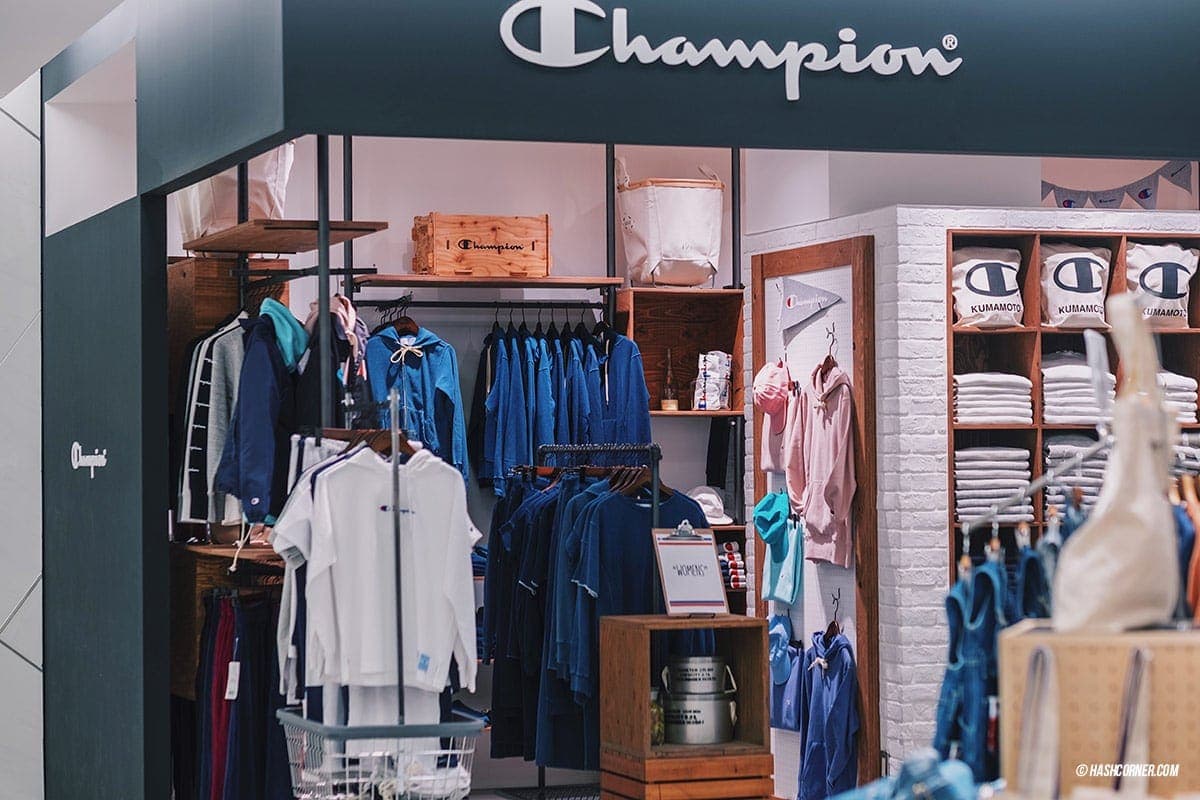 Accommodation in Kumamoto
Toyoko INN Kumamoto Ekimae
During my visit to Kumamoto, I chose to stay overnight at Toyoko INN Kumamoto Ekimae. This hotel is part of the Toyoko INN hotel chain, which boasts nearly 300 hotels across Japan. I often rely on this chain as a backup plan when I can't find comfortable or well-priced accommodation with an excellent location (it's genuinely true, as most Toyoko INN hotels are conveniently located near train stations).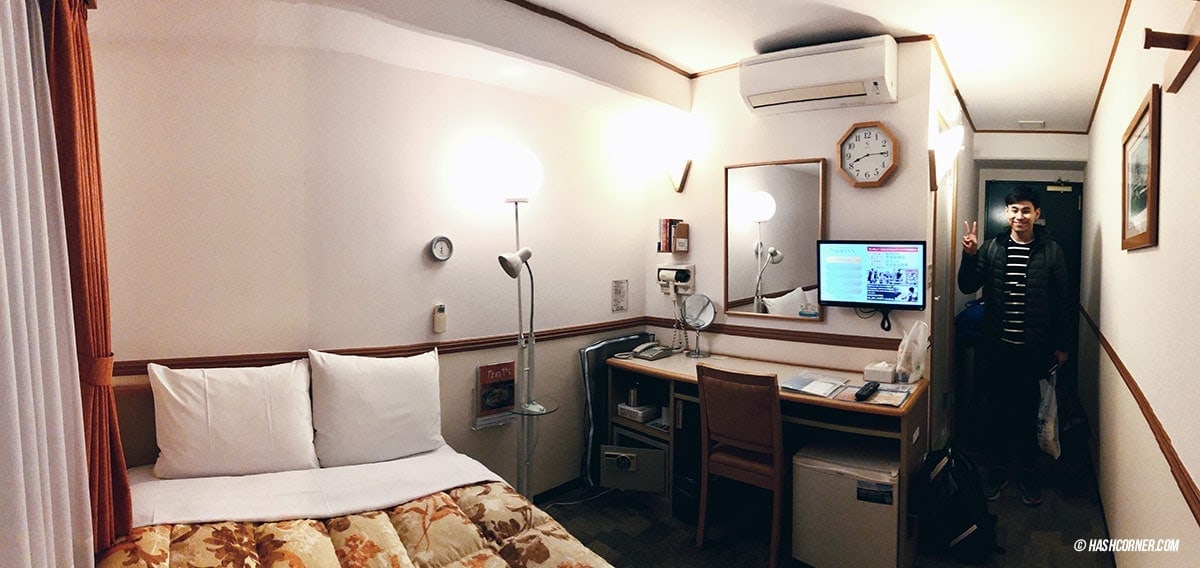 Toyoko INN Kumamoto Ekimae lived up to the standard quality of this renowned hotel brand. The single rooms feature an orange bedsheet, providing a comfortable sleeping experience. While the room isn't very spacious, it's fully equipped with all the necessary amenities. The stay also includes breakfast, and the staff are friendly, giving it a welcoming, family-owned hotel vibe that made my stay quite relaxing. I managed to book a room through Expedia for around 48 USD per night, which was an excellent deal!
อ่านรีวิวเมืองนี้จบแล้ว
อ่านรีวิวเมืองอื่นในญี่ปุ่นต่อกันเลย 🤗
ญี่ปุ่นเป็นประเทศไม่กี่ประเทศที่นี่รู้สึกว่า ไปกี่ครั้งก็ไม่น่าเบื่อ ไปแล้วไปอีกได้ตลอด และยังประเทศที่ตัวเองตั้งมิชชั่นว่า อยากจะเก็บให้หมดทั่วประเทศ ฮ่าา เอาเป็นว่า HASHCORNER นี่ก็มีรีวิวญี่ปุ่นให้อ่านและตามรอยเยอะพอสมควร ทั้งหมดนับแล้วเกือบ 50 รีวิวแล้ว เยอะโคตร ใครที่มีแพลนไปเมืองไหนในญี่ปุ่นที่มีชื่อเมืองตามลิสด้านล่าง สามารถคลิกลิงค์อ่านต่อได้เล้ย
ภูมิภาคคันโต (Kanto Region)
⸺⸺⸺⸺
⸺⸺⸺⸺
ภูมิภาคชูบุ (Chubu Region)
⸺⸺⸺⸺

ภูมิภาคคิวชู (Kyushu Region)
⸺⸺⸺⸺
ภูมิภาคโอกินาว่า (Okinawa Region)
⸺⸺⸺⸺
ภูมิภาคฮอกไกโด (Hokkaido Region)
⸺⸺⸺⸺
ภูมิภาคชูโกกุ (Chugoku Region)
⸺⸺⸺⸺
แนะนำโรงแรม / พาสรถไฟ