Mount Aso! Eventually, the day I've been waiting for has come. To be honest, Volcano Aso is the reason for traveling to Kumamoto. Before attaining, I was worried about whether I could travel or not. Because a few years back, Kumamoto Prefecture had suffered quite a lot of natural disasters. Whether the magnitude 7 earthquake in April 2016, causing the entire city to collapse. Roads and railways were closed for repairs which were unable to take the train to Aso. Until now, it's still closed. The cable car where we can take to go up and watch the Aso crater is also stopped because of the destruction and surveillance of the Aso volcano eruption. The smoke soared nearly 10 kilometers again in October 2016. Err… can I make it there?
※ (My travel date was 20th February 2018) it seemed like I had luck for traveling because there was a notification to reduce the security surveillance level, the level that people can make an entry but prohibit entering within a 1 km radius of the crater. So, it was possible to visit even though the cable car was still out of service but you can drive up to reach the viewpoint (So, when you are traveling the Aso creater, you need to check through the ropeway website.), however on my arrival day, the crater was CLOSED. 😭
Overview of Northern Kyushu Island Trip Plan
For this Kyushu trip, I traveled for 8 days with the main cities and locations which were Fukuoka, Nagasaki, Yufuin, Kumamoto, and two other places in Kumamoto prefecture; Takachiho and Mount Aso that I will write the separate reviews because it was a superb full day trip. 😚
Read an overview of all Northern Kyushu trips here
All info including the JR Kyushu Pass, car rentals, and cheap hotel booking tricks in Japan
A Collection of All Hashcorner Kyushu Travel Reviews
1. Review: Fukuoka + Dazaifu
2. Review: Nagasaki
3. Review: Yufuin
4. Review: Kumamoto
5. Review: Mount Aso
6. Review: Takachiho
Rent an Aso Sightseeing Car / Aso Tour
My suggestion to travel conveniently and rapidly to the Aso volcano and downtown is to rent a car from Kumamoto city. This car rental was pre-booked from the Tabirai website, Tabirai is a Japanese car rental agency which compares the renting car price from various agencies. The price is quite reasonable. At the time, I rented a 12-hour Honda Jazz and paid for 5,000 yen (about 46 USD), including CDW car insurance. Pretty cool, isn't it? ❤
Renting a car to drive in Japan requires an international driving license. Tabirai car rental website > en.tabirai.net/car/
As for the other methods of traveling to Mount Aso, it might be a little difficult because the railway line is seriously ruined, and no certain time when it's finished repairing. If you're unable to drive but still want to travel, Helen, my previous Takachiho tour guide also has a tour of Mount Aso. You can check the details and purchase them via KLOOK. // I think this is a good option!
※ Aso Day Tour by lovely Helen. Click to reserve at KLOOK here
Milk Road
The passage to Aso and Mount Aso: It's recommended to start with Google Maps. Setting the route to Milk Road first, then to Daikanbo. The Milk Road scenery is breathtaking!
You will drive on a road running along the volcano edge, inclusive a panoramic view of an endless grass field. The day I drove there was the end of February which entered the spring season. This meadow turned golden and there was still some snow on the side road. I suggest bringing a jacket because it's windy and the weather is quite cold.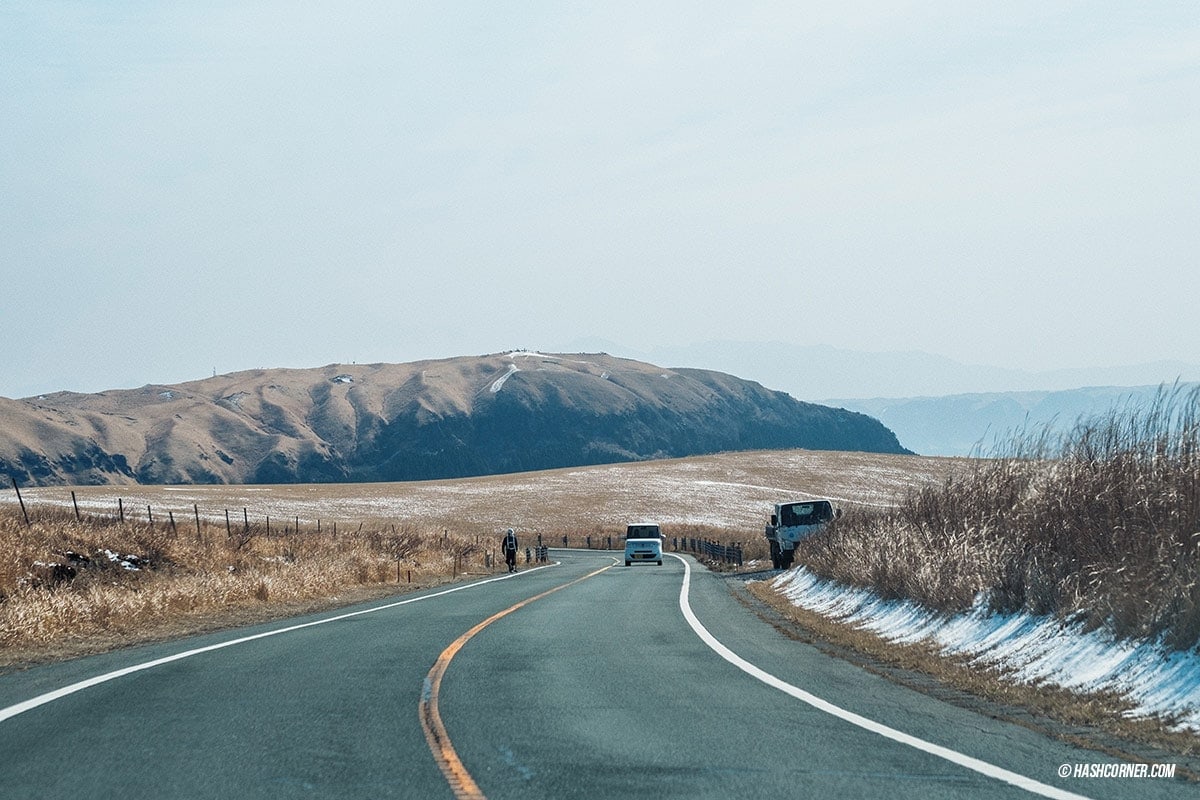 On the Milk Road, there is a small viewpoint for a traveler to take a break. The view of Aso town looking down from here above is superb.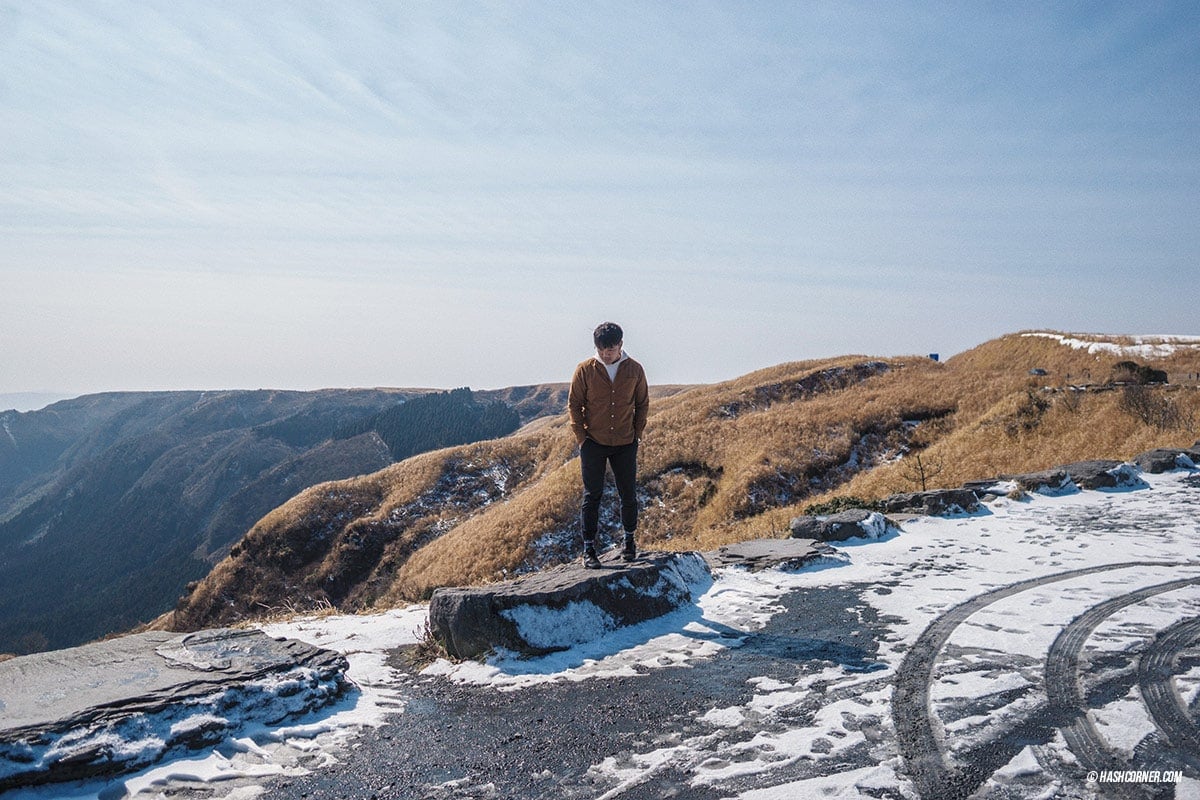 Daikanbo View Point
Keep driving on Milk Road until approaching the Daikanbo observatory which is a large viewpoint where you can see the basin in volcanic caldera view from the north side. The town of Aso also located below. If you look distantly, you can see the 5 peaks of the Aso Volcano Group. The viewpoint here is packed with visitors. The building is provided restaurants and snack shops, if you're hungry, you can eat here. But if you can endure it. Let's wait because I'll take you to the beef rice bowl (Gyudon) restaurant in Aso town. I heard it's fantastic!
Overall is awesome! You can sit, feel the fresh air, and absorb a wide-reaching view. VERY BEAUTIFUL // The view below is Aso town sited on the old caldera.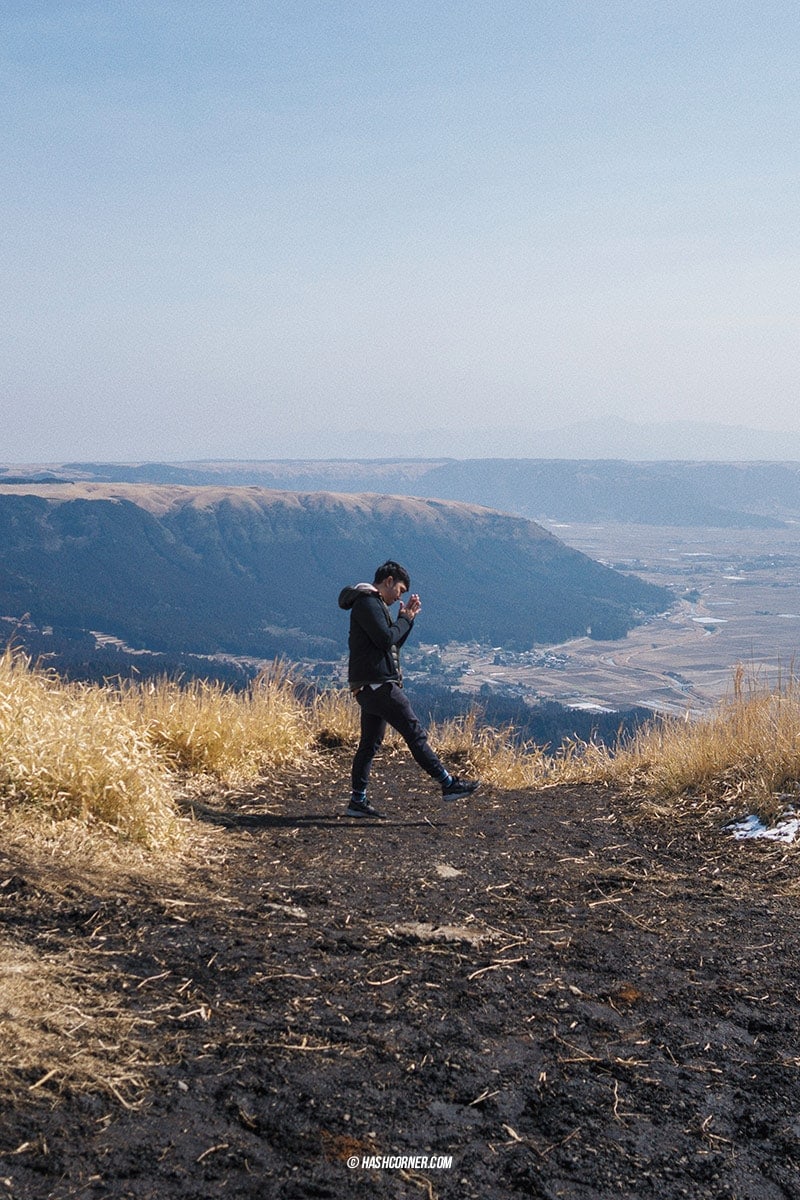 Beef Rice Bowl (Gyudon): Imakin Shokudo
After completed Daikanbo, I drove down to the caldera where is wide plain and the Aso Town location. I'll take you to grab lunch at Aso's top beef rice (Gyudon) restaurant (also #1 in Tripadvisor) called 'Imakin Shokudo'. I went to the shop and pressed for the queue card which took about an hour to get into the restaurant …Err…but It's OK because every Japanese review says it's worth trying and waiting.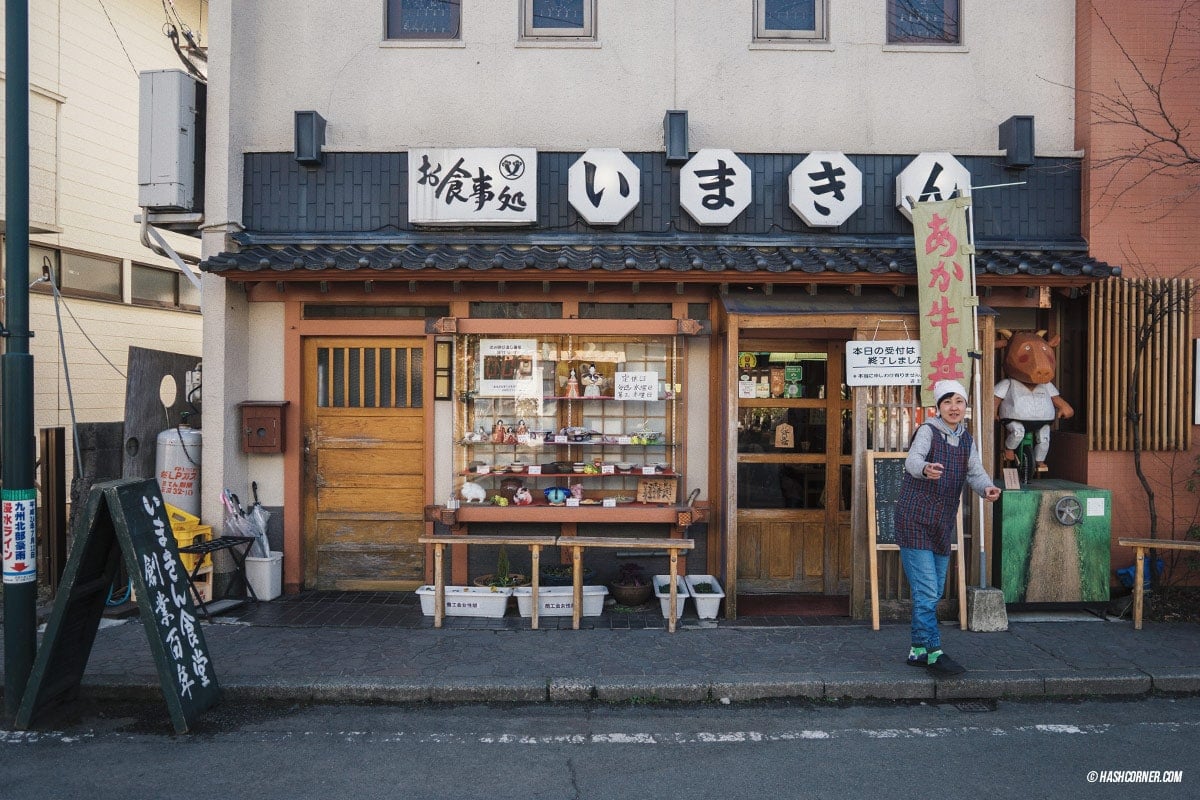 While waiting, to kill the time, I went for a walk and explore around the restaurant. So, I found a dessert and ice-cream shop, where is just beside, called Cafe & Zakka & Kagu. When I got in… it was crowded, the seats were almost taken. I had a chitchat and realized that these people had dessert while waiting to get in Imakin Shokudo as well. Besides, the shop also offered a service to check on the queue for us. If the queue arrives, the staff will announce in the shop right away. Oh… What a clever service!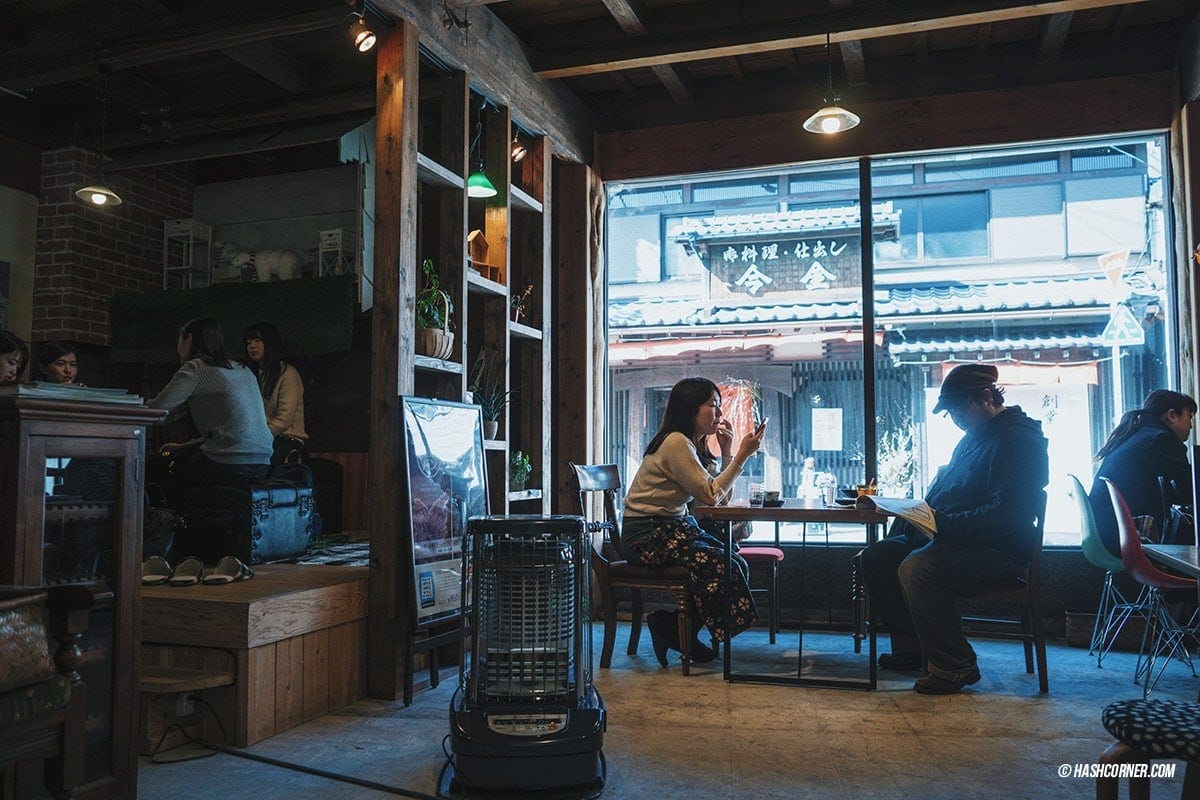 Cafe & Zakka & Kagu is ruled to order 1 person per 1 menu. I ordered a homemade ice-cream set contained 3 flavors which were; Rice + Black Sesame + Taro served along with bread. Another order was a smoothie. I must admit the ice-creams is unexpectedly good LOL!
The dessert was finished, the drink was also gone. Waiting for another hour until the queue was called. Finally, popular beef rice bowl time! Though the English menu was unavailable I still picked the dish from the saved images shown on my cellphone. Yeah, I ate on what I planned. SATISFIED 🤭
The beef rice bowl is tasty. The beef covered all over the rice, and it is not 100% ripe. There is still a slight rawness that is soft and melts in my mouth. I strongly recommend you guys to come. As for the price, it costs 1,680 yen per bowl or about 16 USD. 🙆🏻‍♂‍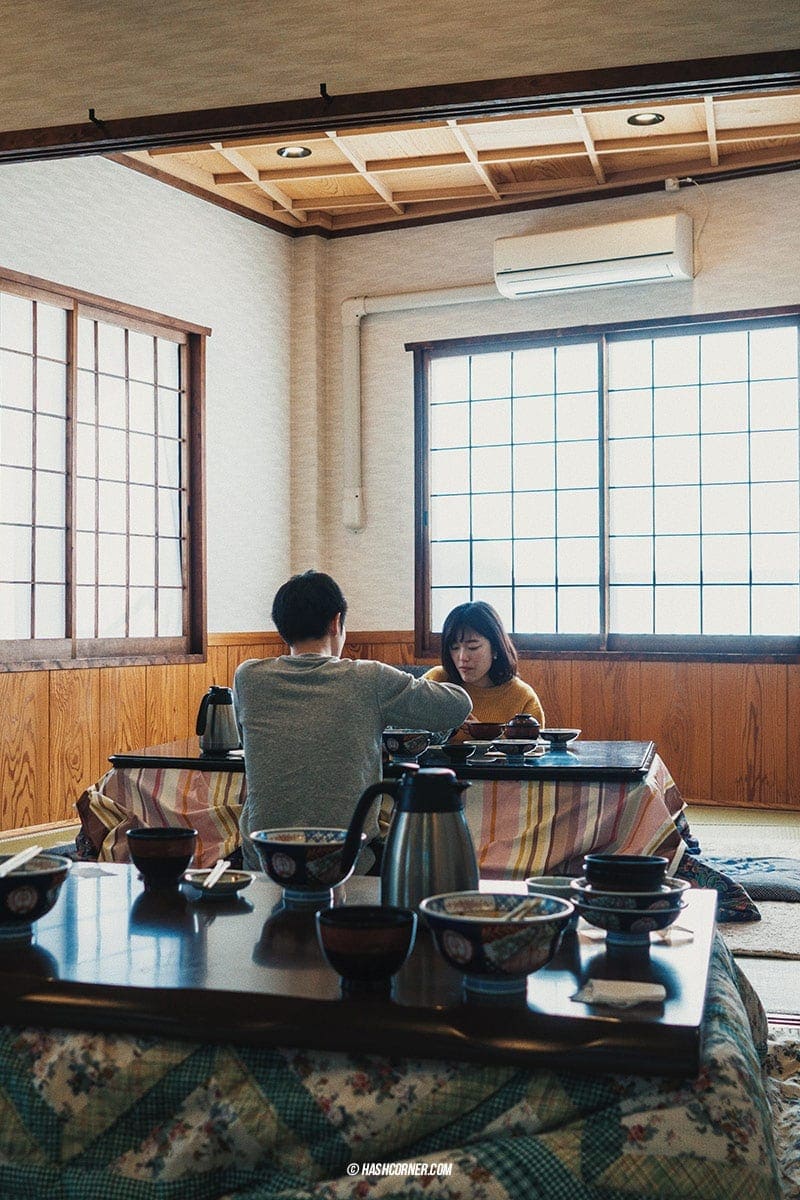 Kusasenri
The stomach was already filled, then time to continue traveling. I drove further south to go up to Kusasenri which is a wide lawn with a beautiful-desolate mountain view as the background. On the ascent, the view was crazy. It felt like I was somewhere in Australia or New Zealand, not Japan. Well, I exclaimed along the way up like a madman, Oh, Ah, Wow, how beautiful – something like that.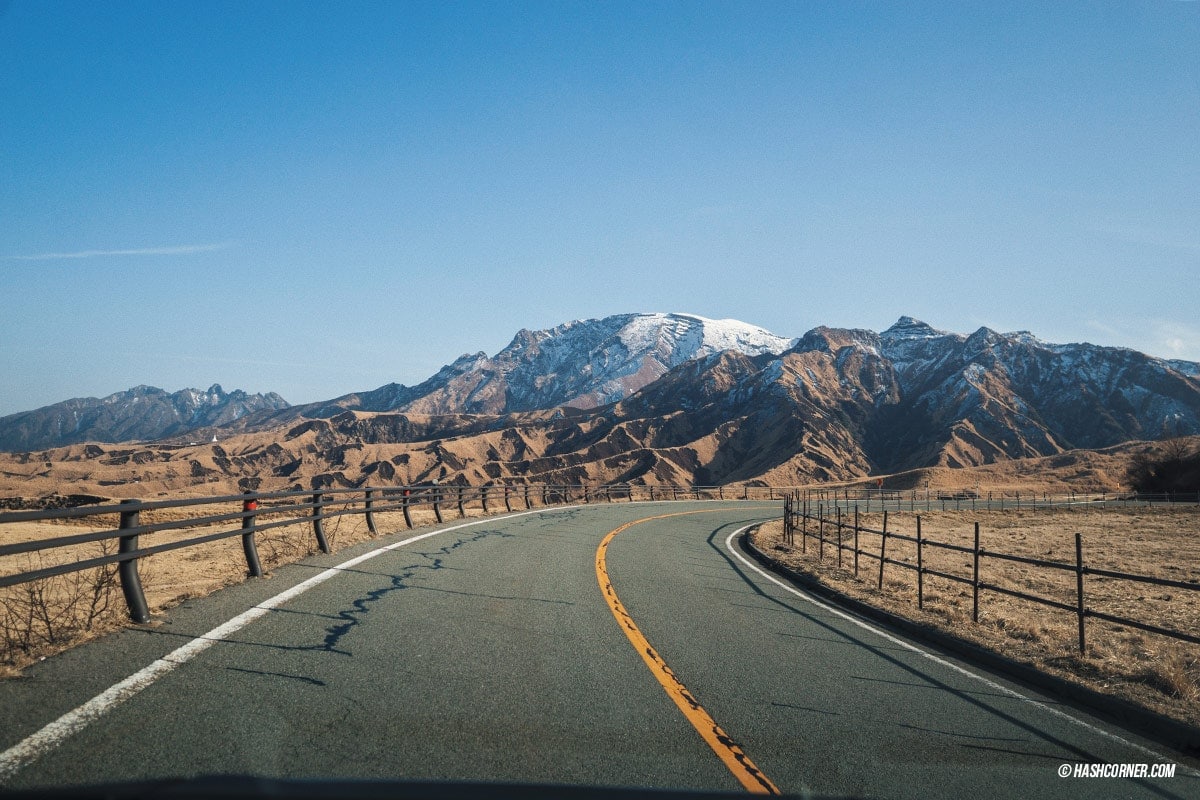 In the Kusasenri square, there is a parking lot with the path you can straight down for a walk. I have no idea about other seasons, I have seen green pasture pictures but the month of February I visited, was truly charming, everything was golden yellow contrasting with the dark brown mountain at the background, snow was interspersed at every corner. It looked so nice; it was the most impressive experience for Kumamoto trips. Again, I SATISFIED!
If you keep walking, you'll meet a small hill you can climb up to see the view. Plus, there is a distance basin you can head there too. At Kusasenri, you can walk here and there freely, I recall I spent so much time taking loads of pictures because the atmosphere was wonderful and the weather was chilly. 🥶
The mention basin is similar to the lake. During Winter season, it certainly turns frozen glacier but in February, it starts to melt.
After that, I headed back to the car and tried driving around the ropeway station that led to the volcano crater. I rather gambled and made sure if the path was allowed a visitor to drive up. But I had no luck. It was closed! Finally, I turned a car around and saw another familiar mountain I used to see the pictures on the internet. It is the upside-down bowl shape with a dimple on the mountaintop, oh! It was a cute farewell scene from Aso before going back to Kumamoto. Everything on the trip was so impressive. 🤗
อ่านรีวิวเมืองนี้จบแล้ว
อ่านรีวิวเมืองอื่นในญี่ปุ่นต่อกันเลย 🤗
ญี่ปุ่นเป็นประเทศไม่กี่ประเทศที่นี่รู้สึกว่า ไปกี่ครั้งก็ไม่น่าเบื่อ ไปแล้วไปอีกได้ตลอด และยังประเทศที่ตัวเองตั้งมิชชั่นว่า อยากจะเก็บให้หมดทั่วประเทศ ฮ่าา เอาเป็นว่า HASHCORNER นี่ก็มีรีวิวญี่ปุ่นให้อ่านและตามรอยเยอะพอสมควร ทั้งหมดนับแล้วประมาณ 29 เมืองแล้ว เยอะโคตร ใครที่มีแพลนไปเมืองไหนในญี่ปุ่นที่มีชื่อเมืองตามลิสด้านล่าง สามารถคลิกลิงค์อ่านต่อได้เล้ย
ภูมิภาคคันไซ (Kansai Region)
——————————————
ภูมิภาคชูบุ (Chubu Region)
——————————————
ภูมิภาคคิวชู (Kyushu Region)
——————————————
ภูมิภาคโอกินาว่า (Okinawa Region)
——————————————
ภูมิภาคฮอกไกโด (Hokkaido Region)
——————————————
ภูมิภาคชูโกกุ (Chugoku Region)
——————————————
แนะนำโรงแรม / พาสรถไฟ