Mount Aso — At last, the day I had been eagerly anticipating arrived – my visit to Mount Aso in Kyushu! To be honest, this amazing volcano was the main reason I decided to travel to Kumamoto. Before setting off, I couldn't help but worry about whether the trip would be possible. After all, Kyushu's Kumamoto Prefecture has faced its fair share of natural disasters in recent years.
In April 2016, a magnitude 7 earthquake shook the entire city, causing widespread destruction. Roads and railways were closed for repairs, making it impossible to take the train to Aso. Even now, some routes remain closed. The cable car that once took visitors up to the Aso crater has also been out of service due to damage and ongoing monitoring of volcanic activity. The situation seemed uncertain, especially after smoke billowed nearly 10 kilometers into the sky during an eruption in October 2016. Could I really make it to Kyushu's Mount Aso?
(My travel date was February 20th, 2018) Fortunately, it seemed that luck was on my side! Just before my trip, authorities reduced the security surveillance level, allowing visitors to enter the Aso area in Kyushu, but maintaining a 1 km radius restriction around the crater. Although the cable car was still out of service, I could drive up to a viewpoint to take in the stunning scenery. Sadly, on the day of my arrival, the crater was CLOSED.
⚡️ Great news! Mount Aso in Kyushu is now open for exploration in 2023. You can enjoy the breathtaking volcanic landscape by taking the ASO BOY tourist train, which is covered by the JR Kyushu Pass. However, this review focuses on a road trip, offering a more immersive experience at your own pace. Get ready to discover the captivating charm of Mount Aso as we hit the road!
Northern Kyushu Island itinerary
Embark on a journey to the northern island of Kyushu, a land of contrasts and diversity, where modern cities and ancient traditions coexist in harmony. On my 8-day trip, I had the opportunity to explore the best that this island has to offer – from the vibrant metropolis of Fukuoka to the historical and picturesque Nagasaki, the idyllic hot spring town of Yufuin, and the charming castle town of Kumamoto. I also ventured to the lesser-known gems of Takachiho and Mount Aso, immersing myself in the island's natural splendor. Each day was a new adventure, and I urge you to plan your own trip to this incredible destination and follow my journey through my detailed reviews of each city I visited. Click to discover the hidden gems and must-see attractions of Kyushu Island in each city on the itinerary below.
How to Explore Aso and Rent a Car for a Self-Drive Tour
The quickest and most convenient way to experience Mount Aso and the surrounding area is by renting a car from Kumamoto. If you have a JR Pass or JR Kyushu Pass, I recommend taking a train to Kumamoto City, staying overnight, and renting a car for a day trip to Aso the next day. If you plan to visit Aso-Takachiho, consider renting a car for several days. Of course, your plans will depend on your preferences. I also visited Takachiho but opted for a day tour because I didn't feel like driving. So, I rented a car for just one day to explore Aso. If you don't have a train pass, you can rent a car and drive from Fukuoka, embracing the full Kyushu road trip experience. Just keep in mind that driving can be tiring.
I recommend booking your rental car in advance through the Tabirai website, a Japanese platform that compares rental prices from various companies. I found their prices quite reasonable. I rented a Honda Jazz for 12 hours at 5,000 yen (about 1,500 baht), which included CDW car insurance. Remember that you'll need an international driving license to rent and drive a car in Japan.
Kyushu Railway Pass Summary
🎫 JR Kyushu Pass is divided into 3 different passes: all Kyushu region, Northern Kyushu and Southern Kyushu.

JR Kyushu Pass (All Area): This pass allows you to travel on JR lines for sightseeing in various cities in Kyushu such as Hakata (Fukuoka), Nagasaki, Kumamoto, Yufuin, Beppu, Miyazaki, and Kagoshima. You can take the Yufuin no Mori sightseeing train to Yufuin and reserve seats in advance via the JR Kyushu website. There are 3, 5, and 7-day plans available, with starting prices at JPY 17,000 (~$130). [Purchase via Klook] [Purchase via KKday]
JR Northern Kyushu Pass : (I've used this pass in this review.) This pass allows you to travel on JR lines for sightseeing in various cities in Northern Kyushu such as Hakata (Fukuoka), Nagasaki, Kumamoto, Yufuin, Beppu, and Oita. You can take the Yufuin no Mori sightseeing train to Yufuin and reserve seats in advance via the JR Kyushu website. There are 3 and 5-day plans available, with starting prices at JPY 10,000 (~$77). [Purchase via Klook] [Purchase via KKday]

🎫 Sanyo-San'in-Northern Kyushu Area Pass: This pass is for traveling on JR train lines to prominent cities such as Osaka, Kyoto, Nara, Kobe, Wakayama, Himeji, Okayama, Hiroshima, Yamaguchi, Fukuoka, Kumamoto, and Nagasaki. You can take Sanyo-Kyushu Shinkansen round trip Osaka-Kobe-Okayama-Hiroshima-Yamaguchi-Hakata(Fukuoka)-Kumamoto, Kansai-Airport Express Haruka from Kansai Airport (KIX) and Yufuin no Mori Sightseeing Train (however, online seat reservation is not possible with this pass). It's available in a 7-day plan, starting price at JPY 23,000 (~$177). [Purchase via Klook] [Purchase via KKday]
🎫 Japan Rail Pass – All Area (JR Pass): This pass allows you to ride JR trains across the entire country, including almost all Shinkansen bullet trains. It also allows you to ride on the Yufuin no Mori sightseeing train, but you cannot reserve seats online with this pass, you must do it at the JR station. This pass is available in a 7-day plan and the price is about JPY 44,810 (~$344). [Purchase via Klook] [Purchase via KKday]
Let's Start Exploring Mount Aso, Kyushu!
Milk Road
Begin your journey to Aso and Mount Aso with Google Maps, setting your route to the Milk Road first, followed by Daikanbo. The scenery along the Milk Road is simply breathtaking!
As you drive, you'll find yourself on a road that winds along the edge of the volcano, offering panoramic views of endless grass fields. I visited at the end of February when spring was just beginning. The meadow had turned golden, and there was still some snow by the roadside. Make sure to bring a jacket, as it can get windy and chilly.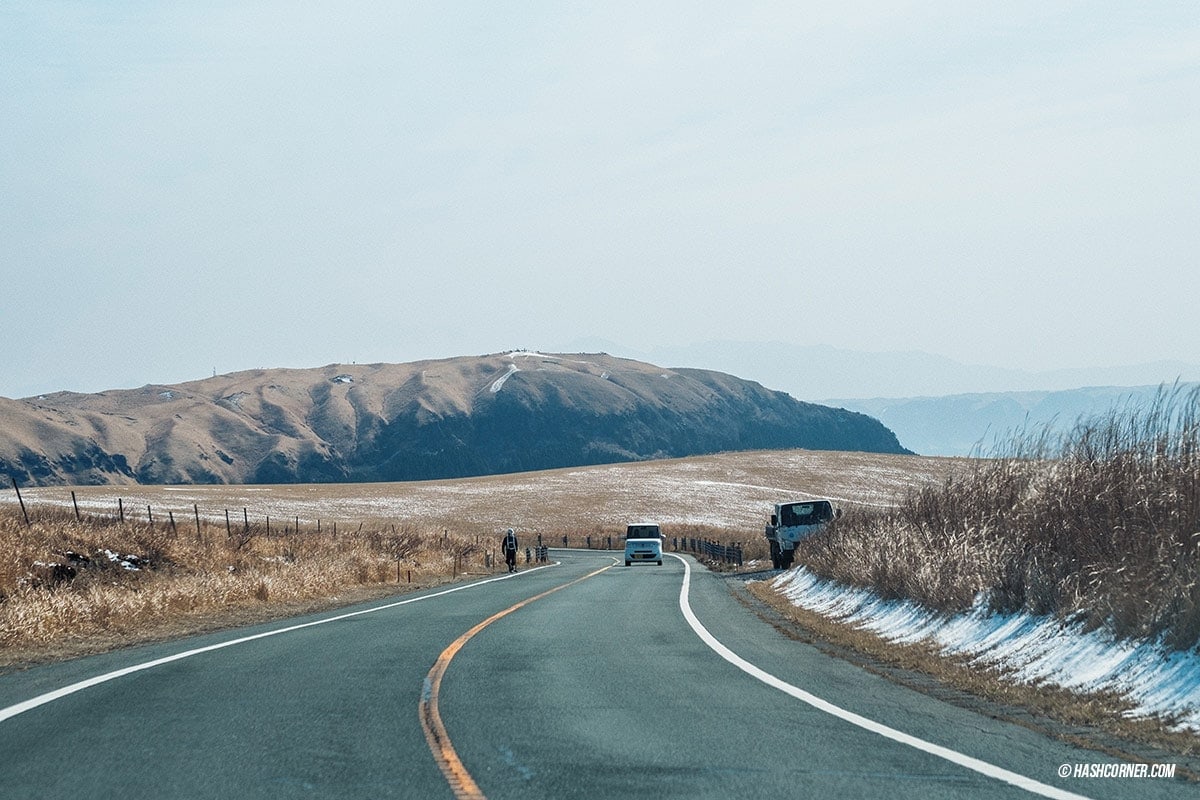 Along the Milk Road, there's a small viewpoint where you can take a break and enjoy the stunning view of Aso town below. Trust me, it's a sight you won't want to miss!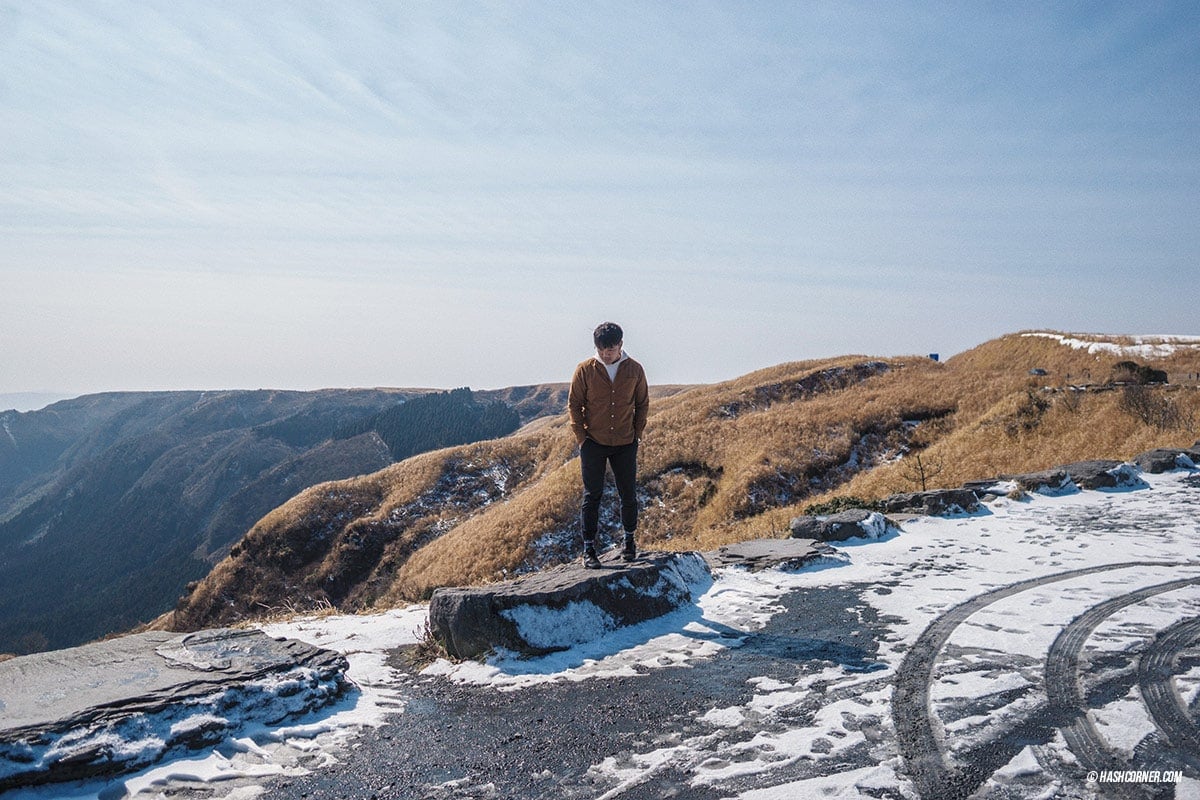 Daikanbo View Point
Continue along the Milk Road until you reach the Daikanbo observatory, a large viewpoint offering a spectacular view of the volcanic caldera basin from the north side. From here, you can also see Aso town nestled below and the five peaks of the Aso Volcano Group in the distance. The viewpoint is a popular spot for visitors, and there's a building with restaurants and snack shops in case you get hungry.
However, if you can hold out a bit longer, I recommend waiting until we visit a fantastic Gyudon (beef rice bowl) restaurant in Aso town!
The Daikanbo viewpoint is truly stunning. Take a seat, breathe in the fresh air, and soak up the expansive view. It's incredibly beautiful, and you'll be able to see Aso town situated within the ancient caldera below.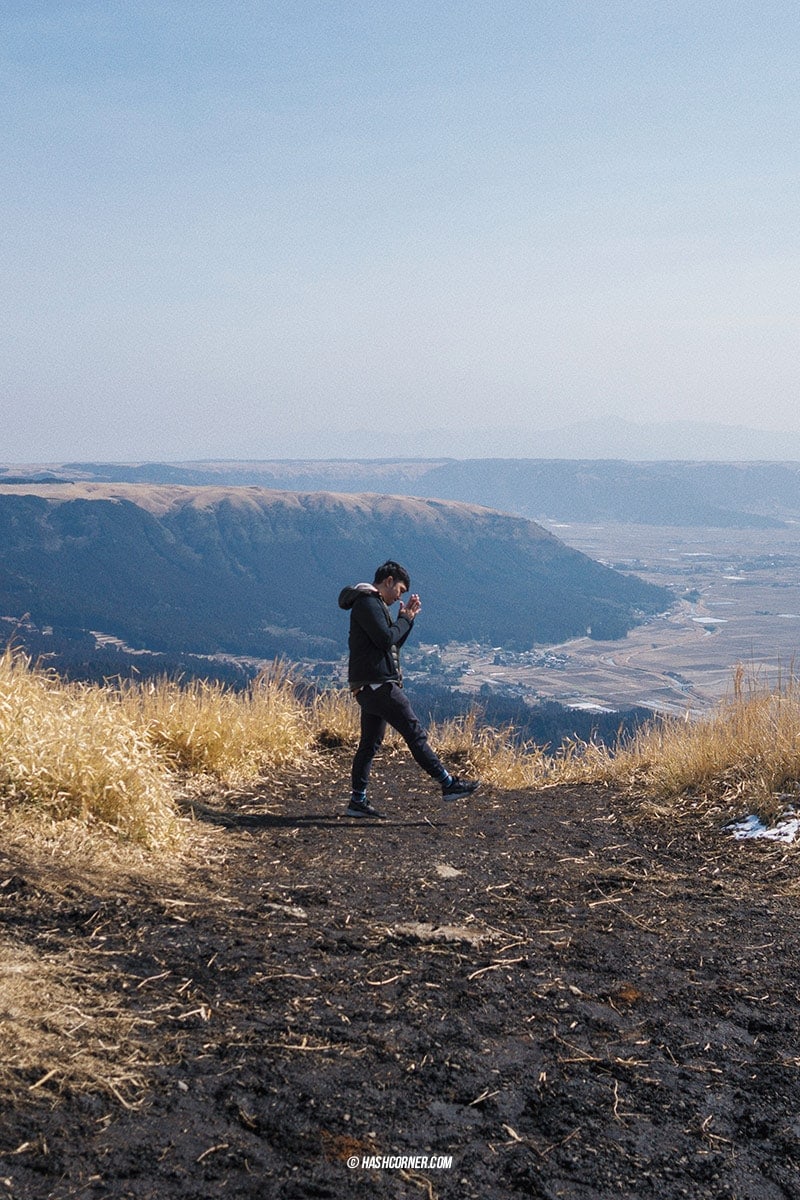 Gyudon at Imakin Shokudo
After enjoying the views at Daikanbo, I drove down to the caldera's wide plains where Aso Town is located. For lunch, I took you to Aso's top Gyudon (beef rice bowl) restaurant, Imakin Shokudo, which is also #1 on TripAdvisor. Upon arrival, I got a queue card, and it took about an hour to get into the restaurant. Despite the wait, every review said it was worth trying.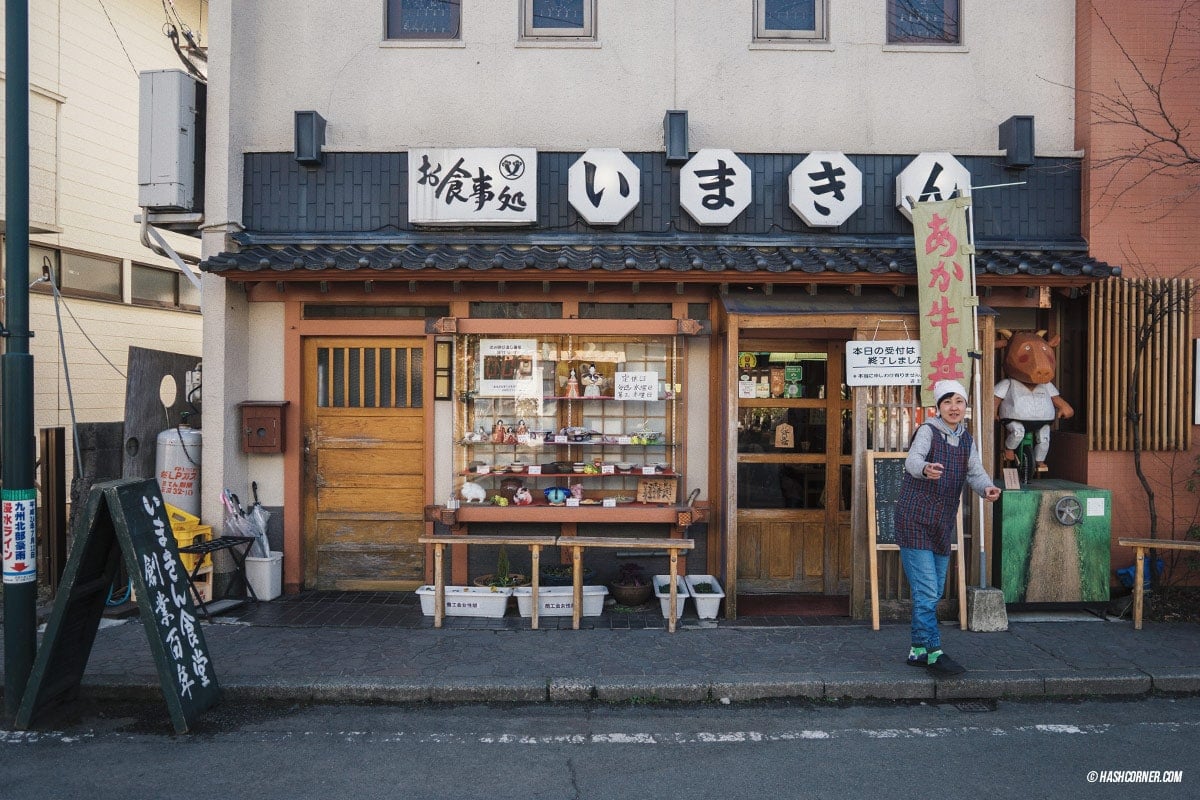 To pass the time, I explored the area and found a delightful dessert and ice cream shop called Cafe & Zakka & Kagu, situated right next to Imakin Shokudo. The cafe was bustling with fellow diners also waiting for their turn at the Gyudon restaurant. With a one-menu-item-per-person rule, I ordered a homemade ice cream set featuring rice, black sesame, and taro flavors, served with bread, as well as a refreshing smoothie. The ice cream turned out to be unexpectedly delightful!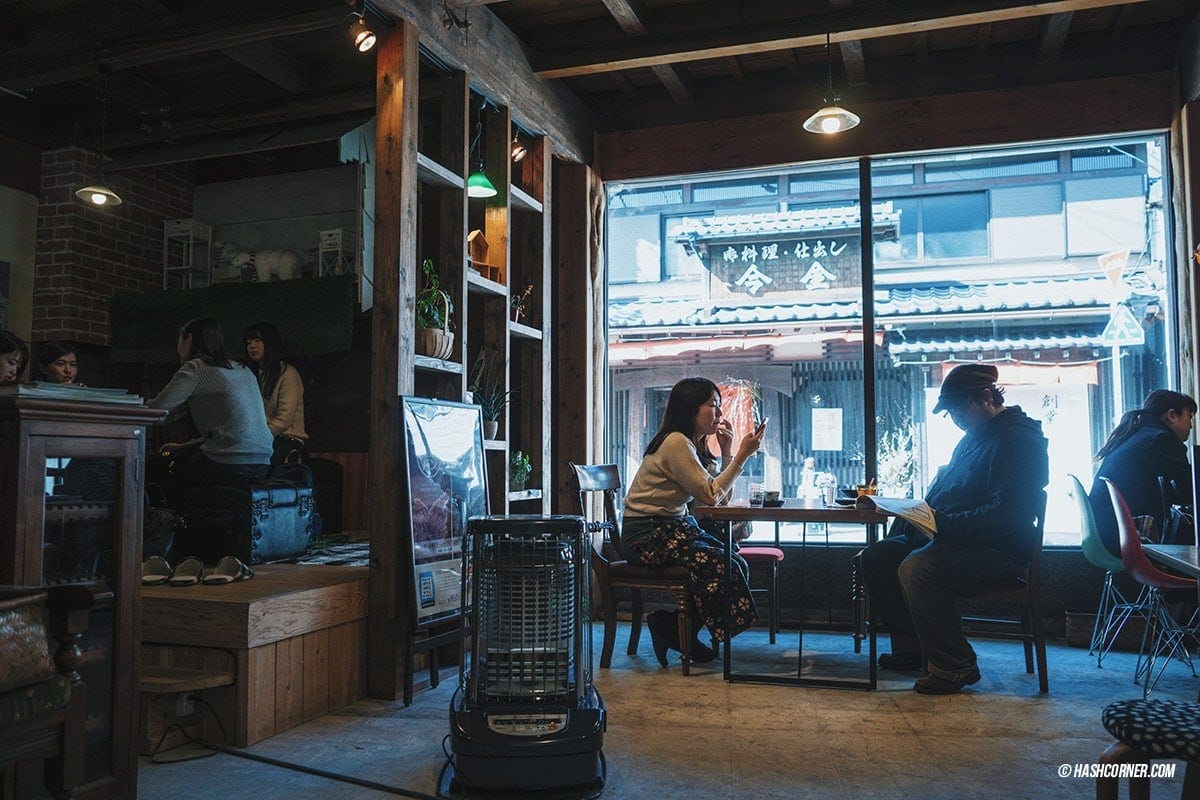 Cafe & Zakka & Kagu offered a helpful service, keeping an eye on the queue for us and announcing when it was our turn to enter Imakin Shokudo. At last, it was time to enjoy the popular beef rice bowl in Aso! Although there wasn't an English menu, I had saved images on my phone to help me order.
The Gyudon was truly amazing, with tender, slightly undercooked beef enveloping the rice and creating a melt-in-your-mouth sensation. I can't recommend it enough! The price was 1,680 yen per bowl. Don't miss this culinary gem when exploring Aso!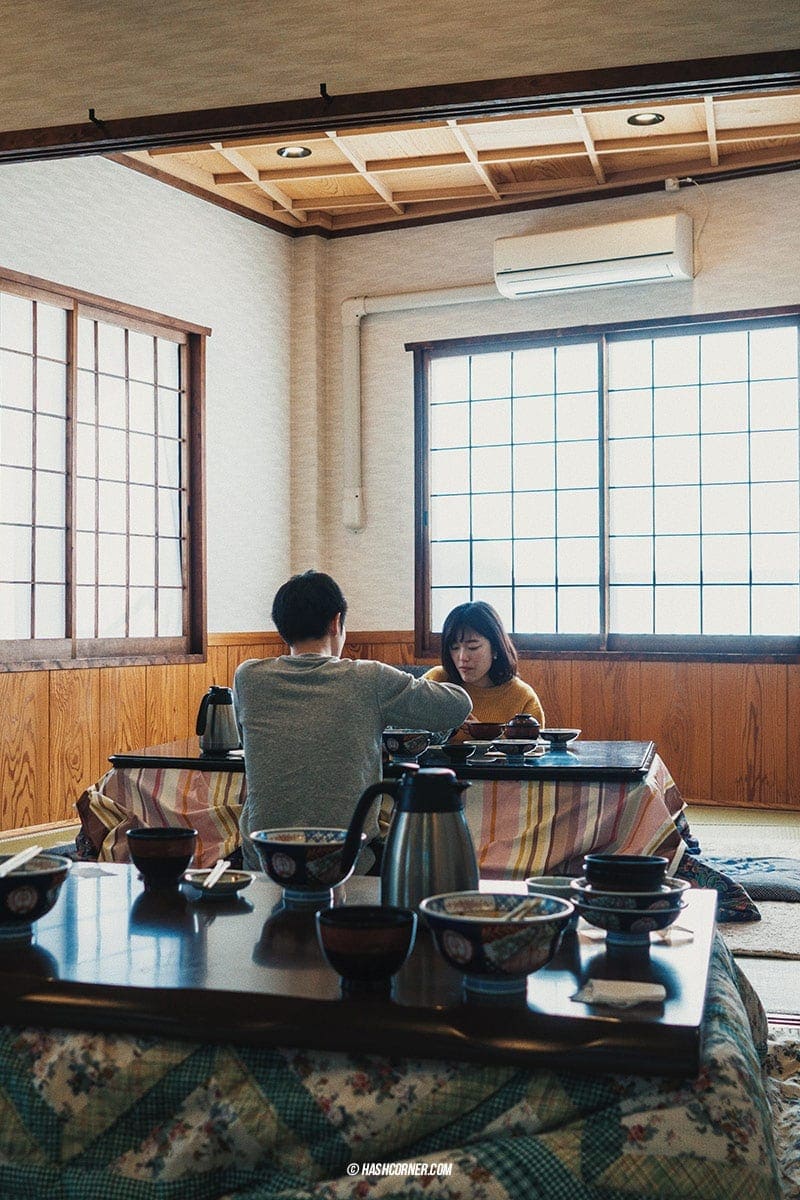 Kusasenri
With a full stomach, it was time to continue exploring Aso. I drove south to Kusasenri, a vast meadow with a striking, desolate mountain backdrop. As I ascended, the incredible scenery made me feel like I was in Australia or New Zealand, not Japan. I couldn't help but exclaim in awe as I took in the breathtaking views, saying things like "Ohhh, Ahhh, Wowww, how beautiful!" Hahaha!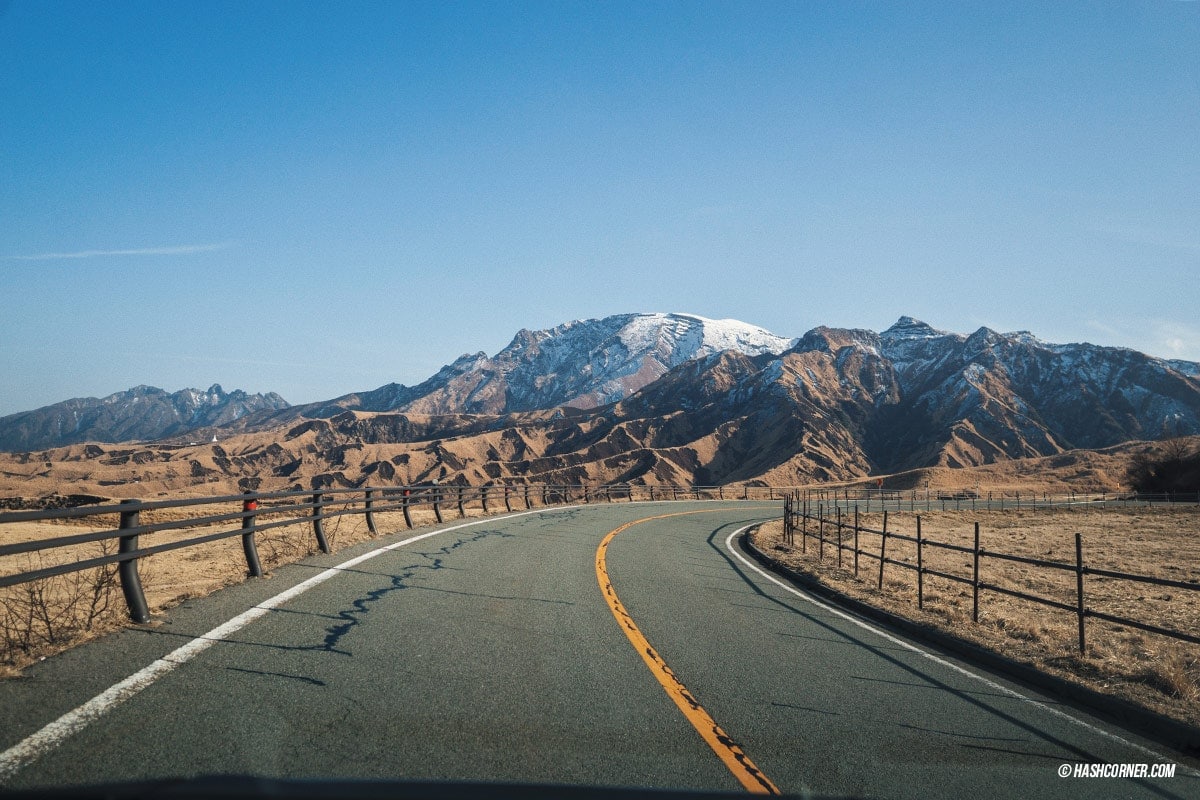 At Kusasenri Square, there's a parking lot and a path for walking. While I'm not sure about other seasons, during my February visit, the golden yellow meadows contrasted beautifully with the dark brown mountains and scattered snow. It was a truly charming and memorable experience in Kumamoto.
As you wander around Kusasenri, you'll come across a small hill that offers great views and a distant basin you can visit. I recall spending a lot of time taking pictures, enjoying the amazing atmosphere and chilly weather, feeling absolutely satisfied with the experience.
The basin resembles a lake, which freezes during winter but begins to melt by February. Afterward, I tried to drive to the ropeway station leading to the Aso volcano crater, hoping to see if it was open for visitors. Unfortunately, it was closed. However, on my way back, I saw a familiar mountain from internet pictures, featuring a unique inverted bowl shape with a dimple on top. It was a charming farewell scene from Aso before returning to Kumamoto, wrapping up an unforgettable and impressive trip. 🤗
อ่านรีวิวเมืองนี้จบแล้ว
อ่านรีวิวเมืองอื่นในญี่ปุ่นต่อกันเลย 🤗
ญี่ปุ่นเป็นประเทศไม่กี่ประเทศที่นี่รู้สึกว่า ไปกี่ครั้งก็ไม่น่าเบื่อ ไปแล้วไปอีกได้ตลอด และยังประเทศที่ตัวเองตั้งมิชชั่นว่า อยากจะเก็บให้หมดทั่วประเทศ ฮ่าา เอาเป็นว่า HASHCORNER นี่ก็มีรีวิวญี่ปุ่นให้อ่านและตามรอยเยอะพอสมควร ทั้งหมดนับแล้วประมาณ 29 เมืองแล้ว เยอะโคตร ใครที่มีแพลนไปเมืองไหนในญี่ปุ่นที่มีชื่อเมืองตามลิสด้านล่าง สามารถคลิกลิงค์อ่านต่อได้เล้ย
ภูมิภาคคิวชู (Kyushu Region)
⸺⸺⸺⸺
ภูมิภาคโอกินาว่า (Okinawa Region)
⸺⸺⸺⸺
ภูมิภาคฮอกไกโด (Hokkaido Region)
⸺⸺⸺⸺
ภูมิภาคชูโกกุ (Chugoku Region)
⸺⸺⸺⸺
แนะนำโรงแรม / พาสรถไฟ