Osaka is Japan's second-largest city after Tokyo and is also one of the most popular cities travelers love to visit. Those who have never been to Japan before, I recommend you guys to come to Osaka first because here is abundant in all proposition whether it be a thriving city with the popular landmarks such as Osaka Castle and Glico electronic sign, the food here is super awesome. Besides, if you want to travel outside of Osaka. You can easily access to Nara or Kyoto. Who is ready to travel? Let's get on this trip together!
Osaka Itinerary
This is a 4-day, 3-night Osaka travel Plan you can follow. You also can mix with other city plans whether it is Kyoto, Nara, or even other cities around to continue creating jigsaw puzzles. (All HASHCORNER japan travel guide reviews can be found at the bottom of this review. We provide info to the fullest!)
Train from the Airport to Osaka
The way to get to Osaka downtown from Kansai Airport is really easy. The most convenient way is inevitably to get on the train, but 2 trains are accessing the city, which is Nankai and JR. Now, you may be confused about which one you should get on. My advice is, it's depended on where your hotel area is, as well as see if you have any travel passes. Considering these 2 facts, then you can see the answer below.
Nankai Line Airport Express – Rapi:T
For those who don't have any JR PASS, or Kansai Thru Pass, or come with a bare-handed and accommodate in Namba or Shin-Imamiya area. The first option I recommend is the Nankai Line Airport Express, especially the Rapi:T line that we can access to the center of Osaka within 38 mins. The major stations in Osaka are Namba Station, Shin-Imamiya Station, and Tengachaya Station. Whoever lives in these neighborhoods can choose the Nankai Line Airport Express – Rapi:T!
💰The Rapi:T fare will be 1,140 yen for a regular seat and 1,360 yen for a super seat. I recommend a regular seat because there is almost no difference, plus every round of the trains is not too crowded, we can travel comfortably. For ticket reservations, I recommend buying online via the KLOOK website because it is cheaper than buying at the reservation counter. There also sell a round trip ticket, plus, every month they provide another top-up discount, click here to buy the ticket via KLOOK | View monthly KLOOK discounts. Click!
JR Kansai-Airport Express "HARUKA"
For the tourist with JR PASS nationwide or small series according to this region (see the list of available passages below) or those who come without any passes and stay in Tennoji or Shin-Osaka area or those who want to go straight to Kyoto. You can use the JR Kansai-Airport Express "HARUKA" train. The duration of a trip to the center of Osaka is approximately 35 mins. There are only 3 main stations which are; Tennoji Station, Shin-Osaka Station, and Kyoto Station.
💰To purchase the JR Kansai-Airport Express Line "HARUKA", it is recommended to buy through KLOOK because it is cheaper than buying it at the reservation counter. The price of foreign tourists will be lower than the ordinary price on the website. click here to buy the ticket via KLOOK | View monthly KLOOK discounts. Click!
Anyone who carries these JR PASS passes can hop on the JR Haruka Express for free: JR PASS (all area) * Reserve seats for free / Kansai Area Pass / Kansai WIDE Area Pass / Kansai-Hiroshima Area Pass / Sanyo-San'in Area Pass * Reserve seats for free / Kansai-Hokuriku Area Pass / Takayama-Hokuriku Area Tourist Pass / Sanyo-San'in Northern Kyushu Pass * Reserve seats for free
(function(d, sc, u) { var s = d.createElement(sc), p = d.getElementsByTagName(sc)[0]; s.type = 'text/javascript'; s.async = true; s.src = u; p.parentNode.insertBefore(s,p); })(document, 'script', '//cdn.klook.com/affiliate_web/s/dist/desktop/affiliate_base_v3.5.js')
Get the most out of your Osaka trip with the Osaka Amazing Pass
For people who come to Osaka and want to embroider famous landmarks without worrying about the cost will escalate. I suggest you buy the Osaka Amazing Pass because this pass can use unlimited subway and buses in Osaka for the number of days purchased. Also, you can access more than 40 landmarks and having a discount for more than 27 other landmarks as well. Anyone who downright comes to visit these landmarks or visit Osaka for the first time, I highly recommend it!
As for the Osaka Amazing Pass, the 1-day ticket is 2,700 yen and the 2-day ticket is 3,600 yen. I think the purchase for the 2-day ticket will be more worthwhile because we just add a small amount of money, then try to select a tourist destination to see where to go within these 2 days, which place is worth the entrance fee + starting train fare per trip at 140 yen.
⚡️ This pass covers landmarks or famous activities such as Osaka Castle (entrance fee – 600 yen), Osaka Museum of Housing and Living (entrance fee – 600 yen), Santa Maria Cruise (entrance fee admission – 1,600 yen), Umeda Sky Building (1,500 yen), and Tempozan Giant Ferris Wheel (admission fee – 800 yen).
💸 To purchase the Osaka Amazing Pass, I buy it at the KLOOK website because it's very CONVENIENT. You can choose to receive the card in your country straight away whether at the airport pick-up KLOOK counters or receiving post at home. But if anyone wants to pick it up at Kansai Airport, it is also in service depending on your convenience. Buy Osaka Amazing Pass with KLOOK, Click here. // Besides, KLOOK also has a monthly discount promotion. This can be checked what discount they have in each month click here to view KLOOK monthly discounts.
(function(d, sc, u) { var s = d.createElement(sc), p = d.getElementsByTagName(sc)[0]; s.type = 'text/javascript'; s.async = true; s.src = u; p.parentNode.insertBefore(s,p); })(document, 'script', '//cdn.klook.com/affiliate_web/s/dist/desktop/affiliate_base_v3.2.js')
To conclude, each person's liking and travelling style is different. The travel plan has to be chosen and pin by yourself, where to go, is it worth the pass? If you think it is worthwhile then don't hesitate to buy and use it. The landmarks and activities above are only my suggestion but if you want to see all the attractions and activities the Osaka Amazing Pass can cover, please go to their official website for the latest updates. > Click here
The information is packed. Let's begin our journey in Osaka!
Osaka Trip | Day 1:


Osaka Castle

The first place we are going, it can't be missed for those who visit Osaka for the first time as it is a landmark often appears on various Osaka advertising media, which is Osaka Castle. The castle was built from 1583-1585 by Toyotomi Hideyoshi, the man who gathered Japan for the first time in 150 years. He became the Japanese leader during the period. Hideyoshi himself built and expanded the castle area until it became a political and commercial center from then on.
Osaka Castle as we see today was rebuilt in 1931 and has narrowly escaped the bombing during the Second World War. As for the old one, it was destructed during the war, then rebuilt it but unfortunately was struck again by lightning during the 17th century.
When visiting Osaka Castle, we can walk from the surrounding garden to the inner part of the castle. If you hold the Osaka Amazing Pass like me, hand the card and walk-in for free. Haha. After that, we will first be driven to the elevator to go to the top floor which is the viewpoint of Osaka City. Here we can see the city view in many aspects. Based on the scenery, you'll know how high the castle is. It's so high, don't you think?
Then we will gradually continue walking down inside the museum until reaching the bottom floor. The exhibitions they show are the history of Osaka Castle and the creator Toyotomi Hideyoshi. If anyone is interested, you can just walk around. // No photo can be reviewed here because the museum is not allowed to take a photo inside.
Osaka Museum of Housing and Living
Many people who come to Osaka may not be very interested in museums because I think eating and shopping are a major attraction here, haha. But from my last Osaka trip, there is one place I highly recommend, which is the Osaka Museum of Housing and Living. I rather say this place might not be the chic art museum-style but the reason to make this place really awesome is, we can ride the time machine to go back to Osaka in the Edo period (about 400 years ago). This is super cool. And the best for those who hold the Osaka Amazing Pass is free entrance admission. WOW!
On the 9th floor, the museum built Japanese Edo period houses for us to sightsee and explore, there are residence, shop, public bath and various buildings including changing atmosphere colors of day and night. This is exceptional, I'm in love with it! // Those who want to take memorable pictures, I think renting a yukata for a photoshoot is a good idea!
Lastly, the coolest part of this museum is the floor which exhibits models of Osaka's way of life. Including city development since the past to the modern era. This clearly explains how Osaka develops from, what they been through thick and thin. This is my suggestion. Let's go and see it, I'm sure you'll like it!
Harukas 300 Observatory
Wandering to the Tennoji area, we will go up to see the most beautiful Osaka city scenery. The place we talk about is the Harukas 300 Observatory on the 58th – 60th floor in Abeno Harukas which is the tallest building in Japan at a height of 300 meters. // Although this is the tallest building, it still loses to the height of Baiyoke 2 and Mahanakhon in my country, Thailand. I personally guess Japan is not into a tall building like china, haha.
⚡️ Caution! Going up to the Harukas 300 Observatory is not included in the Osaka Amazing Pass. If you are holding this card, it is an option to see Osaka city scenery at Umeda Sky Building instead. But the reason I choose to come up here because it is the tallest building in Japan with a gleaming gimmick. And the other reason is, I buy the entrance fee combined with a Universal Studios Japan (USJ) admission ticket along with a VIP special entry wristband so I can get in the park 15 mins before the opening time, LOL.
Before deciding is it worth it or not. You can read the Universal Studios Japan (USJ) review, and for those who consider of purchasing the building entrance ticket + the theme park admission ticket + USJ VIP wristband as suggested. Buy it via KLOOK. Click here | As for the Harukas 300 Observatory single ordinary ticket, Click to buy through KLOOK here.
(function(d, sc, u) { var s = d.createElement(sc), p = d.getElementsByTagName(sc)[0]; s.type = 'text/javascript'; s.async = true; s.src = u; p.parentNode.insertBefore(s,p); })(document, 'script', '//cdn.klook.com/affiliate_web/s/dist/desktop/affiliate_base_v3.2.js') (function(d, sc, u) { var s = d.createElement(sc), p = d.getElementsByTagName(sc)[0]; s.type = 'text/javascript'; s.async = true; s.src = u; p.parentNode.insertBefore(s,p); })(document, 'script', '//cdn.klook.com/affiliate_web/s/dist/desktop/affiliate_base_v3.2.js')

For the Harukas 300 Observatory, it is recommended we come in the evening, almost at dusk. Because it is the most beautiful period we can see the Osaka city in the light at sunset and during the night which gives a completely different mood.
Anyone who thinks we have been here for so long, not getting tired of waiting? I want to tell that there are many activities for us, including cafes, restaurants, shops, and spots you can play the mapping light and take some pictures joyfully. From many viewpoints on tall buildings around the world I visited. This is another very well-done building.
If you want to go up to the helipad which is located at the roof of the building, you can buy an additional ticket for 500 yen, the time allowance in one round visit is up to 15-20 mins. The view angle is not very different from the floor below but the experience is definitely not the same. LOL
Osaka Trip | Day 2:


Tempozan Giant Ferris Wheel

Let's worthy use the Osaka Amazing Pass on the second day! The first place we are going is the Tempozan Giant Ferris Wheel which was once considered as the largest Ferris wheel in the world. From the above, we can sit and see the view of Osaka from a high angle, of course, it's a good scenery (but it may not be as spectacular as the Abeno Harukas 300).
However, we can sit while away and feel a gentle breeze. But it even is more deserving if we sit in a clear glass cabinet, YES, I mean the whole cabinet was made from glass and you can directly see everything through its layer, to the ground below. It's freakin' good + very pleasing sight // Anyone who holds the Osaka Amazing Pass, please come. You don't have to pay for extra expenses, YAY.
Santa Maria Cruise
After completing the Tempozan Giant Ferris Wheel, walk a little longer to the pier. There will be a Santa Maria Cruise for tourists to climb up and see the Osaka bay view. The cruise fare is already included in the Osaka Amazing Pass. For those who want to use it as fullest worth spent. Let's continue cruising together!
The design inspiration of the Santa Maria Cruise is the construction of a junk boat that Columbus used to sail while discovering the American continent. This Osaka bay cruise takes 45 mins and departures every hour.
Cruising is chill and such a relaxing sight, you can see Osaka city view, enjoying the beautiful bridge. But if you wish to see the scenery at its peak hour, you should come around twilight at sunset. It's truly picturesque. If you have time in the evening, you better come at that time. (I cruised many years ago, it was real-good!)
For those who travel with a family or like to see aquatic animals. At the pier, there also has the famous Osaka Aquarium Kaiyukan which claims to be a world-class aquarium. Anyone who has time, fill free to visit. As for me? I rather take a photo at the Glico sign and go shopping (heh-heh!).
Namba – Dotonbori
Tourist who comes to Osaka (especially if visiting for the first time!) and not taking a photo with the famous Glico sign, then you're extremely missed because it's like the number one landmark in Osaka. The Glico sign is located in Dotonbori in the Namba area. This attraction is considered as a place to gather everything about food, entertainment, and the most bustling shopping area of Osaka. You must come, I mean it!
Glico Billboard already has 6 or 7 versions. The first version has been installed since 1935, so it means the Glico sign has been in existence for almost a hundred years (it's so~ooo long). This becomes a landmark that many visitors love the most in the area.
Besides, Dotonbori street is also the peak food spot in Osaka. Personally, I haven't eaten much but the must-try dishes when traveling here are Takoyaki and Japanese Pizza (Okoyominaki).
Dotonbori River and PIRATES OF OSAKA
For those who hold the Osaka Amazing Pass like me. Hold it and use it wisely by cruising on PIRATES OF OSAKA in Dotonbori River for free. The cruise takes about 30 mins so we can see the beautiful corner of the Dotonbori area in a way that a walking man can't see. It's good, chilly and the area is outstanding from various colors LED signs. come and join me!
Shinsaibashi Shopping Street
After finished taking a photo with the Glico sign and cruising. The last activity of the day is SHOPPING, YAY! the Shinsaibashi area is the shopping street in Osaka I love the most. The street is full of cool multi-brand shoe stores such as Atmos and ABC-Mart Grand Stage, including popular shoe stores like Nike, Adidas, the Japanese famed Onitsuka Tiger, Sketcher, ASICS, and many more. For those who are in the Fast Fashion line, here is a perfect stop! Starting with H&M major store near the Glico sign, then make a short walk along the street, you'll find Zara, Bershka, GU (a subsidiary company of Uniqlo) and Uniqlo. As far as window shopping in many stores, the product here is cheaper than in my hometown (Thailand). Come on, let's spend your card.
Aside from these famous stores we all know, here are some Japanese clothing brands I really like; Urban Research. Francfranc, the store that has cute household items. There is some sparse food here, most of them are desserts and ice-cream. You can buy and enjoy your fresh.
Osaka Trip | Day 3:


Universal Studios Japan (USJ) OSAKA

No… the last full day of this Osaka trip has come to an end! I save this day for Universal Studios Japan or USJ (Scream!). As you guys probably know USJ is a dream theme park for everyone because there are characters from their beloved movies such as Harry Potter, Minion, Spiderman, and many other characters. I dare to say I'm overjoyed taking photos. The rides are extremely fun. The person who likes thrilling rides should come here. haha.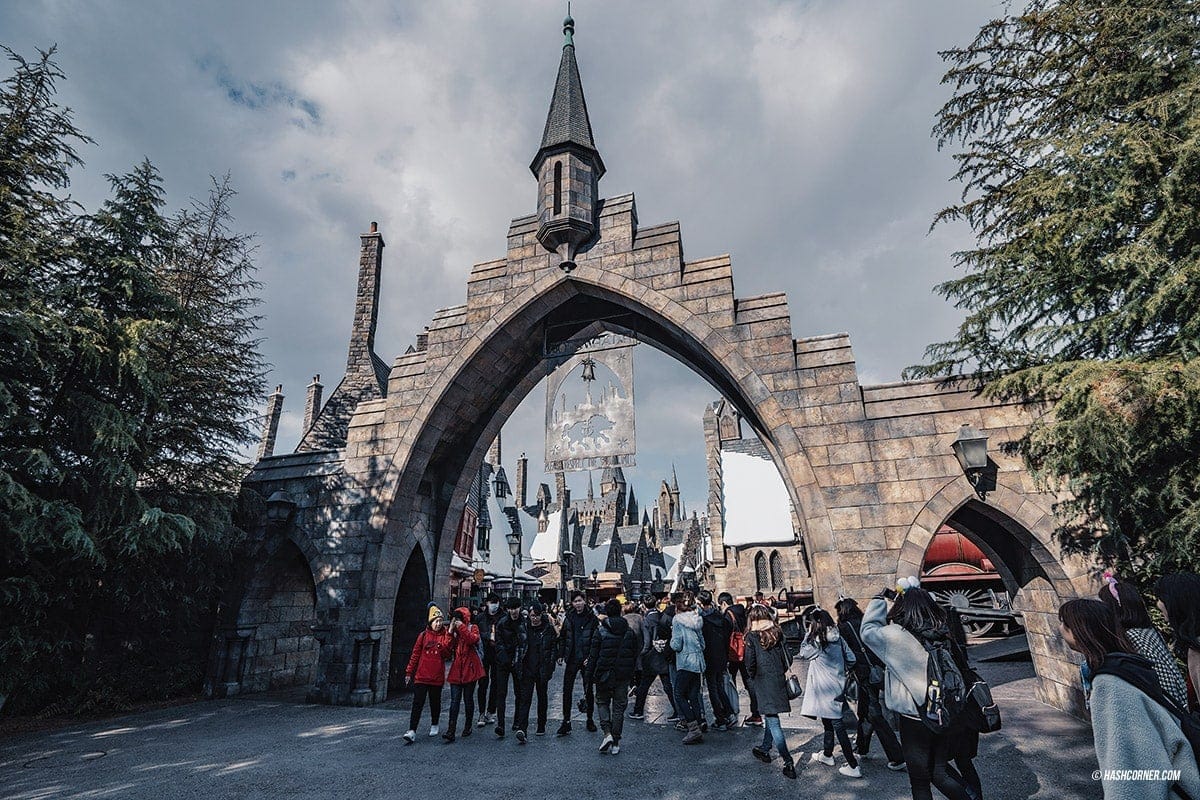 Since the Universal Studios Japan (USJ) details are packed whether it's how to get all the attractions done / Do I have to buy the Express Pass 4 and 7? / Which rides are fun? Well, It's too much of an info. So, let's separate this theme park review alone. Everyone can read the Universal Studios Japan (USJ) review by clicking here or click on the image below. 💙
(function(d, sc, u) { var s = d.createElement(sc), p = d.getElementsByTagName(sc)[0]; s.type = 'text/javascript'; s.async = true; s.src = u; p.parentNode.insertBefore(s,p); })(document, 'script', '//cdn.klook.com/affiliate_web/s/dist/desktop/affiliate_base_v3.5.js')
Osaka Trip | Day 4:
Kuromon Market
If you want to know more about famous food neighborhoods in Osaka apart from the Dotonbori area, let me introduce the Kuromon Market, Osaka's largest and busiest fresh-food market which makes the massive title of 'Osaka kitchen'. (OOH) There are various kinds of products (not only food) selling here over 150 stores.
The well-known strong point of Kuromon Market is fresh fish that we can order Sashimi and Sushi to eat right there. The market also displays king crab legs, fruits, sweets and loads of other food. Food lover is recommended to come here especially in the morning. There's so much food to have!
Shinsekai
I'll end the Osaka trip here at Shinsekai, the place is expressed as a 'new world' in the old days of Osaka. From then until now, the Shinsekai neighborhood has been bustling for over a hundred years since a famous Luna Park (amusement park) from America located but closed down later (AW!) and Tsutenkaku Tower which used Paris' Eiffel Tower as a model inspiration, the original one was damaged during the World War 2. Later there was a newly constructed and lived up until now.
Today, even though Shinsekai no longer has an amusement park but it's still bustling with lights along the street with shops and restaurants. And probably the only place in Osaka where we can feel the classic nostalgia-evoking scenery of Osaka a hundred years ago that is still brighten to this day.
Another attraction here in Shinsekai is Osaka popular local food 'Kushikatsu' which drawn many visitors. The dish is composed of various meats or vegetables that are skewered and coated with batter, then dip it in the signature Kushikatsu sauce. If you're a fried food or Tempura lover, you definitely love it. The restaurant I tried is Kushikatsu Daruma Tsutenkaku is said to be a legend running the business for over 100 years. The restaurant is located behind the Tsutenkaku Tower.
Whole meat and vegetables with a set start from 1,000-2,000 yen. I ordered a lot to try, the first time eating it… it was pleased, crispy, tasty but after having superfluous, my throat started to feel dry and hot because the food…it's all fried (LOL). Overall, I think the dish is delicious. I insist fried food or tempura lover must try this!
Accommodation in Osaka
I must say first that I have been to Osaka many times during the past year so I have a chance to experience a lot of accommodation and hotels. This is why I want to review all of them. LOL 😂
From standard hotels to Airbnb, most of the chosen accommodation area is located in Tennoji which is the center of shopping malls and convenient spots to travel elsewhere. I also have accommodation in Shin-Imamiya where the Nankai train (easy access to the airport) is stopped, including Shin-Osaka where is suitable for tourists to take Shinkansen to another city. Which area do you like and where? Choose it freely. In the review below shows the accommodation I used to stay in.
Miyako City Osaka Tennoji
Miyako City Osaka Tennoji is a hotel in the Miyako chain and quite seasoned in the Tennoji area. With an extraordinary location, near to the Tennoji intersection which is full of all-round shopping centers. I shopped like there's no tomorrow, plus there is a minimart in front of the hotel. Certainly, your stomach won't be starving (LOL) and what makes this place more convenient is; if you travel by subway, you can take the elevator from the train station basement straight to the hotel. This is great! no need to walk! Heh-heh.
FP HOTELS South-Namba
Another convenient neighborhood is around Shin-Imamiya Train Station. This is a major station where many train lines are stopped whether it be the Nankai Line that we can go directly to Kansai Airport or even go to Nara is a piece of cake. There is also a JR train line and subway nearby such as Dobutsuen-Mae Station. So, this is another area you can easily decide your destination.
As far as I know, the Japanese believe Shin-Imamiya is a dangerous neighborhood. For this reason, the accommodation price in this area is quite good compared to the rest. Moreover, traveling around from this point is really easy, so foreign tourists like to stay here a lot. Personally, I don't feel it dangerous at all.
FP HOTELS South-Namba is located near Shin-Imamiya Station and Dobutsuen-Mae Station so it's very convenient to travel. The hotel is new and modern. I had a good sleep, comfy without any problems, LOL.
The bathroom here is my favorite, the proportion arrangement and it's wider than the general Japanese hotel bathrooms because it is separated into 3 rooms consist of a toilet, shower room, and washbasin corner. It's real-good. Thumb up!
Airbnb: Shin-Osaka
Tada…Airbnb Time! This accommodation is near Shin-Osaka Station, suitable for those who want to travel to other cities by JR Shinkansen. The room is in the apartment building, decorated with Japanese home feel and full facilities as air conditioners, refrigerators, laundry cabinets, kitchenette, including clothes drying area. This one is AW…perfect! A single disadvantage of this place is; there will be frequent train sounds because it's very close to the train station. But at night is quiet because the train is already stopped servicing, no probs, overall, it's still good though.
I quite like it here, comfortable stay, sleeps up to 3 people (but I just came in pair). You can grab something to eat at the train station and straight home, there is also a decent restaurant and Family Mart nearby. So I highly recommend this place.
Airbnb: Grand House Became ♯301 Nishinari-ku
The last accommodation I experienced is Airbnb: Nishinari-Ku where they make a large room on the whole floor of the three-story house. The location is in Nishinariku urban area, we can make a short walk to the train station, the place is on a halfway between Dobutsuen-Mae subway station and Tennoji Station. The location is not very outstanding, also hidden in the township but in exchange, I got a comfy large room, that's okay as well.
The room facilities are very good, providing a dining table, two large beds. There is also a kitchenette, bathroom and living room. The only drawback is; the room is on the 3rd floor. Whoever drags a big heavy suitcase will have to exert a little bit of effort into carrying it. But if you want to experience a backpacker, it's a fair choice.
อ่านรีวิวเมืองนี้จบแล้ว
อ่านรีวิวเมืองอื่นในญี่ปุ่นต่อกันเลย 🤗
ญี่ปุ่นเป็นประเทศไม่กี่ประเทศที่นี่รู้สึกว่า ไปกี่ครั้งก็ไม่น่าเบื่อ ไปแล้วไปอีกได้ตลอด และยังประเทศที่ตัวเองตั้งมิชชั่นว่า อยากจะเก็บให้หมดทั่วประเทศ ฮ่าา เอาเป็นว่า HASHCORNER นี่ก็มีรีวิวญี่ปุ่นให้อ่านและตามรอยเยอะพอสมควร ทั้งหมดนับแล้วประมาณ 29 เมืองแล้ว เยอะโคตร ใครที่มีแพลนไปเมืองไหนในญี่ปุ่นที่มีชื่อเมืองตามลิสด้านล่าง สามารถคลิกลิงค์อ่านต่อได้เล้ย
ส่วนลดจองโรงแรมจาก Agoda, Expedia, Booking, Hotels.com และบัตรสวนสนุก ตั๋วรถไฟ กิจกรรมท่องเที่ยวจาก Klook ปี 2022
※ สำหรับใครที่กำลังจะจองที่พักและหาส่วนลดจองโรงแรมอยู่ ลองดูตามลิงค์ด้านล่างได้เลย มีทั้ง Agoda, Expedia, Booking รวมถึง Hotels.com ด้วย ประหยัดไปได้อีกเกือบ 10-20% ใช้ได้กับโรงแรมทั่วโลก
หลายคนอาจจะไม่รู้ว่าเว็บไซต์จองโรงแรมพวกนี้ มีส่วนลดท็อปอัพจากบัตรเครดิตเพิ่มเกือบทุกธนาคาร ไม่ว่าจะเป็นบัตรเครดิต Citibank, KBANK, SCB, Krungsri, KTC, Bangkok Bank, UOB และ TMB หรือแม้แต่ส่วนลดจากค่ายมือถืออย่าง AIS, DTAC หรือ True ซึ่งส่วนลดพวกนี้จะเปลี่ยนตลอดทุกเดือน และเก๊าก็อัพเดทให้ตลอดเวลาเน้อ 🧡
> ส่วนลด Agoda.com (อโกด้า)
> ส่วนลด Booking.com (บุคกิ้ง)
> ส่วนลด Expedia (เอ็กซ์พีเดีย)
> ส่วนลด Hotels.com (โฮเทลส์)
> ส่วนลด Klook (คลุก)
> ส่วนลด LAZADA (ลาซาด้า)
> ส่วนลด Shopee (ช้อปปี้)