Osaka is a vibrant city in Japan that travelers can't help but love. It's the second largest city in the country and is filled with all sorts of experiences waiting to be had. If you're new to Japan, Osaka is the perfect place to start your adventure. The city is buzzing with energy and has so many must-visit landmarks like the iconic Osaka Castle and the famous Glico electronic sign. And let's not forget the food – it's seriously delicious! Plus, if you're in the mood for a change of scenery, you can easily take a quick trip to nearby Nara or Kyoto city. So, come join us on this journey and explore all that Osaka has to offer!
Osaka Itinerary
Looking for a fun-filled itinerary for your Osaka trip? Check out my example of the 4-day plan! Feel free to mix and match with other city destinations like Kyoto, Nara, or even other nearby places to make your trip even more memorable. And don't forget, you can find all the best Japan travel tips and reviews from HASHCORNER at the bottom of this guide. We've got you covered!"
Where to Stay in Osaka
If you're searching for a place to stay in Osaka, I highly recommend staying in a neighborhood along the Midosuji Line subway. This line is the main mode of transportation we'll be using to explore the city. Three areas I recommend are Umeda, Namba, and Tennoji. Each neighborhood has its own unique charm and benefits, and it all comes down to personal preference and travel plans. Plus, each area has easy access to other cities in Osaka via major train connections.
Choose the neighborhood that speaks to you, and then check out my top picks for hotels in that area. These options have been carefully selected for your convenience.
Getting to Osaka from Kansai Airport
Which Train to Take: Nankai or JR?
If you're coming into Osaka through Kansai Airport, you can get to the city center with a breeze. It's so simple! The most convenient option is definitely taking the train. However, you may be unsure of which train to take, as there are two options – Nankai and JR. The choice just depends on your hotel location and whether or not you have any travel passes. Keep reading for more information to help you make the best decision for you.
Nankai Line Airport Express – Rapi:T
If you don't have a JR Pass or a Kansai Thru Pass, or if you're staying in the Namba or Shin-Imamiya area, the Nankai Line Airport Express – Rapi:T is a great choice. This line will get you to the heart of Osaka in just 38 minutes. Some of the major stations in Osaka you'll be able to access are Namba Station, Shin-Imamiya Station, and Tengachaya Station. So, if you're staying in one of these neighborhoods, the Nankai Line Airport Express – Rapi:T is a convenient option for you.
💰 The Nankai Line Airport Express' fare is 1,140 yen for a regular seat and 1,360 yen for a super seat. I'd recommend a regular seat, as there's almost no difference, and the trains aren't usually too crowded, so you'll be able to travel comfortably. You can buy tickets online through the KLOOK website. Not only is it cheaper than buying at the reservation counter, but they also offer a round-trip ticket option. And to make things even better, KLOOK often has monthly top-up discounts. Purchase tickets via Klook
JR Kansai-Airport Express "HARUKA"
For tourists who either have a JR PASS that covers the entire country, or a pass specific to the Kansai region, such as the Kansai Area Pass, Kansai WIDE Area Pass, or the Kansai-Hiroshima Area Pass, or for those who are visiting without a pass and staying in the Tennoji or Shin-Osaka area, or for those who want to travel straight to Kyoto, the best option for getting to the city center from the airport is the JR Kansai-Airport Express "HARUKA" train. This trip takes approximately 35 minutes and there are only three main stations: Tennoji Station, Shin-Osaka Station, and Kyoto Station. These stations serve as the primary hubs for travelers in the Kansai region and are convenient for accessing many popular destinations in the area.
💰 For a cheaper ticket, consider purchasing through KLOOK instead of the reservation counter. As a foreign tourist, you may be eligible for discounted prices on the website. Purchase tickets via Klook
If you have any of the following passes, you can ride the JR Haruka Express for free: JR PASS (all area) * free reserved seat / Kansai Area Pass / Kansai WIDE Area Pass / Kansai-Hiroshima Area Pass / Sanyo-San'in Area Pass * free reserved seat / Kansai-Hokuriku Area Pass / Takayama-Hokuriku Area Tourist Pass / Sanyo-San'in Northern Kyushu Pass * free reserved seat."
Get the Best Out of Your Osaka Trip with the Osaka Amazing Pass
If you're coming to Osaka and want to see all the famous sights without worrying about cost, I highly recommend getting the Osaka Amazing Pass. With this pass, you'll be able to use unlimited subway and bus rides in Osaka for the number of days you purchased it for. Plus, you'll get access to over 40 landmarks with discounts at more than 27 others. It's a great option for anyone visiting these landmarks or exploring Osaka for the first time!
As for the Osaka Amazing Pass, there's a 1-day ticket for 2,700 yen and a 2-day ticket for 3,600 yen. I think getting the 2-day ticket is more worth it as you'll only be spending a little more and have two days to plan out which tourist destinations are worth the entrance fee and train fare (140 yen per trip) to visit.
⚡️ The Osaka Amazing Pass is your ticket to exploring all the top landmarks and activities in the city. With this pass, you can enjoy unlimited rides on Osaka's subway and buses for the number of days you purchase. You'll also get discounted or free entry to over 40 popular attractions, like the Osaka Castle (normally 600 yen), Osaka Museum of Housing and Living (normally 600 yen), Santa Maria Cruise (normally 1,600 yen), Umeda Sky Building (normally 1,500 yen), and the Tempozan Giant Ferris Wheel (normally 800 yen).
💸 To make your life even easier, I recommend getting the Osaka Amazing Pass through Klook again. You can choose to have it delivered straight to your country, or pick it up at one of Klook's counters. Purchase tickets via Klook
In conclusion, everyone has their own preferences and travel style. You have to make your own travel plan and decide if it's worth getting the pass. If you think the Osaka Amazing Pass is worth it, go ahead and buy it! The attractions I mentioned are just my suggestions, but you can find all the covered landmarks and activities on the official website. Check it out for the latest updates!
Let's start the adventure in Osaka!
Day 1: Osaka Castle
The Osaka Castle is a must-visit destination for first-time visitors to Osaka as it is a well-known landmark that often appears in various Osaka advertising materials. The castle was originally built in 1583-1585 by the powerful warlord Toyotomi Hideyoshi, who was instrumental in reunifying Japan after a period of civil war. He later expanded the castle area and transformed it into a political and commercial center.
However, the Osaka Castle we see today is actually a reconstruction from 1931, as the original castle was destroyed in the early 17th century during a lightning strike and was also badly damaged in World War II. Despite these setbacks, the castle has been rebuilt and now serves as a museum, showcasing the history and cultural heritage of Osaka.
When you visit Osaka Castle, you can stroll through the beautiful gardens and make your way inside. If you have the Osaka Amazing Pass like I did, simply show your card and enjoy free admission.
Once inside, head to the top floor using the elevator for breathtaking views of the city. From the observation deck, you'll have a panoramic view of Osaka, and you'll appreciate just how tall the castle really is. It's quite a sight!
Next, we'll take a stroll down the museum to reach the bottom floor. The exhibitions on display are all about the history of Osaka Castle and its creator, Toyotomi Hideyoshi. If you're interested, feel free to take a look around. Just a heads up, taking photos inside the museum isn't allowed.
Osaka Museum of Housing and Living
If you're visiting Osaka, you might think that eating and shopping are the main attractions, and museums might not be high on your list. But I've got to tell you, the Osaka Museum of Housing and Living is one place you really shouldn't miss. It might not be a fancy, art museum-style place, but what makes it so awesome is the opportunity to take a trip back in time to Osaka during the Edo period, about 400 years ago. It's super cool, and even cooler if you have the Osaka Amazing Pass, as you'll get in for free!
On the 9th floor of the museum, you'll find Edo-period houses that have been recreated for visitors to explore. There are residences, shops, public baths, and other buildings, all set against a backdrop of changing atmosphere colors that show the transition from day to night. It's an exceptional experience and I'm sure you'll love it too. For those looking for a fun, memorable photo, I suggest renting a yukata for a photoshoot.
The museum also has a floor dedicated to showcasing the development of Osaka's way of life, from the past to the modern era. This exhibit clearly explains how Osaka has changed and evolved over time, and it's a fascinating glimpse into the city's history. Trust me, you won't want to miss this. If you're interested in learning about Osaka and its past, I highly recommend visiting the Osaka Museum of Housing and Living. I'm confident you'll enjoy it!
Harukas 300 Observatory
When exploring the Tennoji area in Osaka, be sure to make a stop at the Harukas 300 Observatory on the 58th to 60th floor of Abeno Harukas. This building is the tallest in all of Japan, standing tall at a towering 300 meters. While it may not be as tall as some buildings in other countries, such as Baiyoke 2 and Mahanakhon in my hometown, Bangkok, the Harukas 300 Observatory still offers breathtaking views of the city. And who knows, maybe Japan just isn't as focused on building tall structures as some other countries, like China. But either way, the views from the top are not to be missed!
If you're planning to visit the Harukas 300 Observatory, keep in mind that it is not included in the Osaka Amazing Pass. But don't fret, if you do have this card, there's still an option for you to enjoy panoramic views of Osaka city from the Umeda Sky Building. However, I personally chose to come here for two reasons. Firstly, the Harukas 300 is the tallest building in Japan and has a dazzling appeal. Secondly, I took advantage of a special offer at that time that Klook combined the ticket with a Universal Studios Japan (USJ), along with a VIP special entry wristband. This allowed me to enter the park 15 minutes before the official opening time! Anyway, the combo offer has already ended.
If you're a fan of cityscape and stunning sunset views, then the Harukas 300 Observatory is a must-visit for you. The best time to visit this observatory is in the evening, as the city starts to light up and the sun sets in the background. It's a magical moment to see the city in a different light, and the contrast between the day and night is truly breathtaking.
If you're thinking that you might get bored while waiting for the perfect moment to arrive. There's plenty to keep you entertained while you're here. You can enjoy a cup of coffee at one of the many cafes, savor a delicious meal at a restaurant, browse the shops, or even play with the mapping light for some fun photos.
In my travels to tall buildings around the world, I have to say, Harukas 300 Observatory is another well-done building. You won't regret coming here to experience the stunning view of Osaka from high above.
If you're looking for an extra thrill during your visit to the Harukas 300 Observatory, consider taking a trip up to the rooftop helipad. For just an additional 500 yen, you can enjoy a 15 to 20 minute visit with a view that's truly one-of-a-kind. While the perspective may not differ greatly from the floors below, the experience of standing on the rooftop is definitely worth it. Trust me, you'll have a great time and make some unforgettable memories!
Osaka Trip / Day 2:
Tempozan Giant Ferris Wheel
Let's also make the most of our Osaka Amazing Pass on the second day! Our first stop is the Tempozan Giant Ferris Wheel. It used to be the largest Ferris wheel in the world and offers stunning views of Osaka from high up. While the view may not be as breathtaking as the Abeno Harukas 300, it's still a great way to sit back and enjoy the breeze.
The real treat is sitting in one of the clear glass cabins. The whole cabin is made of glass and you can see everything below directly through the layers. It's an amazing and pleasing sight, and the best part is that anyone with the Osaka Amazing Pass can enjoy it without paying any extra fees. So come on over if you have the pass!
Santa Maria Cruise
After finishing up at the Tempozan Giant Ferris Wheel, we will take a short walk to the pier where we'll embark on a Santa Maria Cruise. This cruise is included in the Osaka Amazing Pass and offers us a breathtaking view of the Osaka bay. It's a great opportunity to fully utilize our pass and enjoy the scenery together.
The Santa Maria Cruise was inspired by the junk boat that Christopher Columbus used during his journey of discovering the American continent. It takes around 45 minutes to complete and departs every hour, providing us with ample time to board and soak in the views.
Cruising along the Osaka bay is a relaxing and peaceful experience. You can take in the stunning views of Osaka city, including its beautiful bridges, from the comfort of the boat. If you want to see the scenery at its best, try to visit around twilight at sunset – it's truly a picturesque moment. If you have time in the evening, I highly recommend checking it out – I had a great time cruising here years ago!
For those traveling with family or looking for a fun time, the pier also has the famous Osaka Aquarium Kaiyukan, which is renowned as a world-class aquarium. If you have some free time, feel free to explore it and check out the different aquatic animals. As for me, I'd prefer to take a photo at the Glico sign and go shopping. It's always a fun time!
Namba – Dotonbori
Dotonbori, the bustling and exciting must-visit area in Namba, is not just famous for its food, entertainment, and shopping, but also for its rich history and cultural significance. It is one of the most popular tourist destinations in Osaka, with millions of visitors coming every year to experience its vibrant atmosphere and diverse offerings.
One of the most iconic landmarks in Dotonbori is the Glico sign, which has been around for nearly a hundred years. The first version of the sign was installed in 1935, and it has since undergone several changes and upgrades over the years. Despite its changes, the Glico sign has remained one of the oldest and most beloved landmarks in the city, attracting tourists from all over the world.
In addition to the Glico sign, Dotonbori is also known for its food culture, with many food stalls and traditional restaurants offering a wide variety of dishes for visitors to try. From the famous Takoyaki and Okoyominaki to other local specialties, you'll be able to find everything your taste buds desire. Whether you're a foodie or just love trying new dishes, Dotonbori is a must-visit destination that offers a true taste of the vibrant and delicious food culture of Osaka.
Dotonbori River and PIRATES OF OSAKA
If you're like me and have an Osaka Amazing Pass, then I highly recommend taking advantage of it by going on the free PIRATES OF OSAKA cruise in the Dotonbori River. This is a unique and amazing way to see the beautiful corners of the Dotonbori area, as you get to witness the vibrant and colorful LED signs from the water.
The cruise takes about 30 minutes and provides a breathtaking view that you can't see by simply walking around the area. This is a perfect opportunity to sit back, relax, and enjoy the scenic views while taking in the sights and sounds of Osaka.
The PIRATES OF OSAKA cruise is a must-do activity for anyone visiting Osaka for the first time or for those who have been here before. The combination of the cool breeze, outstanding views, and the unique experience of sailing down the Dotonbori River make it a memorable and enjoyable activity for everyone.
Shinsaibashi Shopping Street
After a fun-filled day of capturing memories with the iconic Glico sign and taking a leisurely cruise along the Dotonbori River, it's time to get shopping! And where better to do so than in the Shinsaibashi area – my favorite shopping street in Osaka. This bustling street is home to an array of cool multi-brand shoe stores, including Atmos and ABC-Mart Grand Stage, as well as popular brands like Nike, Adidas, Onitsuka Tiger, Sketcher, and ASICS. For those who are all about fast fashion, this is the perfect place for you! With a H&M store just a short walk from the Glico sign, you can also find Zara, Bershka, GU, and Uniqlo as you continue down the street. Plus, you might even find that some products are even cheaper here than back in your hometown like me. So come on, let's hit the shops and treat ourselves!
Aside from the big names we all know and love, there are also some great Japanese clothing brands to discover. My personal favorites include Urban Research and Francfranc – a store that has the cutest household items. While food options may be limited, there are plenty of delicious desserts and ice cream shops to try. So grab a treat and enjoy it fresh!
Osaka Trip / Day 3:
Universal Studios Japan (USJ) OSAKA
The day of our Osaka adventure has almost come to the end. Today was reserved for a visit to Universal Studios Japan, also known as USJ, and I couldn't be more excited! As many of you know, USJ is a dream come true for fans of popular movies like Harry Potter, Minions, Spiderman, and so many more. I had so much fun taking pictures with these beloved characters and trying out the exciting rides.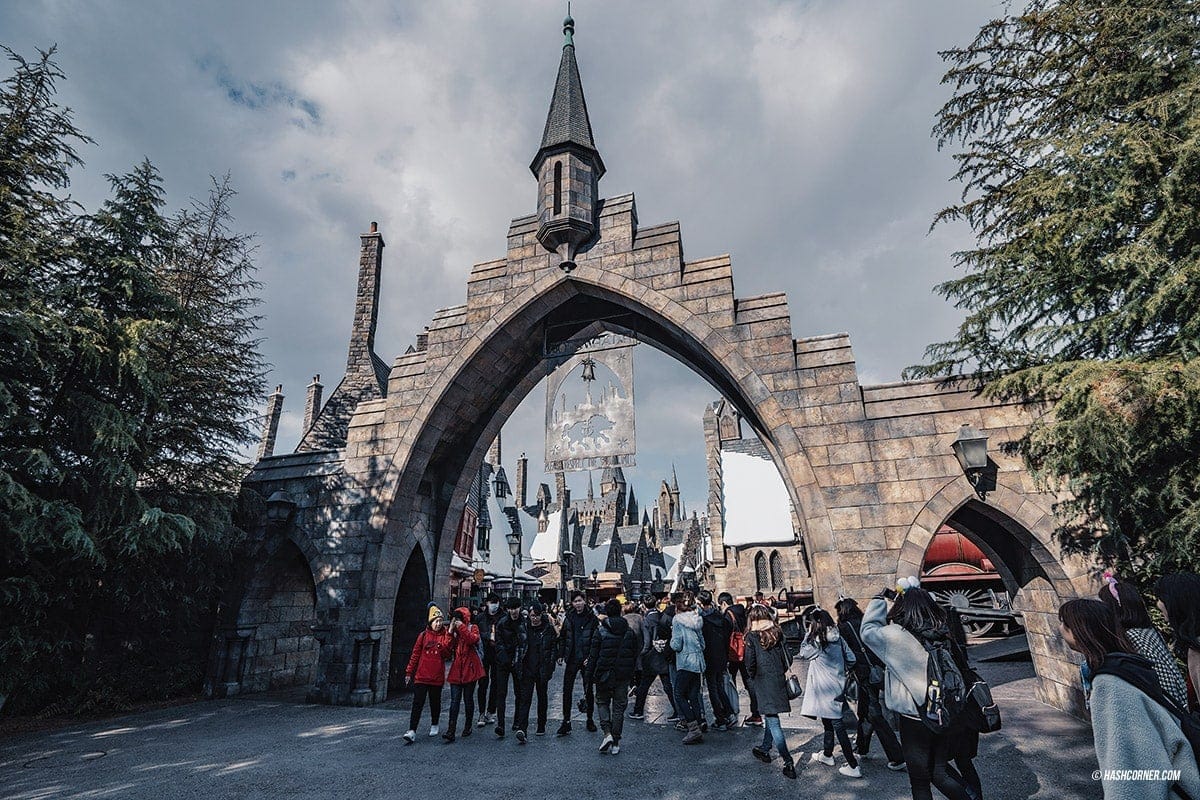 For those thrill-seekers out there, USJ has plenty of heart-pumping rides that are sure to satisfy your need for adventure. With so much information available about USJ, including which attractions to hit, whether or not to buy the Express Pass 4 or 7, and which rides are the most fun, I've decided to dedicate a separate review just for this theme park. You can easily find the USJ's detailed review here or the hero-photo below. Trust me, you don't want to miss out on all the fun and excitement that USJ has to offer!
Osaka Trip / Day 4:
Kuromon Market
Before we bid farewell to this vibrant Osaka, if you want to know more about famous food neighborhoods in the city, let me introduce you to Kuromon Market. It's Osaka's largest and busiest fresh-food market and holds the massive title of "Osaka kitchen."
With over 150 stores selling various kinds of products, including fresh fish that can be ordered as sashimi or sushi to eat on the spot, the Kuromon Market is a must-visit for food lovers, especially in the morning. It also features king crab legs, fruits, sweets, and loads of other delicious foods. Don't miss out on the opportunity to indulge in all that Kuromon Market has to offer!
Shinsekai
We'd end up our Osaka trip at Shinsekai, a neighborhood with a rich history dating back over a hundred years. It was once known as the "new world" and was home to a famous amusement park, Luna Park, which has since closed down. The iconic Tsutenkaku Tower, which was modeled after the Eiffel Tower in Paris, is one of the most notable landmarks in Shinsekai and remains a popular attraction for visitors to the area.
Today, Shinsekai is still a bustling neighborhood, filled with lights and activity along its streets. Despite the absence of Luna Park, visitors can still feel the classic, nostalgia-evoking atmosphere of old Osaka in the area.
One must-try food here is the beloved local dish, Kushikatsu. This dish consists of meats or vegetables that are skewered, battered and deep fried to crispy perfection, then finished with a generous dip in the signature Kushikatsu sauce. If you're a fan of fried food or tempura, you'll definitely fall in love with this dish. I personally visited the legendary restaurant Kushikatsu Daruma Tsutenkaku, which has been serving mouth-watering Kushikatsu for over a hundred years! Located just behind the iconic Tsutenkaku Tower, this restaurant is a must-visit for anyone who wants to taste the true flavor of Shinsekai and Osaka.
When it comes to the price, a whole set of meats and vegetables starts from 1,000 to 2,000 yen. On my first try, I went all out and ordered a lot to try. To my delight, the food was crispy, tasty and oh-so-pleasing. However, after overindulging, my throat started to feel dry and a bit hot from all the frying. But despite that, I still think the dish is truly delicious. If you're a fan of fried food or tempura, I highly recommend giving Kushikatsu a try. You won't be disappointed!
My Real Stay Review in Osaka
Miyako City Osaka Tennoji
The Miyako City Osaka Tennoji hotel is a seasoned hotel located in the Tennoji area of Osaka and is part of the Miyako chain. The hotel boasts an extraordinary location, being situated near the Tennoji intersection which is a bustling hub of shopping centers. You can indulge in shopping till you drop, and if you happen to feel hungry, you can simply head over to the minimart right in front of the hotel, ensuring that your stomach never goes empty.
One of the best features of this hotel is its accessibility. If you're traveling by subway, you can take the elevator straight from the train station basement to the hotel, eliminating the need to walk. This makes things much more convenient!
FP HOTELS South-Namba
Another convenient neighborhood to stay in is around the Shin-Imamiya Train Station, which is a major station connecting several train lines including the Nankai Line that takes you directly to Kansai Airport or to Nara with ease. The JR train line and subway, such as Dobutsuen-Mae Station, are also nearby, making it an easy hub for exploring different destinations in the area. Despite the common perception among Japanese people that Shin-Imamiya is a dangerous neighborhood, the area still attracts many foreign tourists due to its affordability and convenience for travel. In my personal experience, I didn't find the neighborhood to be dangerous at all.
One good accommodation option in the area is the FP HOTELS South-Namba, located close to both Shin-Imamiya Station and Dobutsuen-Mae Station for easy travel. The hotel is modern and new, and I had a comfortable stay with no problems.
One standout feature of the hotel was the bathroom, which I particularly loved because it was proportionately arranged and wider than the typical Japanese hotel bathroom, separated into three separate rooms including a toilet, shower room, and washbasin corner. It was really well-designed, and I highly recommend it!
อ่านรีวิวเมืองนี้จบแล้ว
อ่านรีวิวเมืองอื่นในญี่ปุ่นต่อกันเลย 🤗
ญี่ปุ่นเป็นประเทศไม่กี่ประเทศที่นี่รู้สึกว่า ไปกี่ครั้งก็ไม่น่าเบื่อ ไปแล้วไปอีกได้ตลอด และยังประเทศที่ตัวเองตั้งมิชชั่นว่า อยากจะเก็บให้หมดทั่วประเทศ ฮ่าา เอาเป็นว่า HASHCORNER นี่ก็มีรีวิวญี่ปุ่นให้อ่านและตามรอยเยอะพอสมควร ทั้งหมดนับแล้วประมาณ 29 เมืองแล้ว เยอะโคตร ใครที่มีแพลนไปเมืองไหนในญี่ปุ่นที่มีชื่อเมืองตามลิสด้านล่าง สามารถคลิกลิงค์อ่านต่อได้เล้ย
ส่วนลดจองโรงแรมจาก Agoda, Expedia, Booking, Hotels.com และบัตรสวนสนุก ตั๋วรถไฟ กิจกรรมท่องเที่ยวจาก Klook ปี 2022
※ สำหรับใครที่กำลังจะจองที่พักและหาส่วนลดจองโรงแรมอยู่ ลองดูตามลิงค์ด้านล่างได้เลย มีทั้ง Agoda, Expedia, Booking รวมถึง Hotels.com ด้วย ประหยัดไปได้อีกเกือบ 10-20% ใช้ได้กับโรงแรมทั่วโลก
หลายคนอาจจะไม่รู้ว่าเว็บไซต์จองโรงแรมพวกนี้ มีส่วนลดท็อปอัพจากบัตรเครดิตเพิ่มเกือบทุกธนาคาร ไม่ว่าจะเป็นบัตรเครดิต Citibank, KBANK, SCB, Krungsri, KTC, Bangkok Bank, UOB และ TMB หรือแม้แต่ส่วนลดจากค่ายมือถืออย่าง AIS, DTAC หรือ True ซึ่งส่วนลดพวกนี้จะเปลี่ยนตลอดทุกเดือน และเก๊าก็อัพเดทให้ตลอดเวลาเน้อ 🧡
> ส่วนลด Agoda.com (อโกด้า)
> ส่วนลด Booking.com (บุคกิ้ง)
> ส่วนลด Expedia (เอ็กซ์พีเดีย)
> ส่วนลด Hotels.com (โฮเทลส์)
> ส่วนลด Klook (คลุก)
> ส่วนลด LAZADA (ลาซาด้า)
> ส่วนลด Shopee (ช้อปปี้)