Shirakawa-go is located in Gifu Prefecture, Japan where most travelers should definitely know or familiar with this fame because, in the past few years, foreigners all around the world visit Shirakawa-go with quite an amount of quantity. And as I have always traveled to Osaka. Plus, the accessibility to Shirakawa-go Village is easy which I can ride the train without difficulty. So, I took this chance to stop by. The perfect timing was during the trip to Japan, there was a Shirakawa-go Winter Light-up festival. The event will be lights on for 6 days per year. So, I rapidly planned and booked everything. Until the trip was over, I came back and made this travel guide review. If you all want to know how beautiful Shirakawa-go is. Let's begin our journey together now!
Shirakawa-go is one of Japan's UNESCO World Heritage Sites in terms of wisely building a farmhouse in their particular way. In this region is called 'Gasshō-zukuri (合掌 造 り)'. The signature roof is built to prevent snow and keep villagers warm. It's believed if there's a storm, the house and the roof will never get trembles! Modern houses in Japan now have nothing like this anymore so Japan, therefore, has to preserve the designed farmhouse for their young generation to sight and regard.
Japan Trip: Osaka-Kyoto-Nara-Kanazawa-Shirakawago-Takayama
OMG, this is the 4th Japan trip in my life! The last 3 trips I went there for 3 consecutive years, and the strange thing was I always traveled there in February every past year. I too don't understand why (LOL). For the 2019 Japan trip, I really want to go back to Kansai, especially Osaka-Kyoto-Nara because the first time I visited there, it was 4-5 years ago. I didn't make a blog yet so I want to do it again this time. I love to make a useful trip review for those who want to follow my tracks!
The other Hokuriku areas such as Kanazawa-Shirakawago-Takayama, I also want to make it there because Shirakawa-go village is the tourists' popular attraction. Besides, I want to visit the light-up festival as I heard each winter, Shirakawa-go organizes the event only for 4-5 days. Oh, this sounds interesting! Well, if you want to know how beautiful and fun this trip will be. Please follow me, everyone!
JR Pass: Takayama-Hokuriku Area Tourist Pass
For this trip, non-using the train pass is not recommended at all. If anyone follows this route (Osaka-Kyoto-Nara-Kanazawa-Shirakawago-Takayama), there aren't any pass that would be as suitable as the JR Pass: Takayama-Hokuriku Area Tourist Pass. We can use it since leaving the airport. From this platform, we'll go straight from Kansai Airport to Kyoto. Then, continue to traverse by visiting Kanazawa-Shirakawago-Takayama city, then return to Osaka on the last day of the pass expiry date.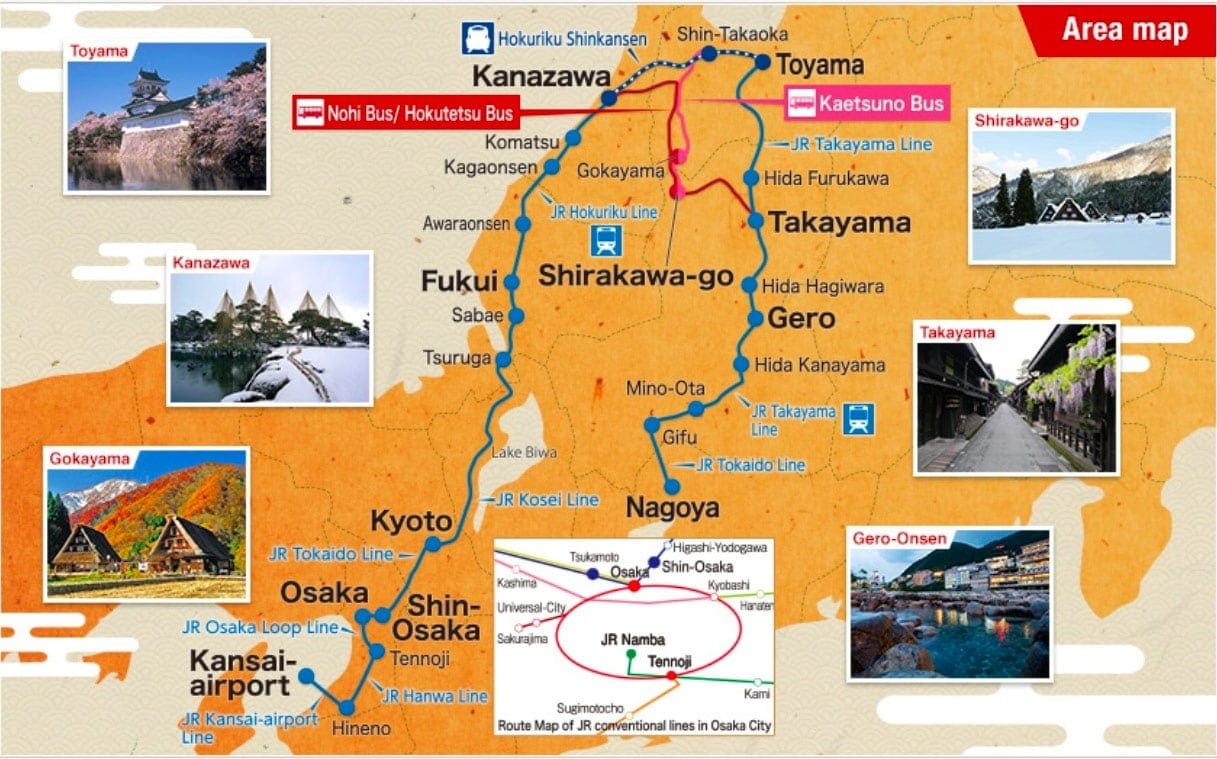 The JR Pass: Takayama-Hokuriku Area Tourist Pass is priced at 14,000 yen (about 131 USD), it gives you a 5-day active period upon activation. You should buy in advance about 2 weeks before traveling so the Exchange Order will be delivered to your home address first, then redeem it for the original pass at the JR Ticket Office.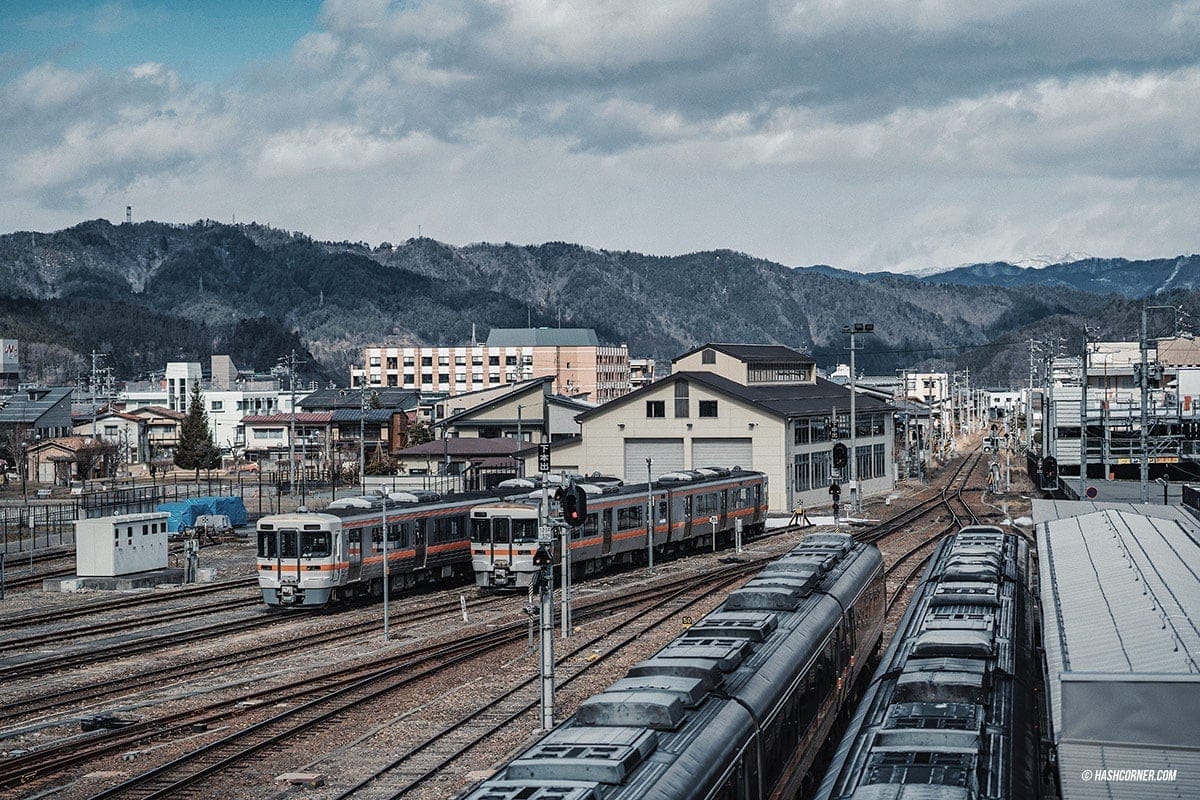 To purchase this pass, it's a recommendation to look via KLOOK as usual because it's easy to buy, convenient to pay, everything can be done through the KLOOK application itself. Anyone who wants to read more details as well as seeing the updated price, click Buy / View price > JR Pass: Takayama-Hokuriku Area Tourist Pass here // p.s. Don't forget to check the KLOOK discount too! Discounts in each month, click here KLOOK discount.
Shirakawa-go Winter Light-up
Shirakawa-go Winter Light-up is available for 6 times from mid-January to February (the event holds almost 3 times per week). Every year, the event date has to be expected when the actual dates should be, depending on various conditions. i.e. In 2019 had so many Sundays and Mondays. Now, if you guys want to travel next year, you will have to wait for the announcement from the Shirakawa-go Village Tourism website.
The need to be anticipated when going to Shirakawa-go Winter Light-up is to reserve the event ticket (feel like booking for a concert ticket Haha). This is due to the event will not allow you to walk in-out freely like ordinary days. Buddies! You have to book for a parking ticket (if you drive), buy a tour package or even look for a bus. And the hardest part is to reserve the ticket to see the scenery of Shirakawa-go Village which runs out so quickly.
And this was my fate… I couldn't book it in time, LOL // I missed the chance to explore! // It's not very surprising because this place is not only my fellow countrymen's favorite destination, it's also the goal for foreigners all over the world, especially the Chinese and Korean. So when you hear the Shirakawa-go Winter Light-up reservation announcement. I advise you to immediately book it if you surely set this as your destination.
Schedule for the festival is announced on Tourist Association Shirakawa-go) > https://shirakawa-go.gr.jp/en/ around early August.
Shirakawa-go Light Up Event 2020
Most recently, the 2020 Shirakawa-go Light Up Event has been announced. The dates are 13, 19, 26 in January and 2, 9, 16 in February. Go ahead and fill out the form to request notification before anyone via their official website > https://shirakawa-go.gr.jp/en/events/lighup-2020/
You can book accommodation overnight in the village. Book a tour package, bus or just a reserved parking + Observation Deck ticket to sightseeing. You should plan according to how an individual likes to visit. And because I was really slow, I booked everything in January before traveling only a month away which other people had booked since August. LOL // So it left me only a reserved parking ticket. Checkmate! This is the only last option I got to see the Shirakawa-go Winter Light Up so I rent a car and drive myself!
I started my trip early in the morning in Takayama City. I left the suitcase at the hotel, then hurriedly walked to get the reserved rental car in which the office (TOYOTA Car Rental) is opposite the JR Takayama Station. It's very convenient and easy, I highly recommend this. After the process was done, I drove to Shirakawa-go Village, then returning to Takayama at night and sleepover there. The next day, I chilled out around Takayama city before heading to Osaka. Don't forget to check out the above event schedule before making your plan.
Okay, let's go to Shirakawa-go Village!
If you drive, when approaching the Shirakawa-go village on the light-up festival day, there will be staff members welcome-waving from the entrance then guiding you to park a car on the hill nearby. Before you could enter the parking lot, you have to show the reserved ticket in the form of the QR Code to a staff. After you finish parking your car, you'll take a free bus service they provide from the train station to Shirakawa-go. Before getting on a bus, the staff will recheck your ticket once again, including give out the map. Well, I can tell they are quite intense on checking to fully organize the tidiness of the event which is very good. The bus takes about 5 mins to ride to the Shirakawa-go Village front. OMG, there are crowded! From here, this is the starting point to travel in the famous World Heritage Village we all love to go, Haha.
In this trip review, the photo images that were taken at both day and night will be posted concurrently. Don't be confused. As I said earlier, this Shirakawa-go trip started upon my first arrival from the afternoon, I wandered around, then repeating the route at night to see the light festival, heh heh.
My Shirakawa-go plan was focused on walking around the village, I also didn't get into the museum house. I just walked in a circle from the right and returned to the starting point. Then repeating the route at night to see the village's Gasshō-zukuri farmhouses were lit up. Sadly, I didn't go up to the Observation Deck to see the Shirakawa-go viewpoint at the top because as I mention, I didn't book the ticket in time so I just stayed on the ground. // weeping and desperately pissed losing my chance to view the famous scenery above (Argh).
As we traveled to this annual light-up festival. There were a lot of Japanese professional photographers coming to the event and the cameramen would group to set up a tripod to take pictures at various peak spots that were marked in the given map, describing which part looks amazing for a photoshoot, including walking route recommendation. You can take a look at the map below.

The Far-right Zone of Shirakawa-go Village
After walking across the suspension bridge, then making a straight short walk, I arrived at the large Shirakawa-go village intersection. After that, I made a right-turn first because this route is quite a distance for a round trip (it is not a road line we can walk in a circle). Along the path, there are various shops, Shirakawa Hachiman Shrine, and the photo spot most Japanese tourists like to take a picture which is called 'the three little houses'.
Shirakawa Hachiman Shrine, the only ancient shrine in the Shirakawa-go village, there has a white sake brewing tower called 'Doburoku' which is fermented from rice grown in this village. There also hold the sake celebration festival every year from September to October. Whoever wants to try Shirakawa-go sake. Must try this one. It's considered as a famous item.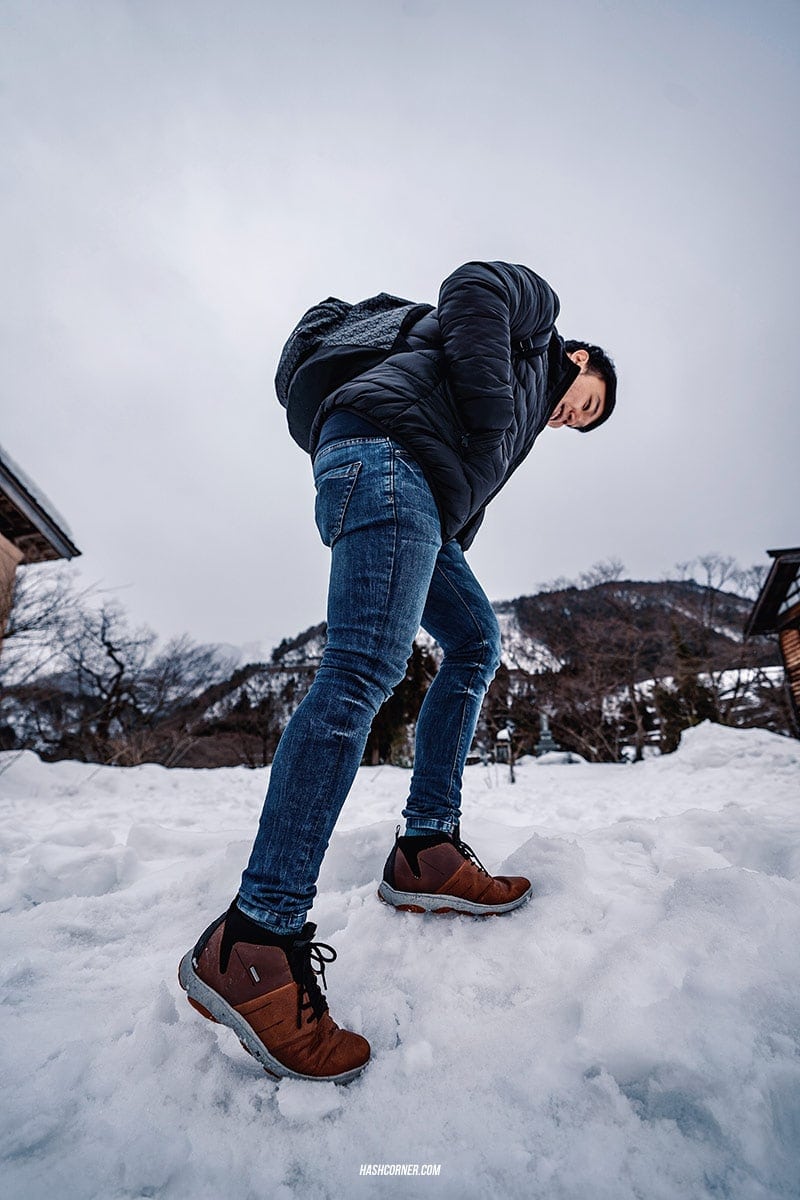 The Three Little Houses are at the far right of Shirakawa-go. It's another popular spot I saw the photographers set the camera and shoot, haha.
The Central of Shirakawa-go Village
This zone is packed with people because there are many snack shops, restaurants, and souvenir shops. There are also Myozenji Temple, Gassho house, and another important part of the village which called Kanda-ke House. Here is like the center of the village where located a large courtyard that draws people including group come to play the snow and having some snacks. The amazing thing is stood craved ice and icy trees due to seasonal weather. The real sight is very stunning!
Myozenji Temple was constructed in 1748. Designed and built by the villagers. Of course, the temple roof is also a Gassho style. The most popular spot for photographers isn't the temple front view but they mostly prefer entering the beside alley and shoot the side view LOL.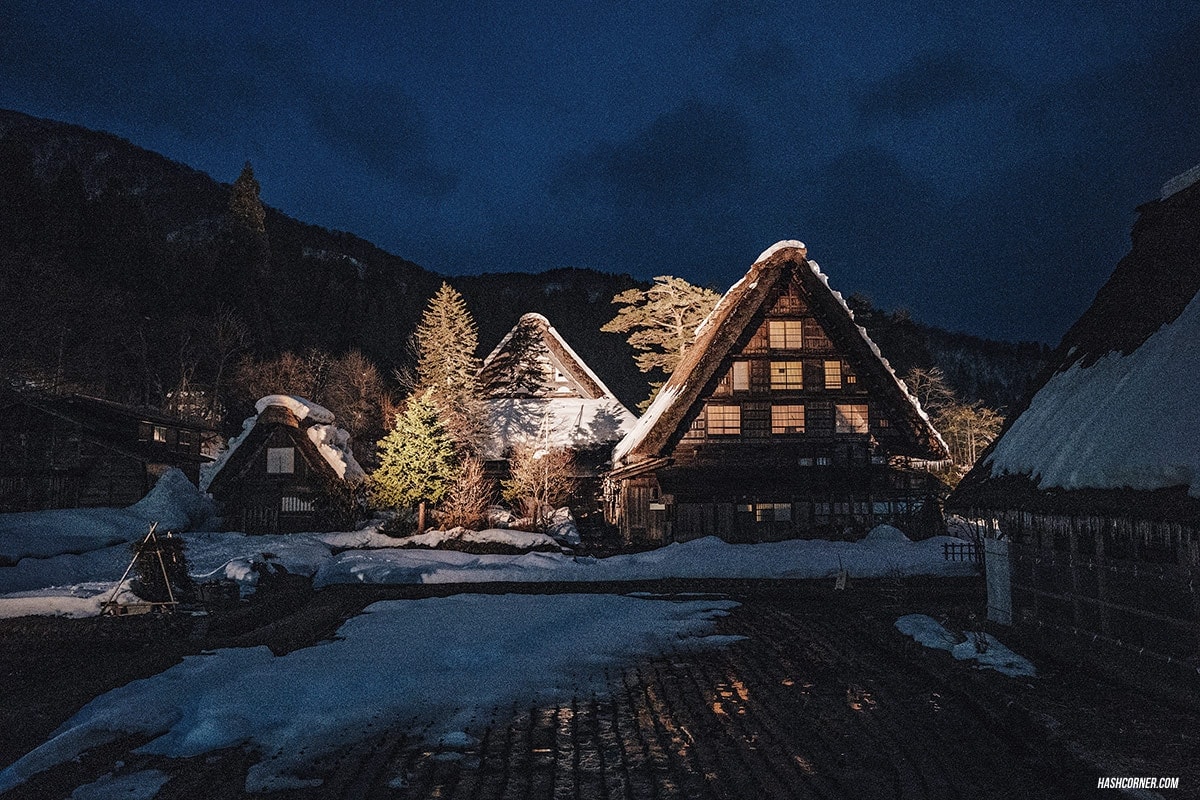 Kanda-ke House is a 160-year-old house used as a brewery in the late Edo period. This house is said to be a model house for strong Gassho Design typhoons can't harm any of them (not sure is this true? Haha). The house is recommended to take high angel perspective pictures then you'll see a beautiful three adjoining houses.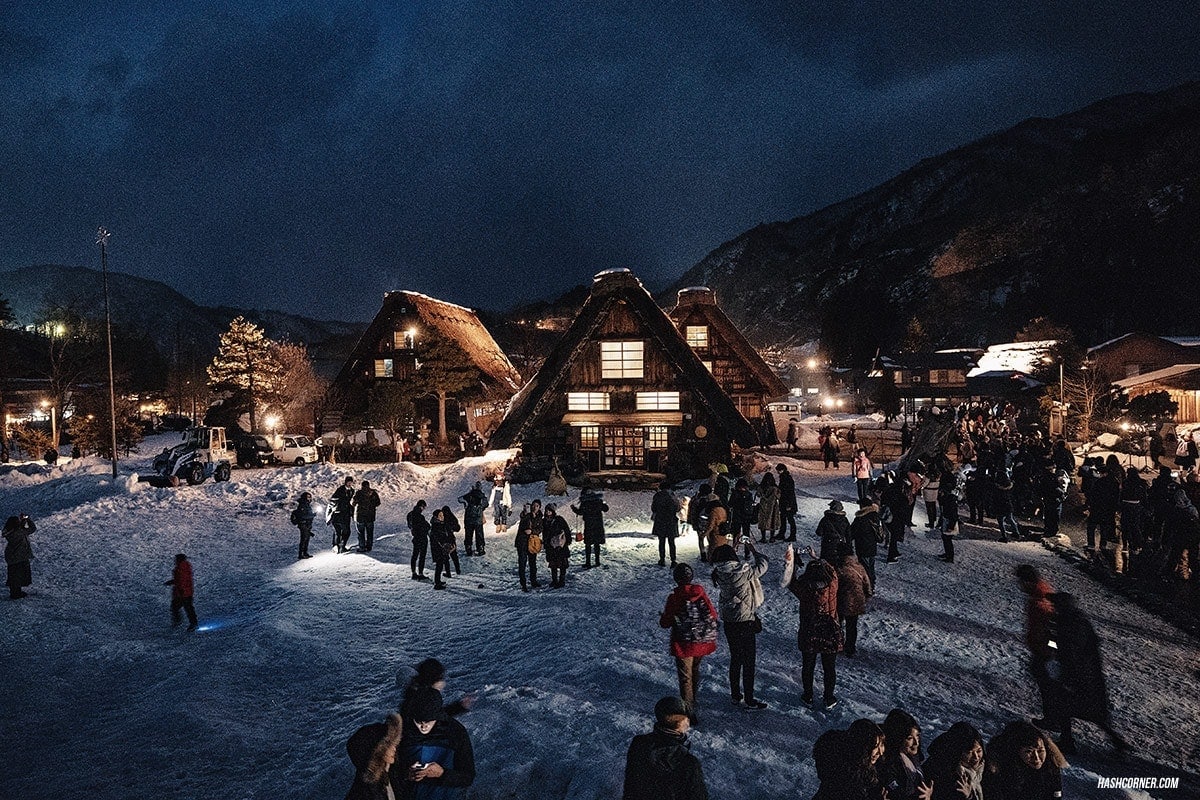 The Left Zone of Shirakawa-go Village
This is the far left of Shirakawa-go village which doesn't have many attractions. The only significant spot is the Wada-ke House.
Tanakaya House draws people to come and take a picture because the rice fields in front of this house are flooded which shows a beautiful unique reflection. When you get to see the outcome images, I dare to say it's not like any other scene, heh-heh.
Wada-ke House, the only house that has been chosen as a cultural asset of Shirakawa-go and is the largest Gassho house in the village.
After finishing the Wada-ke House then take a look at the opposite side. Actually, there are all rice fields but when the winter comes, the thick snow is covered all over the area. You may misunderstand it as an open snowfield. Look! There're a lot of snowmen, it's very cute!
It was getting dark after visiting the Wada-ke House. I planned to walk around twice to change the atmosphere to a nightlight. The village was so packed but it was still very pretty. Personally, I preferred the moment when the light was fading, it gave me good bumps, Yay!
อ่านรีวิวเมืองนี้จบแล้ว
อ่านรีวิวเมืองอื่นในญี่ปุ่นต่อกันเลย 🤗
ญี่ปุ่นเป็นประเทศไม่กี่ประเทศที่นี่รู้สึกว่า ไปกี่ครั้งก็ไม่น่าเบื่อ ไปแล้วไปอีกได้ตลอด และยังประเทศที่ตัวเองตั้งมิชชั่นว่า อยากจะเก็บให้หมดทั่วประเทศ ฮ่าา เอาเป็นว่า HASHCORNER นี่ก็มีรีวิวญี่ปุ่นให้อ่านและตามรอยเยอะพอสมควร ทั้งหมดนับแล้วประมาณ 29 เมืองแล้ว เยอะโคตร ใครที่มีแพลนไปเมืองไหนในญี่ปุ่นที่มีชื่อเมืองตามลิสด้านล่าง สามารถคลิกลิงค์อ่านต่อได้เล้ย
ภูมิภาคคิวชู (Kyushu Region)
⸺⸺⸺⸺
ภูมิภาคโอกินาว่า (Okinawa Region)
⸺⸺⸺⸺
ภูมิภาคฮอกไกโด (Hokkaido Region)
⸺⸺⸺⸺
ภูมิภาคชูโกกุ (Chugoku Region)
⸺⸺⸺⸺
แนะนำโรงแรม / พาสรถไฟ
ส่วนลดจองโรงแรมจาก Agoda, Expedia, Booking, Hotels.com และบัตรสวนสนุก ตั๋วรถไฟ กิจกรรมท่องเที่ยวจาก Klook ปี 2022
※ สำหรับใครที่กำลังจะจองที่พักและหาส่วนลดจองโรงแรมอยู่ ลองดูตามลิงค์ด้านล่างได้เลย มีทั้ง Agoda, Expedia, Booking รวมถึง Hotels.com ด้วย ประหยัดไปได้อีกเกือบ 10-20% ใช้ได้กับโรงแรมทั่วโลก
หลายคนอาจจะไม่รู้ว่าเว็บไซต์จองโรงแรมพวกนี้ มีส่วนลดท็อปอัพจากบัตรเครดิตเพิ่มเกือบทุกธนาคาร ไม่ว่าจะเป็นบัตรเครดิต Citibank, KBANK, SCB, Krungsri, KTC, Bangkok Bank, UOB และ TMB หรือแม้แต่ส่วนลดจากค่ายมือถืออย่าง AIS, DTAC หรือ True ซึ่งส่วนลดพวกนี้จะเปลี่ยนตลอดทุกเดือน และเก๊าก็อัพเดทให้ตลอดเวลาเน้อ 🧡
> ส่วนลด Agoda.com (อโกด้า) > ส่วนลด Booking.com (บุคกิ้ง) > ส่วนลด Expedia (เอ็กซ์พีเดีย) > ส่วนลด Hotels.com (โฮเทลส์) > ส่วนลด Klook (คลุก) > ส่วนลด LAZADA (ลาซาด้า) > ส่วนลด Shopee (ช้อปปี้)