Takachiho Gorge is a mysterious valley on the picturesque island of Kyushu. The valley is vertical streaks caused by the formation of volcanic rocks for thousands of years from the eruption of Aso, which at first most people believed that humans created it, but in fact, it is not. It's recommended if any of you come to Kyushu, you shouldn't turn down the Takachiho Gorge although the access is a little complicated. But you can travel by reserving a tour. It's a pretty good choice, haha.
Overview of Northern Kyushu Island Trip Plan
For this Kyushu trip, I traveled for 8 days with the main cities and locations which were Fukuoka, Nagasaki, Yufuin, Kumamoto, and two other places in Kumamoto prefecture; Takachiho and Mount Aso that I will write the separate reviews because it was a superb full day trip. 😚
Read an overview of all Northern Kyushu trips here
All info including the JR Kyushu Pass, car rentals, and cheap hotel booking tricks in Japan
A Collection of All Hashcorner Kyushu Travel Reviews
1. Review: Fukuoka + Dazaifu
2. Review: Nagasaki
3. Review: Yufuin
4. Review: Kumamoto
5. Review: Mount Aso
6. Review: Takachiho
Takachiho Gorge Tour
For the second day of traveling in Kumamoto, I played it easy by purchasing the Takachiho Gorge one-day Tour via the KLOOK website. You can make a reservation on available dates and complete all the required details on KLOOK. If you finish filling up the form, let you wait for a confirmation. That's it! You can prepare and pack up. Easy, isn't it?
View and purchase Takachiho Gorge Day Tour on the KLOOK website here

The meeting point of Takachiho Gorge day tour was at JR Higo-Ozu station at 8.51 am. The given info was guided me to board the train at 8.11 am to be able to reach there in time. Traveling from Kumamoto city to JR Higo-Ozu station takes about 40 mins which is quite far. Whoa, let's say that day was the earliest day of my trip. Because normally I'm a person who hangs out a bit late. 😭
Once I saw the tour guide, I was a little confused because she's a foreigner named Helen. But she speaks Japanese impeccably because she's married to a Japanese husband and has been there for many decades + she speaks English fluently as Helen is a British person. Her English accent sounds very easy. It's much easier to understand than the Japanese accent. To be honest, I caught up everything she explained, and she's lovely as well. Haha ❤
The day tour members included me, my friend, and another join-family that came about 6 people. So, the member in total counted as 8. There was also a van in which Helen was a driver and a guide tour all-in-one. LOL, I like this kind of trip feeling. Helen drove and made her own plan.
Takachiho Gorge
The first place I visited was the highlight of the day tour, Takachiho Gorge. Unfortunately, the weather was bad, it was raining all day and as a habit with the familiarity of my home country (Thailand) hot and sunny, I didn't check the weather forecast. Therefore, I neither carried an umbrella nor prepared anything at all. Opportunely, the first activity was Paddling in Takachiho Valley which there was a rain jacket for sale. Yay, another wet barrier. Lucky!
※ The golden period of traveling Takachiho Gorge is the autumn season where all the trees turn into an orange. I have seen pictures of this beautiful scenery, but as for me, I came in the wrong time. Hahaha.
Boating on Takachiho Gorge
The price for 30 mins boating on Takachiho Gorge is 2,000 yen (about 19 USD) per boat. Which can seat a maximum of 3 people // This price is not included in the tour. I went down to paddle the boat with rain showers. But I have to admit, the scenery is extraordinary. The view I saw below from the angle where I paddled was a large valley. At first, I thought this beautiful gorge is humans made, but it's actually not. Nature created by itself.
The water is turquoise. Additionally, the ducklings are swimming around features with a strong waterfall falling in the display. The atmosphere is very nice. At first, paddling can be a little hard to handle but if you keep ongoing. Surely, you'll know how to move forward. LOL. Don't be scared, don't be afraid of falling into the water because you are obliged to wear a life jacket.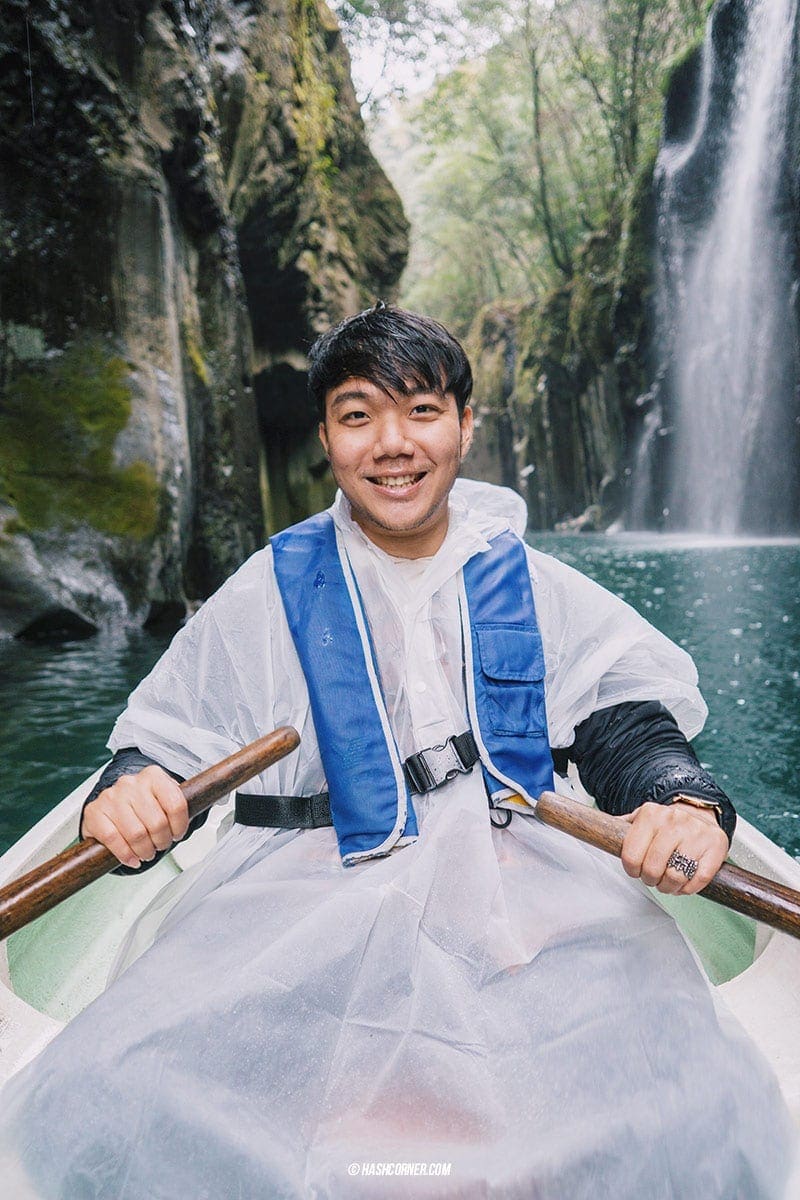 Takachiho Walk
After the boat ride was finished, I went sightseeing and roamed along the Takachiho path. From there, you'll be able to see the whole stunning gorge image including the water route (but at that hour, there was no one paddling at all because of the rain, haha). As well as seeing the rock formation formed by the Aso volcanos for thousands of years. Most people believe the valley line has a sense of the dragon's body that leans along the river (really?).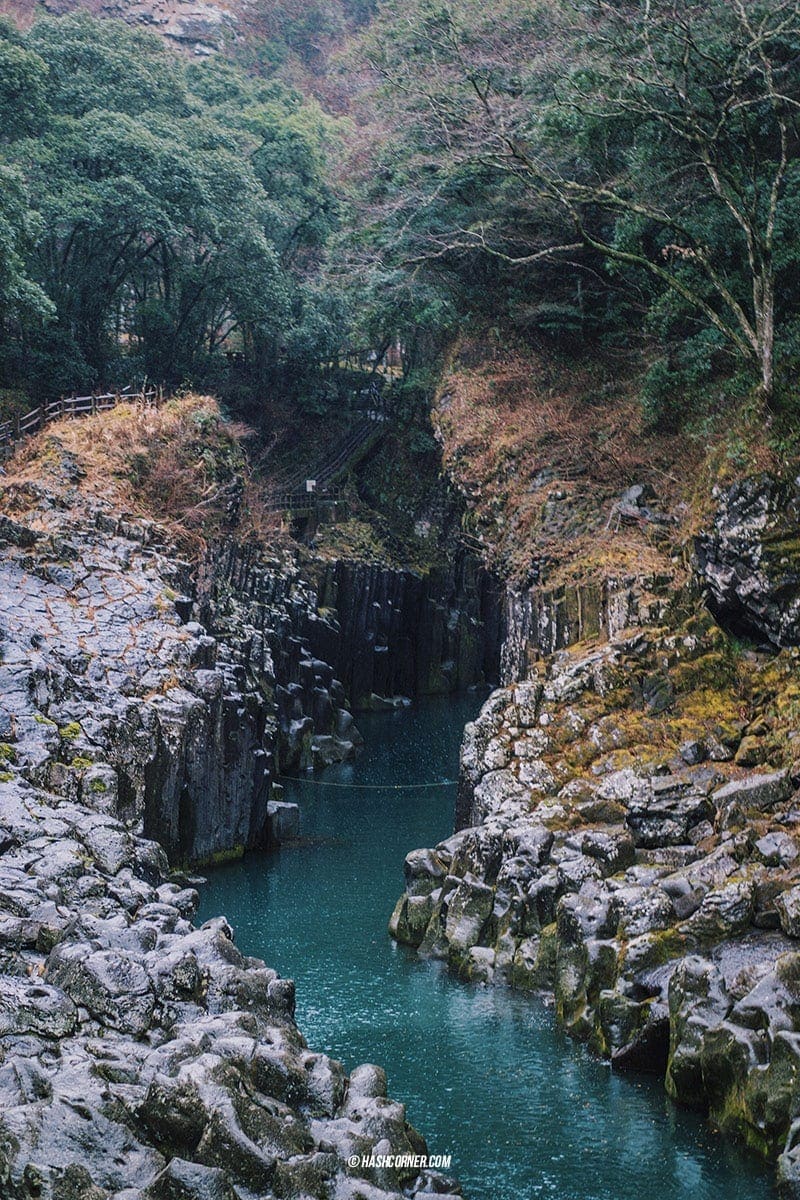 This path, you can ramble until reaching the Takachiho Shrine within a few kilometers. As for me, I didn't walk. Helen told us to go back to the van and drove there together, hahaha.
Takachiho Shrine
Later on, nature tourism had been completed. I'll take you to trace the footsteps of Japanese mythology. Takachiho is a famous town in Japan that has the legend of the highest god of Shintoism. If you visit Takachiho by chance, I recommend you to come here too. Even though the shrine is not overly decorative but there has a touch of sacredness. // Honestly, if traveling by myself, I never know there is a region history like this. Haha, let's say, this is the benefit of coming with a tour guide.
※ Takachiho Shrine is one of the most important Shinto Shrines in Japan. It was constructed over 1,800 years. If you want to know which shrine is important and respected, just observe the magnitude of the door pillars. The bigger, the greater importance. // Helen said. 🤣
Helen also said that if you observe other shrines thoroughly, you'll not see the face of a deity sitting at the shrine, but at the Takachiho Shrine, you can see deity's face who chopping the monster that had Takachiho cursed (rice cannot be grown, every attempt were unsuccess). Consequently, people who praying with this shrine emphasize more on making a wish for quality agricultural products, wash away bad fortune, including love matters.
※ If anyone has a lover and would like to ask for a long-lasting relationship or getting married. It might be beneficial if you come with your loved one, wishing, holding hands, and walking around the pair of pine trees that have tangled roots like husband and wife for 3 rounds. Then, your wish will be granted! Let's try it ❤
Apart from that, alongside the shrine, there is also a theater that shows Yokagura (the story about gods). The performance will hold every day at 8 pm. Those who come by the time, you can have a look 😁
Ama No Iwato Shrine
The last place Helen took us to travel was Ama no Iwato Shrine. The highlight was at Ama no Yasukawara where we had to walk outside the central shrine area for about 10 mins. This is the place where myths, stories about Amaterasu, the most famous sun goddess in Japan are founded.
It is said that Amaterasu, the sun goddess, was melancholy for his brother (Suzano god) who felt jealousy and agitated which prompted him to show cruel pranks on her. Then, Amaterasu fled into a mountain cave (it's also believed that it locates here). So, she locked down the entrance and forbid anyone to enter. After that, the whole universe was completely dark, everything was frozen, the plants died in the endless darkness. People were hungry because of deficiency of rice, food, and began to get ill. Demons rampaged and the heavens cause chaos.
Eventually, the gods had to reconcile her from the cave to turn the universe into a normal state. But she didn't come out. All the deities had made a trick by placing a mirror in front of the cave and pretended to hold a celebration outside, making loud noises to let her hear and wonder what was going on. Then, she opened the cave and found a mirror reflected herself. With her being the goddess of the sun, she emitted light and got eyes burst from her own ability. The other gods hurried to arrest her to make sure she couldn't hide in the cave anymore. From then on, the universe became bright again. She recovered from sorrow because the gods coming to ask for reconciliation and celebration.
After knowing the legendary story here. I'm sure you'll be more into this place. The myth cave is located opposite Ama No Iwato Shrine that surrounded by rivers. It means you cannot walk or climb to see there. But you can go to the spot where the gods sought to make Amaterasu came out of the cave. This spot is a highlight and called 'Ama no Yasukawara', it'll be good if you can make it there. You just have to take a short walk along the river for about 10 mins only.
※ Before walking to Ama no Yasukawara, I recommend finding a small stone and carrying along. Because there will be a small shrine where visitors hold stones and pile on top of one another. It is believed that if you're curious about something, you'll receive an answer.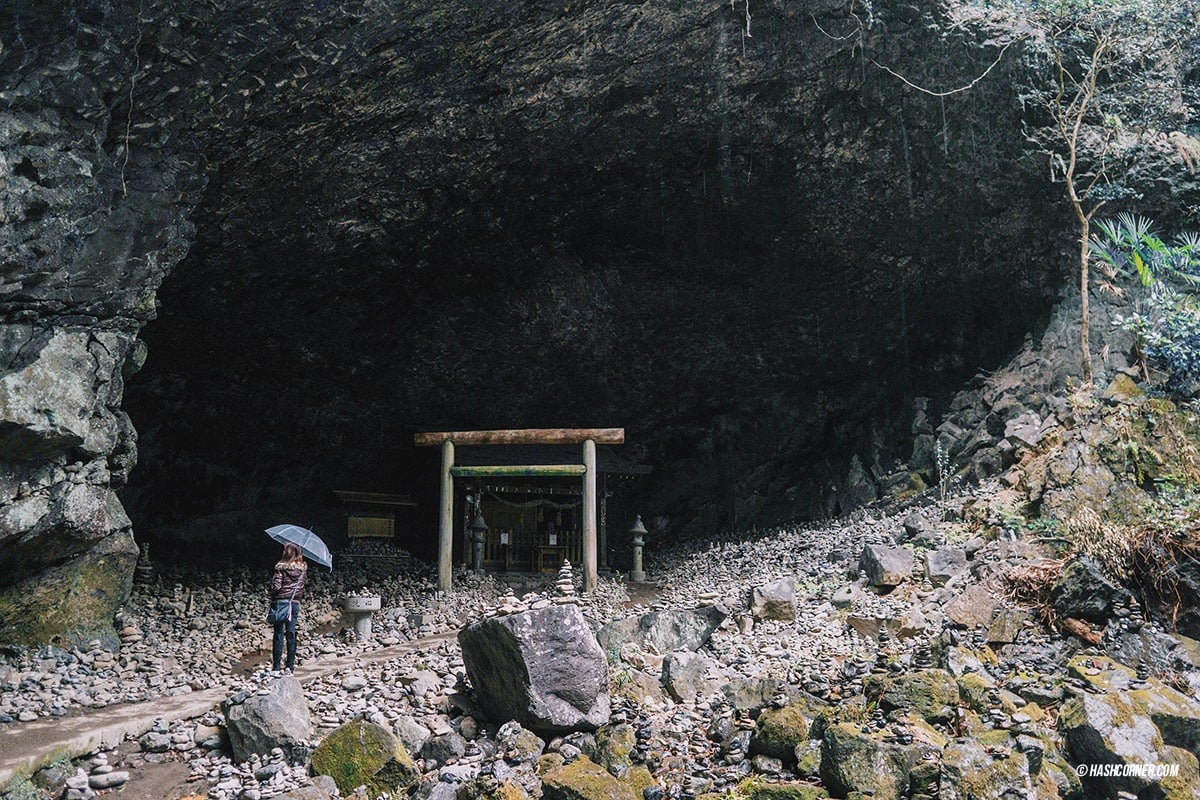 Helen also told; this is a spot of energy. There was once the river flooded, it washed away the pile of rock. But in no time, many people gradually came to set up the new one in front of the cave entrance. It shows that Japanese people believe and respect this place quite a lot.
Finished from there, Helen took us to the souvenir shop, then straight to the original station, JR Higo-Ozu around 6 pm. To summarize, I think this day tour is enjoying, Helen is a lovely and most friendly foreigner I'd ever met. She also knows a lot of Japanese beliefs and traditions due to her living here for over 10 years and considered Japan as her second home. YAY! Book the tour and give it a try! …But if you want to travel on your own, you can track this trip plan but one condition! You have to rent a car, it's not too difficult for approachability. 😄
อ่านรีวิวเมืองนี้จบแล้ว
อ่านรีวิวเมืองอื่นในญี่ปุ่นต่อกันเลย 🤗
ญี่ปุ่นเป็นประเทศไม่กี่ประเทศที่นี่รู้สึกว่า ไปกี่ครั้งก็ไม่น่าเบื่อ ไปแล้วไปอีกได้ตลอด และยังประเทศที่ตัวเองตั้งมิชชั่นว่า อยากจะเก็บให้หมดทั่วประเทศ ฮ่าา เอาเป็นว่า HASHCORNER นี่ก็มีรีวิวญี่ปุ่นให้อ่านและตามรอยเยอะพอสมควร ทั้งหมดนับแล้วเกือบ 50 รีวิวแล้ว เยอะโคตร ใครที่มีแพลนไปเมืองไหนในญี่ปุ่นที่มีชื่อเมืองตามลิสด้านล่าง สามารถคลิกลิงค์อ่านต่อได้เล้ย
ภูมิภาคคันโต (Kanto Region)
⸺⸺⸺⸺
⸺⸺⸺⸺
ภูมิภาคชูบุ (Chubu Region)
⸺⸺⸺⸺

ภูมิภาคคิวชู (Kyushu Region)
⸺⸺⸺⸺
ภูมิภาคโอกินาว่า (Okinawa Region)
⸺⸺⸺⸺
ภูมิภาคฮอกไกโด (Hokkaido Region)
⸺⸺⸺⸺
ภูมิภาคชูโกกุ (Chugoku Region)
⸺⸺⸺⸺
แนะนำโรงแรม / พาสรถไฟ
ส่วนลดจองโรงแรมจาก Agoda, Expedia, Booking และบัตรสวนสนุก ตั๋วรถไฟ กิจกรรมท่องเที่ยวจาก Klook และ KKday ปี 2023
⚡️ สำหรับใครที่กำลังจะจองที่พักและหาส่วนลดจองโรงแรมอยู่ ลองดูตามลิงค์ด้านล่างได้เลย มีทั้ง Agoda, Expedia, Booking รวมถึง Hotels.com ด้วย ประหยัดไปได้อีกเกือบ 10-20% ใช้ได้กับโรงแรมทั่วโลก
หลายคนอาจจะไม่รู้ว่าเว็บไซต์จองโรงแรมพวกนี้ มีส่วนลดท็อปอัพจากบัตรเครดิตเพิ่มเกือบทุกธนาคาร ไม่ว่าจะเป็นบัตรเครดิต Citibank, KBANK, SCB, Krungsri, KTC, Bangkok Bank, UOB และ TMB หรือแม้แต่ส่วนลดจากค่ายมือถืออย่าง AIS, DTAC หรือ True ซึ่งส่วนลดพวกนี้จะเปลี่ยนตลอดทุกเดือน และเก๊าก็อัพเดทให้ตลอดเวลาเน้อ 🧡