Koh Larn (or Koh Lan), Pattaya — if you're looking for a tropical getaway that's just a stone's throw away from Bangkok, then look no further than Koh Larn! This beautiful island boasts stunningly clear waters, pristine sandy beaches, and a variety of photogenic locations. And if you're in need of a refreshing drink or a bite to eat, you'll be happy to know that Koh Larn also has an array of cafes and restaurants that are just waiting to be explored.
Getting to Koh Larn is incredibly easy, making it the perfect destination for anyone who wants to escape the hustle and bustle of the city for a bit. Whether you're a solo traveler, a couple, or a family, there's something for everyone here. So pack your bags, grab your sunscreen, and let's hit the road to Koh Larn!
Getting to Koh Larn from Bangkok by Public Transport
If you're looking to visit Koh Lan from Bangkok using public transport, taking a van or a tour bus is a great option. You can hop on one of these at either the Ekkamai Transport Center or Mo Chit Bus Terminal. Just a heads up, if you're going to Mo Chit, the van station has moved to the new Chatuchak Van Station which is across from the Mo Chit Bus Terminal.
⚡️🚌 On my recent trip to Koh Lan, I opted for a van from the new Chatuchak Van Station. It cost me 150 baht per person and took around 3 hours to get directly to Bali Hai Pier. On the way back, I recommend walking behind the parking lot at Bali Hai Pier to find the tour bus and van queue that will take you back to Mo Chit. The trip back cost me the same, 150 baht per person, and I got off at BTS Mo Chit. It was super convenient and easy!
Crossing the Coast from Pattaya to Koh Larn
There are two options for crossing the coast from Pattaya to Koh Larn: a riverboat and a speedboat. The choice depends on your budget and how quickly you want to get there.
Riverboat – Only 30 baht, 40 minutes ride
If you're looking to save some money, the riverboat is the way to go. It's a larger boat that is popular with visitors who want to cross the coast without breaking the bank. The ride takes about 30-40 minutes, but you'll only pay 30 baht per person. You can choose between two routes: Bali Hai Cape (Pattaya) to Na Ban Pier or Bali Hai Cape (Pattaya) to Tawaen Beach.
Speedboat – 150 baht per person, 15-minute ride
For those who are in a hurry and don't want to wait for the riverboat, the speedboat is the answer. You'll be able to cross the coast from Pattaya to Koh Lan in just 15 minutes. Just keep in mind that the speedboat can be bumpy if there are strong waves, so if you're prone to seasickness, it might not be the best choice for you. But if you're up for a little excitement, give it a try!"
Koh Larn Attractions:
During my last trip to Koh Larn, I got to visit some pretty amazing places a mix of beautiful beaches, stunning viewpoints, delicious restaurants, and cozy cafes. To make it easier for you to plan your own trip, I've organized the locations I visited into categories – beaches, viewpoints, restaurants, and cafes, plus the accommodation I stayed in. Keep in mind, this list is not in any particular order, just organized by type. If you're curious about a specific attraction, just click on its name! 😆
Where to stay in Koh Lan?
If you're not sure where to stay, don't worry, I've got you covered! I'll give you a quick rundown of some great accommodation options in Koh Larn. And the best part? You can easily book your stay through Agoda! So, just sit back and take your pick.
Want a Stress-Free Vacation in Koh Lan? Go for a Tour Package!
If you want to have a hassle-free vacation in Koh Lan, book a tour from Pattaya! This option is great if you want to have a tour guide with you the whole time, taking care of all the arrangements. Plus, the price of the package includes a round-trip speedboat ride, delicious buffet meals, and extra exciting diving activities. Check out the options from Klook below and pick the one that catches your eye!
The information is packed! Let's get to Koh Lan together right now!
Tawaen Beach
Ta Waen Beach on Koh Larn is an incredibly popular spot for tourists and locals alike. The beach itself is stunning, boasting a long and wide shoreline. The water is crystal clear, making it perfect for swimming, and the beach is lined with restaurants, hotels, bars, and even a pier that takes visitors directly from Bali Hai Cape in Pattaya. With all of these attractions, it's no wonder why Ta Waen Beach is the go-to spot on the island. Whether you're looking for a place to stay or just want to chill out, Ta Waen Beach has it all!
Sangwan Beach
Next to the popular Tawaen Beach, there's a little gem called Sangwan Beach. You can easily walk there from Tawaen pier. Before you reach Sangwan Beach, you'll come across a viewpoint in the form of a white wooden bridge that's a popular spot for taking photos.
Tien Beach
Tien Beach is my favorite beach on Koh Larn. It's spacious, peaceful, and not too crowded. The water is crystal clear, making it the perfect place to relax. I give it a full 10 out of 10!
When you arrive at Tien Beach, you'll need to park your motorcycle on the boardwalk to the far left. Then, walk along the bridge and down to the beach. If you have a mat or towel, you can find a spot to lie down and relax. If not, you can rent one from the locals for 50 baht and stay all day. If you're looking to stay overnight, there's a great hotel called Tien Nara.
Tien Nara - Tien Beach
If you want to take some stylish selfies with the Tien Beach atmosphere, head to the bar at Tien Nara hotel. The prices are reasonable, with a coconut smoothie only costing 50 baht per cup. You can also rent a deck chair for 50 baht per person and spend the day lounging.
Tien Nara Hotel also offers a transparent kayak rental service for 400-500 baht per hour and a SUP board rental for 300-400 baht per hour. There are plenty of water sports activities to enjoy at Tien Beach. If you're lucky, you might even see some geese walking around the beach. Unfortunately, I didn't see any during my visit.
Samae Beach
Samae Beach is another great beach to visit. It's about 800 meters long and has restaurants and deck chair rentals. If you're an active person, I recommend exploring the area on both sides of the shore. On the far right, there's a stingray-shaped aquarium (although it was closed when I visited). I heard that there's a pavilion at the aquarium with amazing views of Samae Beach.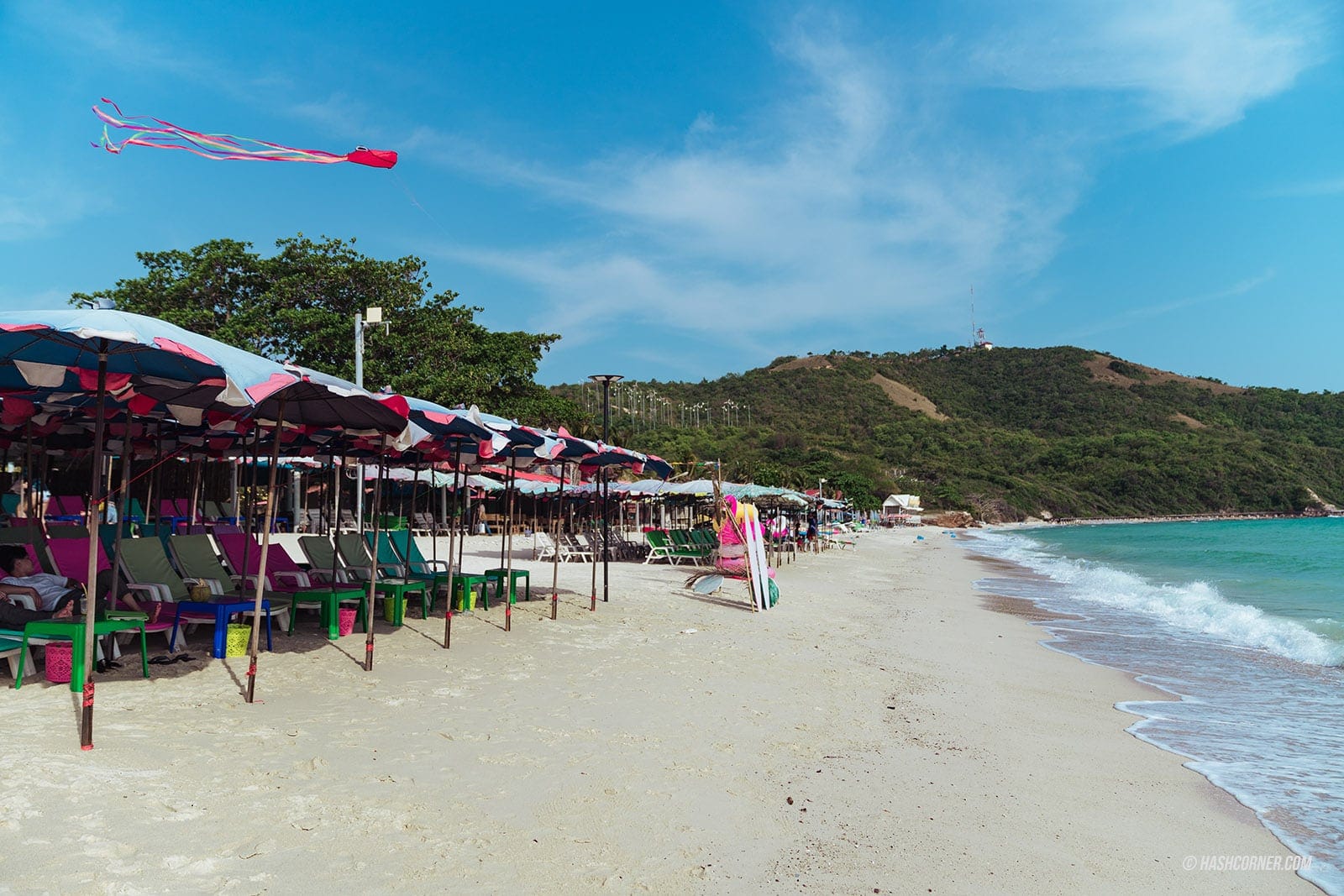 On the left side, there's a line of brown rocks stretching out to the mountains. There's a bridge that leads to another smaller beach. I walked to this area and was blown away by the views. The rocks are different from any other beach on Koh Lan that I've seen. I regret not walking all the way to the other end and seeing the hidden gem on the other side. My friend showed me a photo on Instagram and I realized what I missed out on. If you have some free time, keep exploring and you might find your own hidden gem.
Ta-Yai Beach
Visiting Ta-Yai Beach in Koh Larn is super easy and convenient. You can just hop on a motorbike and be there in no time. Although the beach is small, the water is still great for a swim. And on the left side, there's a rock zone that makes for a cool photo op.
In my opinion, Ta-Yai Beach doesn't quite measure up to some of the other beaches I've been to. When I was there, it was cloudy and the atmosphere was kind of dull. For me, taking pictures of the sea is best when the water is bright blue and the sky is sunny.
A Secret Beach (Next to Ta-Yai Beach)
Right next to Ta-Yai Beach, there's a secret beach that's just waiting to be discovered. To get there, you'll need to walk through a cactus garden and keep an eye out for a pathway. If you see cacti, you're on the right track!
This secret beach is really pretty and makes for a great spot to take some landscape photos. However, it's not the best place for swimming because the shore is rocky and there's not much room for activities. If you're visiting Ta-Yai Beach, be sure to stop by here too. It's just a 2 minute walk away.
Khao Phra Yai Viewpoint
The first viewpoint on our list is the Khao Phra Yai viewpoint. From here, you'll get a great view of Tawaen Beach and you can also pay your respects at the shrine of Luang Por Thuat. If you're looking to go even higher, you can continue on to the San Lan Monastery and see the statue of Goddess Guanyin. And if you're feeling adventurous, you can even climb 200 steps to the pagoda on the mountain peak.
Windmill Viewpoint
I'd like to raise the award for this location because it's the best Koh Larn viewpoint in my opinion. Windmill Viewpoint is constructed with a good layout design and platform that is suitable for sightseeing. While you stroll along and observe the view around Koh Larn, including the sight of Nuan Beach, Tawaen Beach, dozens of windmills stand side by side. You can see tall buildings lined up on the Pattaya side as well. Standing at this point, I just realized how Pattaya is developed so far, with these tall buildings, it looks very prosperous.
In my opinion, the Windmill Viewpoint is the best viewpoint in Koh Larn. The design of the viewpoint is really well done and provides a great platform for sightseeing. As you walk around and take in the views, you'll see Nuan Beach, Tawaen Beach, and dozens of windmills all lined up. You'll also be able to see the skyline that has full of tall buildings in Pattaya, which really shows how developed the area has become.
If you're interested in visiting the Windmill Viewpoint, I recommend going in the late afternoon, around 3 pm onwards. The sun can be intense at this open-air viewpoint, so it's best to avoid the hottest part of the day. And be warned, the road up to the viewpoint can be steep and full of twists and turns, so it's best to have a skilled motorcyclist do the driving.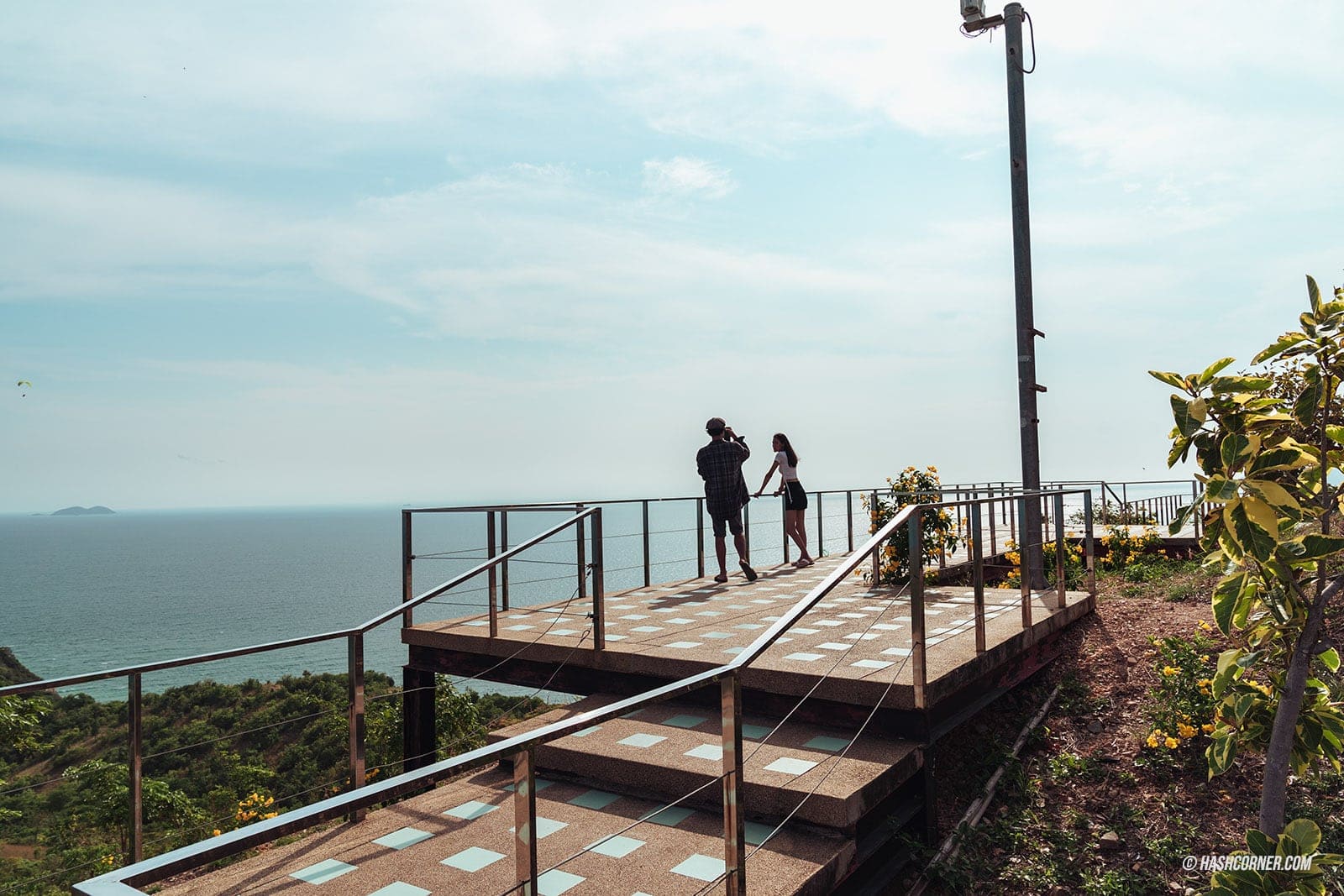 Sea Space
Let's go find some yummy food in Koh Larn! I've got a great suggestion for you, it's the Sea Space restaurant and café. It's by the sea and it gives you such a relaxed vibe. You can even see the Pattaya skyline from there. There's also a little area by the shore where you can go for a walk and take some cool pics.
When I visited, I tried three dishes: Stir-fried squid with salted egg yolk (195 baht), stir-fried basil with grilled pork neck (180 baht), and fired scallop with garlic and pepper (240 baht). The food was good but the portions were a bit small for the price.
But, I have to say, the atmosphere while eating there was top-notch! I'd give it a 10/10. The view is amazing and there's even a swing by the sea for customers to sit on and take a picture. It's one of the coolest things about Sea Space. If you walk a little further to the right, you'll find a beautiful rocky landscape. Trust me, standing among those rocks will give you a great selfie opportunity. Lol!
Maharak Café
Maharak Café is another great place to grab some grub and relax by the sea. It has a similar vibe to Sea Space, but with one key difference - instead of a beach, the café has a terrace that extends over the sea. That means you won't be able to take a stroll on the sand, but you won't be too far from the Koh Larn pier either. You can easily walk there and take in the views of the sea while you dine.
When it comes to the food at Maharak Café, I would say it's decent but nothing to write home about. During my visit, I tried the Spaghetti with dried chili and shrimp (189 baht), stir-fried prawn with black pepper (219 baht), and fried chicken wing with salt (120 baht). It was tasty enough, but not anything that really stood out.
Overall, if you're looking for a restaurant with a laid-back atmosphere and a great view of Pattaya, Maharak Café is definitely worth checking out. You can sit back, relax and enjoy the sea breeze while taking in the stunning views of the city. Whether you're looking for a romantic dinner with your significant other or just want to catch up with friends, this café provides the perfect backdrop for a memorable meal.
Fat Submarine Cafe and Restaurant
Are you a true café lover? If so, then you'll definitely want to check out this next restaurant I want to recommend. Fat Submarine Cafe and Restaurant is a true gem in terms of delicious food, amazing atmosphere, stylish design, and beautiful decoration. It's located right by the sea at the Koh Lan market, and the shop is designed with a tropical style that really makes you feel like you're on a beach vacation. The dining area is quite close to the sea, so you can sit back, relax, and enjoy the sight of the waves rolling in and out.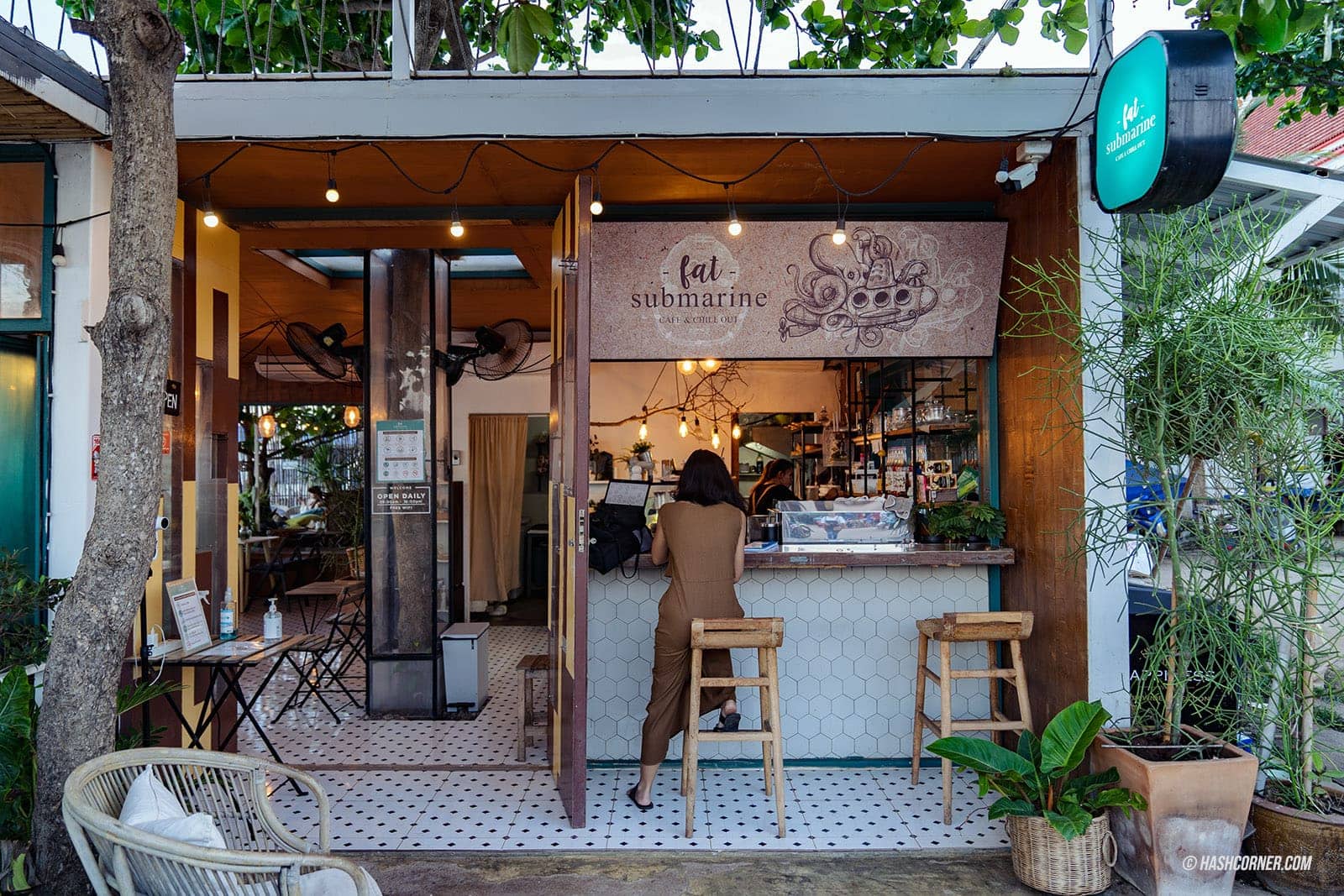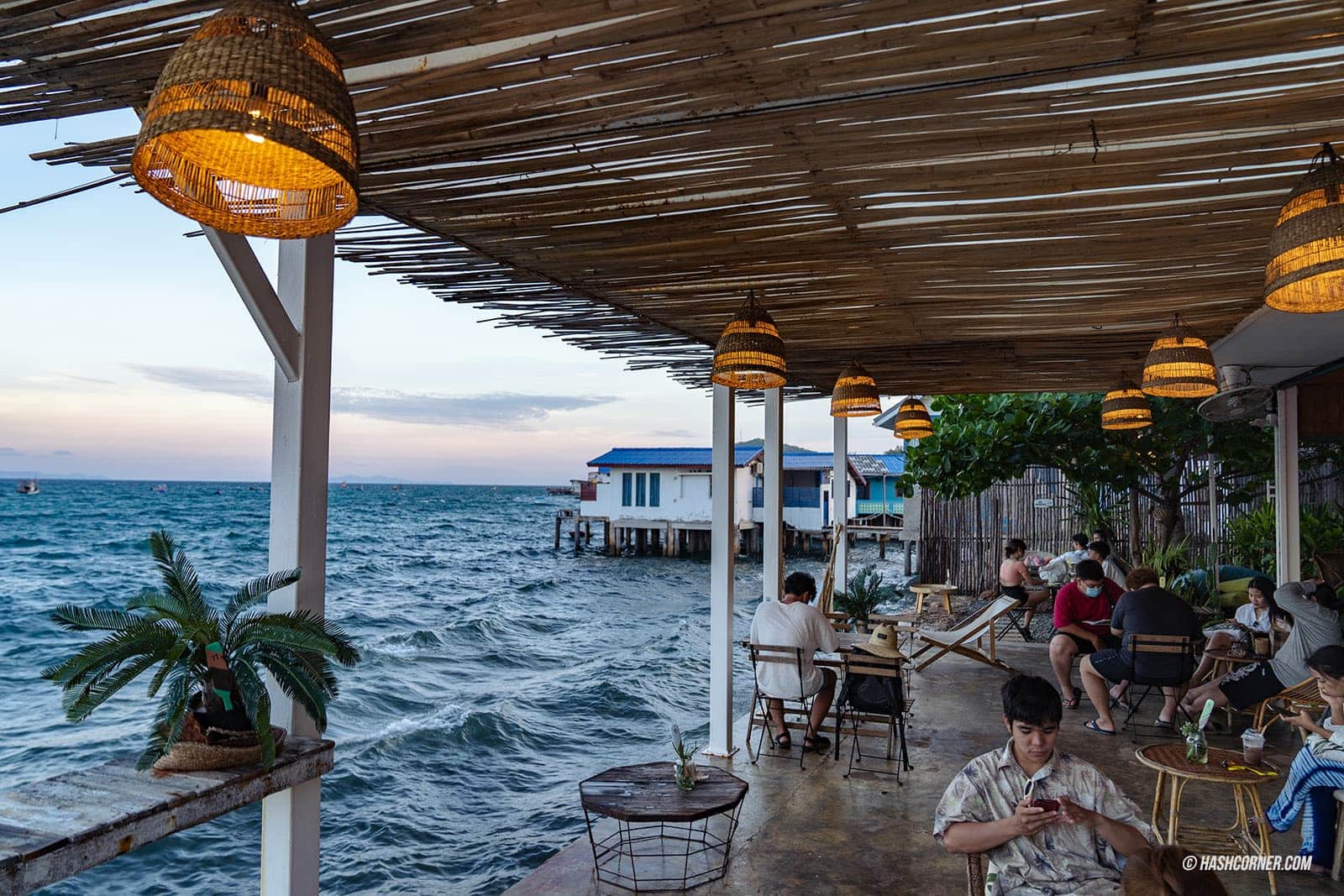 When I visited Fat Submarine Cafe and Restaurant, I ordered two drinks: Matcha Espresso (105 baht) and Affogato (100 baht). The Matcha Espresso was a delicious combination of rich green tea matcha and a shot of coffee. It was so aromatic and tasted amazing. The Affogato, on the other hand, was a perfect mix of coffee ice cream and an espresso shot. Both drinks were so refreshing and provided the perfect energy boost to continue my travels.
In conclusion, Fat Submarine Cafe and Restaurant is one of the best cafes in Koh Lan. The location of the cafe is also very convenient, close to the pier and the market, making it an easy and accessible spot to grab a quick drink or bite to eat. Whether you're looking for a delicious drink or a cozy atmosphere, Fat Submarine Cafe and Restaurant is definitely worth a visit!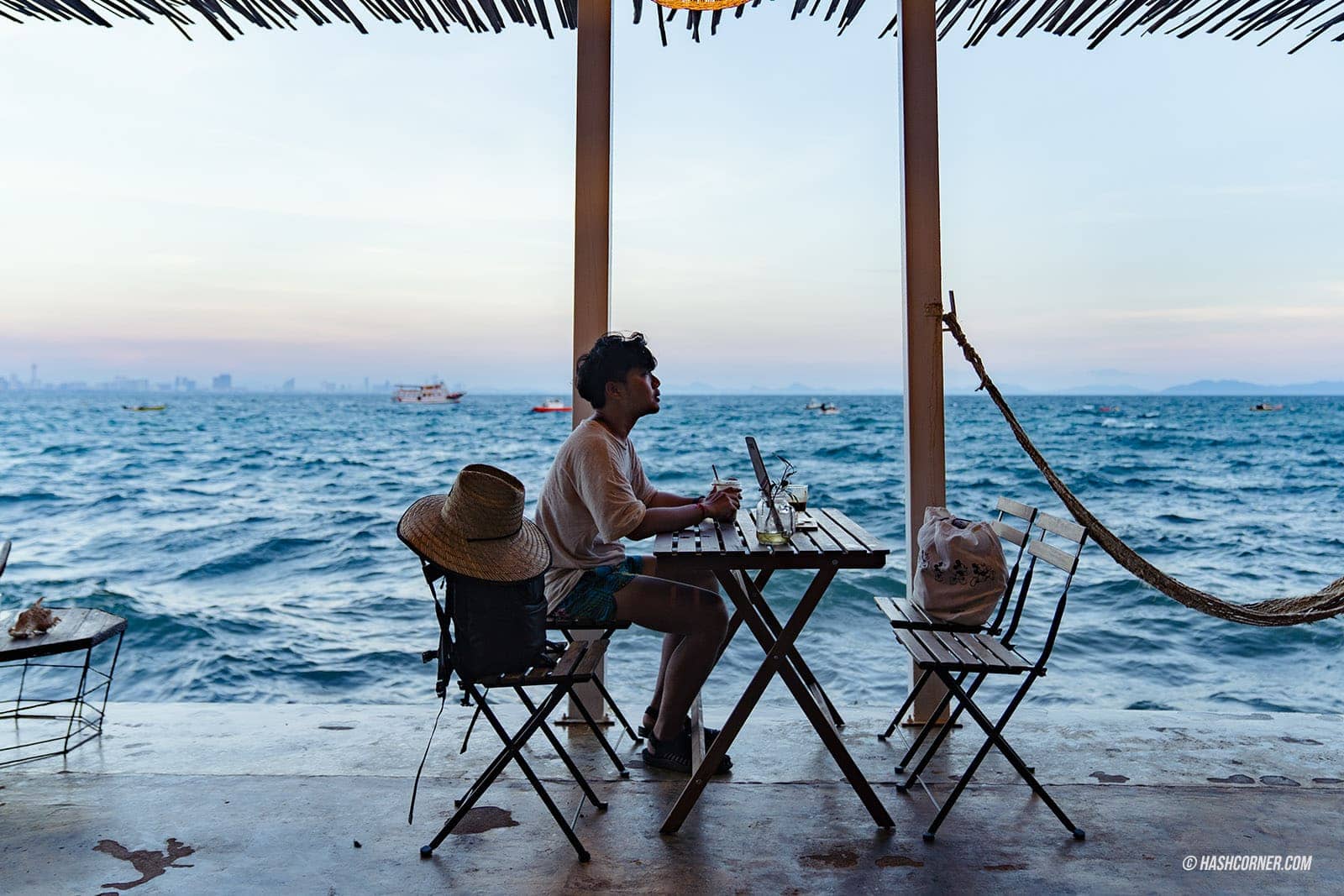 Indigo Cafe
The last Koh Larn café that I want to introduce you to is the stylish and modern cafe named Indigo Cafe. This café stands out with its clean and sleek design, decorated mostly in white with colorful accents from surfboards, bean bags, rubber rings, and the stunning blue seawater of Koh Larn. The unique mix of different elements creates a lively and fun atmosphere that makes this place a popular spot for tourists looking to take some great photos.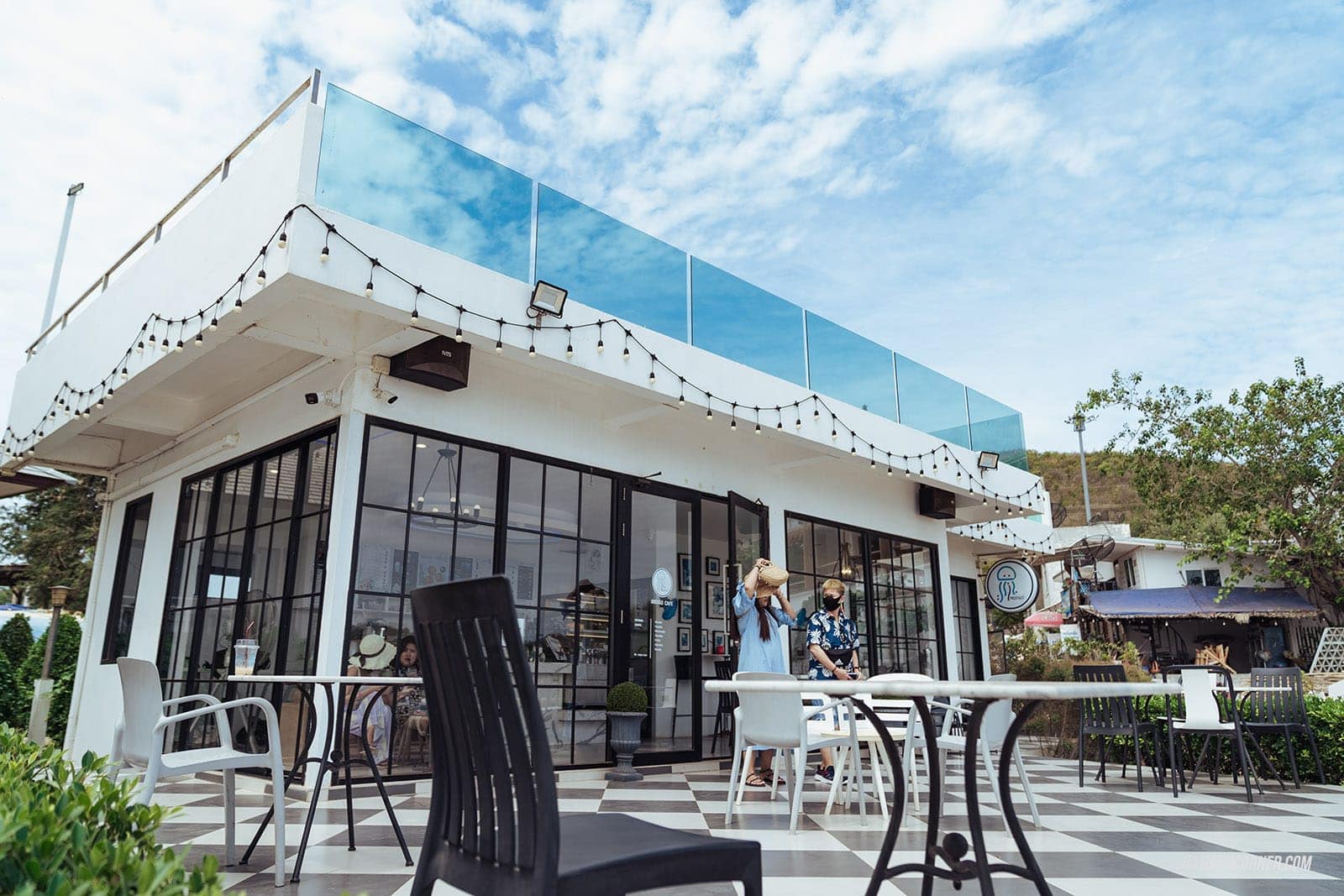 During my visit, I ordered two of the café's signature drinks, the Passion Fruit Coffee (145 baht) and the Butterfly Pea Tea Latte (135 baht). The Passion Fruit Coffee was refreshing and provided a good balance of coffee and passion fruit juice to cool down from the heat. However, the Butterfly Pea Tea Latte was a little too sweet for my taste, even though I asked the staff to reduce the sweetness. The milk flavor overpowered the butterfly pea tea, making the drink rich and a bit heavy.
Overall, I would say that the main selling point of Indigo Cafe is its atmosphere, with its close proximity to the sea, as well as its many photo-worthy spots. For example, the Indigo Sea Sky, a white staircase leading up to the sky, provides a unique and eye-catching backdrop for photos. Additionally, the artificial sandy beach gives the illusion of sitting right on the shore. While the drinks may be a little pricey, the atmosphere and photogenic elements more than make up for it.
Koh Lan Hotel
Samanta By The Sea
When I was planning my trip to Koh Lan, I was a bit nervous about finding a hotel room. The good ones tend to fill up fast and I was worried I'd be stuck with somewhere subpar. But, as luck would have it, I came across Samanta By The Sea on Booking.com and was pleasantly surprised to see it had a whopping 9.1/10 rating! And, to sweeten the deal, the room prices were incredibly reasonable.
I chose the larger room option, which could accommodate up to 4 guests (although I was traveling 2 persons, so we had more than enough room to spread out). For just 1,500 baht per night, I got a spacious room with all the comforts I could want - a TV with Netflix, a refrigerator, a hairdryer, a private bathroom and shower room, and a cozy bed that ensured I slept soundly each night. Plus, every morning I was treated to a light breakfast to start my day off right.
But the real standout feature of Samanta By The Sea was the host. They were incredibly welcoming and hospitable, always greeting me with a warm smile. They went above and beyond, picking me up at the pier and offering suggestions for things to see and do in Koh Larn. And, if that wasn't enough, they even offered to rent me a motorcycle for just 250 baht per day, including fuel! It was the perfect place to stay during my trip to Koh Larn and I would highly recommend it to anyone.
That's all my experience traveling in Koh Larn for 3 days and 2 nights. What about you? If you have any more recommendations, I'd love to hear them! 🙋🏻‍♂️
ส่วนลดจองโรงแรมจาก Agoda, Expedia, Booking, Hotels.com และบัตรสวนสนุก ตั๋วรถไฟ กิจกรรมท่องเที่ยวจาก Klook ปี 2022
※ สำหรับใครที่กำลังจะจองที่พักและหาส่วนลดจองโรงแรมอยู่ ลองดูตามลิงค์ด้านล่างได้เลย มีทั้ง Agoda, Expedia, Booking รวมถึง Hotels.com ด้วย ประหยัดไปได้อีกเกือบ 10-20% ใช้ได้กับโรงแรมทั่วโลก
หลายคนอาจจะไม่รู้ว่าเว็บไซต์จองโรงแรมพวกนี้ มีส่วนลดท็อปอัพจากบัตรเครดิตเพิ่มเกือบทุกธนาคาร ไม่ว่าจะเป็นบัตรเครดิต Citibank, KBANK, SCB, Krungsri, KTC, Bangkok Bank, UOB และ TMB หรือแม้แต่ส่วนลดจากค่ายมือถืออย่าง AIS, DTAC หรือ True ซึ่งส่วนลดพวกนี้จะเปลี่ยนตลอดทุกเดือน และเก๊าก็อัพเดทให้ตลอดเวลาเน้อ 🧡
> ส่วนลด Agoda.com (อโกด้า)
> ส่วนลด Booking.com (บุคกิ้ง)
> ส่วนลด Expedia (เอ็กซ์พีเดีย)
> ส่วนลด Hotels.com (โฮเทลส์)
> ส่วนลด Klook (คลุก)
> ส่วนลด LAZADA (ลาซาด้า)
> ส่วนลด Shopee (ช้อปปี้)