Mae Hong Son is a province in upper northern Thailand, known as 'Muang Sam Mhok' (the city of three mist) due to the landscape that shows the complexity of the high mountain ranges, there is fog covering most of the year. Mae Hong Son is the westernmost area of the country where has many popular tourist attractions, suitable for nature lovers. In this review, I'll include some of the best places to visit when touring Mae Hong Son. Where will there be? Scroll down to find out and travel with me!
Recommended Attractions by Local: Mae Hong Son Province, Thailand
Pang Ung

Pang Ung, Mae Hong Son, or also called 'Switzerland in Thailand', the reason behind this title is because of its location where is presented an atmosphere and natural beauty similar to Switzerland. I believe many of you will include Pang Ung as another Northern Thailand to be the bucket list that must be visited once in your life. Pang Ung is fully known as The Royal Initiative Project Pang Tong 2 (Pang Ung) where is located in Mae Hong Son's Ruam Thai Village.
In the past, this area was dangerous since it was on the border of Thailand and Burma, there were smuggling of plants and drug trafficking. Plus, there was a movement of illegal deforestation which His Majesty King Rama IX and the queen were concerned with the well-being of various minorities, so, the area is under the responsibility of a royal initiative to improve the quality of life and promote the occupation of these minorities, including the construction of a reservoir to restore natural resources in this area as well.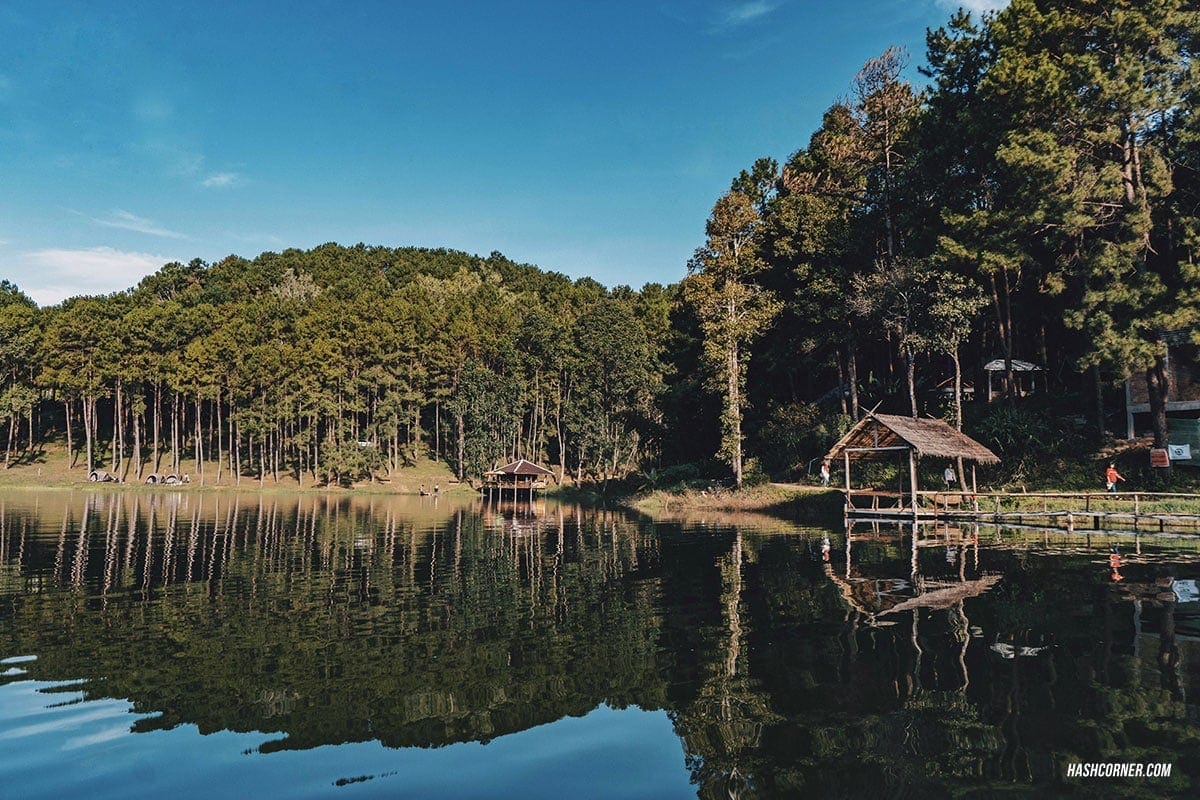 In the northern language, the word 'Pang' means the shelter of persons engaged in the forest, while 'Ung' means the low, deep plains like a large saucepan with water. When combined words together, it means the forest camp by a large pond. Wow!
The highlight of Pang Ung you shouldn't miss is to sightsee the sea of mist that floats over the wide lake. The recommended time to enter is during the sunrise, but in reality, it made me laugh out my sorrow because, during my trip, there was no fog at all. The locals said the past few days, the weather had heated up, so there was no fog in many locations in Mae Hong Son including Pang Ung. But look at the bright side, you can say, this is the color of the trip, anything can happen. Most importantly, you shouldn't turn a blind over the real Pang Ung, even if it's not foggy, still, it has its charm and beauty.
Once arriving in Pang Ung, there is one spot you should get there, it is at the reservoir ridge where the tent station is located right in front of the Pang Ung, it's another incredible photo spot. And if you walk farther inside, you'll find a small jetty where you can go up and pose for a cool photo, it's as attractive as the first point. Oh! And if you finish there, don't forget to stop by a row of pine trees. This is where Pang Ung is known as 'Switzerland in Thailand'.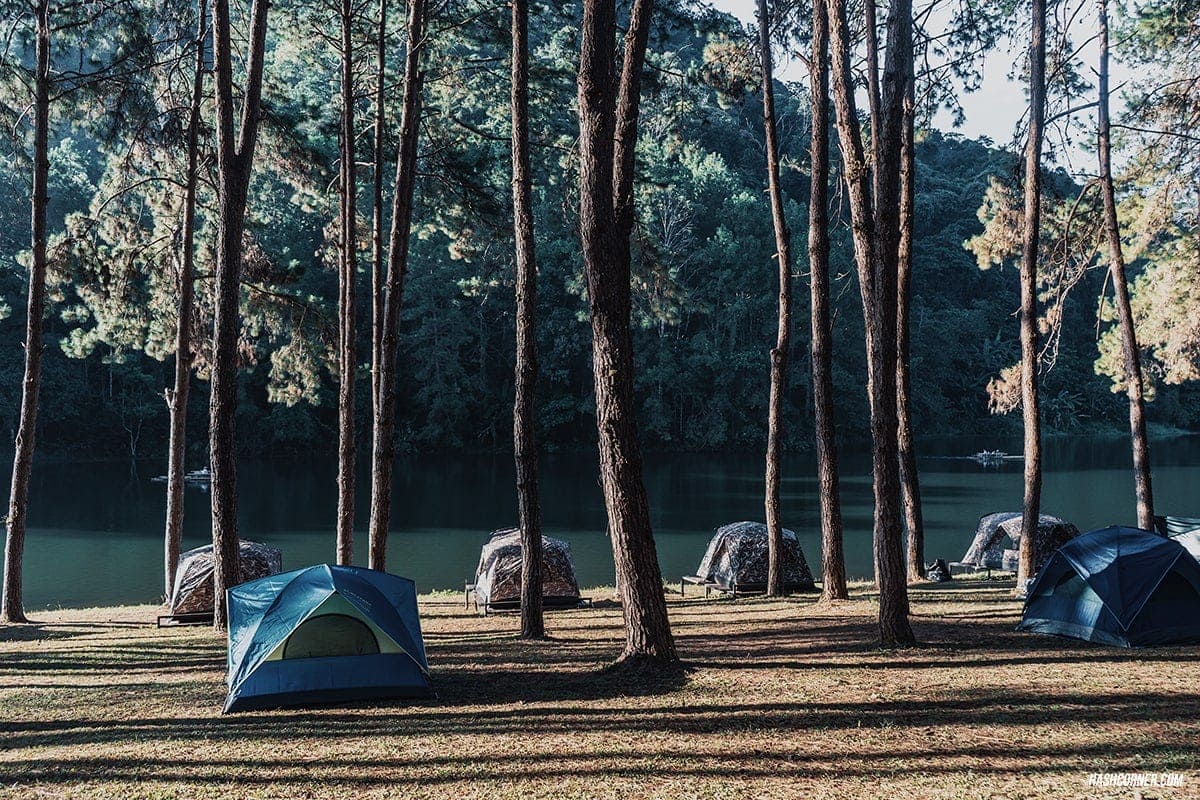 Apart from exploring and enjoying the scenery, there is also an activity for you to take a raft and viewing Pang Ung in the other prospects. The rafting takes about 25 mins, 2 people per raft, the price is only 150 baht. It's a reasonable price compared to the beautiful scenery you'll get.
Take a closer look, at Pang Ung, there 2 pairs of white and black swans you may not know they are royal swans that were given by the Queen.
Pala Coffee House
Let me tell you, the brutal journey to Pang Ung is the last 4 km before approaching the Ruam Thai village, all the sharp bends, steep slopes, and narrow roads are all included here. But don't panic, if you drive with recklessness, it's not very dangerous. From my experience, the most important caution is to be mindful while driving.
Baan Ruam Thai (Ruam Thai Village) is located in front of Pang Ung where stands a small community with a central road similar to a walking street, throughout the distance of 300 meters, there will be the villagers' food stalls you can choose to buy as you like. One of the must-try shops is Pala Coffee House, placed at the first house on the left from the village entrance. The standout drink menu is freshly roasted coffee, the coffee beans here are roasted by hand and become the Pang Ung coffee legend. I'm introducing this big, please give it a try!
I suggest having a seat and relax on the 2nd floor, because there offers you a wide seat, and being a part of the café that completely separate from the restaurant section. What's more, to impress is the postcard corner displaying photos of Baan Ruk Thai in different prospects. It's very styling! About a coffee? It's great, fragrant, tasty. the other favorites are a 'Fried Bun (Mantou)' and wild honey mixed with freshly squeezed lemon.

Lee Wine Yunnan Chinese Food
After indulging a scenic at 'Lee Wine Coffee', I recommend you to stop at the 'Lee Wine Yunnan Chinese Food' next. The view there is as great as the café, you can choose to sit either at a counter bar or a table. However, no matter where you sit, the view is still beautiful and the food is favorable.
The most recommended and popular menu of 'Lee Wine Yunnan Chinese Food' is a stewed pork knuckle bun. Other dishes that I think are pretty good are a stir-fried Chayote, a seasoned mushroom stem, and a baked shiitake mushrooms in soy sauce.
Eating from evening until dusk, later, making a way out of the restaurant and heading back to see the Bann Ruk Thai scenery once again, I find it even more amazing. The village boathouse reflecting the lake surface is impressive. I can't wait to see the morning fog. I should be fantastic, right?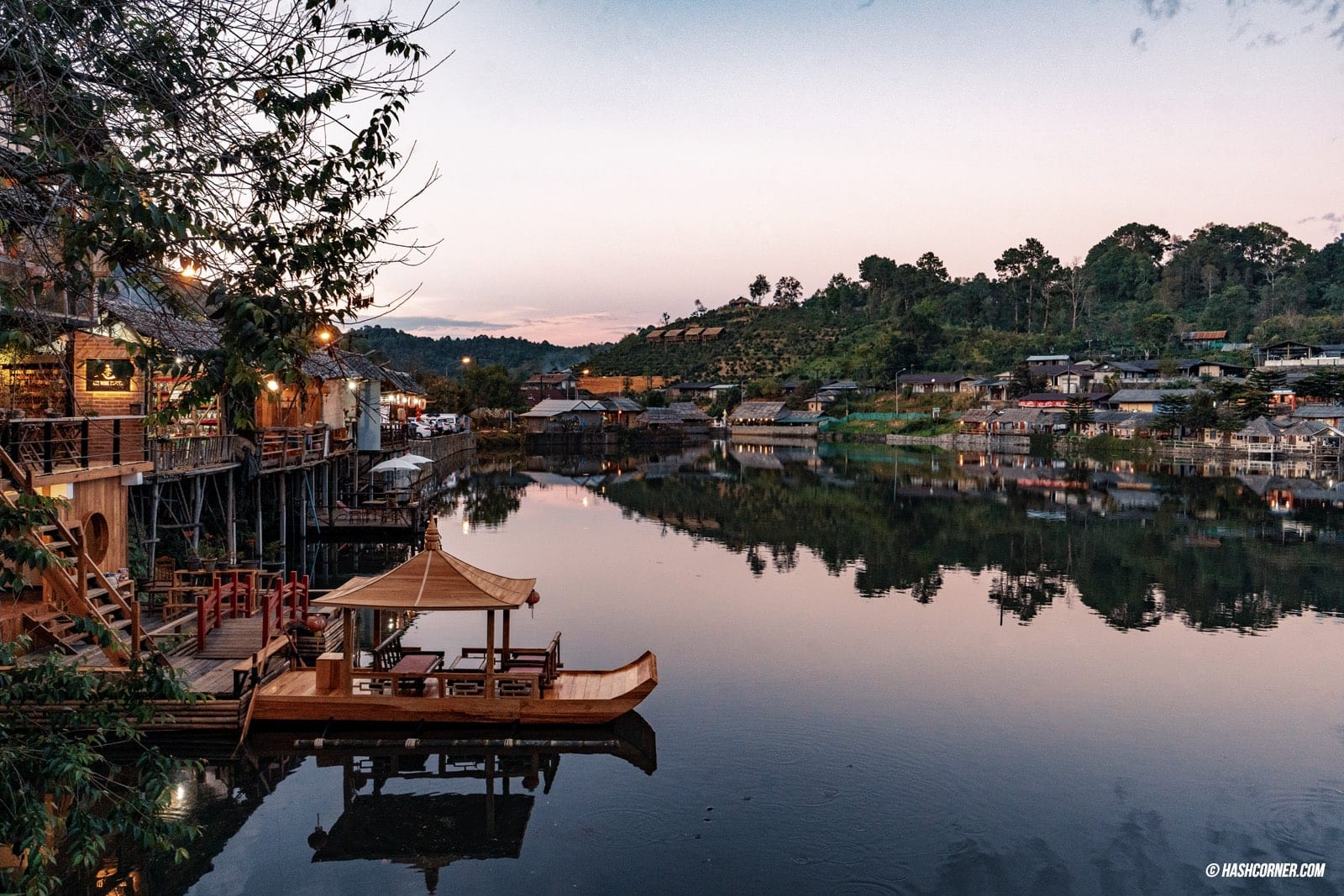 Lee Wine Ruk Thai Resort
Lastly, before leaving the Ruk Thai village, don't hesitate to stop by and stroll around 'Lee Wine Ruk Thai Resort'. Don't worry about not being a resort guest here, because the resort kindly allows both outside visitors and guests to have a look around in late time when guests already check out (I'm not sure about the time if I recall correctly, it's during 9 or 10 am onwards).
Beautiful is the only word to describe this attraction, Chinese Yunnan-style House was built on a hill in the heart of a tea field is one of the famous locations here in Baan Ruk Thai. Seriously, just taking pictures is already good enough but if you get a chance to stay in, it'd be even better. OFC, next time, I'll definitely not fail to make a room reservation ever again.
Thung Bua Tong, Doi Mae U Kho
Thung Bua Tong, Doi Mae U Kho is located in the Khun Yuam district. It has an area of more than 800,000 square meters, at an altitude of 1,600 meters above sea level. It is the largest Mexican sunflower garden in Thailand. During mid-November, a Mexican sunflower will fill the valley and has a blooming period of only 2 weeks. If you want to take an eye-catching photo in the full bloom period, make a good plan since the period is rather short.
Visiting Thung Bua Tong in the early morning is a good choice, because at the said time on the mountain peak, the weather is super nice and chill. White fog floats over the hilltop, contrasting with the sunlight of dawn, including a beautiful mountain range landscape as a backdrop. It's given you another kind of romantic vibe.
On Doi Mae U Kho, there is a viewpoint and a pavilion where tourists can see 360 degrees of the Mexican sunflower garden. I insist It's really refreshing, the greenness of the mountains, the blue sky, contrasting with the yellow Mexican sunflowers. The whole image is nice and perfect. Moreover, this place is also provided facilities such as a camping site, toilets, and showers.
Ban Jabo
Ecotourism by Ban Jabo community or often called for short as Ban Jabo is a hill tribe community located in the Pang Mapha District, situated on a hill about 900 meters high. The atmosphere here is very natural, apart from having stunning scenery, there is also an interesting tribal lifestyle. The greetings here say 'Abudaya', which is the Lahu / Muser language, which means Hello. It sounds cute, don't you think?
Ban Jabo, whether it's a sunrise or a sunset. They both made an impression on me. To be able to sit still and look at a wild nature with full eyesight, taking a deep breath, inhaling fresh air. It felt very refreshing. The image of a mountain covering with fog is the true relaxation.
Ban Jabo Noodle House
When Ban Jabo is mentioned, there is one popular must-come attraction that pops up inside my mind. Ban Jabo Noodle House is the answer. Besides having the delicious-inexpensive noodles, take a look around, you'll see the shop is located in a perfect location where you can view the amazing mountain complex. In the morning, the shop is always full of tourists who are waiting for the sea of mist and sunrise. The whole package of repleting with food and enjoying the sensational vista, cannot find any worth than this.
I recommend visiting in the morning so you can see the fog clearly, plus, the weather is not too hot. And if you're late, you may not be able to taste the noodles because they may run out first. Certainly, the morning period will be safer!
Pai
When talking about Mae Hong Son, Pai is one of the first districts that come into people's minds. Probably because it gains reputation from the Thai films, and make Pai a destination to travel once in their lives. Currently, even though the fame has slightly decreased, but Pai is still one of the must-visit lists when touring Mae Hong Son.
Pai, the cute little romantic town that is popular among both Thai and foreign tourists located in Mae Hong Son Province, with Pai's unique charm, it easily attracts people to willingly conquer more than 700 bends, to come to touch the fog and the cold wind amid mountain atmosphere. Let's have a read below to find out what Pai has to offer.
Boon Kho Koo So Bridge
Boon Kho Koo So Bridge is one of the first cultural attractions in Pai. At first, the villagers didn't plan to make it a tourist destination. But this bridge was born from the faith of the villagers 'Baan Pam Bok' who wanted to construct a bamboo bridge from the main road and cut into the Huay Khai Khiri Buddhist Park, located in the innermost area at the forest edge, for the monks' convenience to come out to alms, no need to walk on the path covering with mud or the wet ground during the rainy season. The recommended time to visit is during the late rainy season to the early winter (September – November), as green fields are ready for storage in that period.
Kho Koo So is Shan language, Kho means bridge, Koo So means charity or merit. Boon in Thai also means merit. Which makes the words together 'Boon Kho Koo So' are the bridge of merit.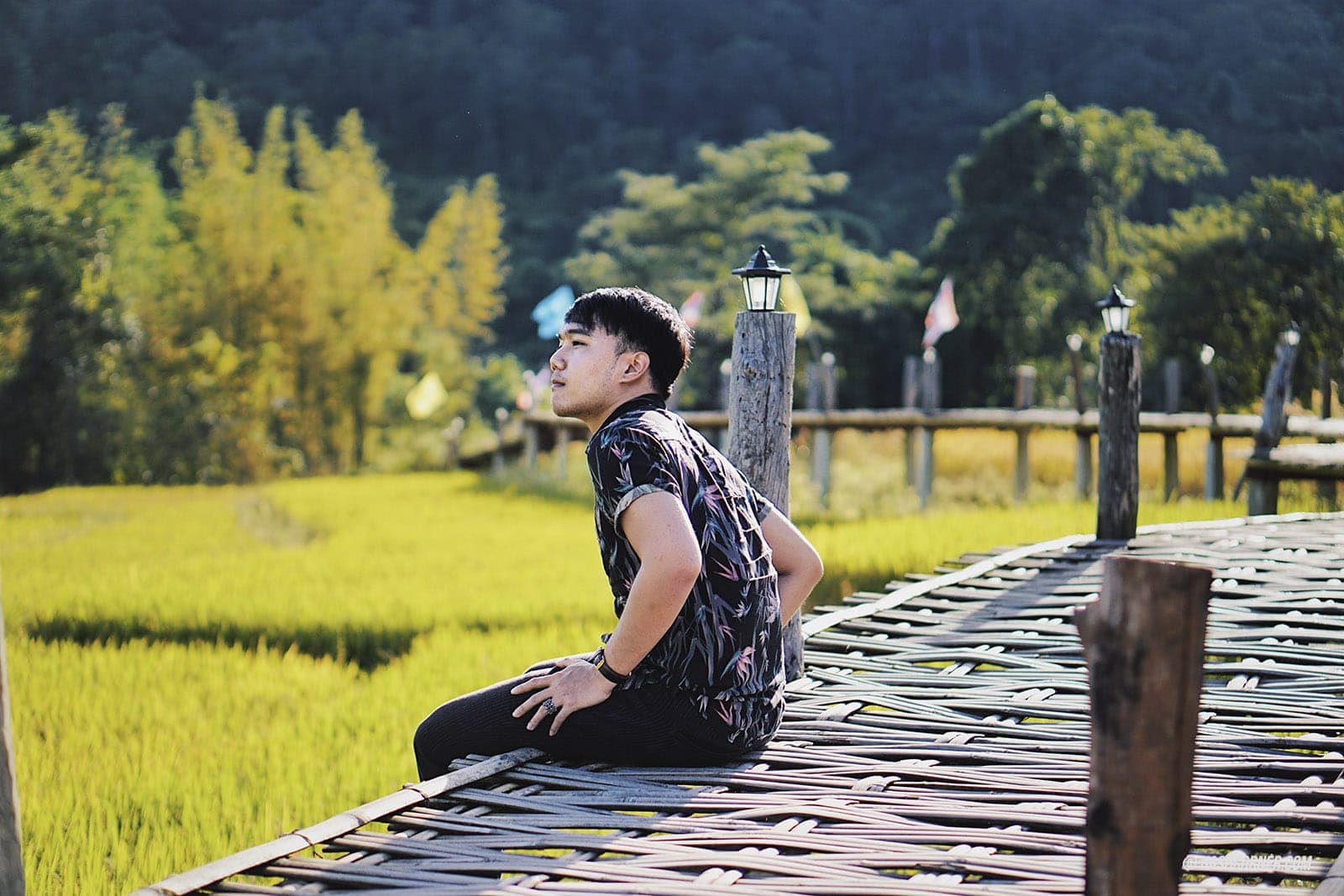 Boon Kho Koo So Bridge has a total length of 815 meters and is about 1-2 meters above the ground. It is built from cement and steel frame, using an approximately 1-meter width bamboo weaving as a pallet floor. Alongside the walkway, there are lush rice paddies which make the whole picture extensive and pleasant. Of course, don't forget to follow the bridge to the end, you'll reach the forest temple, Huay Kai Khiri Monastery.
Pai Canyon
Pai Canyon aka Kong Lan (famously known in Thai, it's the native language, Kong means a track, Lan means lizard, together is the track for a lizard to make its journey. Seriously? Is this true?!) Another name in English is called 'Pai Canyon' which is titled to sound friendlier to foreigners. This place is considered the top must-visit destination in Pai, you can come to climb along the hill narrow pathway. Well, climbing maybe a little scary, so you have to be careful because some passages are quite dangerous.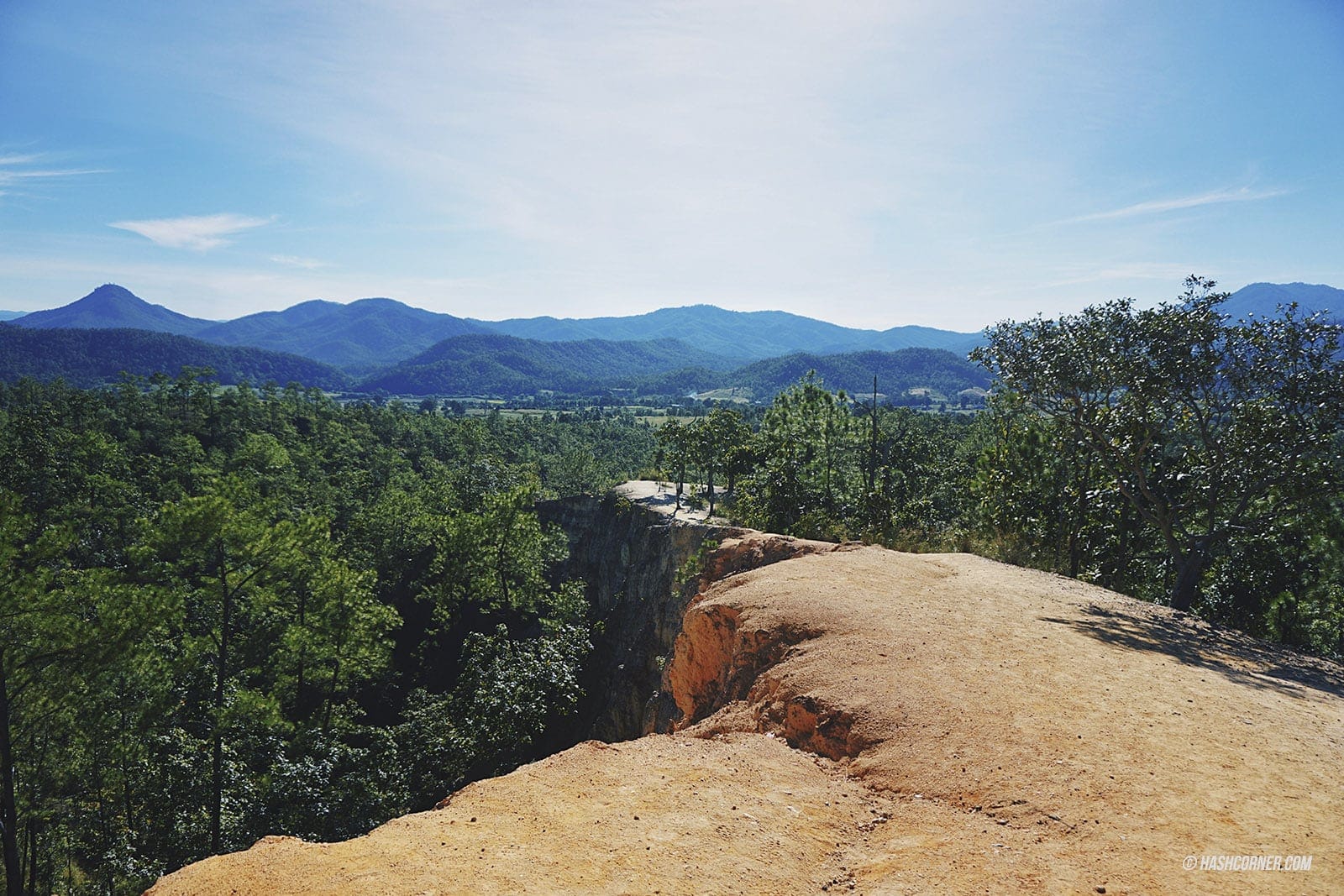 Most of the visitors are foreigners. As for Thai tourists, they'll be more enjoy taking a picture and pose at the entrance, no farther walk more inward. But I decided to give it a try, so let me remind you, a physical condition must be ready at this stage because the climbing isn't that simple, the path is also narrow and slippery. The high-ranking hour to visit Pai Canyon is during the sunset.
Pai Canyon is a naturally occurring attraction caused by wind and rain eroded until it became a small path on the ridge among the mountains overlapping.
Tha Pai Memorial Bridge
When vaguely looking at this bridge, its conformation is similar to the bridge over the River Kwai in Kanchanaburi. Well, the background story is correspondingly interested.
The story began in World War II (1941), when japan moved troops to set up military bases in Thailand, then, Japan wanted to transport food and equipment to attack Burma. But the path was quite difficult, including, the Pai River is blocking the way. Japan, therefore, conscripted the villagers to construct a bridge out of logs. When the war was over in 1946, Japan retreated and burned this bridge down. From the fact that the bridge over Pai River for the villagers to commute turned into none, the villagers had to build a new wooden bridge to replace the old one Japan had destroyed.
Still, the story wasn't over yet. In 1973, there was a great flood that blown the wooden bridge away. Too bad, the bridge made from wood wasn't a good option to defeat disasters. Therefore, the villagers requested 'Nawarat', the unused steel bridge from Chiang Mai then moved to assemble and replaced the old one here. Until it becomes a tourist attraction afterward. But nowadays, the original bridge is no longer used, there is a cement bridge on the side to travel instead.
Tha Pai Hot Spring
Tha Pai Hot Spring is part of the Huay Nam Dang National Park. The temperature on the soil surface is about 80-100 degrees. The main activities besides the mineral water bath and egg boiling, you can also come camping in a tent. For those who want to relax in the hot spring, I recommend avoiding Saturday – Sunday since it will be crowded. The hot spring is divided into several small ponds with different levels of heat. The more you walk in, the higher temperature hot spring you'll get. If you plan a visit, don't forget to bring eggs, because It's a popular activity to boil them in the hot spring here.
To boil eggs, it's advisable to bring them along with a container (a container should have a handle that can be attached to a stick while boiling) from outside the place, because if you buy them here, it's quite expensive, it costs 25 baht for 3 eggs, 8 baht per an egg. But the good thing is, you'll be given the ready-to-boil package of eggs and a wooden basket. So, it is convenient and suitable for a lazy one like me. 😂
The trick to boiling eggs in a hot spring is; dipping the whole basket into a hot spring for about 20 mins, this amount of time is not overcooked, just feel right, Lol. (it was tastier than boiling with a pot at home, or I just imagine thing?!)
Pai Walking Street
Pai Walking Street is in the city. The shop starts to set up from 5-6 pm and running long until 9 pm. With the fact that Pai visitors now is mostly a foreigner, bars, restaurants, including selling items such as clothes, accessories, bracelets in the style of hill tribes are focused on selling western foreigners. All stores are labeled in English. The Thai signage is hardly seen.
Pai Walking Street is not very long, the shops are not as crowded as other places. Well, Pai is not that big. After exploring for a short period, it's all finished up. But what I like about the place is the friendly-lively atmosphere here.
Yun Lai Viewpoint
Who said there is no fog scenery in Pai? If you want to feel the sea of mist, come to the Yun Lai Viewpoint. I advise you to wake up at 5 am, rush from Pai to Santichon Village for about 20 mins. Since a private car is prohibited in this area, you have to take the villager's chartering minibus to reach up to the viewpoint, a minibus ride costs 300 baht per trip, during my visit, I along with 2 companions paid just only 100 baht separately. When arriving at the point, please memorize the license plate and ask for the driver's phone number to prevent any error. The entrance fee is 20 baht per person. After finished taking a breather and ready to travel down, then, call the driver to pick you up.
There is a souvenir shop, including food such as soft-boiled rice, steamed bun, steamed dumpling, deep-fried dough stick, and drinks. You can as well eat while viewing a foggy landscape because the seats are arranged to fronting the sunrise view.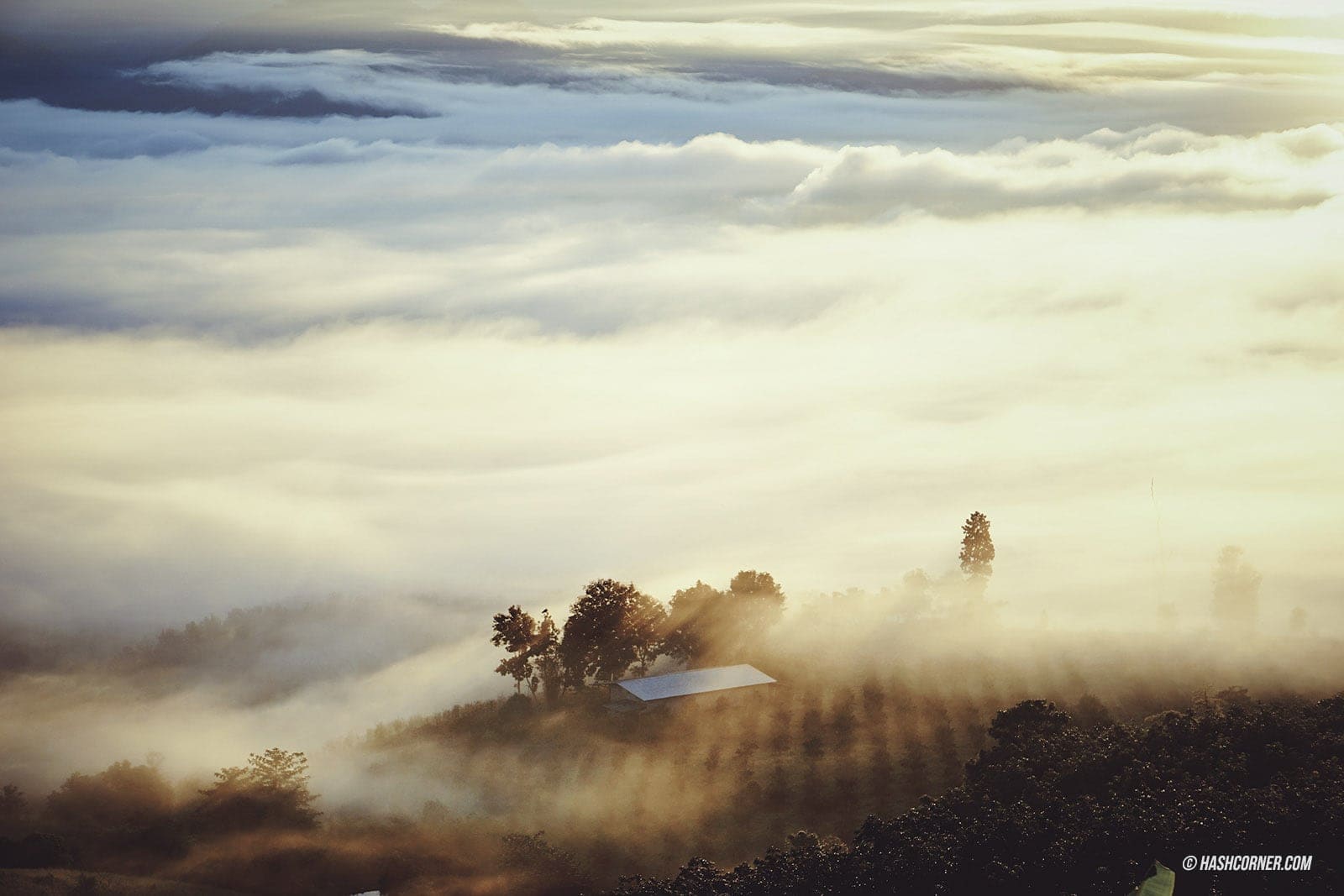 It is said that this place is one of the 100 best locations to do love confession, and also is one of the 20 places to propose in Thailand. Whoever makes a plan to travel here and has the idea of proposing to your loved one, it's surely a romantic and incredible scene to memorize.
Santichon Village (Chinese Yunnan Cultural Village)
After coming down from the Yun Lai Viewpoint, continue to travel at the Santichon Village. In the past, the village was almost closed due to drug problems which made it difficult for outsiders to visit the community. Today, the problem has disappeared after the anti-drug policy since 2003. When arriving at the village, it feels like stepping into the historic spot in China, the decoration all over the place is in Chinese Yunnan style. Here, you can take a walk and buy souvenirs, other than that, there are many glamorous spots to take pictures. The whole village vibe is comparable to the old China context.