Bath, at first, is not on my tourist destinations list at all. But since I got an advice to make a journey there. As I heard the city provides attractive scenery and famous landmarks such as The Roman Baths, plus, it's very easy to access from London by train. I was considering it hard. However, during the time I visited, it turned out I appreciated it very much. The city is cute and you can stroll around pleasantly. If any of you are deciding right now whether you should visit Bath or not. I recommend reading this review first before making a decision, if you are curious or interested by any reason, then jump and continue traveling with me!
รีวิว เที่ยวอังกฤษ + แพลนเที่ยวอังกฤษ
สำหรับการไปเที่ยวอังกฤษรอบนี้ ถือเป็นการเที่ยวอังกฤษรอบที่สองหลังจากรอบแรก ภายในหนึ่งเดือนแค่นั้นเอง คือจะเรียกบ้าก็ว่าบ้า เพราะครั้งแรกไปแล้วรู้สึกยังไม่เต็มอิ่ม แถมไปแค่ลอนดอนที่เดียว มารอบสองรอบนี้เลยจัดเต็มชุดใหญ่เลยจ้าแม่ ใช้เวลาทั้งหมด 11 วัน 10 คืน โดยเราจะบินไป-กลับไทย จากลอนดอน และไปเที่ยวยังเมืองต่างๆ ตั้งแต่ ยอร์ค (York) เอดินบะระ (Edinburgh) อินเวอร์เนสส์ (Inverness) เกาะสกาย (Isle of Skye) บาธ (Bath) และจัดเต็มก่อนกลับไทยที่ ลอนดอน (London) นั่นเอง ใครที่อยากตามรอยอะไรแบบนี้ ดูแพลนแบบละเอียดด้านล่างเลยจ้า ทำมาเป็นตารางให้แล้วจ้าา
รีวิวประเทศอังกฤษ ทั้งหมดของ Hashcorner
Train to Bath
How to get to the city of Bath. Well, the most convenient way is to take the train. You can take a direct train from London Paddington Station for only about 1.30 hours.
Single Ticket / Return Ticket
For tourists who don't hold BritRail pass that gives you the ultimate rides. I suggest reserving the train ticket in advance. Because of some popular routes such as London-Edinburgh or London-Bath. The trains are almost occupied at the busiest hour. To prevent unexpected situations and be able to travel as planned, it's a wise idea to book your train ticket in advance.
💸🚈 The recommended website for booking train tickets in Britain is probably Trip.com because there offers customer support with multiple languages. If you need helps, you can communicate or dial the call center comfortably. As much as I tried browsing or clicking here and there (I honestly haven't bought or used tickets via the website because I had BritRail Pass in hand), the nice thing is they exclude booking fees. Besides, some trip trains are way cheaper than other websites. If you see this, then have a try! Once the booking is all done. You have to pick up the ticket from a self-service ticket machine at the station. To purchase train tickets in the UK through Trip.com, Click here.
If You Travel Across Multiple Cities by Train, The BritRail Pass Is Recommended!
If your plan includes train trips around the UK. It's advisable to buy the Britrail Pass instead of buying a single-way ticket. If you're used to utilizing the JR Pass in Japan, it's a similar system. It means you can ride unlimited trains between cities according to the number of days you have purchased, which you can select; 1) Consecutive Pass, you may choose the duration from 2, 3, 4, 8, 15, 22, and 30 consecutive days, or 2) select a Flexi pass which is to pick the number specified days and travel within one month. Besides, a travel day span, the class of travel is also available. There are Standard Class and First Class, which depends on each person's convenience and financial strength.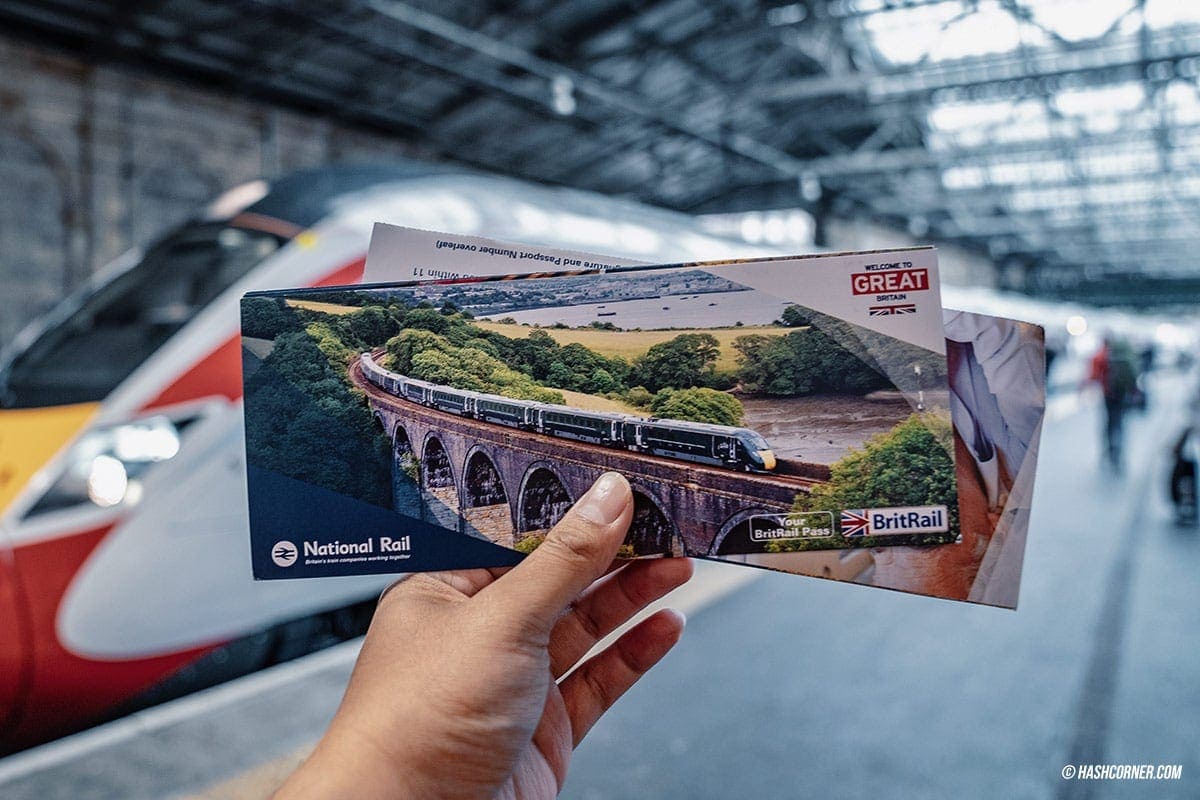 Last but not least, BritRail is classified into a sub-pass for the train in different regions, including the entire National Rail services (exactly like the JR Pass). They are classified as follows; BritRail Pass, BritRail England Pass, BritRail London Plus Pass, BritRail Spirit of Scotland, BritRail Central Scotland Pass, BritRail Scottish Highlands Pass, BritRail South West Pass. Frankly, you have to look at your own plan of where your region/city is. So, you will know what type of BritRail pass you should buy, and how many days. For further details can be found on the BritRail Website here.
💸🚈 As for where to get BritRail Pass, I still recommend buying through KLOOK because the price is cheaper than other websites. There is a full BritRail option with a monthly promotion discount KLOOK offers invariably. View all BritRail passes on KLOOK. Click here.
Things You Should Know about Buying BritRail
If you buy BritRail Pass with physical tickets (not E-Tickets on mobile), you should buy it in advance before traveling to Britain to prevent an unforeseen journey. I suggest buying 2 weeks in advance because KLOOK takes at least 7 business days to deliver your parcel to a given address. And in case of unfortunate, delay in delivery can occur at any time.
Once you get a BritRail Pass, you must first activate the pass before start using it. You should also validate it to a railway official at the departure station. They will stamp to refer your starting day of validity.
BritRail Pass that covers London can be used on Heathrow Express.
The Roman Baths
Most tourists visiting Bath perpetually set the Roman Baths as their destination. The place is considered to be one of the most well-preserved and valuable historical sites in Europe. In which not only the prominent pool in the middle is eye-catching, but the place also has hot spring, remains of Roman temple, public bathing, and a museum inside. The duration of exploring around here, you may take at least 2 hours at the time.
When you buy an admission ticket and walking into the Roman Baths, you will see a walking path filled with Victorian statues of Roman kings. Here, I advise turning back to look at Bath Abbey. From this viewpoint, the cathedral is picturesque and respected to be the best of its scenic.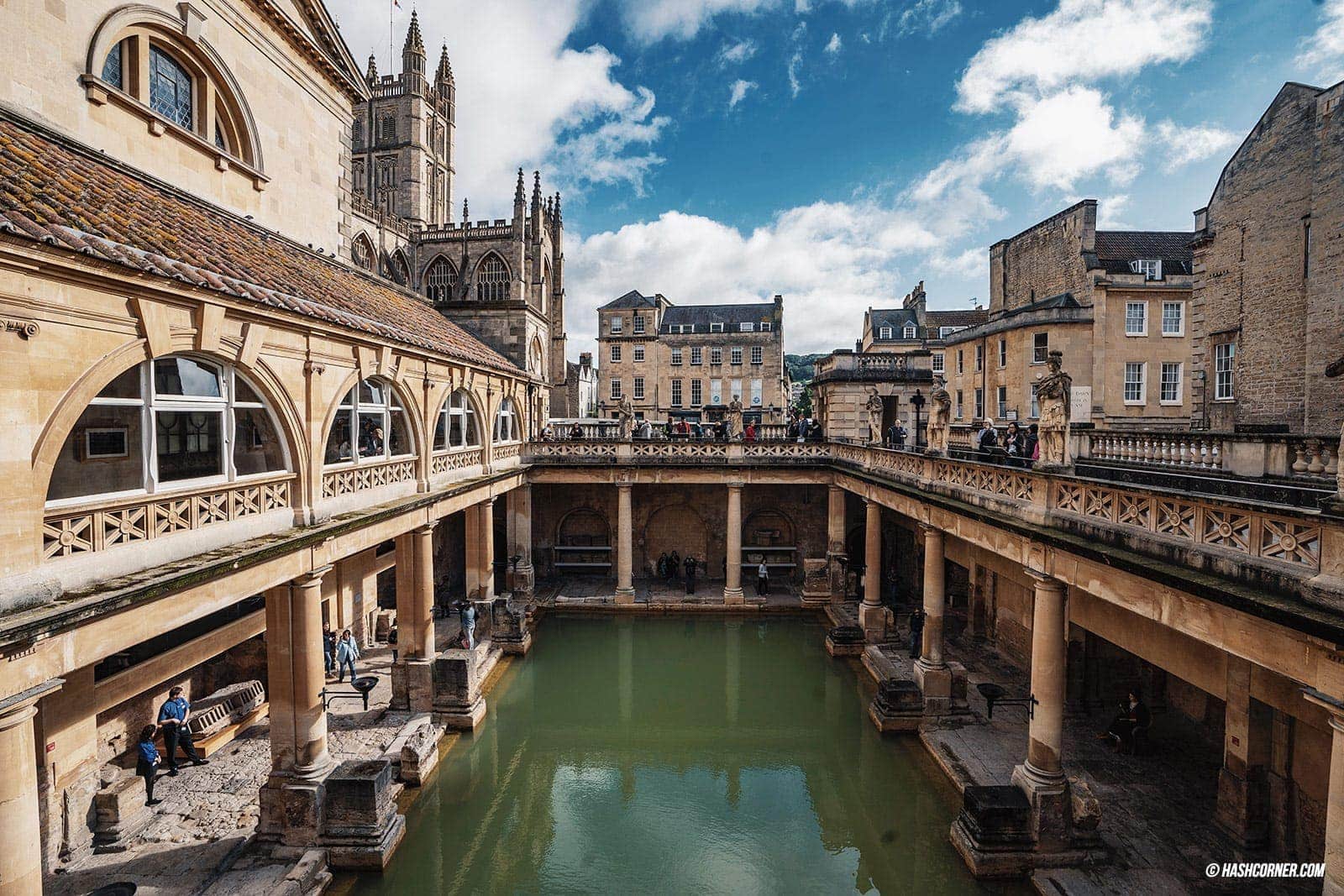 You can take a walk on the providing route by passing through the sacred hot spring, museum, and the famous photo spot, Great Bath. Overall it is enjoying. You can get more information by listening to the audio guide that receives after buying an entrance ticket. The story is not boring but also fun. I quite like it because it helps me get to know the city a lot better than before.
Bath is an old city (the former name was 'Aquae Sulis', the goddess Zuris) and began building in the AD 60s in Roman Britain. The Roman Baths are discovered in the city center wherewith located the Temple of Sulis alongside the sacred baths and hot spring amidst hot water rising 3,000 meters underground, it contains about 43 minerals and more than 1 million liters of spring water per day. Too bad, the temple now was left the remains of the base and maintained only the baths and hot spring that are well-preserved.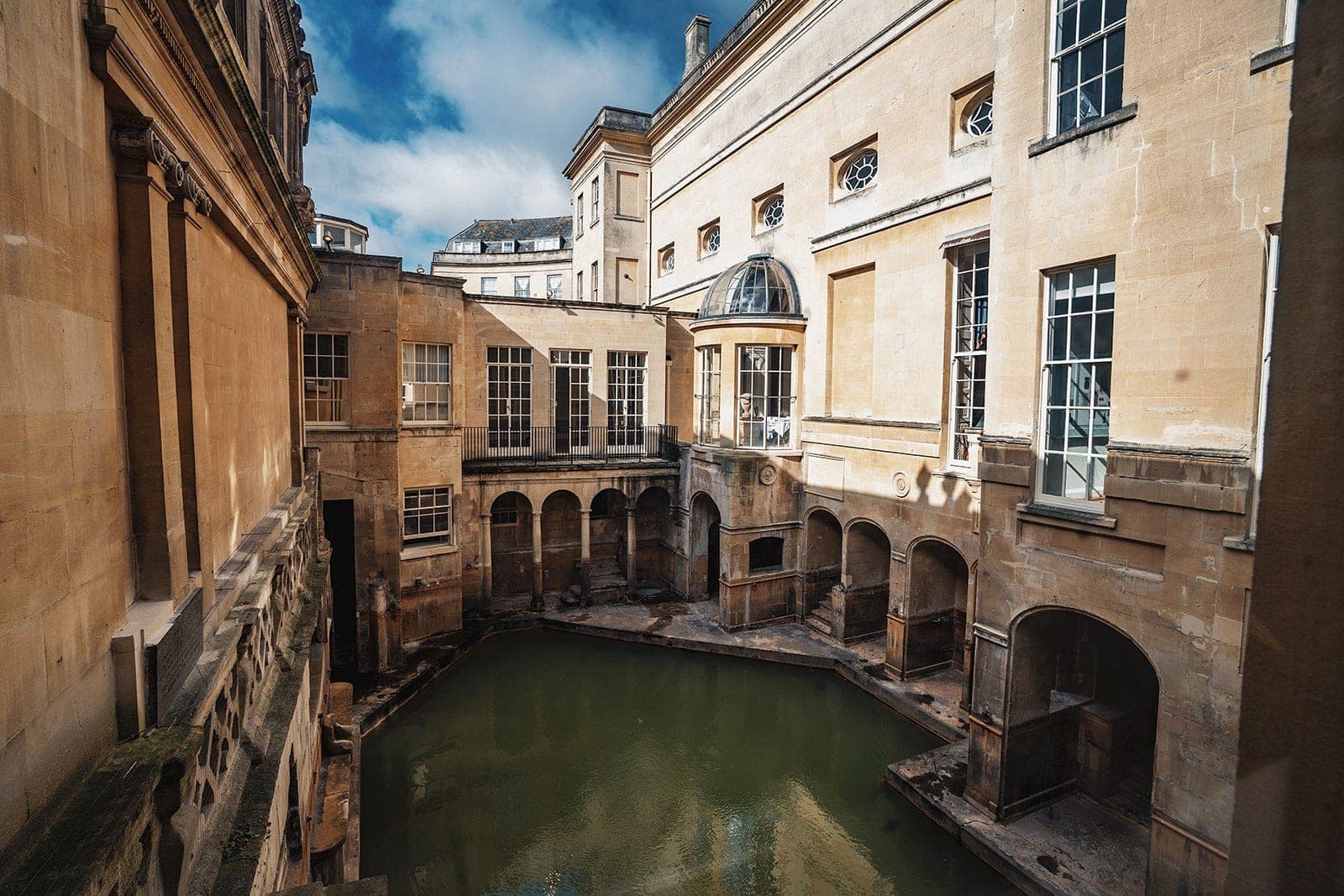 The last spot of walking may end at the large pool which is known as The Great Bath. The spot is the main highlight of the Roman Baths because it was used for public bathing until the end of Roman rule in Britain. The pool is approximately 1.6 meters deep, with water flowing from the natural hot spring.
Before leaving the Roman Baths, don't forget to try drinking the natural mineral water at the termination, they will offer a glass for you to pour water to drink straight away. I tried it and the taste was a bit odd. LOL
Bath Abbey
Coming out from the Roman Baths, we continue with the adjoining attraction, Bath Abbey, which ages more than 1,200 years old. The cathedral was constructed since 757 AD. From then until now, this area was rebuilt and organized with 2 cathedrals before destroyed. The current Bath Abbey is the 3rd basilica that has remained until now.
During my visit, unfortunately, Bath Abbey was partially closed for restoration. I experienced about ¼ of the cathedral's beauty. It's a recommendation to stop and observe the entrance first. On both sides of the church gate, there are the sculpted stairways where angels climb up and down. Which they said the design here was from a bishop who dreamed about this fairy scene till it became the gimmick of the exterior decoration.
The other spot I'd love you to see is the vaulted ceiling of the Bath Abbey, one of the most prospering and bewitching in Great Britain. Both sides of the ceiling were built in different periods. Therewith at first the construction was in the 15th century, but was not finished, then continued building in the 17th century. So, if you examine closely, it will be slightly different. // But I didn't notice anything. Hahahaha.
SouthGate
Walking in the abbey for a while. Now, it turns to sightsee the city. To be honest, touring Bath left me plenty of time because tourist attractions are not that much, so I just browsed around. If you have free time like me. I suggest walking to SouthGate next to Bath Abbey and Roman Baths. It is the downtown shopping street that features restaurants, shops, and many more. As for me, I searched for a coffee shop to relax for a moment.
Pulteney Bridge
The last attraction to stop before taking the train back to London is the Pulteney Bridge on the River Avon, where you can see the view of the river flowing into a scenic waterfall, along with a lovely bridge that looks classic and beautiful exterior. For the further activities, you can go for a cruise on the River Avon, or else strolling across the bridge is also recommended, because this is one of the 4 bridges in the world that locating shops along a street over the bridge.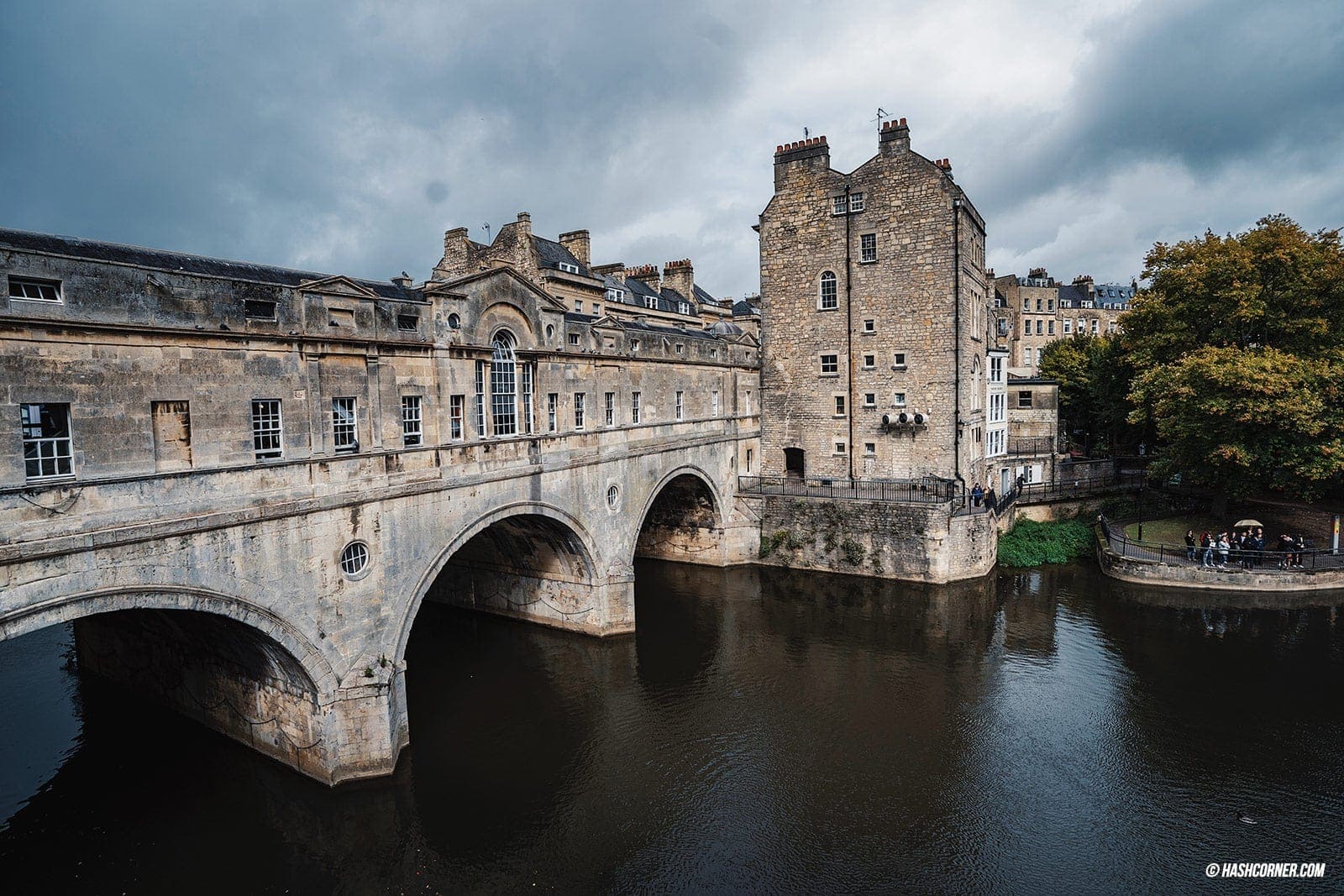 To sum up. Exploring the city of Bath is very relaxing. I admire this cute city very much. The atmosphere and architectures are also attractive. I'm in love with this. 💙
ส่วนลดจองโรงแรมจาก Agoda, Expedia, Booking และบัตรสวนสนุก ตั๋วรถไฟ กิจกรรมท่องเที่ยวจาก Klook และ KKday ปี 2023
⚡️ สำหรับใครที่กำลังจะจองที่พักและหาส่วนลดจองโรงแรมอยู่ ลองดูตามลิงค์ด้านล่างได้เลย มีทั้ง Agoda, Expedia, Booking รวมถึง Hotels.com ด้วย ประหยัดไปได้อีกเกือบ 10-20% ใช้ได้กับโรงแรมทั่วโลก
หลายคนอาจจะไม่รู้ว่าเว็บไซต์จองโรงแรมพวกนี้ มีส่วนลดท็อปอัพจากบัตรเครดิตเพิ่มเกือบทุกธนาคาร ไม่ว่าจะเป็นบัตรเครดิต Citibank, KBANK, SCB, Krungsri, KTC, Bangkok Bank, UOB และ TMB หรือแม้แต่ส่วนลดจากค่ายมือถืออย่าง AIS, DTAC หรือ True ซึ่งส่วนลดพวกนี้จะเปลี่ยนตลอดทุกเดือน และเก๊าก็อัพเดทให้ตลอดเวลาเน้อ 🧡