Edinburgh is the capital city of Scotland that has been millennia and has been around since the Middle Ages. If you plan to visit Scotland for the first time but no prospect of approaching Edinburgh, it can deliberate as the major fail. Because aside from having a lot of places to visit, the city is also provided classic and picturesque scenery. On top of that, there is an extinct volcano site in the center of the city which allows you to climb up and view the stunning city landscape.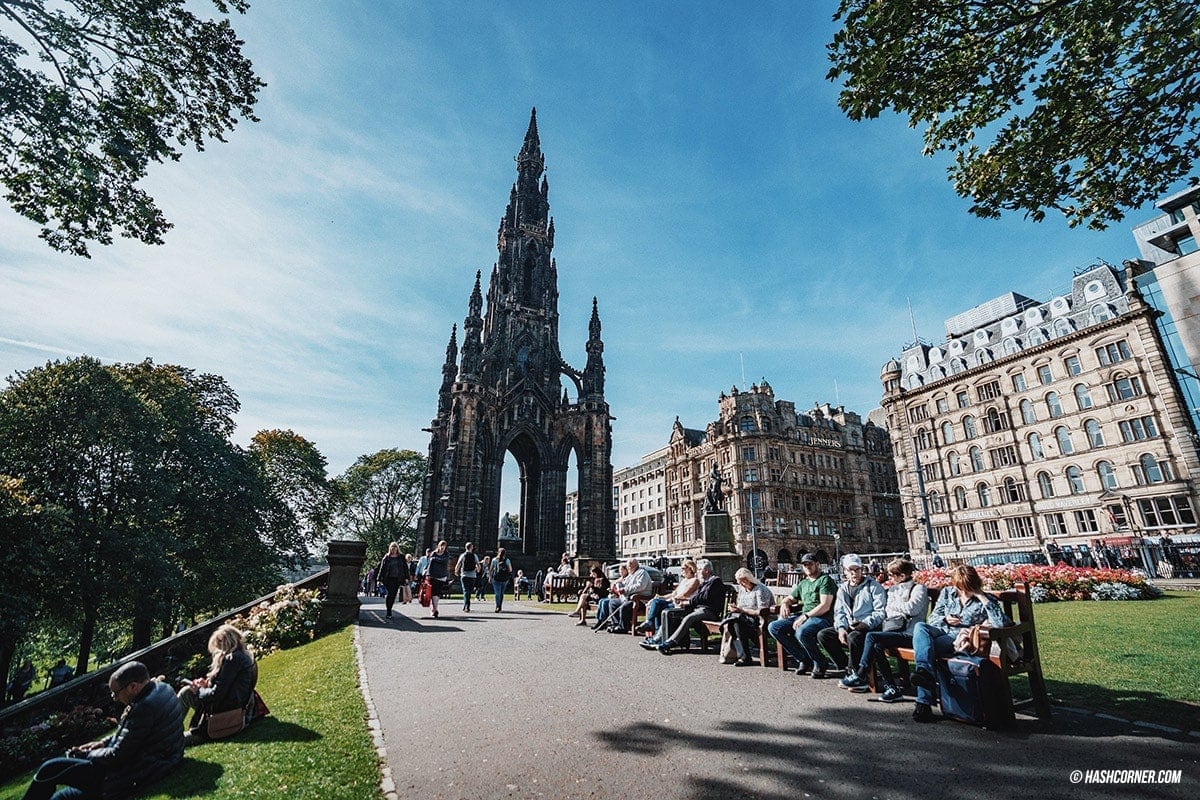 Edinburgh? People, especially non-British native speakers may get confused about how to pronounce Scotland's capital city correctly. Despite the unchanged written form, but other languages always sound different variations. Included myself who is a Thai native speaker, I too was the one mispronounced it, haha. There are two ways of pronunciation, 'Eh-din-buh-ruh' (with 4 syllables), and 'Eh-din-bruh' (with 3 syllables). Say it correctly because it will cause complications if you ask the locals for direction. I'm reminding this with concern!
รีวิว เที่ยวอังกฤษ + แพลนเที่ยวอังกฤษ
สำหรับการไปเที่ยวอังกฤษรอบนี้ ถือเป็นการเที่ยวอังกฤษรอบที่สองหลังจากรอบแรก ภายในหนึ่งเดือนแค่นั้นเอง คือจะเรียกบ้าก็ว่าบ้า เพราะครั้งแรกไปแล้วรู้สึกยังไม่เต็มอิ่ม แถมไปแค่ลอนดอนที่เดียว มารอบสองรอบนี้เลยจัดเต็มชุดใหญ่เลยจ้าแม่ ใช้เวลาทั้งหมด 11 วัน 10 คืน โดยเราจะบินไป-กลับไทย จากลอนดอน และไปเที่ยวยังเมืองต่างๆ ตั้งแต่ ยอร์ค (York) เอดินบะระ (Edinburgh) อินเวอร์เนสส์ (Inverness) เกาะสกาย (Isle of Skye) บาธ (Bath) และจัดเต็มก่อนกลับไทยที่ ลอนดอน (London) นั่นเอง ใครที่อยากตามรอยอะไรแบบนี้ ดูแพลนแบบละเอียดด้านล่างเลยจ้า ทำมาเป็นตารางให้แล้วจ้าา
รีวิวประเทศอังกฤษ ทั้งหมดของ Hashcorner
Access Edinburgh by Train
The most convenient way to access Edinburgh is to take the train. If you come from York, you only take about 2.30 hours rides. But if you take the train straight from London <-> Edinburgh, it takes approximately 6 hours. In my opinion, using a train is better than self-driving because driving distantly is truly exhausted. In case if you travel for more than 4 people and do the alternate driving. Driving to Edinburgh is another interesting choice. Not only there is an extra driver who can help you throughout the destination but also the car rental and gasoline expenses will be evenly shared. To select transportation, you should calculate the cost carefully.
Single Ticket / Return Ticket
For tourists who don't hold BritRail pass that gives you the ultimate rides. I suggest reserving the train ticket in advance. Because of some popular routes such as London-Edinburgh. The trains are almost occupied at the busiest hour. To prevent unexpected situations and be able to travel as planned, it's a wise idea to book your train ticket in advance.
💸🚈 The recommended website for booking train tickets in the UK is probably Trip.com because there offers customer support with multiple languages. If you need helps, you can communicate or dial the call center comfortably. As much as I tried browsing or clicking here and there (I honestly haven't bought or used tickets via the website because I had BritRail Pass in hand), the nice thing is they exclude booking fees. Besides, some trip trains are way cheaper than other websites. If you see this, then have a try! Once the booking is all done. You have to pick up the ticket from a self-service ticket machine at the station. To purchase train tickets in the UK through Trip.com, click here.
If You Travel Across Multiple Cities by Train, The BritRail Pass Is Recommended!
If your plan includes multiple train trips around the UK. It's advisable to buy the Britrail Pass instead of buying a single-way ticket. If you're used to utilizing the JR Pass in Japan, it's a similar system. It means you can ride unlimited trains between cities according to the number of days you have purchased, which you can select; 1) Consecutive Pass, you may choose the duration from 2, 3, 4, 8, 15, 22, and 30 consecutive days, or 2) select a Flexi pass which is to pick the number specified days and travel within one month. Besides, a travel day span, the class of travel is also available. There are Standard Class and First Class, which depends on each person's convenience and financial strength.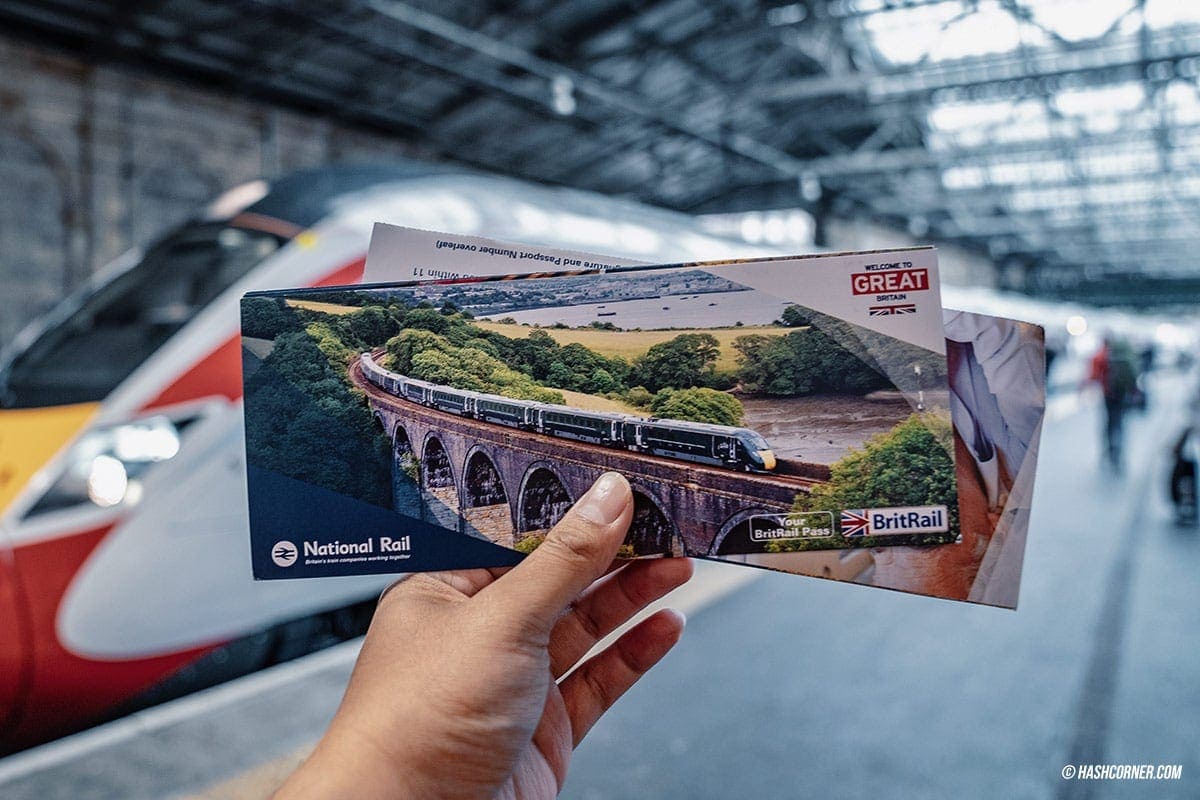 Last but not least, BritRail is classified into a sub-pass for the train in different regions, including the entire National Rail services (exactly like the JR Pass). They are classified as follows; BritRail Pass, BritRail England Pass, BritRail London Plus Pass, BritRail Spirit of Scotland, BritRail Central Scotland Pass, BritRail Scottish Highlands Pass, BritRail South West Pass. Frankly, you have to look at your own plan of where your region/city is. So, you will know what type of BritRail pass you should buy, and how many days. For further details can be found on the BritRail Website here.
💸🚈 As for where to get BritRail Pass, I still recommend buying through KLOOK because the price is cheaper than other websites. There is a full BritRail option with a monthly promotion discount KLOOK offers invariably. View all BritRail passes on KLOOK. Click here.
Things You Should Know About Buying BritRail
1. If you buy BritRail Pass with physical tickets (not E-Tickets on mobile), you should buy it in advance before traveling to Britain to prevent an unforeseen journey. I suggest buying 2 weeks in advance because KLOOK takes at least 7 business days to deliver your parcel to a given address. And in case of unfortunate, delay in delivery can occur at any time.
2. Once you get a BritRail Pass, you must first activate the pass before start using it. You should also validate it to a railway official at the departure station. They will stamp to refer your starting day of validity.
3. BritRail Pass that covers London can be used on Heathrow Express.
Day 01:

Edinburgh Castle

After leaving the train + taking a suitcase to keep at the hotel. The first attraction I'll take you to is Edinburgh Castle since it is one of Scotland's essential landmarks. The castle admission fee is quite expensive, priced at 19.50 GBP (almost 31 USD), but if you book online via their Official Website, the price will reduce to 17.50 GBP, kindly saving 2 GBP. But there is one bad point, you must specify the date and time of entering the castle in advance. If you miss the selected time. The ticket is going to waste. after completing all the ticket process, you may now follow me and visit the castle!
Edinburgh Castle is the most important and excellent location of a fortress in Scotland's history. It has a long record for more than a thousand years. It first started as the royal castle of King David I in the Middle Ages (1124 AD). Later, adjusting to serve the various kings. Eventually, it modified to be a fortress and military base in the 17th century because, at that period, the Stewart dynasty moved in residence at Holyrood Palace, located opposite at the bottom of the Royal Mile instead.
Exploring around the castle, I suggest picking up the directory map and follow the arranged numbers of each attraction straight away. Because I have to mention first that the structures inside the castle are countless. Some buildings organize as a museum displaying the stories of Scotland. Each listed building represents a particular background and serves to depend on each person's interests. If you're not impacted by history, I'll briefly introduce the highlights and must-visits of Edinburgh Castle.
The Half Moon Battery is noticeable when you first walk into the castle. This is the half-circle area that used to be a gun-lined turret and was implemented between 1573-1588. At 1 pm every day, there will hold an artillery show (except Sunday and Christmas), shot by the famous gun called 'One O'clock Gun'.
St Margaret's Chapel, located at the top center of Edinburgh Castle. The pretty flowers are decorated around the oldest building that has survived from destruction until now, and this chapel is also the only building that has remained since the rise of Edinburgh Castle. Furthermore, it is the oldest surviving building in Scotland. // Which means the chapel is almost a thousand years now.
Across the Crown Square courtyard, there is the Scottish National War Memorial, the memorial commemorates Scottish who died in World War I and II. You can pay a visit to reminisce and admire the beautiful architecture. // By reading the information, it said, there is the swastika symbol on the stained glass window too. I just realized this when I was already back home. If you have a chance to go there, you can try observing around, haha.
Lastly, don't you ever miss this! On the opposite building, there is the hidden Crown Room where you have to observe carefully. There will be a way up to the Crown Room, in which it operates as the showroom to exhibit the crown and jewels of Scotland. This spot is my recommendation, the real pieces are extremely gorgeous, and can only be seen here (it's a pity, taking a picture is prohibited as well.)
These are the highlights of Edinburgh Castle. From the beginning, I thought this place may not take a lot of time. But it turned out Vice versa. If you are curious about the worth of paid, well, this is very difficult to answer, because this place is Scotland's historic site, if you like history, OFC, you'll be influenced by the place. But if you have no specific interest in this field, I still recommend you to come. LOL. You can't deny, the castle is a great important site in Scotland!
Royal Mile – Edinburgh Old Town
Leaving Edinburgh Castle and taking a straight short walk, you will reach the old street of Edinburgh, the Royal Mile. In the olden day, this street was considered the city main road because the beginning of the road is positioned Edinburgh Castle, the other end of the road is where the Palace of Holyroodhouse located. This means the Royal Mile is the road where King and Queen have been traveling the most within the last 500 years. Along the way, there are many important buildings and monuments, such as St. Giles Cathedral, where we will be heading in a moment!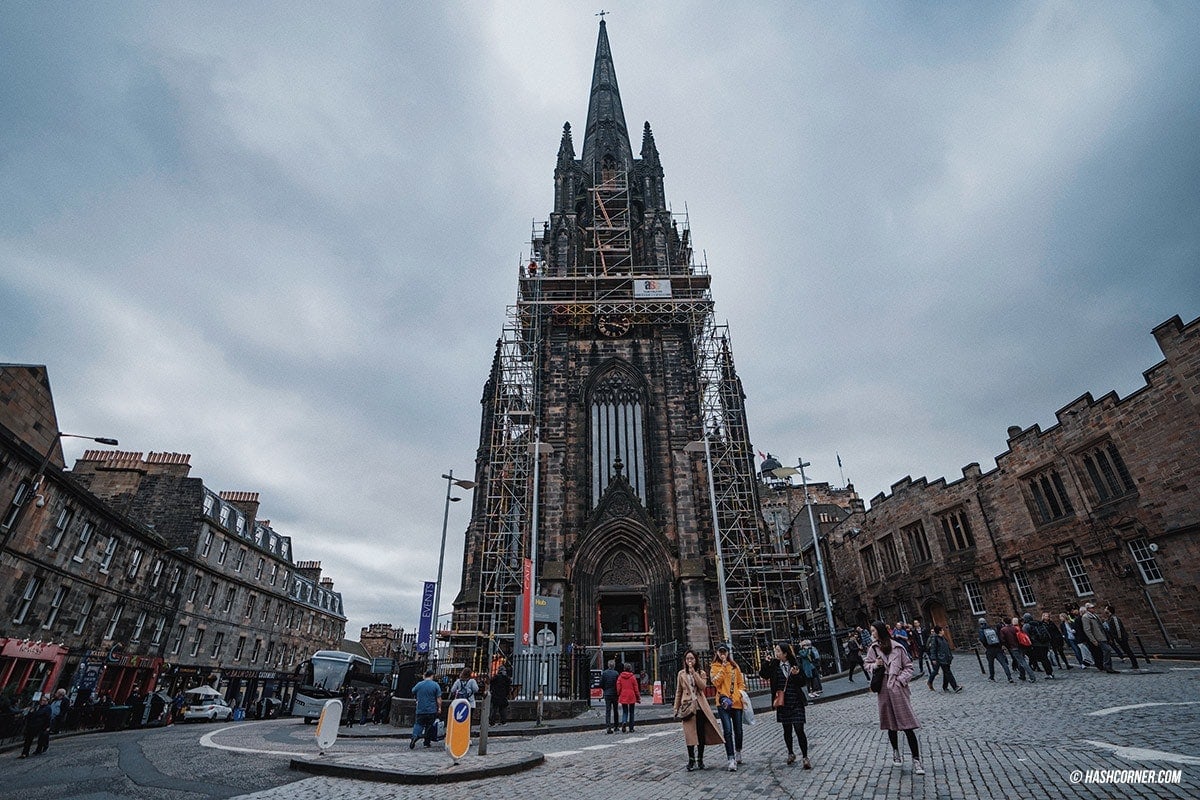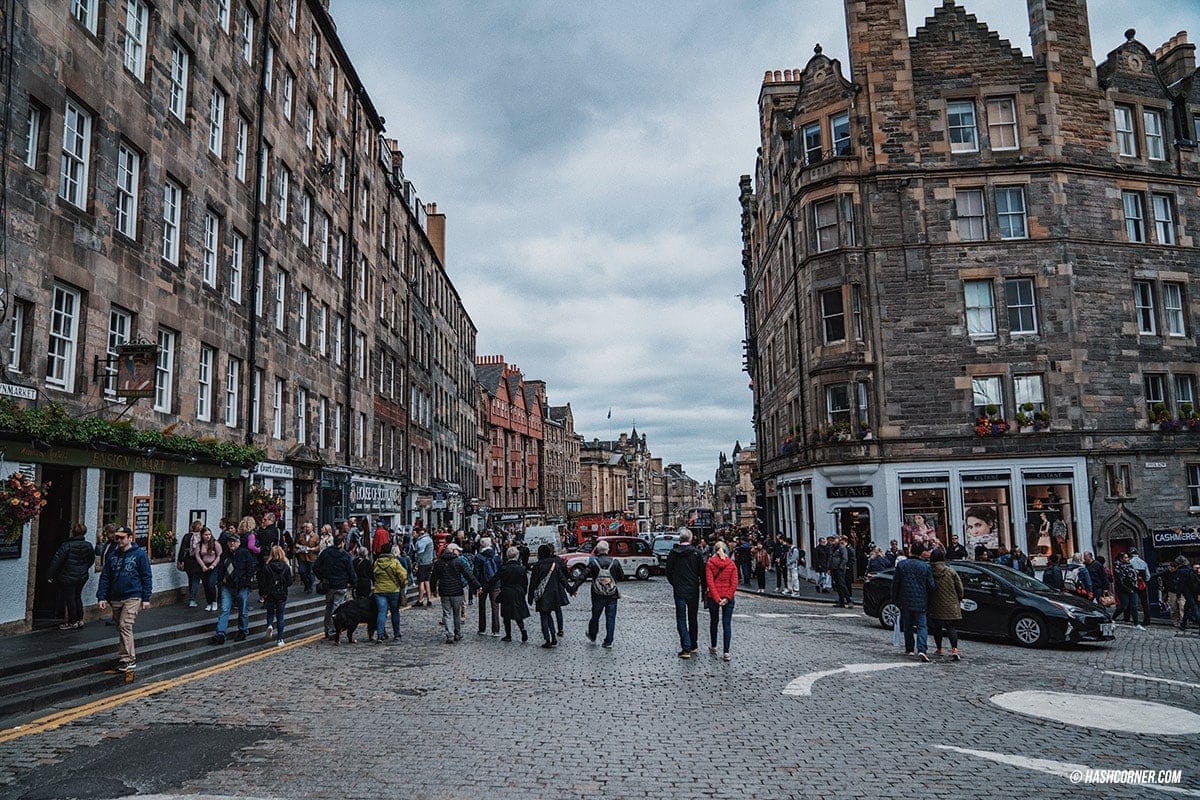 Who would like to buy souvenirs? You can buy it right here at this Royal Mile. A souvenir shop is aplenty, especially cashmere fabrics are sold all around the area. It's not surprising though! Because Scotland is famous for the Scottish cashmere. But if you don't need to buy anything, you can just sightsee the old city scenic which offers a breathtaking view. You can take your time and stroll as much as you like.
St. Giles Cathedral
Walking on the Royal Mile from Edinburgh Castle, slightly walk to the right, you will see the terrific St. Giles Cathedral. Here, you can admire the exquisite and the magnificence of the church for free. But if you are generous, you can make a donation as well.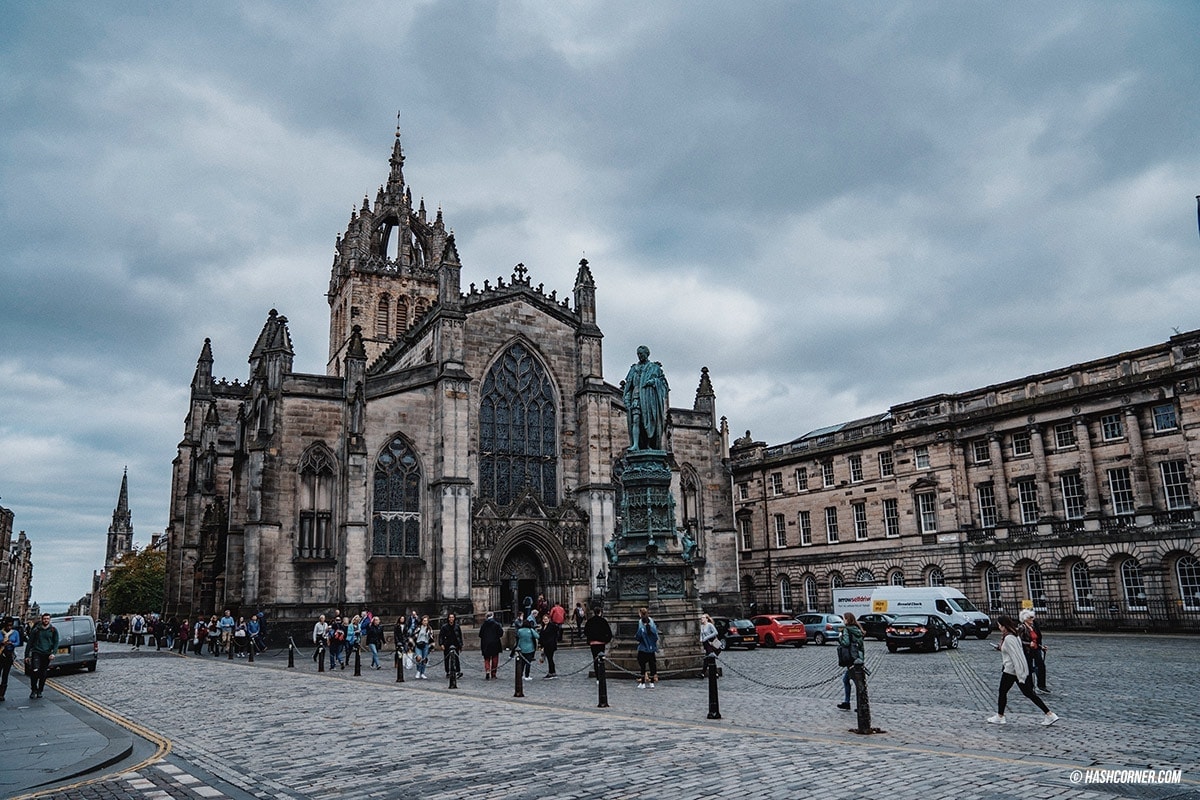 Although this church is not enormous. But the attractiveness of St. Giles Cathedral is essential because it is the center of Reformed Christianity, including the origin of Presbyterian, which is the system of reformed tradition and church government to convert from Catholic to Protestant faith in Scotland.
The cathedral interior is remarkable! And it is now divided into two segments. The first one is restored to a contemporary look. The other half is still preserving the oldness and meticulousness of woodwork, along with stained glass that is worth a lot to visit.
Calton Hill
From the Royal Mile, walk past Edinburgh Waverly train station and continue to Calton Hill. This is another recommended tourist destination I'd like you to drop by. Aside from a refreshing atmosphere at the hilltop, overlooking Edinburgh in all directions is a must, because there is provided the most fantastic views of the city, especially a sunset view. So, this is a reason why I suggest arranging Calton Hill in your evening plan to stroll on the hill, then wait to see a beautiful sunset. Sound nice, isn't it?
There are various monuments on Calton Hill, such as the National Monument of Scotland, constructed to commemorate the Scottish soldiers who died in the Napoleonic War. The appearance of this monument was inspired by the Pantheon, a marble temple in Athens, but the construction was unfinished due to an insufficient budget.
The locals, therefore, nicknamed this monument as 'The Pride and Poverty of Scotland' or even Scotland's Folly. hahaha // Most people like to climb up to take pictures. Oh, and there is a slight reminder, stairs aren't established here, you have to climb the monument by yourself. It is too high, plus, I was too lazy to reach. So, I didn't move an inch LOL.
I rambled on the hill until close to sunset. I sat and watched the Edinburgh city scenery. While also seeing Arthur's Seat, the destination I would head to on the following day. The whole images were delightful, plus, the atmosphere was pretty cool. A lot of people came to hang out, romping, and taking pictures. Too bad, during my visit, something was being built at the sunset viewpoint. Causing the construction cranes surrounding the area. Boo-hoo! But no probs, it still looked amazing though. Anyway, let's have a look here, I promise it's worth your time. Besides, when you travel after reading this review, I reckon all construction cranes might be vanished by that time.
After walking down from Calton Hill to return to the hotel. On the way back, I saw a different Edinburgh perspective at night. Wow! I dare to say this tone and mood was extraordinary too.
Day 02:

Holyrood Park / Arthur's Seat

The final day of this Edinburgh trip, before driving a rental car to Inverness, let's make a simple trail by hillwalking to the top of Arthur's Seat, where is an extinct volcano, the highest point is located in Holyrood Park, at the end of the Royal Mile. If you are a nature lover, you must pay a visit. Base on my experience, it was pleasing and introduced a new vision of Edinburgh's friendly environment. This place purposes not only the city to traverse but also the diverse range of flora and geology you can walk straight to because it's everywhere within the city.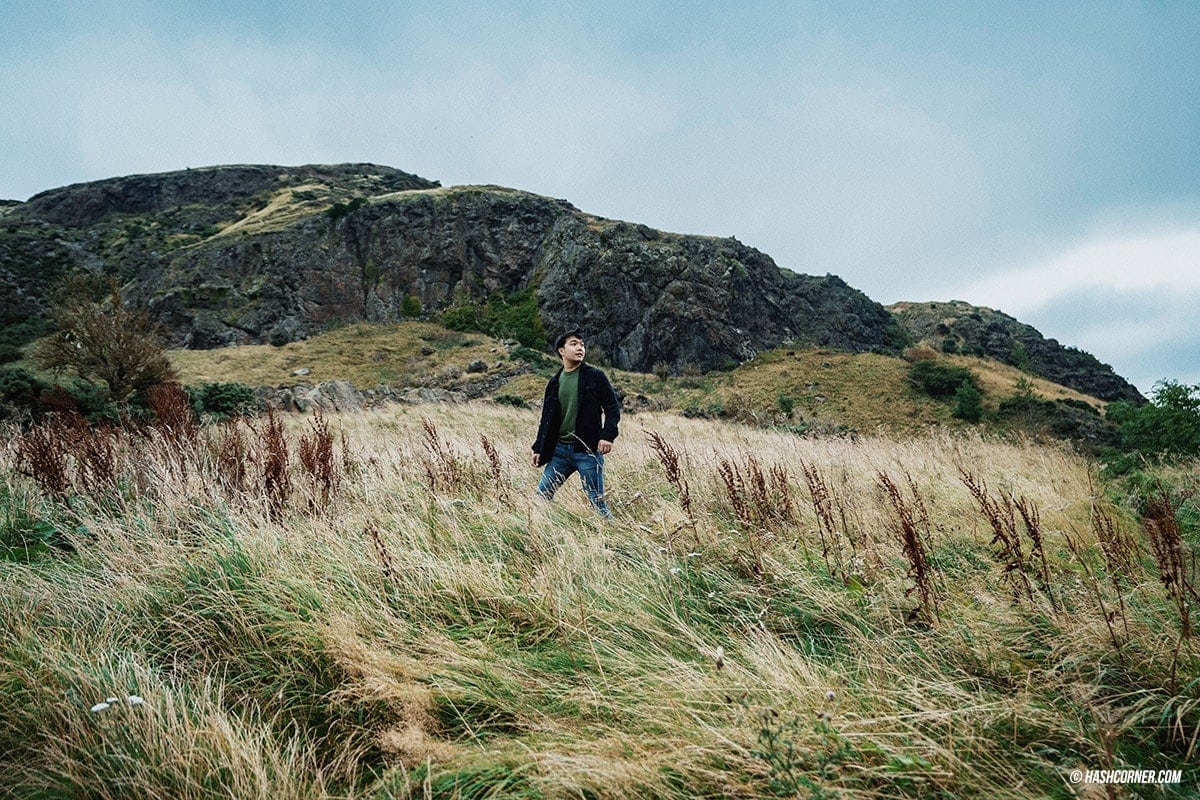 Arthur's Seat has many upward routes, including hiking trails. This depends on the convenience of where you choose to set out. I think the most advisable way to hike up is the route near Holyrood Palace. But instead of following the recommended direction, I ended up going along with my original plan, which was, using Google Maps and start walking from the other side, then finishing the trail at Holyrood Palace. Because if I had enough time left, I would stop by the palace as well. So, you can go whichever direction you feel suitable for your plan.
Is the hiking trail difficult? Well, Not at all. But maybe a little sweaty because of the constant climbing at a height of approx. 250 m. On the way up, you'll see the phenomenal natural scenery, including Edinburgh's city view along the path to the peak point of Arthur's Seat. After that, walking down to Holyrood Palace, which was very disappointing that I didn't manage to get in. Because before reaching the bottom, it was nearly the appointed time to pick up a rental car to drive to another city.
For those who still have some free time and are a Harry Potter fan, you can also try a specialty coffee at the Elephant. In some interviews expressed that J.K. Rowling spent time writing a book in Edinburgh. One of those locations is at the Elephant. Furthermore, there is a Harry Potter movie filming location in Edinburgh as well, which are Greyfriars Kirkyard and Victoria Street. Whoever wants to track this? Please set the plan and have a go!
These are the characteristics of Edinburgh. It's a lovely place, prosperous with both civilization and greenery. I'm falling in love with it 💙
Accommodation in Edinburgh
Motel One Edinburgh-Royal
The selected accommodation I stayed in Edinburgh was Motel One Edinburgh-Royal, located near Edinburgh Waverley Railway Station. Walking out from the station for a mere second. There! The hotel is within your reach. Moreover, it is very close to the Royal Mile and Edinburgh Castle. This best-convenient location allows you to travel to various tourist attractions by walking. I was not taking any transport, just walk, walk, walk, and walk. Saving costs too LOL!
The Motel One Edinburgh-Royal is a budget design hotel, which is indeed worth your spending. The hotel design decorates with a simplicity-chic style. Besides, the room offers full facilities with a comfortable bed. If you ask whether is this a good choice to stay? The answer is OFC. It's incredibly good!
Motel One Edinburgh-Royal
Room rate starting at 108 USD / night. View rates and book Motel One Edinburgh-Royal, click on the link below to check and reserve through your favorite OTA right

Book via Agoda

Book via Booking

Book via Expedia
Book via Trip
Book via Hotels