London, the city I never think I have a chance of going back there again within a month. Because from the first-time traversing England, I savored it a lot, which on that trip, I got time-limited and there were also many places left unvisited. So, going back to London again this time, I want to fulfill my travel soul by surveying here and there. Furthermore, when combining the two rounds of London trip schedules, the travel plan outcome is relatively complete! LOL
If asking, do I want to make it there again? OFC, I'd passionately love to. The city is magical, picturesque, and fun for shopping. I wish to go there to the point of moving to study! Heh-heh! If you're curious how wonderful 'London' this time is, read and trace my travel guide here ♥️
รีวิว เที่ยวอังกฤษ + แพลนเที่ยวอังกฤษ
สำหรับการไปเที่ยวอังกฤษรอบนี้ ถือเป็นการเที่ยวอังกฤษรอบที่สองหลังจากรอบแรก ภายในหนึ่งเดือนแค่นั้นเอง คือจะเรียกบ้าก็ว่าบ้า เพราะครั้งแรกไปแล้วรู้สึกยังไม่เต็มอิ่ม แถมไปแค่ลอนดอนที่เดียว มารอบสองรอบนี้เลยจัดเต็มชุดใหญ่เลยจ้าแม่ ใช้เวลาทั้งหมด 11 วัน 10 คืน โดยเราจะบินไป-กลับไทย จากลอนดอน และไปเที่ยวยังเมืองต่างๆ ตั้งแต่ ยอร์ค (York) เอดินบะระ (Edinburgh) อินเวอร์เนสส์ (Inverness) เกาะสกาย (Isle of Skye) บาธ (Bath) และจัดเต็มก่อนกลับไทยที่ ลอนดอน (London) นั่นเอง ใครที่อยากตามรอยอะไรแบบนี้ ดูแพลนแบบละเอียดด้านล่างเลยจ้า ทำมาเป็นตารางให้แล้วจ้าา
รีวิวประเทศอังกฤษ ทั้งหมดของ Hashcorner
Airport Round-Trip Transfer with Heathrow Express
For London Heathrow Airport round trip transportation, I advise you to take the Heathrow Express which is the easiest, fastest, and most convenient way to access London Paddington only in 15 mins. As this train is non-stop at any station, it goes directly from the airport terminals through London Paddington station, where you can take a rail network connecting to another city. Or else, you can take 3 more Underground lines to the other parts of London as well. This is so comfortable!
The longer you reserve the train ticket in advance, the price you'll get an offer is cheaper. The price will increase continuously from the cheapest 30 days in advance, then 15 days in advance, and the most expensive one is booked within 15 days during your trip. Therefore, whoever already has a travel plan, book it now! And of course, booking via KLOOK is a good option because it's favorable. The ticket will present as the QR Code you can scan at the gate right away. Buy Heathrow Express ticket through KLOOK. Click here!
Exploring London

on the very first day!
For a worthwhile trip, use LONDON PASS

For those who want to travel around London and achieve the landmarks as many as you can at an economical price. I recommend buying the LONDON PASS because you can use it to enter more than 80 tourist attractions, each of which is mind-blowing, such as Westminster Abbey, Tower of London, Tower Bridge, St. Paul's Cathedral, The View from The Shard, as well as you can pick and get on the free Hop-on Hop-off bus providing service from various companies. The Thames with City's Cruise is also included in the package.

Anyway, it's a good value if you plan to visit these places. So, I advise you to make a decision first on where you want to go, how much of an admission fee for each place, and compare the price with the LONDON PASS, estimate it if it's worth buying. As for this travel guide review, I bought a 1-day pass that can be loaded onto a mobile phone, so it's very easy to use because you can roam everywhere just holding one phone. if any of you exactly going to follow my plan, it's advisable to buy the LONDON PASS at KLOOK. Price per person, you can view and click the link below to buy it.
Churchill War Rooms
The first attraction to begin this London trip, I straightened forward to Churchill War Rooms Because there were many Tripadvisor users introduce and recommend to visit, so I decided to give it a try. The cool thing is, you can use the LONDON PASS to enter there without paying. (The regular ticket price is £22.) For this reason, I surely did not skip it. People who like history, particularly the story about World War II, I assure you going to like this War Museum. In fact, the place is truly the battle headquarters of former British Prime Minister Winston Churchill, the powerful statesman that led Britain to victory in World War II.
The walking routes in Churchill War Rooms are laid out as an excellent path. Before you get started, I want everyone to bring the Audio Guide along. If you miss or forget to take it, then you will not comprehend all the records happening here. This might ruin your mood because the aim of traveling in this museum is to let your ear listening to history and let your eye experiencing the reality in front of you.
This mysterious Churchill War Rooms became fully operational on 27 August 1939, a week before Britain declared war on Germany and were in use 24/7 as a war headquarters until 16 August 1945, which is the last day a 'Map Room' had been turned off the lights for the first time since proceeding for 6 years. Practically, the room never once turned off the light at all!
Personally, I like this place and I feel it's really cool. Because it's real-existing. Besides, I open up a pretty wide vision, especially on the story about the basement secret headquarters, which sited and arranged numerous rooms like a maze whether it is the Winston Churchill Confrontation Room where the short-tempered PM argued against the Commander in Chief of each unit, the room also housed a piece of military information to instruct fight plans on the battlefield. Apart from that, there were Churchill's bedroom and many other offices which are still well preserved until now.
The staffs who worked in this Cabinet War Rooms were to remain here for 24 hours, not noticing day and night, or even being exposed to sunlight. During the war, there was broadcasting via the BBC from Churchill who speaking in the secret base to the public in Britain.
Moreover, a Map Room was the place I'd like you guys to see the pinned map charts which expressed in great detail how Allies devastated the German forces. I gained so much knowledge from this, I even noticed the walking path in Southeast Asia including a path for my homeland (Thai) military. Examining all over was great fun, and I think this is one of the coolest museums in the world!
Westminster Abbey
Westminster Abbey is considered to be one of the most important sites in England and is now appointed as a royal monastery. Anyone who wishes to make an England journey, you can't miss this in all respects. Its beautiful scenic and precious with the British Royal Family historic for more than 1,000 years since 960 AD. The Coronation ceremony, Royal Wedding ceremony, as well as the Royal tombs, are all held in Westminster Abbey. As you can see, the site relates to every aspect of the British Royal Family.
Tourists with LONDON PASS can easily pass-through the entrance. But if you don't own one. You must buy the admission ticket first, or else you can purchase via KLOOK. It's very simple.
Westminster Abbey was constructed in 960 by Benedictine to perform daily rituals. Until 1245, King Henry III built the church in the greatest Gothic style as a shrine to venerate King Edward the Confessor and as a suitably regal setting for Henry's own tomb.
At Westminster Abbey, it became the 38th coronation of the British monarch. Since 1066 of William I, and most recently was the ceremony of Her Majesty Queen Elizabeth II on 2 June 1953.
Furthermore, it is the burial ground for 18 kings and is also the venue for the funeral of Princess Diana. Subsequently, it became one of Britain's most honors to be buried, cremation or commemorated in the abbey. More than 3,000 memorials of important and famous people in England were carried here. One of them is Isaac Newton, Stephen Hawking, Nelson Mandela, and Charles Darwin.
The inside of the Abbey is very large, the providing routes lead you to follow on. What I suggest to see is the manifold architectures like stained glass, monolithic, and sculpted roofs. The work is exquisite and detailed. Other materials you can't be missed are a statue, Royal tombs, and memorials of important people. When you walk in, the staff will hand you the Audio Guide. You can listen to the story in each scene, so don't worry about not knowing background records.
City Cruise
After reading this trip review and would like to follow my exact plan. The next tourist attraction I visit was the Tower of London, which you can get there easily and free of charge (if you have LONDON PASS), you can take the City Cruise from Westminster Pier to the Tower Pier. The boat ticket that exchanges from the LONDON PASS will be a 1-day Hop-on Hop-off Pass where you can ride an unlimited City Cruise in one day. Great choice, isn't it?
As the City Cruise is specifically served for traveling purposes, meanwhile, cruising the River Thames, you'll go through many landmarks in London. There also offers a live commentary to explain each attraction history. I personally enjoyed this a lot, the entire city of London scene was spectacular, plus, the commentator was entertaining. This is another activity I don't want you to sleep on it.
Tower of London
The title may be called 'Tower'. But the structure regards more of a castle. Because in reality, the Tower of London was a fortress, royal palace, armory, animal husbandry, mint house, and Jewel House where particularly stored The Crown Jewels. But the most famous tower is the prison cell which sited a place for torture and execution. People believe the ghost here is infuriated from the struggle for the throne, including internal conflicts.
And once again, tourists with LONDON PASS can walk in. But if you don't own it. You must buy the admission ticket, or purchase online via KLOOK. It's convenient as usual!
Many people claimed to witness of seeing the spirits of noble and British Royal Family. The reputed story is the spirit of two little princes, the 12-year-old Edward V, King of England and his brother, Richard of Shrewsbury, Duke of York at Bloody Tower, many of whom are believed the two princes had been murdered by their uncle to usurp the throne and established himself as King Richard III. Thereafter, the workmen who looked after the tower saw the white-dress princes held hands, standing still before mysteriously disappeared into the wall.
There is also the headless spirit of Anne Boleyn, the second wife of King Henry VIII. Many people often saw her at Tower Green near the Bloody Tower which was a place to behead her with accusations of adultery and treason. But in truth, Henry VII was out of love and found a new love. Besides, Anne Boleyn was unable to give birth to a son, therefore, disappointed Henry VIII accused her guilty. Before she died, she cursed the imprecation, causing her spirit to remain and refuse to go anywhere (This story is based on what I read).
These two are just examples of terror stories in the Tower of London, which the rumors spread on much more. If you want to know further than this, let's search, read, and visit to see how the real atmosphere is intense. As I went up to the Bloody Tower, there exhibits hand-animated AV installation of the boy princes. The place is not scary at all, but I'm not sure how the night will be like. It might be haunting regards all spoken came from the guards stationed at night watching. They explained that at 2 am is the most terrifying moment because it was the period of executions of the royal family.
Okay! Time to step back from a horror story. Let's continue traveling. LOL // One thing you should not be missed for visiting the Tower of London is to see The Crown Jewels of the United Kingdom, such as the crowns and stamens whether it be St Edward's Crown one of the most important emblems in the Coronation of all 6 British kings, including Queen Elizabeth II. I insist this is a must-spot to drop by. From this point, I have no image to show you because taking a photo is not allowed inside.
Apart from displaying regalia, many buildings also have a museum exhibit. If you wish to travel in-depth and collect as many tourist spots as you can, then you may take several hours. Unfortunately, I didn't have enough time because my schedule was quite tight. Plus, it was raining and I started getting tired, so I have a few pictures shown. It means this review here shares only a wordy story. LOL
Tower Bridge
Last London trip, I had only taken a picture with the Tower Bridge without entry. The tourist destination is considered another famous landmark in London. It becomes an iconic symbol despite the unique outlook. The bridge crosses the River Thames, in which the 2 bascules are raised for a large boat to get through. OFC, this time, I got LONDON PASS in hand (The regular entrance fee is £9.8). So, I didn't waste my chance to get inside and go up to sight the scenery of London with the flowing River Thames pass through the center. // You can buy a separate ticket as well. It depends on your satisfaction.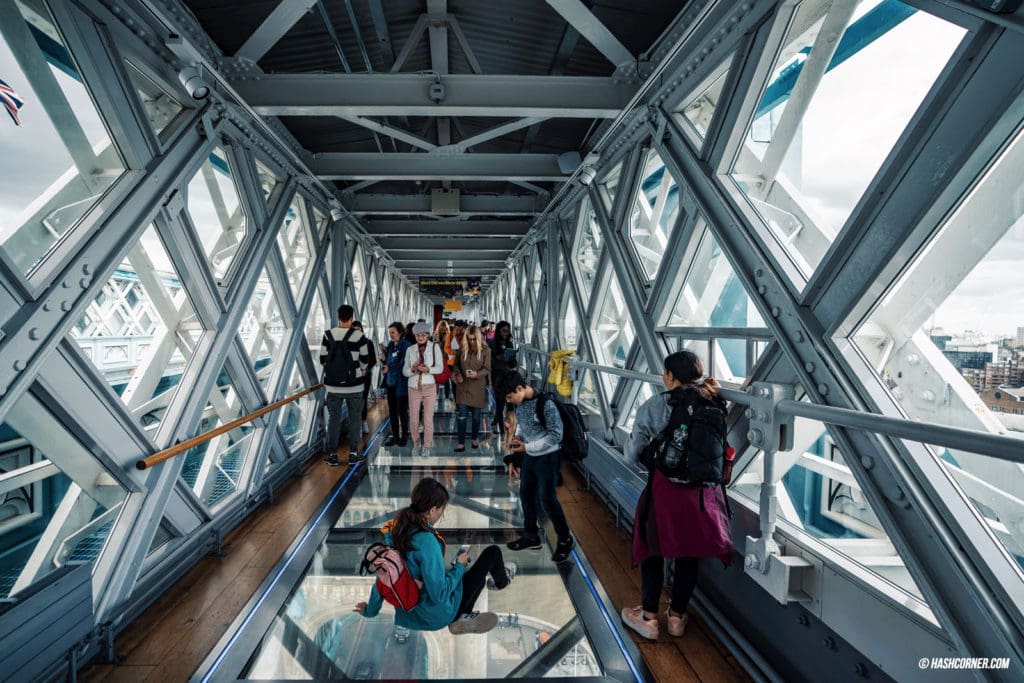 Unless looking at the city scenery, the bridge also features a clear glass you can look through the ground surface below. Those who are scared of the height, this may hit you hard! LOL
Currently, Tower Bridge bascules are daily lifted and slid down to allows passing boat 1 time per day. Visitors can access to check the working hour from the official website. Luckily, when I was on the City Cruise back to my hotel. I happened to see it by chance! What a blessing!
City Cruise #2
On the way back to the hotel, with a desire to save on the Underground fare, plus, the City Cruise ticket I got from LONDON PASS are unlimited rides. I jumped on the last boat back to Westminster pier. As I mentioned earlier, getting on the boat this time was my luck to see the Tower Bridge lifted before the cruise boat departure. Moreover, getting to see another round of London City was completely different from the first ride. Because it was the sunset scenic. And it was so amazing! My overjoyed tears would flow! This was a very cool way to end the LONDON first day trip. Much Love 💕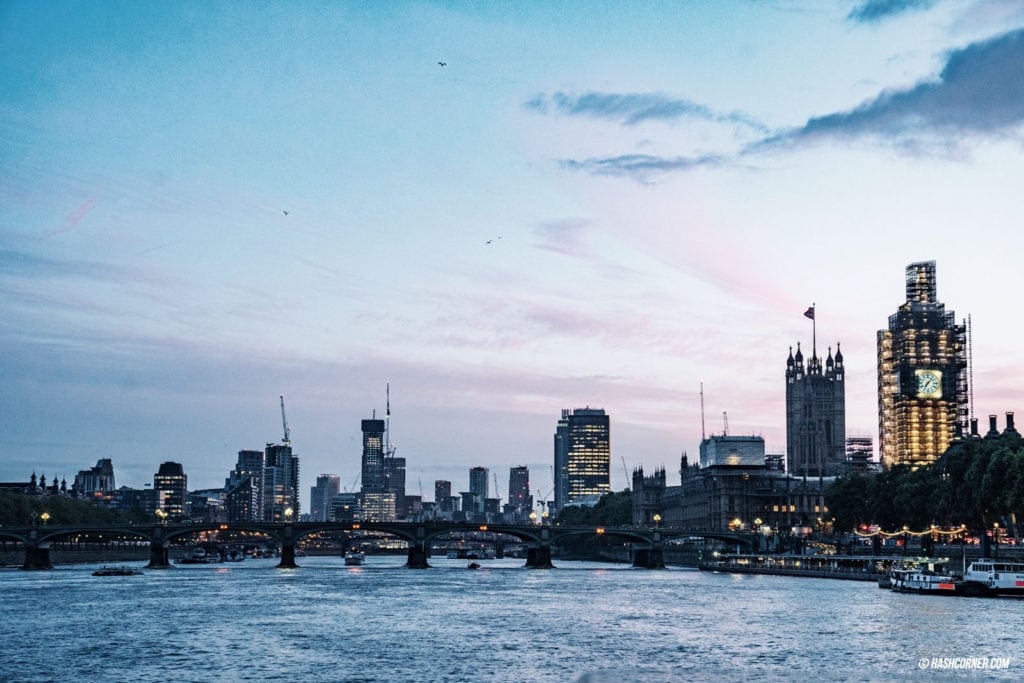 Exploring London

| Day 2

For the second day of London trip, this is all set to be the Museum Day because I'll specifically focus on visiting museums located in the city. Each one is a world-class museum that once in your life, you should experience it. The good thing is, visiting museums in London are entrance free for all locations. This is pretty cool, right? (But some places will request to donate to help the museum, it's voluntary and depends on you.)

List of museums in London I planned to stop by were; The British Museum, Natural History Museum, Victoria and Albert Museum – V&A . The one I accidentally met and entered was National Portrait Gallery. Too bad, there was another one I didn't get in. Because I started to feel exhausted at the time. Maybe it was the effect of absorbing too much of the museums. LOL. That place was the Science Museum. It was unfortunate not to get in (even though I stood in front of the gate already, haha). To summarize, anyone who likes to learn and experience museums, you can drop and go straight in at once. But if you're not a big fan of visiting a museum, you can skip the Day-2 review. It depends on each person's preference and lifestyle.
The British Museum
The first and most wanted museum I wanted to visit was The British Museum, which is respected as the oldest national museum in the world. It operates for more than 250 years now (it's aged and even happened before America was discovered!). The museum focuses on the stories of human history and culture that displays collected ancient artifacts. Including various exhibitions express a history of more than 2 million years.
The exhibit collections are gathered from around the world and displayed by period. Since ancient Egypt, Greek and Roman, including the native collections starting with America, Asia, and the Middle East. Many of which are very difficult to find. In my perspective, the British Museum here is one of the must-see museums in London. Because the services are provided to the fullest, I give 10/10 with no deduction! (I'm acting big now 😂)
The British Museum is huge if exploring for one day is definitely not enough. So, I suggest seeing the rough map through the website first. Click here. You'll be able to plan the direction and choose where you want to reach. The official website also has some recommendations and events you should not be missed. // View maps from the website otherwise you have to buy it from the museum for £2. Or else, you can take a picture of the directory map there.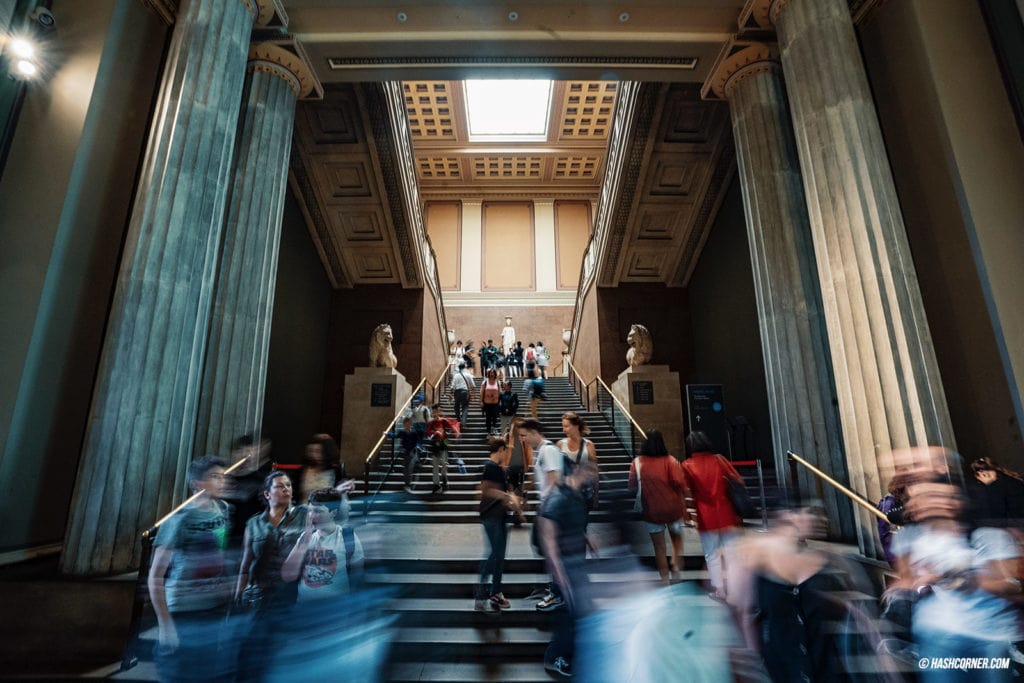 I won't explain that deep details because I want you to see it with your own eyes. The must-see destination, I recommend you to straight for it is the ancient Egyptian chamber, it is very magnificent, especially the statues in the Egyptian era which presents both real and replicas. While watching it, I felt goosebumps. The most repute object in this section is the real 'The Rosetta Stone' contains 3 types of the ancient letter that are hieroglyphs, demotic, and ancient Greek. This stone was discovered by the explorers of Napoleon in 1799 until England later conquered the French army in Egypt in 1801, causing England to occupy this stone and brought back to London, later it is exhibited at The British Museum since 1802 and considered to be one of the most precious and famous pieces of this place.
Next is the Asia section, they also include for visitors to study and observe as well. Most will focus on the collection of Chinese history and civilization for more than 23,000 pieces, started from the late stone age to the present. After China, there will be olden India, followed by Japan and Korean, and surprisingly, there is a collection of North Korea regarded to be the largest source among all Western museums as well.
The last section you can't sleep on is the European history and civilization that has existed before Greece, then continue influence to the Greek and Roman era, then approaching Europe until the present day. All collections are taken up the most space in the museum, which could be understandable because of its origin in this area and around. Inevitably, you'll see the magnificence, the creation, and the meticulousness of the ancient objects, including many statues and paintings on a display.
National Portrait Gallery
Attending the National Portrait Gallery is a coincidence. Because at the time, it was raining while I wandered around. To avoid the rainfall, I decided to enter this museum. Believe it or not? I found an exceptional gallery that shows collections related to portraits. The media techniques apply to the shown works are painting, photography, clay work to produce statues of both historically important British people and people from all around the world. It's fascinating!
National Portrait Gallery will hold a permanent exhibition with a variety of rooms for us to see. Whether it is a painting of the British king in each period. The work of the 17th-18th century, it was a new era for humanity which is considered one of the most prosperous times of art and science. Besides, there is also a unique rotating exhibition in each season. During my time, there was The BP Portrait Award, a showcase contemporary portrait that wins awards from competitions around the world. It was so cool! I enjoyed it a lot. Anyone interested in portrait art, this is a must-come to learn various elements.
Natural History Museum
The Natural History Museum is another recommended museum in London next to the British Museum, I suggest coming. I promise this is really worth visiting. Because it's a world-class offering new experiences with full of knowledge. Originally, the museum was a part of the British Museum before expanding and separating into specifically Natural History Museum.
To be honest, when entering the museum's main hall, Hintze Hall. I almost screamed because it is decorated with Romanesque cathedral architecture with a 25-meter Blue Whale skeleton which beliefs to be the largest animal in the world, and it's hanging predominantly in the middle of the hall.
Furthermore, around the hall, there display fossils of other animals to let visitors observe cautiously such as Mantellisaurus one of the dinosaur skeleton species therewith inspected to be the most complete fossil skeleton that has been discovered in United Kingdom. Oh, this is a very enjoyable walk!
Next to the main hall, the arrangement of showrooms is separated according to the different types and species of animals and insects. i.e., the dinosaur showroom where you can learn the deepest whole story of dinosaurs, including the fossils of different species. The cool thing is, you can meet the real roaring T-Rex too! Children will definitely like this, LOL.
The room I treasure the most in the Natural History Museum is a mammal showroom, it's all-fired with numerous animal and animal anatomy models that present various mammalian classification. the exhibit models are mammoths, elephants, giraffes, etc. Aside from seeing plenty of animal models in this room, the given information is also an excellent source. I got a full knowledge applied in my brain cells.
Other than the permanent exhibitions I've described, there are also rotating exhibitions that rotate from time to time. For example, during my visit, there was a very charming Moon Exibition . I got so many cool photographs captured in this room.
Here are just a few examples. I don't want to spread the spoilers till you run out of interest. I recommend you continue traveling and see it for yourself. In London, the Museum of Natural Science can be viewed as the original. Because there organize great instructional media with ornamentation. Anyone who likes to see a museum like this aside from London, Shanghai is another good option as there also has the Shanghai Natural History Museum, which is decorated in the most modern. If you're seeking for the original, come to London. But if you look for a massive animal installation, Shanghai is the beater. If you don't believe this, you can read my Shanghai travel review here, haha. (Click)
Victoria and Albert Museum – V&A
Let's continue with the last museum of this day-2 trip. Just across the road from the Natural History Museum, there stands the Victoria and Albert Museum – V&A. When I walked into the building, I like it at first sight. The cafe in front is extremely lovable with a contrast between modern and classic. It looks so charming!
The distinctive of the Victoria and Albert Museum – V&A is not inferior. It is considered the largest museum of applied art and design in the world. There are more than 2.27 million pieces exhibit here. Exclusively (for me), Thai art is on display too!
At first, I thought that V&A would be a contemporary art museum. But in fact, It's not. There are many different art fields such as collections from the Classical Antiquity, which said to be the largest and plenteous collection outside Italy. And there are also pieces from every period around the world, including, architecture, photography, sculpture, books, ceramics, furniture, textiles, or even fashion that combines the legendary collections of leading world-class brands.
As for the collection in East Asia, there are pieces of Thailand since the Sukhothai to Rattanakosin era. The shown works emphasize the Buddha statue in each period of time. Moreover, the 'Art of The Bangkok Court' collection conveys items from the Royal Family is on display from 1782-1910 at V&A. Personally, I think some of the pieces are hardly found in Thailand. Besides, there have Burmese-style Buddha statues to sight as well.
For a big fan of contemporary artworks, there show numerous pieces but most are in rotating exhibitions. Each event has a pretty cool concept. For more details, try accessing the V&A website to discover which work is shown during your trip? The exhibition is both free and paid.
Finished from traversing around, I suggest chilling out and resting at The V&A Garden Cafe . The atmosphere is really nice. The seats are mostly occupied. It was enjoyable and I sat there for quite a long time to shut-eye from viewing billions of art pieces. LOL
Regent Street
Let's start shopping now! Completed from every museum, I'll take you to ramble at Regent Street. Here, I would like to mention, there are so many great and famous places to shop such as Regent Street, Oxford Street, and Covent Garden. As for Regent Street, there are positioned more luxury brand stores than Oxford Street. Plus, the building there is so attractive. Well, if you're not a shopper, you can just take a walk and admire the scenery. // I didn't buy things either. No money! I just wandered around the city until night. LOL
Not only the main path, but I also recommend walking around the alley parallel to Regent Street . I would say that many bars and shops are hiding along the way. The atmosphere on the small lane is sometime better than the main one. It feels refreshing!
Exploring London

| Day 3
Covent Garden

Waking up on a bright day. This day 3, I aimed to chill out and do some slightly shopping. Because it would be the last day in London before packing and going back home. Initially, I went to Covent Garden which has everything whether it be brand clothing stores, shoes, skincare, and many more, including cafés and restaurants. Besides, in Covent Garden, there is also an antique and second-hand zone. It pleasantly opens my view!

I think Covent Garden is the best local shopping in all London shopping street. This is a purely personal opinion. Because there settle stores in a wide range of genres and satisfies every lifestyle, regardless of who you come with, what kind of thing you like, this place is an answer to everyone. Well, I recommend you try it here!
One of the Covent Garden highlights is Apple Market . By the name, you may think, is this a place for selling fruit? Oh, yes it was in the past. There used to be a vegetable and fruit stall. Until now it has been transformed into a zone where local people come to set up a booth to sell craft and design work. Who likes the Fleamarket in London style? Come and have a look around. On Tuesday – Monday will be a market for selling handmade, jewelry, craftwork. As for Monday, it will sell antiques and collectibles.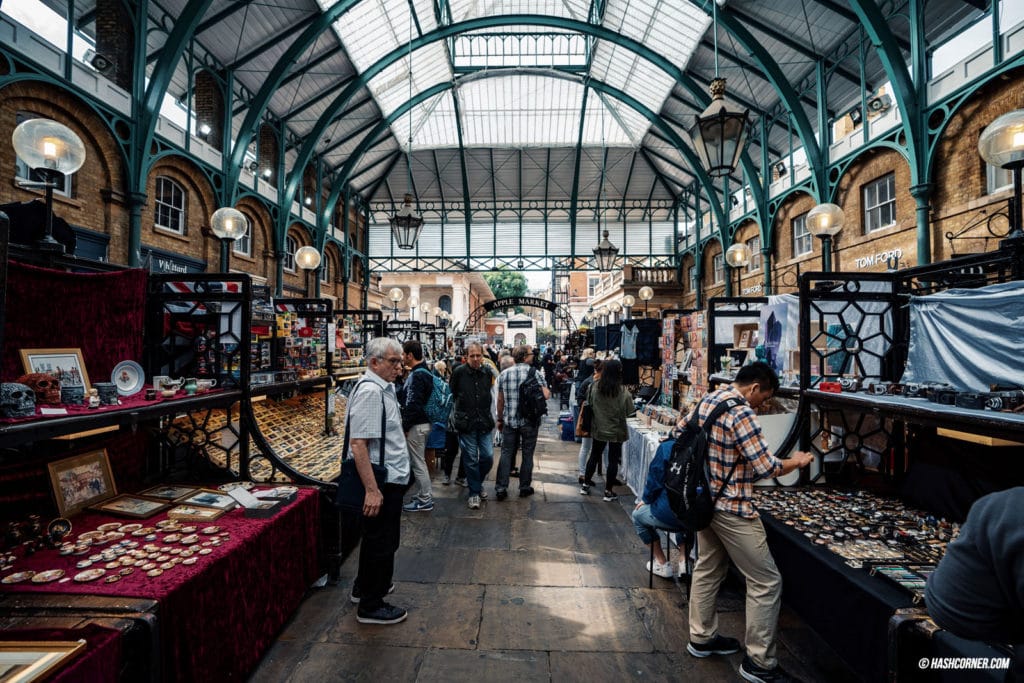 Aside from shopping, at Covent Garden, there is a plaza in front of St Paul's Church where is arranged space to let street performers show their potential. This made the place well-known. Talented people come to occupy their space to showcase what they've got. Whoever has no specific plan, you can come and chill out here.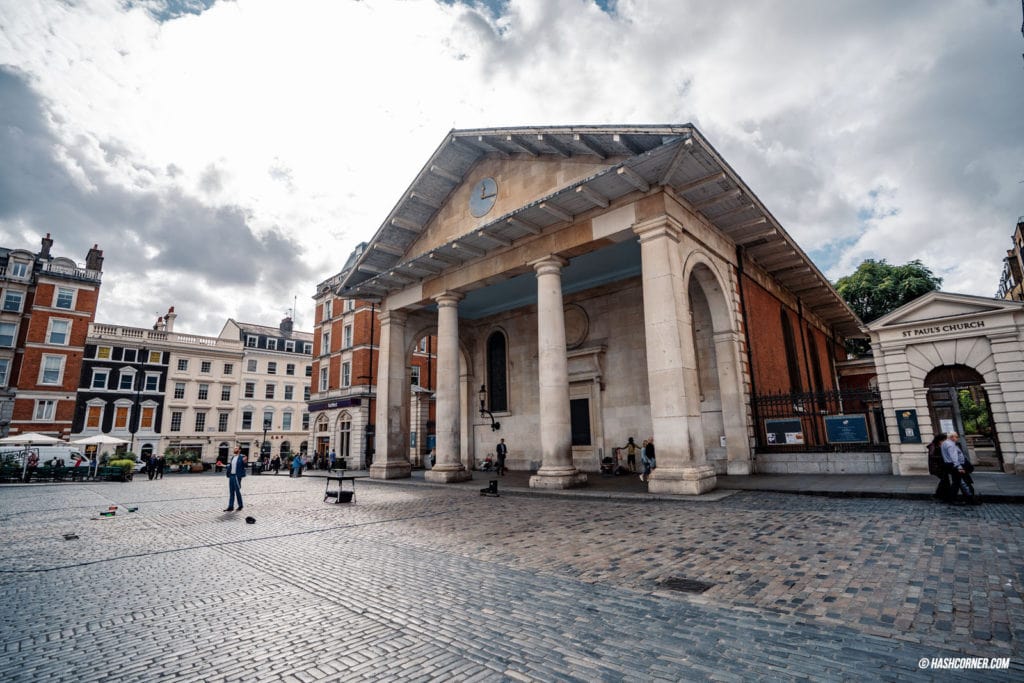 China Town
After finished from Covent Garden, I continued walking to China Town because this neighborhood is famous for cheap food. And of course, Asian people like us will approve the taste, hahaha. The atmosphere of London China Town is a lovely mixed culture, the buildings are bright and often red, decorated with flashing LED lights. The indispensable thing that makes the area looks more Chinese is a hanging red lantern and the Chinese arch. Look! The taken pictures are pretty good here!
The restaurant I repeatedly eat whenever traveling in London is Four Seasons. Last time, the grilled duck was savory, it fascinated me to the point of coming back again and again. This time, I couldn't help but tried it at the China Town branch. No queue up! I could go inside right away. I ordered the grilled duck and the roasted red pork. Overall the price is affordable. I think the duck here is much better than Four Seasons in my hometown (Thailand). The restaurant (London branch) is original though!
Oxford Street
Eventually, we should continue shopping on Oxford Street (it's truly a Shopping Day). We can walk through Soho or walk along Regent Street to reach Oxford Street. You can come from every direction, depending on your convenience, just walk north because Oxford Street is so long, hahaha.
The Oxford Street feel is different from Covent Garden, as the place is provided more of a brand store, including Fast Fashion Brands (Topshop / Topman, H&M, Zara, Uniqlo, Pull&Bear, Bershka, and many more). All of the UK's Fast Fashion brands are recommended to buy here. It is definitely cheaper than in other countries, except the Japanese brands such as Uniqlo, Muji. I'm not sure about other places but in my hometown is cheaper than here. The brand I recommend seeing is Topman / Topshop because it's a UK brand. The design is mixed between classy and avant-garde. But the latter style let me down a little.
For those who want to shop at a budget price and prefer getting quality products. I'd like to introduce the shop PRIMARK, which is similar to clothes selling in a supermarket (but PRIMARK is more eye-catching). The PRIMARK at Oxford Street is 3-4 floors building which is very huge. Apart from apparel, there are also household items, own-brand skincare. I bought some plain design clothes to wear at home as well. the quality is no joke!
Some shoe models are cheaper here and I've never seen or found anywhere at hometown. There are both Nike and Adidas on Oxford Street, but the recommended shop is JD Sports. Many people may not know JD Sports is from the UK, the store includes all brands of Sportwears and theirs are quite selective. This is a good deal. Sometimes the store offers a discount on many models too. I like it very much.
⚡️Well, sum up! Oxford Street is a shopping place containing a wide range of brands and these brands are approachable. This reason makes it different from Regent Street where is a bit more luxurious. For Covent Garden , most products are chic and alterable. Shopping in London is fun, and the foreign brands here are almost cheaper than in my country. I'm in LOVE with this ♥️
The attractions in London are not just this.
I also have the first London trip review. Click on the picture below ♥️
The first time in London, I traveled a lot as well. There are many more places to follow, including the Warner Bros. Studio Tour London – The Making of Harry Potter, Emirates Stadium – Arsenal FC, The Shard, St. Paul's Cathedral, Westminster Bridge, and Bicester Village Whoa! Full-fledged plan! Read it now. Click
Accommodation in London
La Suite West Hotel London
The accommodation I stayed in this time was La Suite West Hotel London in Bayswater near Hyde Park. If considering the hotel location. To evaluate it out of the ten points, I'll give more than ten because the Bayswater area is full of eateries and supermarkets along the street. There is the well-known Four Seasons restaurant where presents the heavenly-taste grilled duck. Squeaking! It means you surely won't starve when surrounding with foods. It's also convenient with 2 Underground stations that are; Bayswater and Queensway. 3 trains pass this area.
La Suite West Hotel London is a luxury hotel in this area. The accommodation is good, providing a comfy bed, full facilities. The only thing I felt offended was the closet design that made a complicated function and hard to use, I had to open the door multiple times. For the bathroom, it was well-decorated with marbles and the interior looks posh. The bathtub installed a very short glass partition, when showering, water splashed all over the floor.
Breakfast is suggested to eat outside. Because the hotel restaurant is Vegan style. Not much of a breakfast choice to select, there are only bread and cereal. Seriously, it's not worth the price to pay. I wrote a very honest review. Please Go-Eat outside LOL!
In summary, La Suite West Hotel London is located in an excellent location. The room is fair, comfortable and well-furnished. I can't find any regret spending the nights here. Just don't buy the hotel breakfast is enough. Haha. Overall, I appreciate it so much!
La Suite West – Hyde Park
Room rate starting at 214 USD / night View rates and book La Suite West – Hyde Park , click on the link below to check and reserve through your favorite OTA right away.
Book via Agoda
Book via Booking
Book via Expedia
Book via Trip
Book via Hotels