York is a lovely compact city where I think you should not be missed when visiting the UK. This is an ancient city with a history of almost 2,000 years since the Roman Empire. So, if you plan to travel from London to Edinburgh, stopping by and staying overnight in York is considered a good idea. You can spend a day leisurely, plus, you won't get tired of traveling because York is in the middle of the way between London-Edinburgh.
รีวิว เที่ยวอังกฤษ + แพลนเที่ยวอังกฤษ
สำหรับการไปเที่ยวอังกฤษรอบนี้ ถือเป็นการเที่ยวอังกฤษรอบที่สองหลังจากรอบแรก ภายในหนึ่งเดือนแค่นั้นเอง คือจะเรียกบ้าก็ว่าบ้า เพราะครั้งแรกไปแล้วรู้สึกยังไม่เต็มอิ่ม แถมไปแค่ลอนดอนที่เดียว มารอบสองรอบนี้เลยจัดเต็มชุดใหญ่เลยจ้าแม่ ใช้เวลาทั้งหมด 11 วัน 10 คืน โดยเราจะบินไป-กลับไทย จากลอนดอน และไปเที่ยวยังเมืองต่างๆ ตั้งแต่ ยอร์ค (York) เอดินบะระ (Edinburgh) อินเวอร์เนสส์ (Inverness) เกาะสกาย (Isle of Skye) บาธ (Bath) และจัดเต็มก่อนกลับไทยที่ ลอนดอน (London) นั่นเอง ใครที่อยากตามรอยอะไรแบบนี้ ดูแพลนแบบละเอียดด้านล่างเลยจ้า ทำมาเป็นตารางให้แล้วจ้าา
รีวิวประเทศอังกฤษ ทั้งหมดของ Hashcorner
Access York by Train + Use the BritRail Pass
The most convenient way to access York is to take the train. Regardless of whether you come from London or Edinburgh, you only take about 2-2.30 hours by train. I, therefore, recommend visiting York because it is suitable for being a stopover city before reaching the other 2 cities. Supposing you take the direct train between London <-> Edinburgh, then you have to get on for 5-6 hours. Thoughtfully, it's dead-tired.
Single Ticket / Return Ticket
For tourists who don't hold BritRail pass that gives you the ultimate rides. I suggest reserving the train ticket in advance. Because of some popular routes such as London-Edinburgh. The trains are almost occupied at the busiest hour. To prevent the unexpected situation and be able to travel as planned, it's a wise idea to book your train ticket in advance.
💸🚈 The recommended website for booking train tickets in the UK is probably Trip.com because there offers customer support with multiple languages. If you need helps, you can communicate or dial the call center comfortably. As much as I tried browsing or clicking here and there (I honestly haven't bought or used tickets via the website because I had BritRail Pass in hand), the nice thing is they exclude booking fees. Besides, some trip trains are way cheaper than other websites. If you see this, then have a try! Once the booking is all done. You have to pick up the ticket from a self-service ticket machine at the station. To purchase train tickets in the UK through Trip.com, click here.
BritRail Pass
If your plan includes train trips around the UK. It's advisable to buy the Britrail Pass instead of buying a single-way ticket. If you're used to utilizing the JR Pass in Japan, it's a similar system. It means you can ride unlimited trains between cities according to the number of days you have purchased, which you can select; 1) Consecutive Pass, you may choose the duration from 2, 3, 4, 8, 15, 22, and 30 consecutive days, or 2) select a Flexi pass which is to pick the number specified days and travel within one month. Besides, a travel day span, the class of travel is also available. There are Standard Class and First Class, which depends on each person's convenience and financial strength.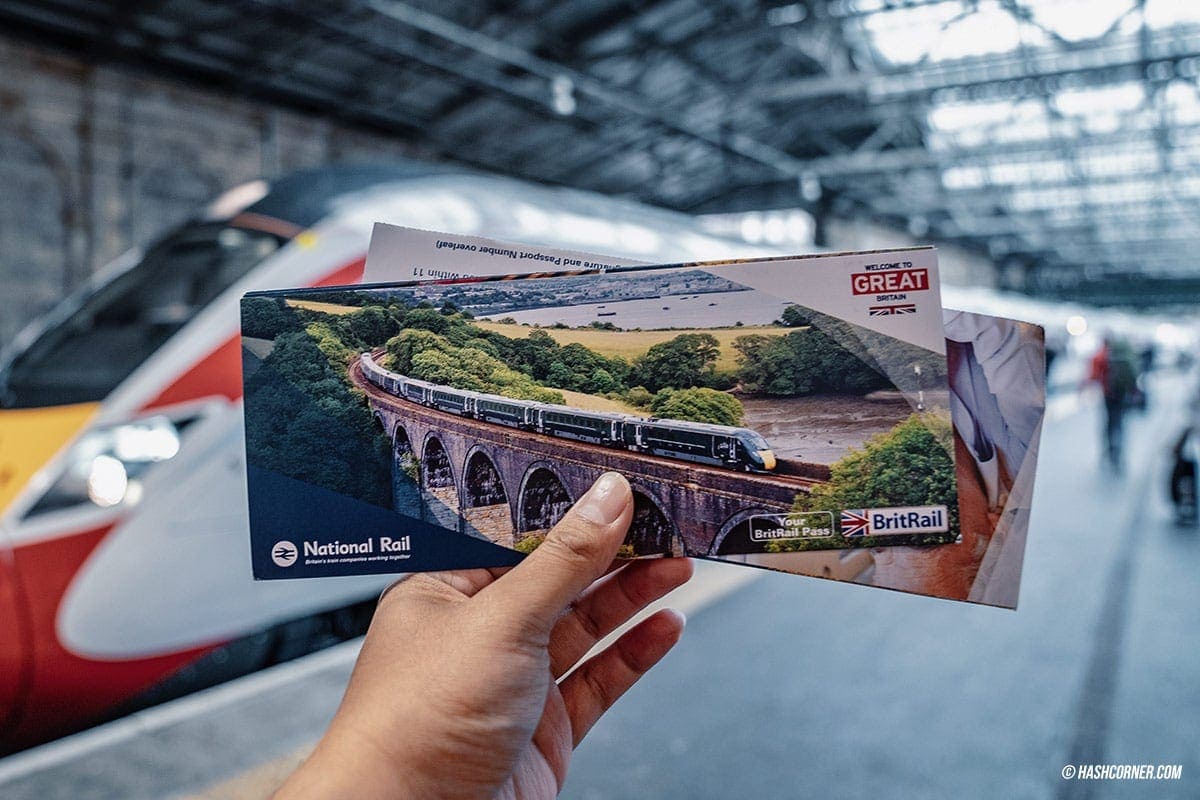 Last but not least, BritRail is classified into a sub-pass for the train in different regions, including the entire National Rail services (exactly like the JR Pass). They are classified as follows; BritRail Pass, BritRail England Pass, BritRail London Plus Pass, BritRail Spirit of Scotland, BritRail Central Scotland Pass, BritRail Scottish Highlands Pass, BritRail South West Pass. Frankly, you have to look at your own plan of where your region/city is. So, you will know what type of BritRail pass you should buy, and how many days. For further details can be found on the BritRail Website here.
💸🚈 As for where to get BritRail Pass, I still recommend buying through KLOOK because the price is cheaper than other websites. There is a full BritRail option with a monthly promotion discount KLOOK offers invariably. View all BritRail passes on KLOOK. Click here.
Things You Should Know About Buying BritRail
1. If you buy BritRail Pass with physical tickets (not E-Tickets on mobile), you should buy it in advance before traveling to Britain to prevent an unforeseen journey. I suggest buying 2 weeks in advance because KLOOK takes at least 7 business days to deliver your parcel to a given address. And in case of unfortunate, delay in delivery can occur at any time.
2. Once you get a BritRail Pass, you must first activate the pass before start using it. You should also validate it to a railway official at the departure station. They will stamp to refer your starting day of validity.
3. BritRail Pass that covers London can be used on Heathrow Express.
How to Travel in York City
Traveling within York depends on the convenience of each person. There are buses, taxis, tourist Hop-On Hop-Off buses, as well as walking. All the tourist attractions I visited in the city of York are not very far apart, including the weather was nice and breezy. So, I didn't get on the public transports at all, just a mere walking.
⚡️As I walked to visit places. Consequently, I rather skip the way of accessing York downtown. But if any of you want to be convenient, I suggest taking a taxi, calling Uber, or purchasing an unlimited Hop-On Hop-Off bus ticket through KLOOK. // Click to view and buy York Hop-On Hop-Off City Sightseeing Bus Tour from KLOOK here.
The Information Is Packed. Let's Travel to York
York Minster
The Cathedral and Metropolitical Church of Saint Peter in York, or commonly known as York Minster, is the number one tourist destination in the city, which means if you don't come here, you are failed to reach York, as this church has been the most essential religious sites in England. It can be described from the honorific title 'Minster' to attribute any large or important church. For more perception, you can also see this title appears in the terrific London, Westminster Abbey.
York Minster is respected to be the largest Gothic cathedral in England. The history began with the first wooden church that was hurriedly erected for the baptism of Edwin, King of Northumbria (Middle Ages) in 627. Shortly, the church revolved in a state of renewed, burned, and dilapidated. Until 1100, the building was restored by the Normans. And in 1225-1255, it was intended to be rebuilt into one of the greatest English Gothic styles by comparing the structure from Canterbury Cathedral.
The Gothic architecture of York Minster is absolutely beautiful from both exterior and interior. The stained glass expresses the history and religious story since the 12th century (These stained glasses were inestimable. During World War I and II, the church had to remove all 109 glass windows to prevent destroying or being hit by an air blast. Fortunately, the surrounding was not disfigured). Moreover, the interior of the vault, the carving stone pillars, walls, and various decorating elements are all elaborate and masterpiece. I cited the place as the top attraction you should indeed come to see.
💸 The York Minster admission fee is £11.5. Personally, the price is affordable. But if you want to make a trip to the Central Tower by claiming up nearly 300 stairs to get to the church rooftop, you have to pay an extra £5.
From the rooftop, you can sight another perspective of York Minster which you can't see from underneath, including a panoramic view of York city that I suggest you buying the whole package to indulge new experiences and be more enjoyable. This was truly fantastic!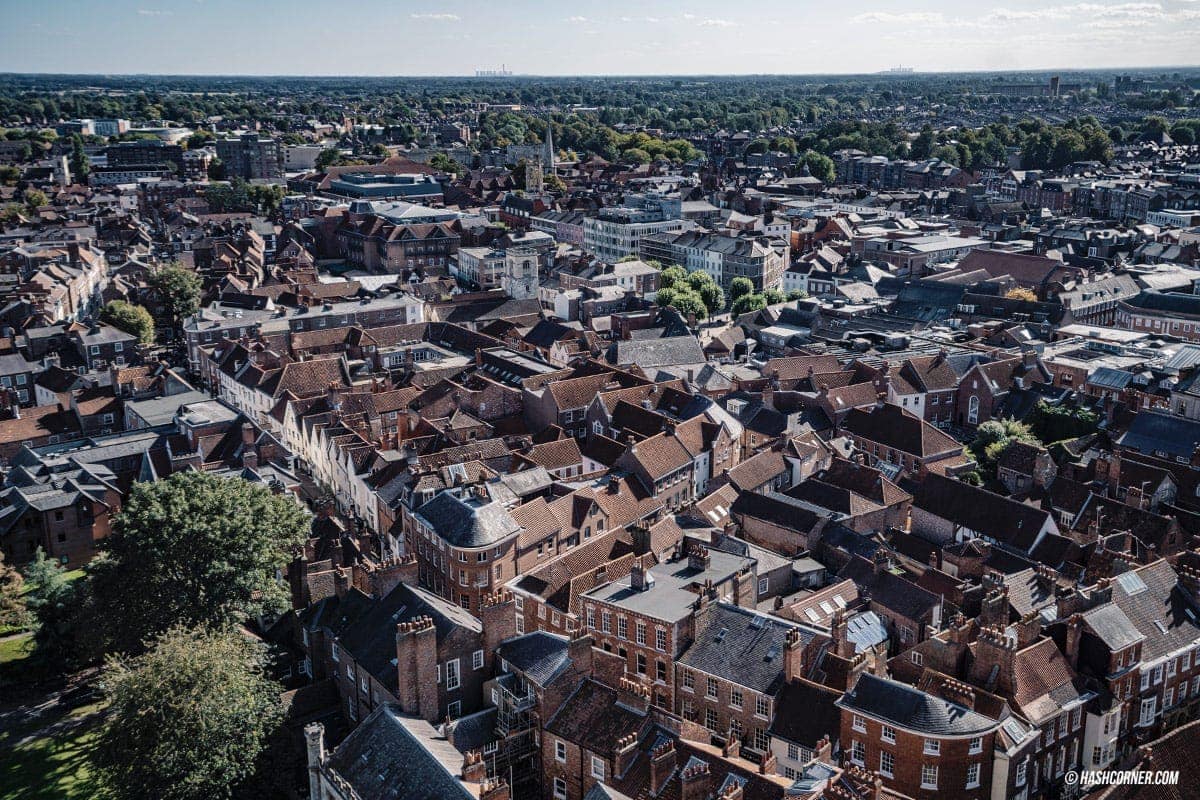 The Shambles
The pathway running from York Minster to The Shambles is an old little street with numerous shops where the environment is energetic from live music, a street artist selling sketches/arts, including many more cute shops. if you wish to find shopping places in York, it's favorable to try it here.
Furthermore, there is the York's famous chocolate shop, York's Chocolate Story which presents a chocolate history tour, there also owns a cafe I stopped by to have some chocolate. Oh! the taste satisfied my sweet tooth. Too bad, I didn't reserve for the tour because I was not that into the chocolate history or its origin.
From York's Chocolate Story, take a short walk to the right, you'll approach the entrance of a well-known street, The Shambles, which claimed to be the inspiration of Diagon Alley in the Harry Potter Fiction. As the characteristics of a wooden building are resembling one another. 🧙🏻‍♀️
To be frank, The Shambles is pleasant and attractive. It is now becoming a popular tourist destination after York Minster. WOW!
The Shambles in the past was a street full of butcher's shops throughout the passage since the Middle Ages but nowadays have been completely replaced by shops, restaurants, and cafes. A remarkable for the Harry Potter movie lover is, there's a shop called The Shop That Must Not Be Named which sells everything related to Harry Potter. Who wants a magic wand or a broom? Come here to own them! LOL
Clifford Tower
The last attraction to visit in York is the Clifford Tower. During my trip, I was fully aware that I couldn't reach there on time because it closes so fast. But since we were able to walk a short distance while also strolling around to see the area environment. I concluded seizing my chance! // Whoever can pay a visit at the expected time, climbing up the tower is suggested, you can see the incredible view of York City, along with York Minster from there.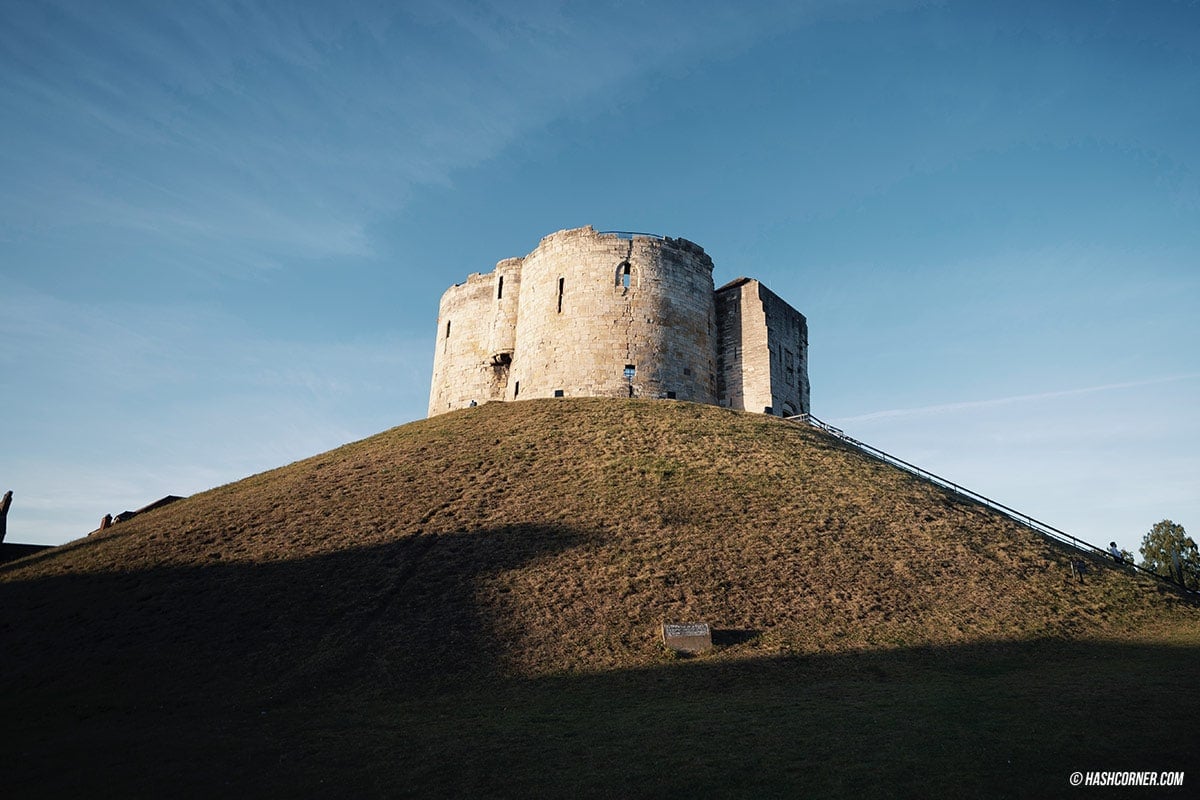 The interesting fact many people may not know is York also has castles like other cities. The Clifford Tower is one of the two remaining castles, and still active as the administrative center of northern England. It used to be a prison as well.
But what's more interesting is the 12th century incident at Clifford Tower where a group of 150 York's Jewish community was besieged by Christian mob, and committed mass suicide and massacre during 1190 due to the tension between Christians and Jews. At the time, Jews were wealthy and were a moneylender. Plus, there was the crusading propaganda which not only attacked Muslims in several cities but also the raise of Anti-Jewish riots, resulting in a massacre in this tower.
After taking some pictures at the Clifford Tower. It was sunset and getting almost dark, the exposure was stunning. From the tower, I leisurely walked back to the accommodation and absorbed the city scenery. In summary, York is a city with a great atmosphere, easy to travel, and visually impressive.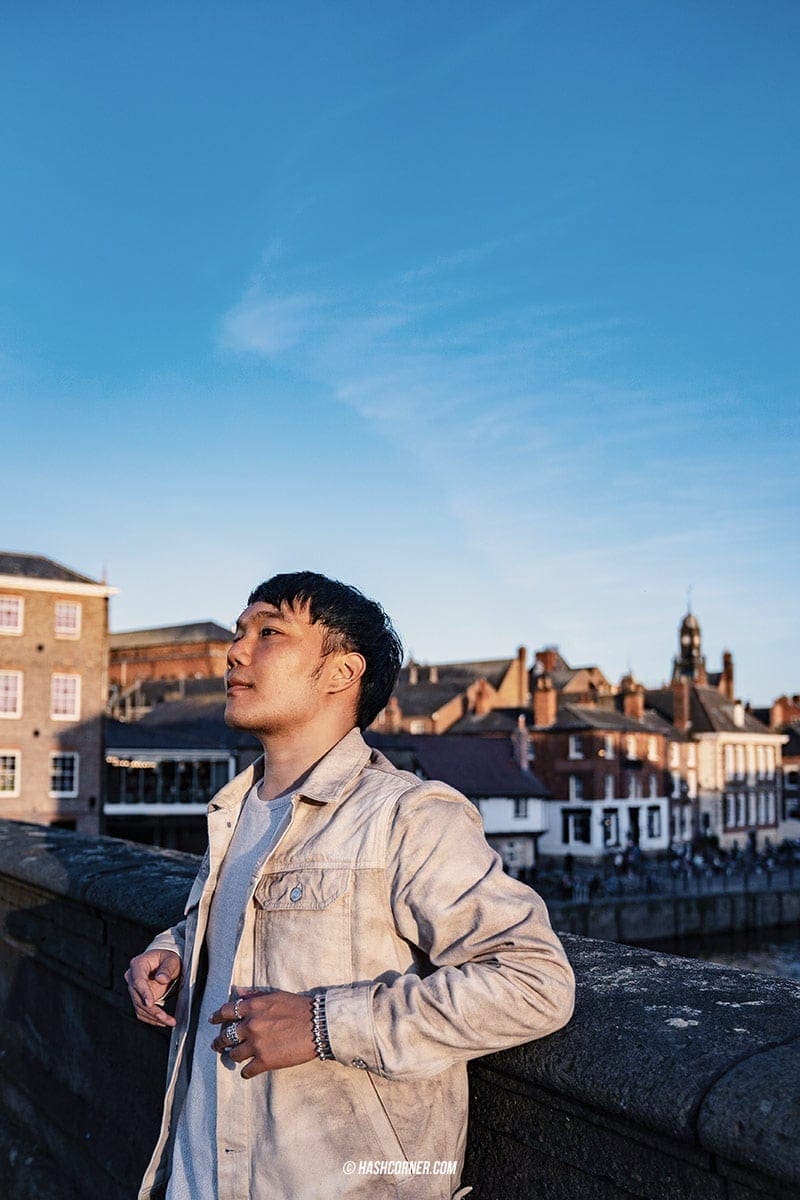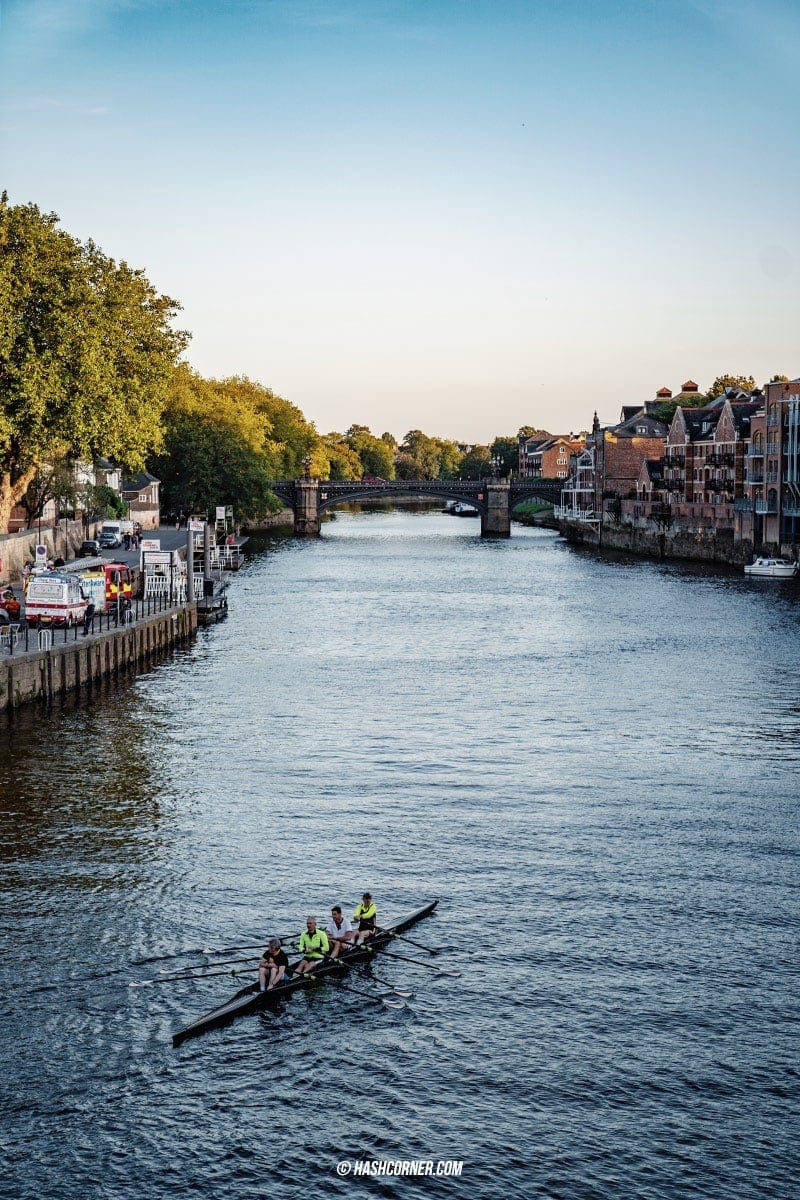 Accommodation in York
Safestay York
The chosen accommodation in York, I emphasized on economy and convenience of travel. As I had to travel here and would continue heading across cities by train, the hotel location would be considered as an excellent choice if it was near to York Railway Station. Besides, traveling within York must be convenient as well. The eye-catching and meet the specification was Safestay York where I could simply walk to the tourist attractions.
Safestay York is semi-hotel, semi-hostel, which is located near the York Railway Station within walking distance. Moreover, walking to York Minster is also very easy. There are both dormitory rooms and private bedrooms. I chose to sleep in a single room with an en suite bathroom. Overall was quite satisfying. Well, it wasn't perfect in all aspects, but it was worth the price. The room size is suitable and the bed is comfy. Though the bathroom is a bit small.
The only drawback for tourists who reserve a private bedroom (like me) is the hotel has no elevator. My room was positioned on the 3rd floor. If you bring a big suitcase to travel like me, carrying onto the room was dead-tired, I was about to die LOL.
Safestay Hostel York
Room rate starting at 22 USD / night. View rates and book Safestay Hostel York, click on the link below to check and reserve through your favorite OTA right away.

Book via Agoda

Book via Booking

Book via Expedia
Book via Trip
Book via Hotels