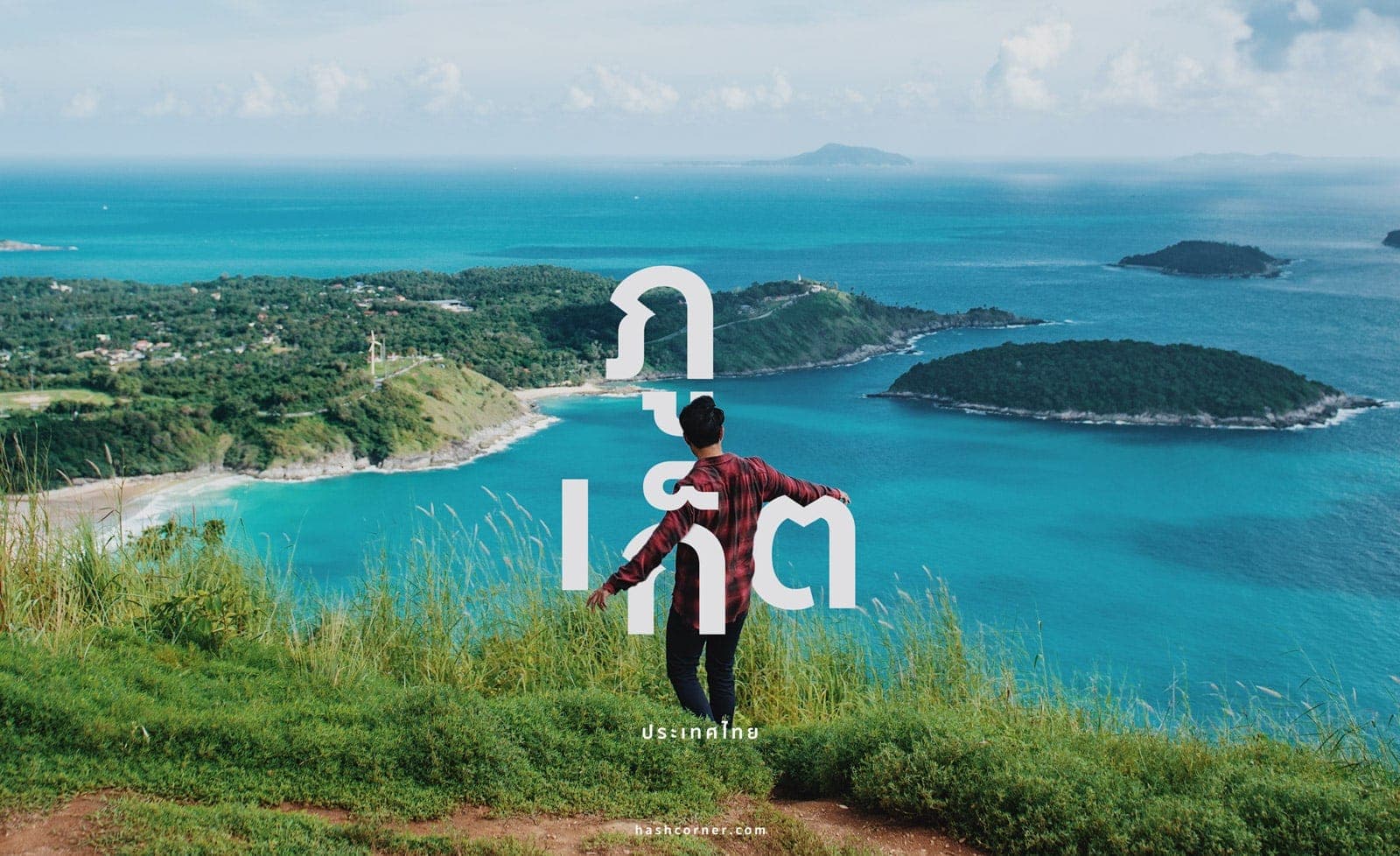 Phuket is a global destination where a large number of foreigners will first think of when traveling Thailand. The beaches are outstanding with many unique charming islands to stop by. I assure you, Phuket is indeed nice, everything just feels right whether it is the weather, clear seawater, or a beautiful seascape. On this trip, I will take everyone to explore Phuket from scenic mountains to the beaches and a world-class paradise island to stimulate you to plan a visit to Phuket.
14 Attractions in Phuket: Beach – Viewpoint – Café – Accommodation
Black Rock Viewpoint (Pa Hin Dum)
Talking about the viewpoint where you can see the Phuket panoramic view, I recommend you to visit Black Rock Viewpoint which was previously a hidden gem location. But is starting to get recognition, causing people to approach for sightseeing. I promise, you will not be disappointed because the given image displays the scenery of Nai Harn Beach, windmills stand out on Ya Nui Beach, Laem Phromthep, including Koh Hae (Coral Island). The entire scene is super awesome!
But wait a minute! Before approaching the Black Rock Viewpoint, I must warn you to drive cautiously since the road is quite rugged. Though all kinds of cars can be driven up, presuming it's raining, the road will be slippery and muddy. Thus, if it truly rains, driving up is strongly not suggested, the roadway should be very messy.
When driving to the end of the road, you'll see the black sign written 'Pa Hin Dum'. After that, you have to walk about 200 meters through a steep small forest. Let's say, it's an exercise to sweat before going to see the magnificent panorama, which can consider as a reward for your hard work. All in all, I highly suggest a visit, the view here is really… really breathtaking, I can't describe it in words!
Banana Beach
This Banana Beach or Haad Gluay is not the one located in Koh Hae (coral island), but it is a small beach in Phuket, hidden in the bottom hill's main road not far from Haad Nai Thon. Well, if you coincidently drive past by, you might not even notice there is a beach around since the only clue is just a tiny sign of 'Banana Beach' setting on the downhill road where you have to further walk to approach the location.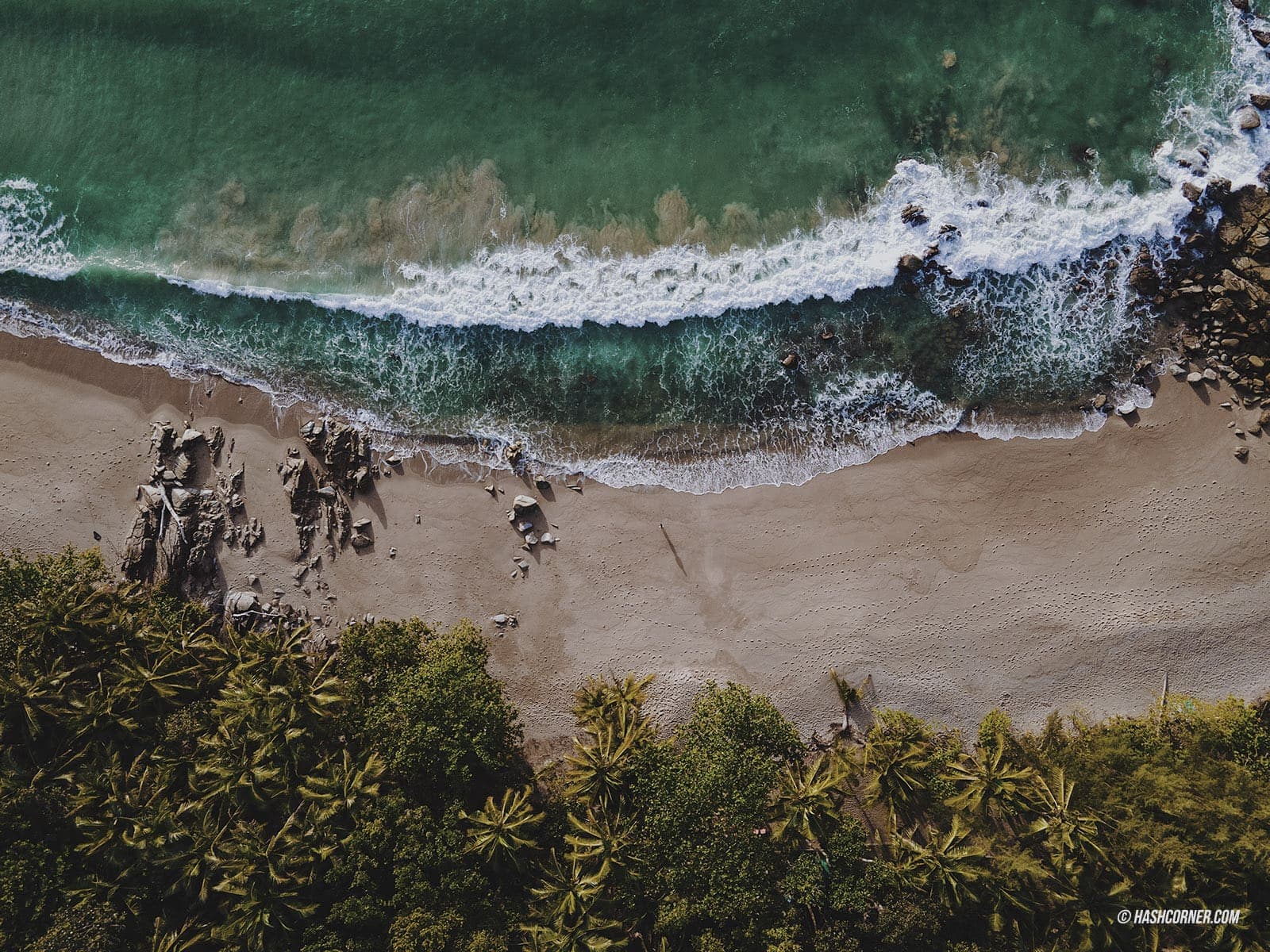 When reaching Banana Beach down the hill, it was an extreme surprise. With the right visit timing in the evening, the sky is quite clear, the good lighting and amazing seascape. All of this makes Banana Beach a charming attraction. The place is in an expedient size, the beachfront on both sides stands a beautiful rock you can walk to take pictures. This is absolutely awe-inspiring, the entire image is recreation and nice to the point of me lounging on the beach to see the sunset.
Laem Krating
At first, I thought Pa Hin Dum is the most difficult access for the whole viewpoint location. But the truth is not at all. This Black Rock Viewpoint is an easy assignment compared to the real tough Laem Krating. Before the hiking journey started, be prepared for a brutal route since you have to climb a lot of rocks, as well as, traversing a by-sea mountain to the tip of Laem Krating.
For the Laem Krating accessibility setting, let you pin 'Baan Krating Phuket Resort' on a navigator, then, park the car in front of the resort (but if there are many visitors and cars, it's advisable to park outside and walk there instead). At the end of the resort, let you walk down the forest path to get through to 'Ao Sane Bungalows', then continue walking along the rock on the right seaboard to head straight to Laem Krating.
With this tough introduction, don't cross Laem Krating out of your list just yet. I confirm from en route to the destination is indeed wonderful. I raise this place as one of the best sunset viewpoints in Phuket, because everything at the Laem Krating tip is a reward and well worth the suffering for climbing and traveling. It's undeniable that this attraction is a must-visit!
Windmill Viewpoint
Windmill Viewpoint is another massive viewpoint location where holds a large wind turbine in a renewable energy station established right next to it as the landmark. At this spot, you can oversee the small Yanui Beach, the faraway Laem Phromthep, including Nai Harn Beach. I can tell this viewpoint is great pleasant and physical relief.
Also, there is a pavilion for visitors to rest and relax. If you are bored or have nowhere to go, it's a good idea to bring along cool drinks to sip while looking at the beautiful Phuket scenery. On the nice weather day, there will be people coming to play parachuting, gliding back and forth that look too soul-stirring for me. Lol

Yanui Beach
Yanui Beach is a small beach hidden between Laem Phromthep and Nai Harn Beach. If you seek tranquility without a chaotic environment, I would highly recommend visiting this location. Apart from being a beautiful good size place with a small island nearby. There is regarded to be a popular spot for kayaking with a lovely price of 100 baht/person only.
My visiting time was in the late morning which hardly found any people around. It felt like having a vacation on a private beach, the sea was gorgeous and crystal clear. On the whole, it's unexpectedly good, but I think it would be even better if you can visit around the late noon and standing by to watch the sunset. I heard the image is real-nice. Plus, the place is approved to be one of Phuket's best sunset viewing spots.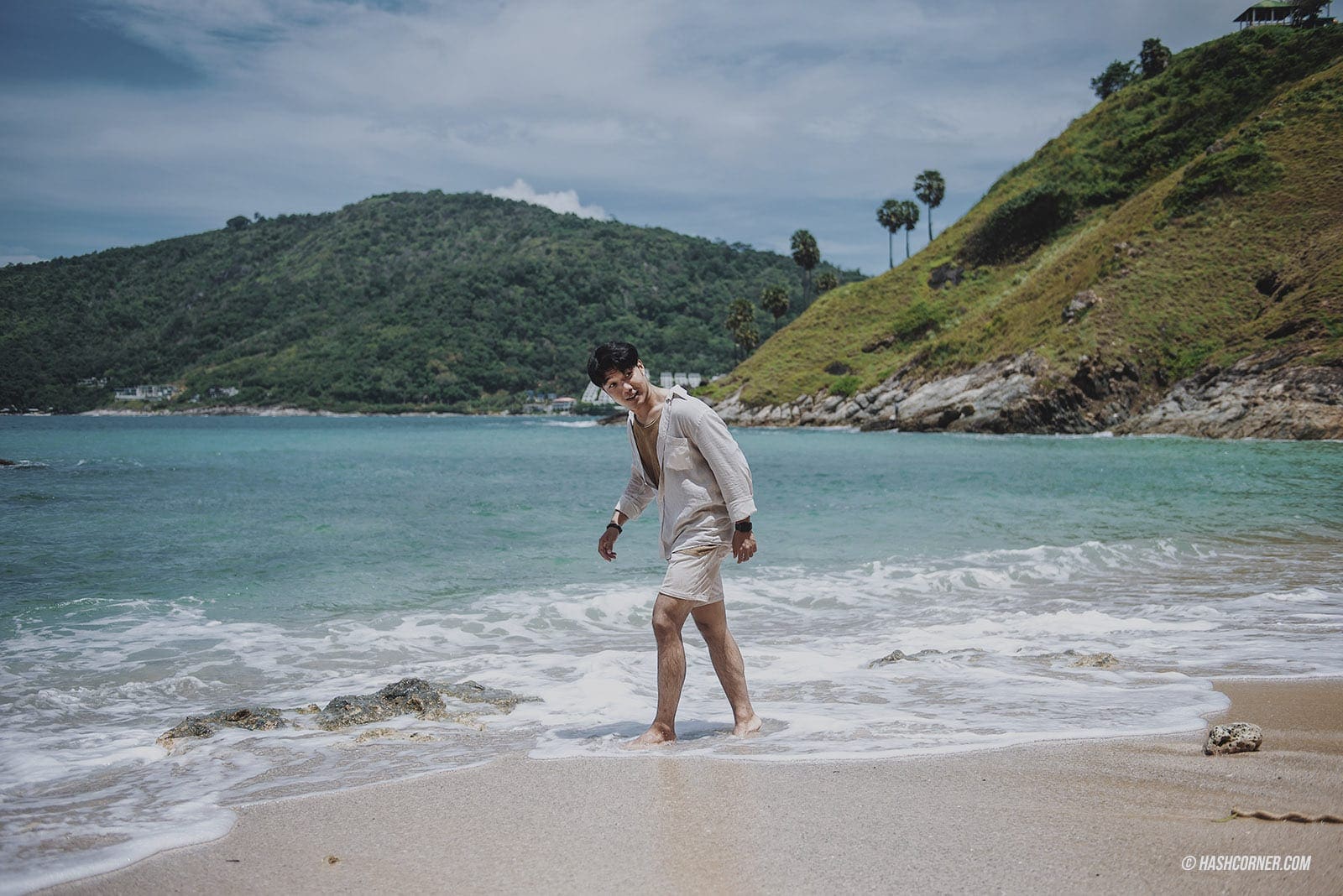 Rock Beach Swing
Not far from Yanui Beach, there is a photogenic attraction sited for an amateur model like us to pose and get great pictures. Rock Beach Swing is all about photo matters where is arranged a seaside zone with cool props and set up such as a white step stretching up to the sky, bird arch, the Bali style swing, and many more for us to capture it with the beautiful ocean scenic as a backdrop.
All in all, you can wander and take pictures at Rock Beach Swing with an entrance fee of 250 baht (Thai citizens), you'll be given a small bottle of water and a round trip shuttle from the hill above to Rock Beach Swing down the road. This said road is very steep so you cannot drive up and down on your own.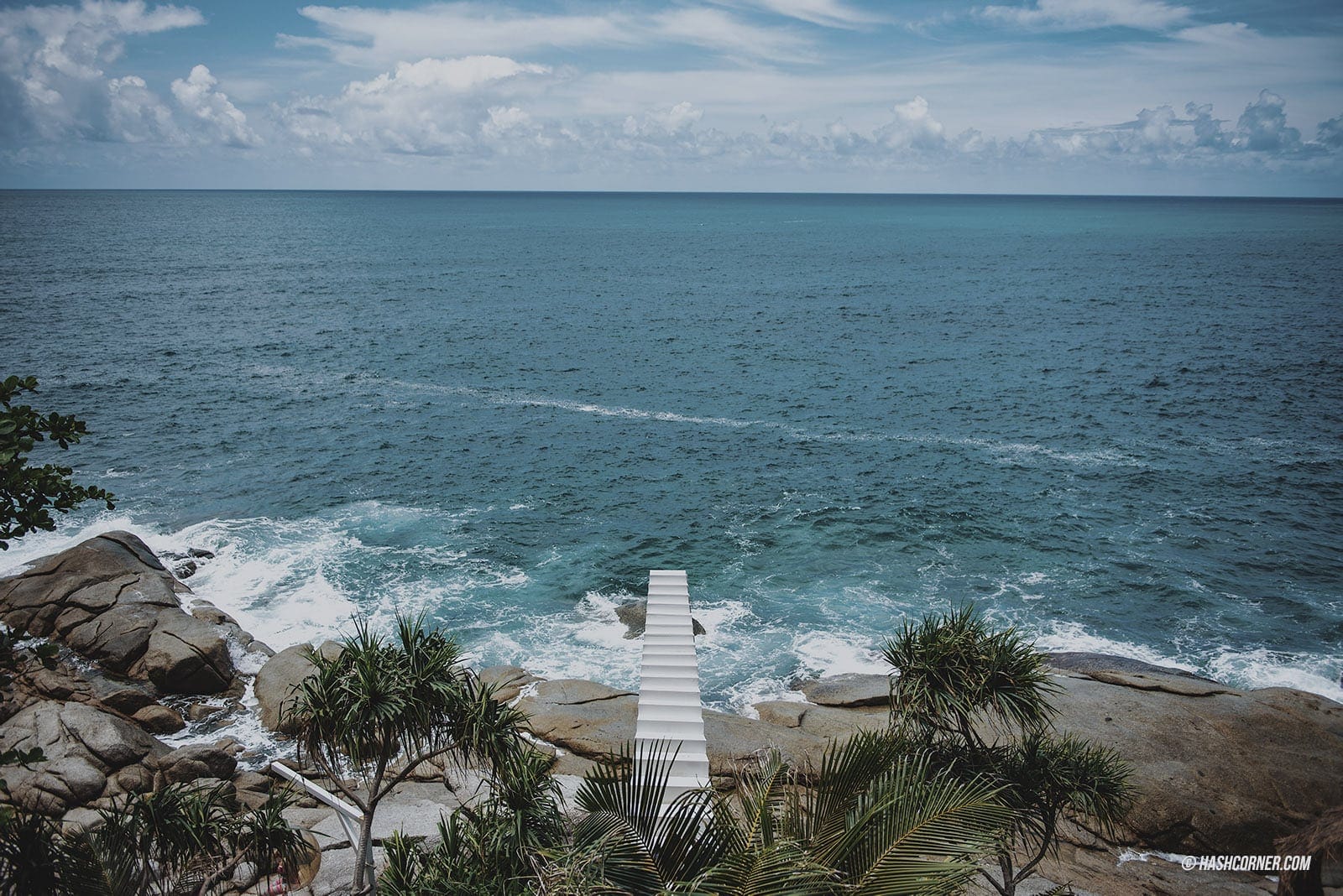 I think the admission fee is a little too high. If this is a fixed charge, it would be better to include a glass of beverages (e.g., smoothies, fruit juices). However, the staffs are lovely with good service providing. Those who need to take a photo like this can come to Rock Beach Swing right away.
Phromthep Cape (Laem Phromthep)
Laem Phromthep is a cape at the southern end of Phuket Island where is considered to be the Phuket landmark you must not miss visiting. The picturesque scene displays a group of palm trees on the headland spreading out to the sea, which I heard it's Thailand's most amazing sunset sights along the sea edge. Wow!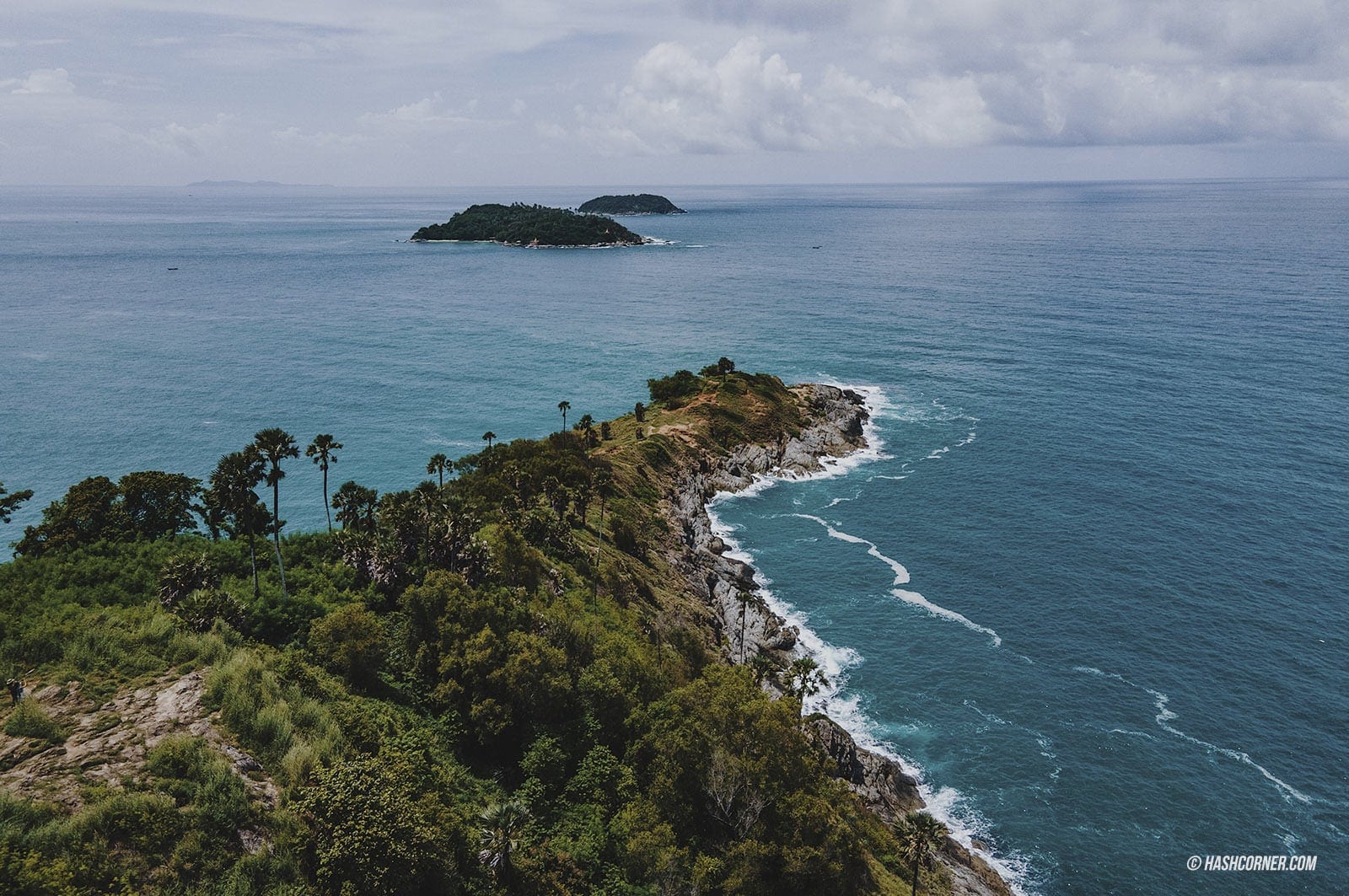 It was a bit disappointing during my trip because I came at the wrong time! When I got there, it was late morning, the sky was so bright and sunny. Even though I didn't have a chance to see the sunset seascape, but Laem Phromthep during the day is also memorable. I still suggest a visit to this wonderful landmark once you come to Phuket, especially coming for the first time in your life.
Day Trip Island Tour: Phi Phi Island – Khai Nok Island
Coming to Phuket and won't set any plans for an island at all, it's a pity! Island hopping is one of the main highlights while traveling Phuket. With my trip, I purchased a one-day tour to visit the world-famous Phi Phi Islands where Maya Bay is the filming location of The Beach starring Leonardo DiCaprio. Besides traveling to Phi Phi Island, I also visited Khai Nok Island to chill out before heading back to the Phuket shore. Well, I think this is a good choice since these destinations are gems that worldwide tourist dreams of exploring once in their lifetime.
⚡️The Phi Phi Island – Khai Nok Island tour route: first, we'll head to the Phi Phi Islands, starting at Monkey Bay (Ao Ling) on Koh Phi Phi Leh ▸ Maya Bay – Viking Cave ▸ Pileh Bay ▸ Phi Phi Don Island (stop for lunch) ▸ Khai Nok Island.
Online Purchasing an Island Tour with KLOOK
If you're lazy to find out where to buy a tour, buying through the KLOOK website is also a pretty good option, plus, KLOOK has monthly discounts you can slowly scroll down, take a good look, and choose. The providing links below are different for the price, the destination route, as well as, each service provider.
(function(d, sc, u) { var s = d.createElement(sc), p = d.getElementsByTagName(sc)[0]; s.type = 'text/javascript'; s.async = true; s.src = u; p.parentNode.insertBefore(s,p); })(document, 'script', 'https://cdn.klook.com/s/dist_web/klook-affiliate-front/s/dist/desktop/affiliate_base_v3.2.js') (function(d, sc, u) { var s = d.createElement(sc), p = d.getElementsByTagName(sc)[0]; s.type = 'text/javascript'; s.async = true; s.src = u; p.parentNode.insertBefore(s,p); })(document, 'script', 'https://cdn.klook.com/s/dist_web/klook-affiliate-front/s/dist/desktop/affiliate_base_v3.2.js') (function(d, sc, u) { var s = d.createElement(sc), p = d.getElementsByTagName(sc)[0]; s.type = 'text/javascript'; s.async = true; s.src = u; p.parentNode.insertBefore(s,p); })(document, 'script', 'https://cdn.klook.com/s/dist_web/klook-affiliate-front/s/dist/desktop/affiliate_base_v3.2.js') (function(d, sc, u) { var s = d.createElement(sc), p = d.getElementsByTagName(sc)[0]; s.type = 'text/javascript'; s.async = true; s.src = u; p.parentNode.insertBefore(s,p); })(document, 'script', 'https://cdn.klook.com/s/dist_web/klook-affiliate-front/s/dist/desktop/affiliate_base_v3.2.js')
Monkey Beach
The first stop to get off the boat after an hour-long ride was Monkey beach on Phi Phi Don Island. After the approaching, I could cry only 'Wow' because it was so beautiful, the fine white sandy was gentle to your feet while stepping on, the ocean water was very clear, I could see everything through the blue transparent surface. Maybe because I came during the covid-19 so there was no tourist at all, this allowed me to get a pleasant image without any crowded. Yeah! This paradise was mine alone!!
Maya Bay
Maya Bay is what I regret the most throughout the entire island trip because when I got there, it was closed due to the conservation and restoration of marine and coastal resources to their original perfection. It was a real pity since Maya Bay is known as a paradise on earth. If there's a chance, I'll go back for sure!
Maya Bay is located on Koh Phi Phi Leh, the second largest island in the Phi Phi Islands, Krabi Province. Maya Bay is the creation of nature from the collapse of the surrounding cliffs, cleft in a small crescent-shaped bay enveloped by limestone hills.
Pileh Bay – Viking Cave
Pileh Bay is the highlight of Koh Phi Phi Leh most visitors want to experience with their own eyes. With the emerald green water surrounded by high mountains, there is the narrow passage where the tourist's boats are gradually entering through the mountain way, routing you to see a magnificent large bay, the water there is very still and clear like a tremendous natural pool. When facing the real image right before the eyes, I started to know why people around the world make a journey to experience the beauty of this destination.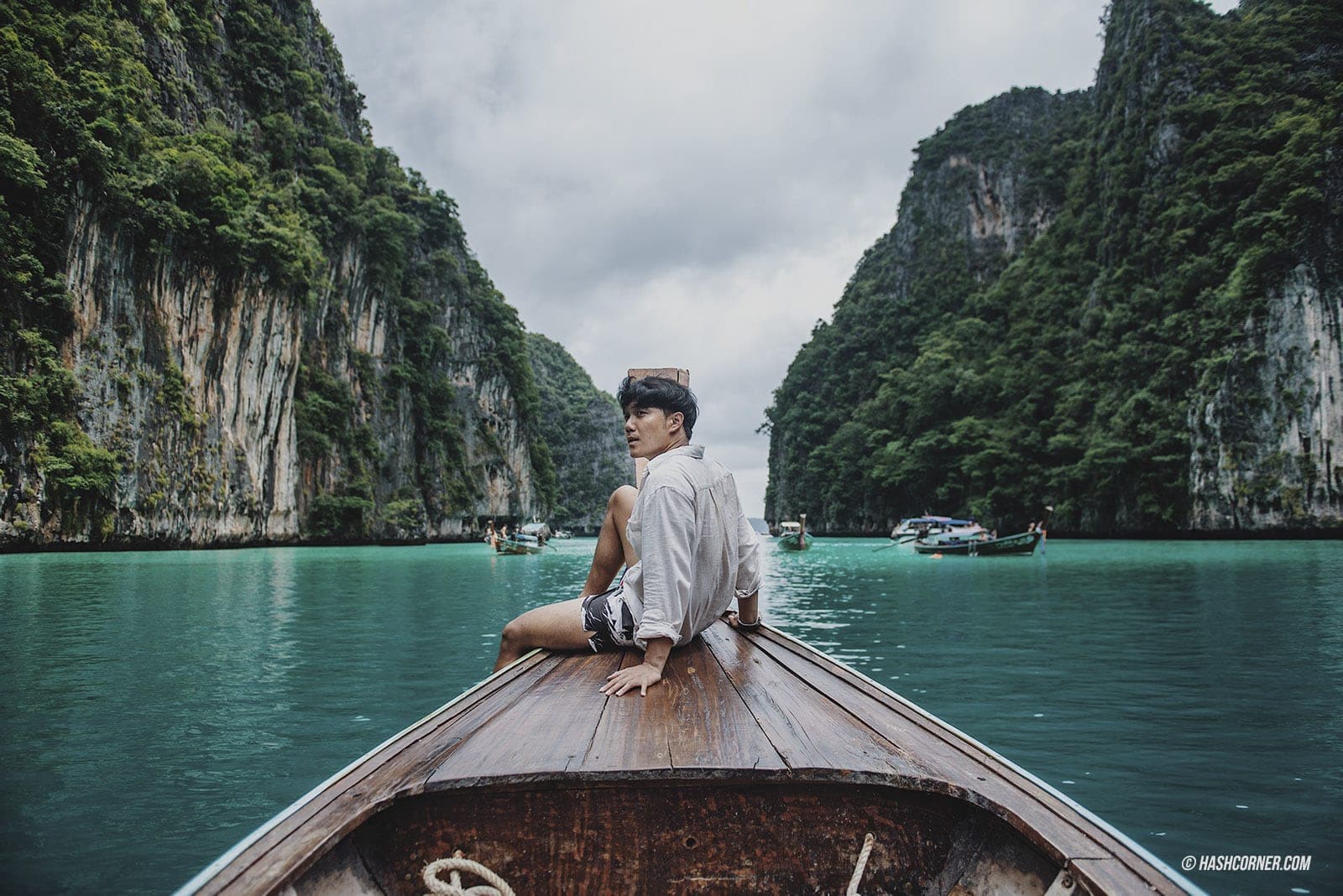 The boat tour will be lingering in the bay for a while, then, the staff will let you swim or snorkeling to see the underwater coral reefs. I didn't go into the water because one of the tourists wanted to rent a charter long-tailed boat and take a beautiful picture instead. The tour leader managed to find a boat right then, but it took a while since it ordinarily had to be booked in advance. Frequently, we got a charter long-tailed boat for 1,700 baht. That tourist told me the price was very cheap (I got this price due to a visit during COVID-19), the normal price is twice as expensive. But seriously, I think this price is already expensive. Lol
Anyone who needs a cool selfie while sitting or standing at the bow, then, try to rent a long-tailed boat. Coming on a trip and want some good photos, you need to spend. Anyway, try asking your booked tour first whether they can manage a charter boat or not. If they can, let's them do the arrangement so you don't have to run around and seek for it.
Khai Nok Island
Khai Nok Island is the last island of this one-day trip. It is like a passageway before returning to Phuket. The Khai Nok island itself is small that you can walk around in circles within 15 mins. Though you see how tiny this place is, among the whole visiting islands, this brings out the most recreation vibe. The tour allows you to have free time and do whatever you want which is the good breath in breath out moment.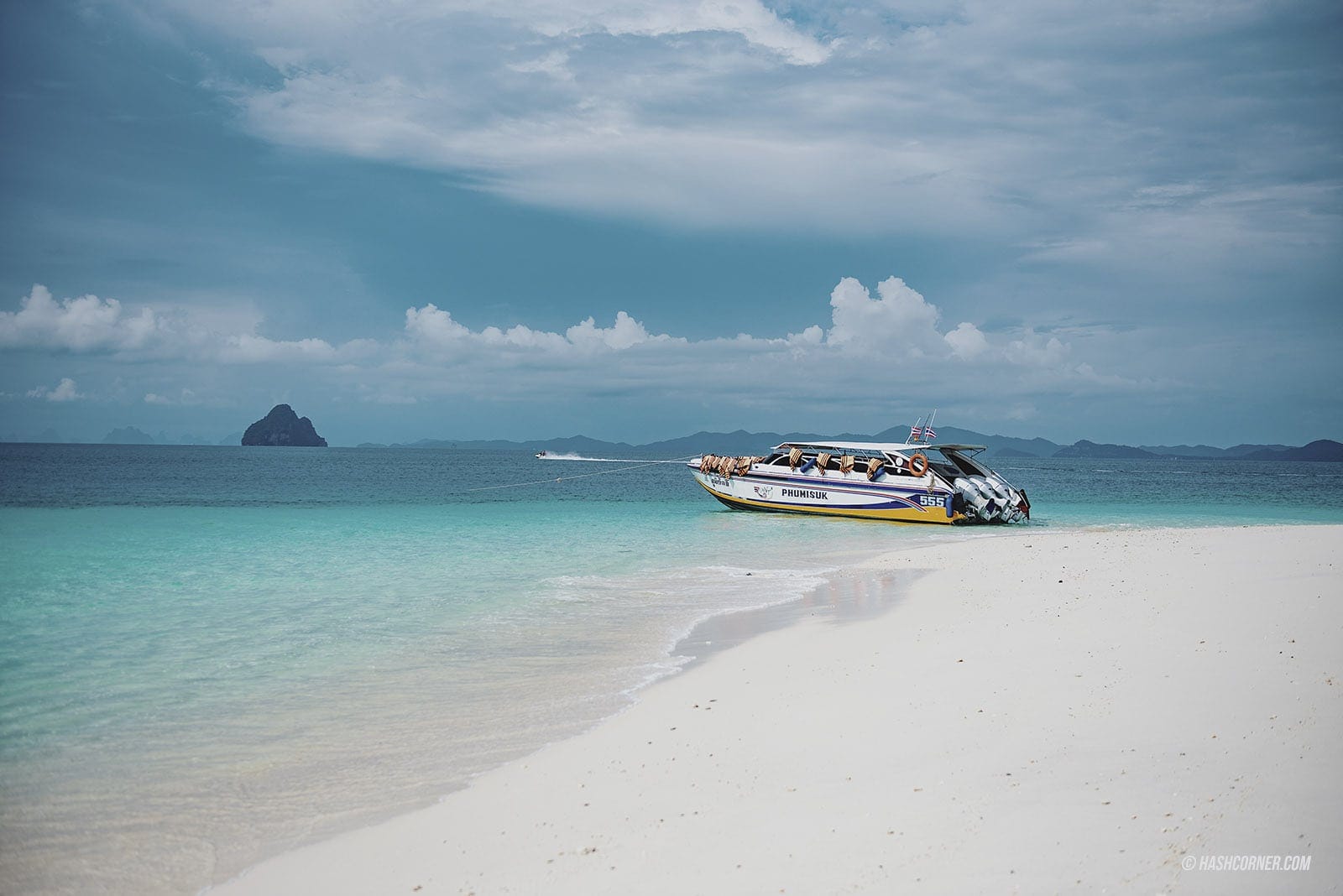 If you want to jet skiing, just do it (the cost is 1,000 baht per person). Snorkeling to observe aquatic animals is also granted. On the rocky area near the beachfront, fishes are swimming around. For those who want to do nothing, you can just rent a deck chair and leisurely sit, rest, or sleep to recharge your life energy. It's all good!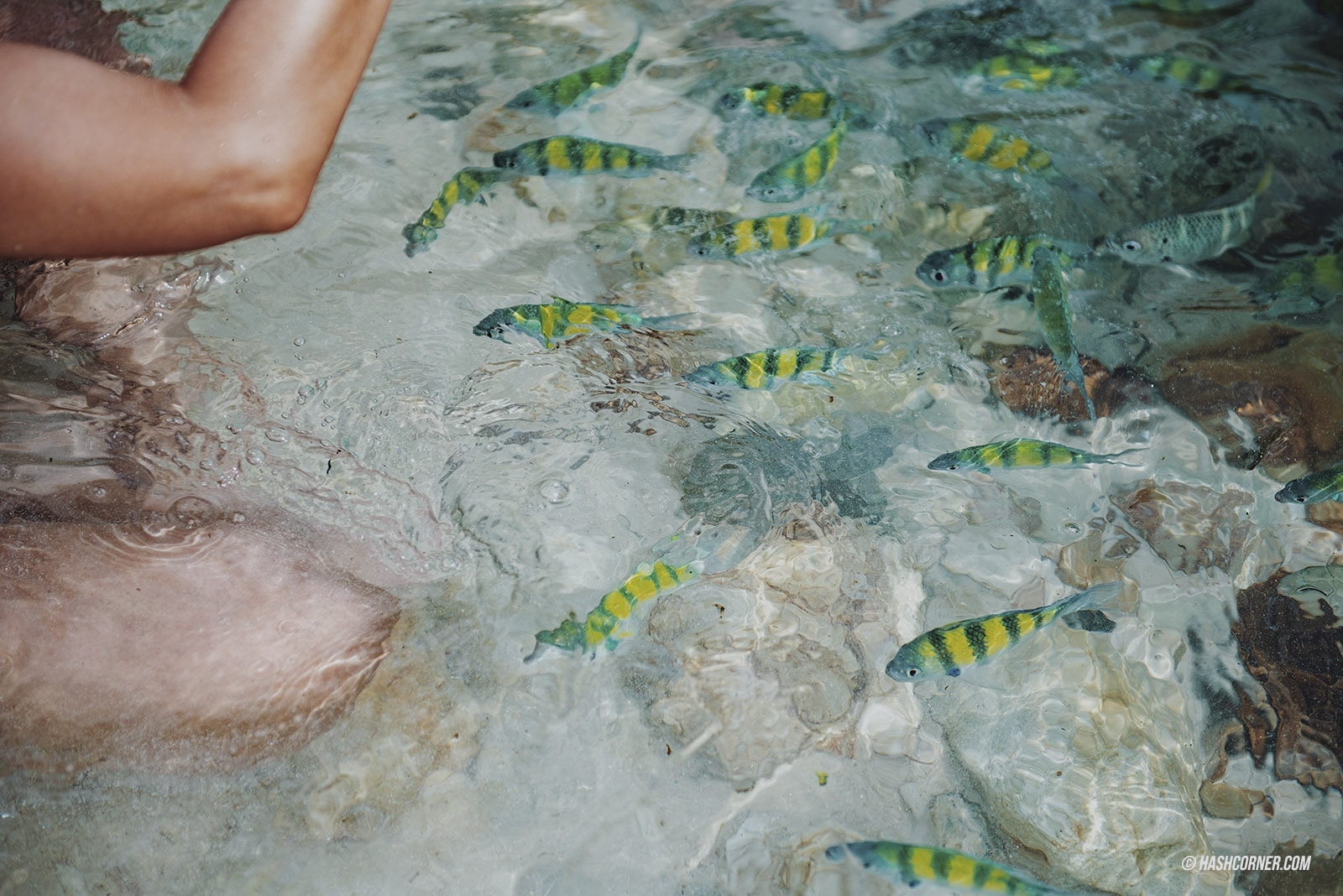 For me, I was strolling and taking pictures. I enjoyed it so much since Koh Khai Nok offers a lot of breathtaking perspectives. The sandy beach is chalky white, the water is clearer than clear, and the outstanding feature of this island is the turtle-shaped horn and the rocky area of the beach sideward. You can get quite a splendor image of each scene.
I was at Khai Nok Island for about an hour and a half, then the tour guide called us onto the boat to ride back to Phuket. The duration of the ride was very fast, it took only about 15 mins. The distance between the island and Phuket is just within one reach!
Chino Cafe Gallery
The first Phuket café we will stop by is Chino Cafe Gallery, a multi-service shop that distributes a café, restaurant, dessert, including a clothing and accessories section. The shop is decorated with cute, classic wood tones. The storefront is full of flower arches and bicycles that bring color to make the area looks even more lovely.
Because this was my first café to visit, so, I ordered plenty of foods such as Basil Fried Minced Chicken + Fried Egg on Rice (95 baht), Teriyaki Chicken Salad (160 baht), 4 pieces of Tao Sor (Bean Pastry – 40 baht), and Kopi-O-Cham (Iced Coffee mixed with Milk Tea – 90 baht). That was a lot. Lol
The foods are excellent. The basil fried chicken with fried egg looks and tastes delicious. The Teriyaki Chicken Salad is served with a reasonable quantity of chicken. As for the remarkable local bake, Tao Sor, there are 2 flavors to choose from; sweet and salty. The price is 10 baht per piece. You can order as much as you want. About the taste? It's indeed palatable! It's a must-eat while visiting Phuket since Tao Sor is the province's famous dessert.
For the Chino Cafe Gallery's coffee, I ordered the signature Kopi-O-Cham, which is 100% Arabica coffee mixed with tea. The drink has a touch of Thai-style coffee because of its sweetness and richness gaining from milk. If you like something sweet, this one is a favored choice.
Besides food and beverages, there also sells Mohom clothes, the well-known dyed fabric from Northern Thailand (How you come this far?!) together with accessories. Those who like this type of clothing can buy it as a souvenir or a present for themselves. I bought a shirt too, then, I instantly put it on because of the feel of wearing this while traveling to a sea city like Phuket, it looks comfortable and casual.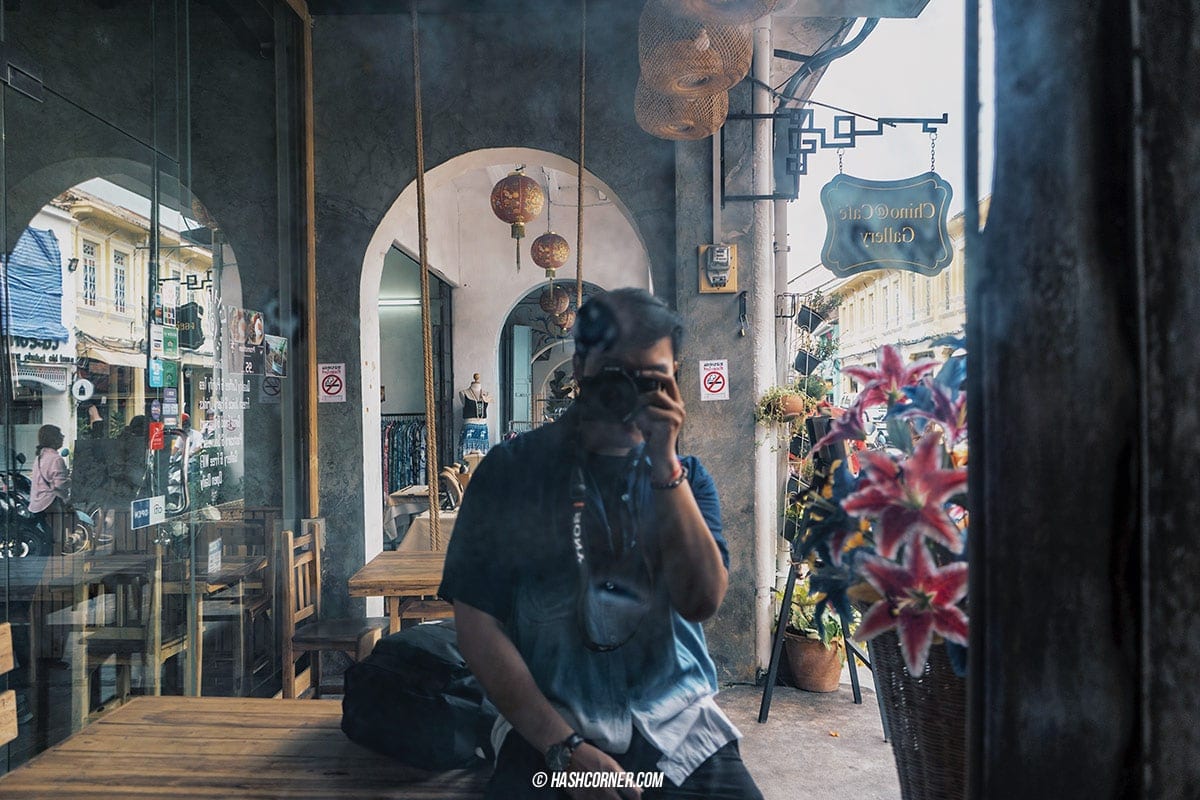 RYN Authentic Tea & Slow Drop Coffee
Let's continue to the second shop, the brand-new café in Phuket, on Krabi Road, in the heart of the old town, RYN Authentic Tea & Slow Drop Coffee, where is served a variety of drinks made from tea and coffee. I personally like this place a lot. The atmosphere of tea accessories and equipment are fully laid creatively, plus, you can see the tea making right before your eyes are surprisingly great. The café design is minimalist with a slight Japanese feel, causing the relaxation vibe throughout the entire time I sat there.
If you have no idea where the café is, I tell you it's a little difficult to find because the shop doesn't put any identity signs. So, when you see a small white shop as the shown picture. Yes, it is! It's RYN Authentic Tea & Slow Drop Coffee.
he must-try drink is the whole tea family admixture. I ordered Matcha Latte (120 baht) when I visited, the matcha made from real tea leaves straight from Kyoto, Japan. The overall taste is exceptional, Matcha is rich, full of flavor, and aromatic.
Although the shop is strengthened on tea, coffee lovers are also welcomed since there is a variety of coffee menus either drip coffee or a cold brew coffee created. The one I ordered is Cold Brew TH (100 baht) that uses Thai Chom Thong coffee beans from Chiang Mai, served in a cool mug where you can gently pour a drink, one shot at a time. I must say the coffee body is really good, it's not too intense but refreshing. Anyone planning a visit? I promise, their coffee will not disappoint you.
Dou Brew Coffee & Craft
Those who walk to take a picture with the cute Phuket-style buildings in Soi Rommanee. It's advisable to drop by the chic-vintage Phuket café, Dou Brew Coffee & Craft, as they have a wide variety of drinks at an affordable price. You can choose to order from coffee, tea, dessert, or even craft beer. Oh! And the shop is spacious with many corners to sit and hang out in. It's really good, I want you to come and experience it by yourself.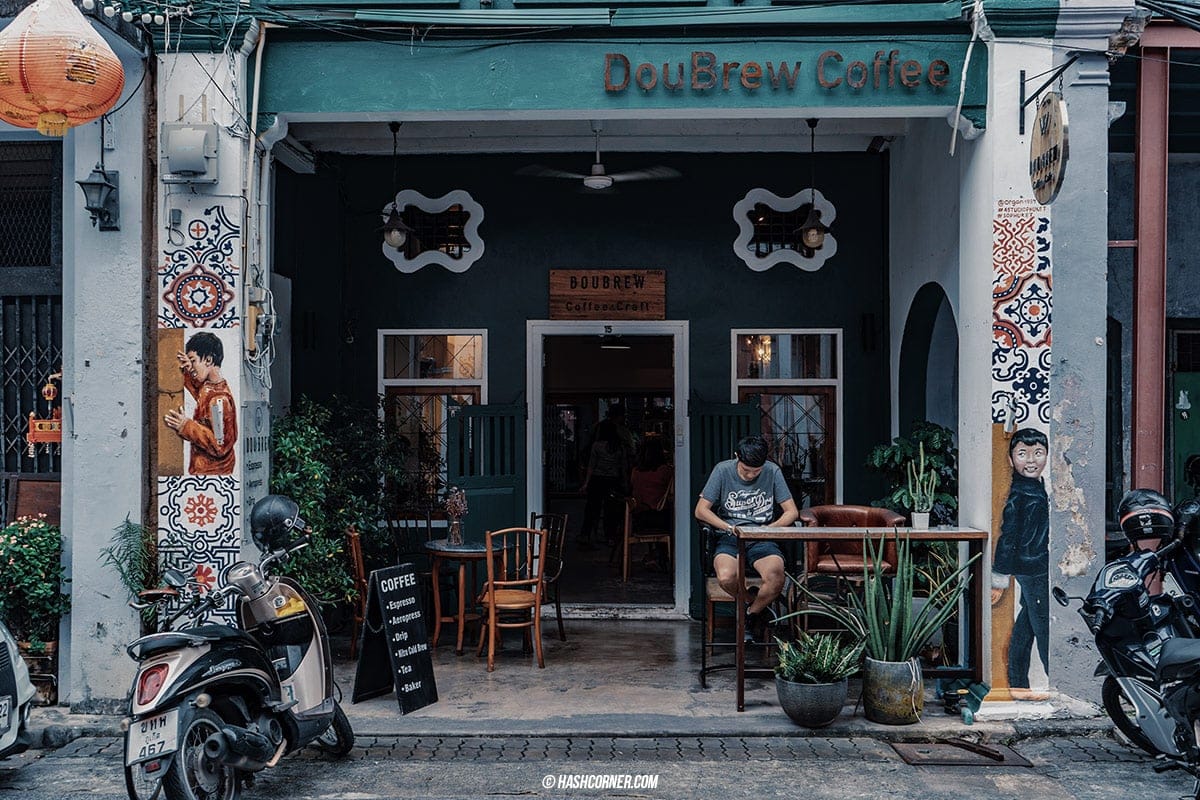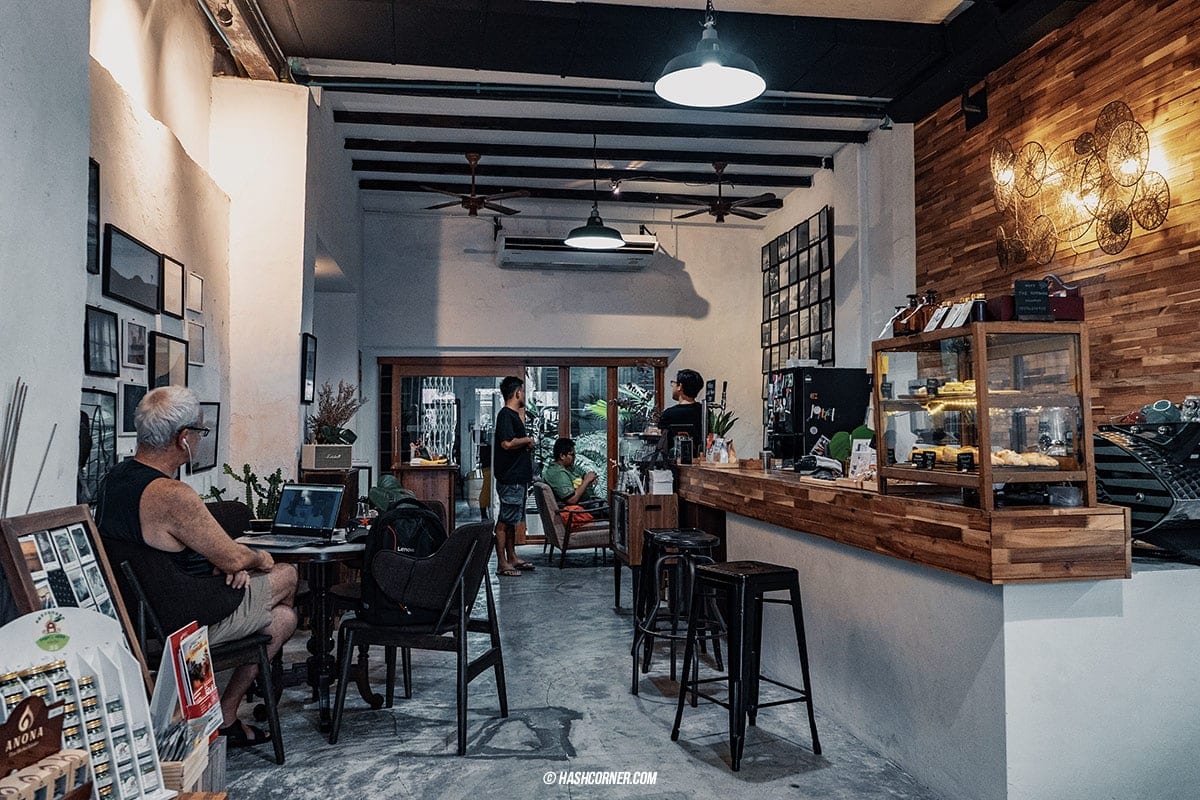 As for my refreshments ordered, they are Coffee Jelly (75 baht) and Coffee Tonic (75 baht) with Homemade Scone (85 baht) to munch on. All of them are delicious and delightful. My pick would be Coffee Jelly, which has tapioca underneath the coffee, making it enjoyable to drink and chew at the same time. this drink menu is tasty and all ingredients go well together. So much love!
The other one I tried is Coffee Tonic, which blends Tonic Water with the coffee. It is quite refreshing, suitable to drink in hot weather. Lastly, the Homemade Scone that its batter comes out soft and appetizing, it's a very good scone worth try-eating with tea menus (but I ate it with coffee. Lol).
To sum up, all of the eating at Dou Brew Coffee & Craft was pleasant. From the shop atmosphere, the friendliness of the barista and the shopkeeper, as well as, the taste, the affordable price. All of these reasons make me so impressed and satisfied, I have a lot more to compliment honestly Lol!
Accommodation in Phuket
Le Meridien Phuket Beach Resort
Le Meridien Phuket Beach Resort is one of the Phuket resorts I favor very much. Although the place is old and running for many years, the overall condition is still great. Doesn't feel obsolete but has a classic mood, I feel like the place has a strong connection with Phuket Island since It has been with the province for such a long time. Another advantage is the resort has a wide-ranging space, the common facilities are fully provided. Specifically, there are 4 swimming pools, 10 bars, and a restaurant. Including having 470 guest rooms. You can say this is an extremely large resort.
The location is superb, apart from Le Meridien Phuket Beach Resort is located by Karon Noi Beach, it feels almost you own a private beach. Plus, you can easily walk to other tourist attractions such as Patong Beach, Karon Beach, and Laem Phromthep.
I reserved a Deluxe Ocean View room that faces the Karon Noi Beach scenic. The room considers okay for 2 people at 40 square meters, I stayed without being inhospitable at all. Regarding the facilities, it's complete according to the resort standard level. They provide a comfortable bed, fast internet. And my fav thing is a terrace where you can relax and observe the ocean scenery in your own room. All of which I'm quite impressed and worth the money to pay.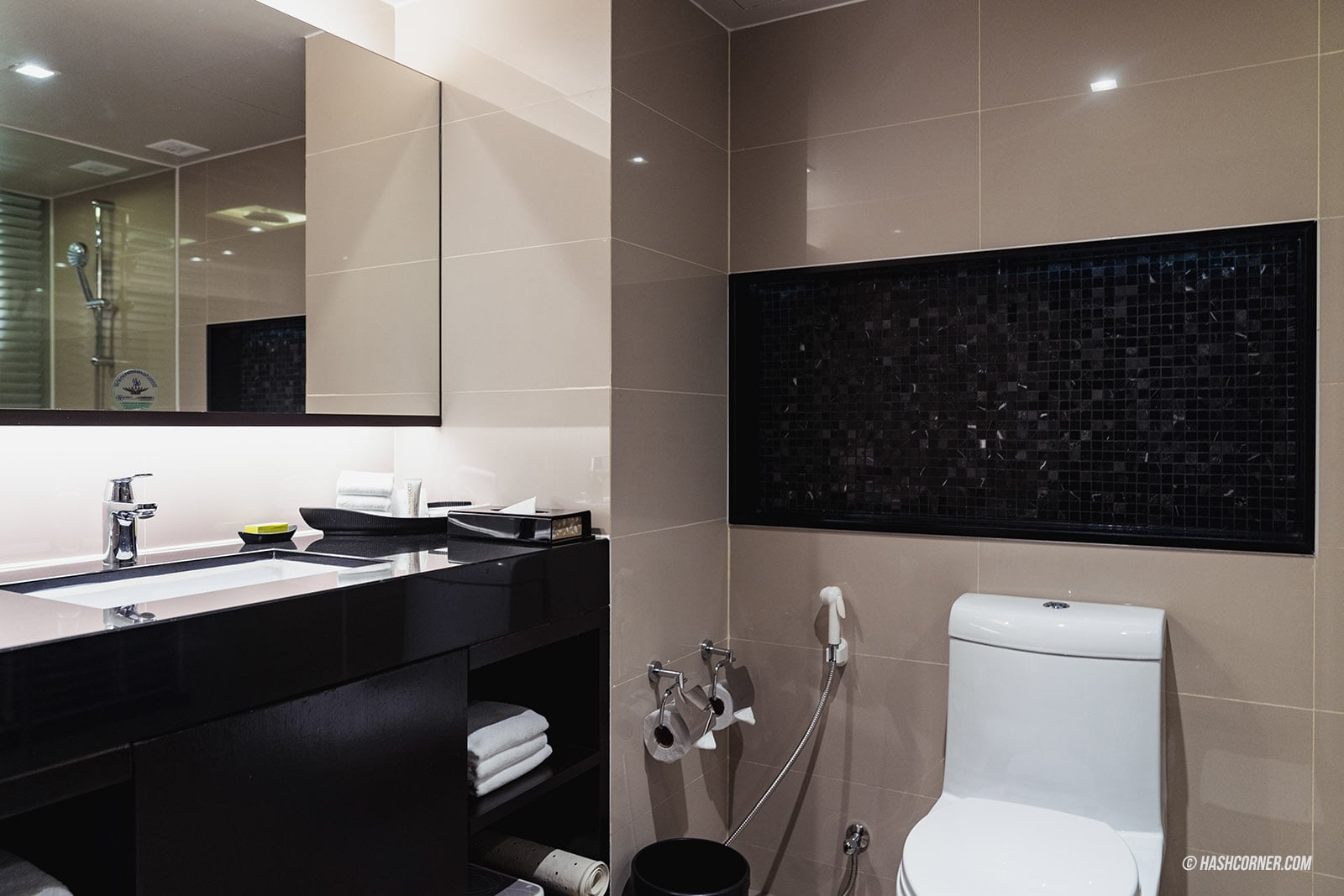 Renaissance Phuket Resort & Spa
Renaissance Phuket Resort & Spa is praised as one of the top 5-star Phuket resorts that guests appreciate with a beautiful room, a pool villa, a full course buffet breakfast, including Mai Khao Beach which is a place for carambola turtles hatching eggs. With the advantage and location gimmick, making Renaissance Phuket Resort & Spa an excellent stay. It's no surprise most of the visitors give a positive review.
Renaissance Phuket Resort & Spa has 6 types of rooms; Deluxe / R Deluxe / 1 BR Suite / 1 BR Pool Villa / 1 BR Oceanfront Pool Villa / and lastly Duplex Oceanfront Villa. However, I stayed in 1 Bed Room Pool Villa, there are 21 units in total, the room size is about 120 square meters and can accommodate 2 people.
Coming with your lover would be very enjoyable. The reason? It's because the king-size double bed is placed in the middle of the room, big bathtub, and there is also a clear glass shower for those who want to take a quick shower or tired of tardily soaking into a tub. The private pool next to the villa gives a romantic feel, imagine if you sipping a glass of wine and swimming with your beloved, it would be the best in the world.
The bathroom items here are offering all of the Tokyo Milk brand, which is an American skincare brand. The bathroom size is huge, almost 1/3 of the house.
Other necessary appliances are fully provided. The large TV, the air conditioner is freezingly cool, a desk with lamp, a sofa, a refrigerator, Illy's automatic capsule coffee machine, and even a fully stocked mini-bar like fruits and fried banana chips. This is the most complete facility I ever experienced, all day long, I didn't have to go anywhere, just laying down and relaxing here was already fine.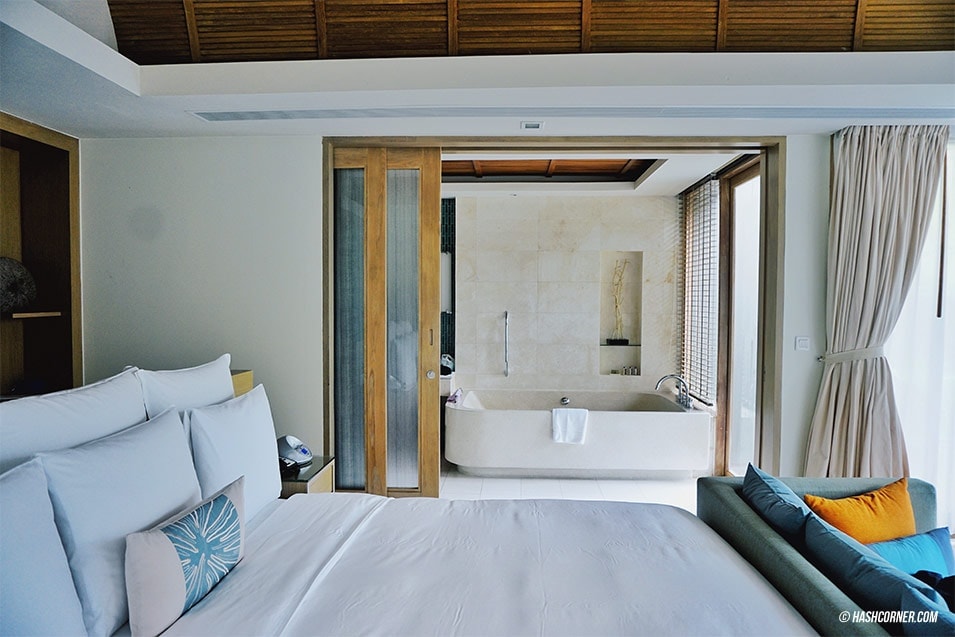 ส่วนลดจองโรงแรมจาก Agoda, Expedia, Booking, Hotels.com, Airbnb และบัตรสวนสนุก ตั๋วรถไฟ กิจกรรมท่องเที่ยวจาก Klook ปี 2021
※ สำหรับใครที่กำลังจะจองที่พักและหาส่วนลดจองโรงแรมอยู่ ลองดูตามลิงค์ด้านล่างได้เลย มีทั้ง Agoda, Expedia, Booking รวมถึง Hotels.com ด้วย ประหยัดไปได้อีกเกือบ 10-20% ใช้ได้กับโรงแรมทั่วโลก หรือถ้าใครอยากช้อปปิ้งออนไลน์ นี่ก็รวมมาให้ทั้ง Lazada และ Shopee เล้ย
หลายคนอาจจะไม่รู้ว่าเว็บไซต์จองโรงแรมพวกนี้ มีส่วนลดท็อปอัพจากบัตรเครดิตเพิ่มเกือบทุกธนาคาร ไม่ว่าจะเป็นบัตรเครดิต Citibank, KBANK, SCB, Krungsri, KTC, Bangkok Bank, UOB และ TMB หรือแม้แต่ส่วนลดจากค่ายมือถืออย่าง AIS, DTAC หรือ True ซึ่งส่วนลดพวกนี้จะเปลี่ยนตลอดทุกเดือน และเก๊าก็อัพเดทให้ตลอดเวลาเน้อ 🧡