Inverness, for those who know the UK well and have the opportunity to visit Scotland. You may familiar or have heard of a small town called Inverness, wherewith is a world-famous Loch Ness features the legend tales of a mysterious monster-like Nessi. To make it clear, on this trip, I didn't go hunting down Nessie at all. LOL
Furthermore, I also picked up two of Scotland castles' top iconic landmarks that you shouldn't be missed, before driving over to the Isle of Skye. So, don't wait up, we're better off and take a look at the Scotland road-trip route. I ensure this will be a surprising and impressive run.
รีวิว เที่ยวอังกฤษ + แพลนเที่ยวอังกฤษ
สำหรับการไปเที่ยวอังกฤษรอบนี้ ถือเป็นการเที่ยวอังกฤษรอบที่สองหลังจากรอบแรก ภายในหนึ่งเดือนแค่นั้นเอง คือจะเรียกบ้าก็ว่าบ้า เพราะครั้งแรกไปแล้วรู้สึกยังไม่เต็มอิ่ม แถมไปแค่ลอนดอนที่เดียว มารอบสองรอบนี้เลยจัดเต็มชุดใหญ่เลยจ้าแม่ ใช้เวลาทั้งหมด 11 วัน 10 คืน โดยเราจะบินไป-กลับไทย จากลอนดอน และไปเที่ยวยังเมืองต่างๆ ตั้งแต่ ยอร์ค (York) เอดินบะระ (Edinburgh) อินเวอร์เนสส์ (Inverness) เกาะสกาย (Isle of Skye) บาธ (Bath) และจัดเต็มก่อนกลับไทยที่ ลอนดอน (London) นั่นเอง ใครที่อยากตามรอยอะไรแบบนี้ ดูแพลนแบบละเอียดด้านล่างเลยจ้า ทำมาเป็นตารางให้แล้วจ้าา
รีวิวประเทศอังกฤษ ทั้งหมดของ Hashcorner
Drive to Scottish Highlands
My Scottish Highlands road trip took 4 days and 3 nights but the actual trip was only 2 days. The other 2 days were driving to and from the city of Edinburgh where I rented a car from. (If you get confused by this information, I suggest reading the UK Itinerary table above for more understanding). I have to mention first, this trip I actually got a little time. So, I put up a succinct plan with only the main highlights. The city I would travel to was Inverness by driving through the best-known attractions and genuinely stopped at the Isle of Skye. Therefore, allow 4 days to spare (the drive was a bit exhausting), if you have time, it's advisable to extend the day for another 1-2 days. You will not be weary of driving particularly on the last day. Besides, you can visit other places and have more chilling out time as well.
Rent a Car in Edinburgh
For this trip car rental, I rented a car from Edinburgh with SIXT Car Rental by directly booking through their official website. The reason for selecting the service here due to my holding a SIXT Platinum card that offers a 15% discount and gets a free rental car upgrade LOL. // The rate I got to pay is way cheaper than other rental stores. My chosen SIXT branch is called Edinburgh Waverley Station, wherewith is not near the train station like its title said at all. But their office at Q-Park OMNI is considered not far from the train station.
My SIXT car rental rate: Compact Citroen C4 Cactus rental for 3 days + 1 additional driver for 3 days = 151.96 GBP with basic insurance included (not the Zero Deductible Excess), nevertheless, on the arrival day, I got the car upgrade to a Peugeot 3008 SUV.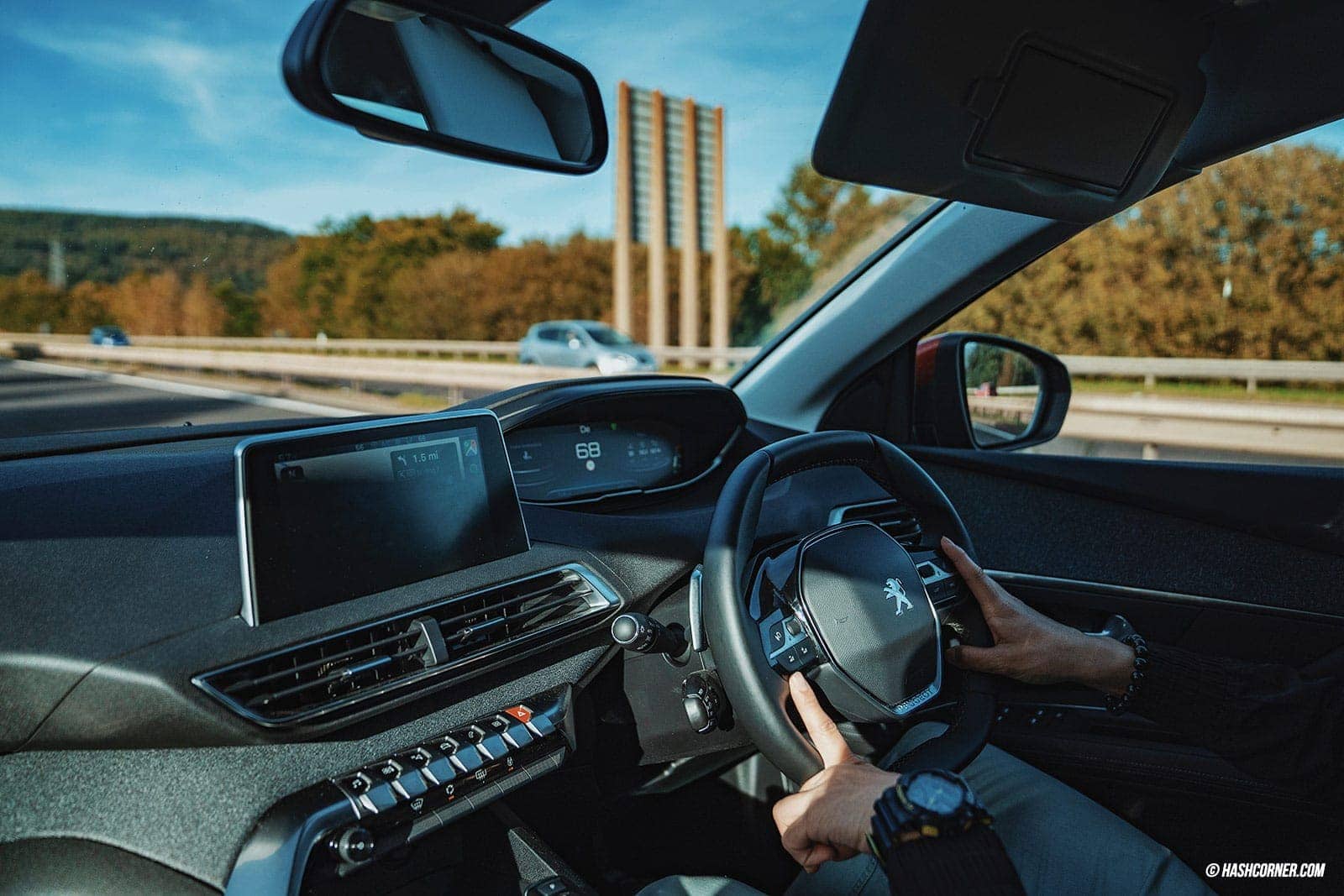 If you wonder, will the SIXT Car Rental be a good option? For me, it is. Plus, the working hours on Sunday that I had to return the car, was closed very quickly. And I came a bit late for the return schedule. The staff at the car rental office was already closing the gate to prepare heading home. So, she suggested me leaving the car key right in the front box. This means, if the office is closed, you can still return the car by dropping a key into the return box with no additional charge. Overall, I think, the agency provides fair service. In fact, I have no idea where else I should recommend. If you find any cheap car rental store with a recognized name. Choose there!
Day 00 | Scottish Highlands
Drive to Inverness + City Accommodation
After completed trekking in Arthur's Seat in Edinburgh. I walked around a little more to find some food to eat before picking up the car at SIXT Car Rental in the late afternoon. Then, it was time for the Scottish Highlands Road Trip. YAY! The plan was nothing except the drive to Inverness, including spending the night over there. Later, the next morning, I rushed off to the next tourist spot by driving along the road before continued all the way to the Isle of Skye.
Accommodation in Inverness
Taigh Katie – Airbnb
For accommodation in Inverness, I chose Airbnb, Taigh Katie, which is a cute, cozy townhouse, divided into several rooms. I reserved a private bedroom with an adjacent private bathroom on the top floor.
In my viewpoint, I think the accommodation here is absolutely lovely. The house and room are decorated with the British touch. There also provides a car park. And to access the house, you can get inside by entering the given password you get from the owner. The bedroom is an appropriate size, not too small, not too large with a mini-refrigerator and a kettle. If able to add on a microwave, a kitchenette, or some utensils and plates in the bedroom, it would be much more perfect to stay as it is.
The bathroom is big and extremely beautiful because of the new renovations. The good thing is, this bathroom is private, no need to share with anyone. But the downside is when showering, as it is a tub with a rain shower (you can see in the shown picture below). I had a hard time showering, I grabbed the curtain to cover the surrounding area all the time to prevent the water splashes. Besides, there is no amenity holder, so a soap or a shampoo bottle must be placed in the bathtub as well. LOL
This is a straightforward review of the chosen accommodation from Airbnb. Overall, it was a good and comfortable stay in the city center. It's peaceful with some minor drawbacks. If you find somewhere else you think it serves your style, just take that. But if you are lazy to browse around and conclude with this one, it is a fair choice!
View rates and book Taigh Katie – Airbnb
Room rate starting at 61 USD / night. View rates and book Taigh Katie – Airbnb, click here to reserve through Airbinb | For those who have never booked Airbnb before, you can click to apply via this link to receive a 30 USD discount.
Book via Airbnb
Airbnb's $30 discount for the first time booking
Day 01 Scottish Highlands |
Loch Ness
If any of you have heard the name of a mysterious prehistoric monster shaped like a dinosaur called Nessie, the whole story of this creature had happened here at Loch Ness, one of our drive-through tourist destinations. The Scottish story of Nessie promotes a great name for this lake to be well-known. It began with natives caught a glimpse of the large monster which its neck looks similar to Brontosaurus (Long-neck Dinosaur) in the middle of the lake. Making this a saga that continues spreading until this day. Many visitors set this as a destination to conquer and explore Nessie. Before I came here, I didn't know a single thing. I knew it later because my boyfriend told me during the trip. After that, I watched some references on YouTube. Yeah, this place is indeed famous. LOL
For the myth of Nessie, people believe it exists because there is evidence of both images and videos of the creature. And even though the evidence is unclear, people still believe it. Hence, before this spot became Loch Ness, it originally was a sea. When a natural phenomenon occurred, the water here was closed and constituted into a lake, the abundance of underwater still looks excellent. I'm telling you this long story because I think if you know the background record of each place, you will be indulging in each traveling spot. I just want you to know this, haha.
Visitors who are free to get on a Jacobite boat to cruise on the Loch Ness, and travel to Urquhart Castle for about half a day. At first, I'd love to book the cruising as well but going back and forth with very little time. I concluded driving to the castle instead. But If any of you interested in this activity. You can purchase through the Jacobite website. Click here, jacobite.co.uk
Urquhart Castle
The first place we will officially drop by is Urquhart Castle where is long-established alongside Loch Ness, and also one of Scotland's top-most-visited castles. The perceived castle is just the remains of being abandoned from fighting a battle in the olden days. As well as being hit by a large storm that caused the heavy destruction. However, the castle still looks beautiful and inviting to visit, plus, the landscape of the castle combines with Loch ness is incredible altogether. For any reason, I don't want you to miss this when traveling in the Scottish Highlands.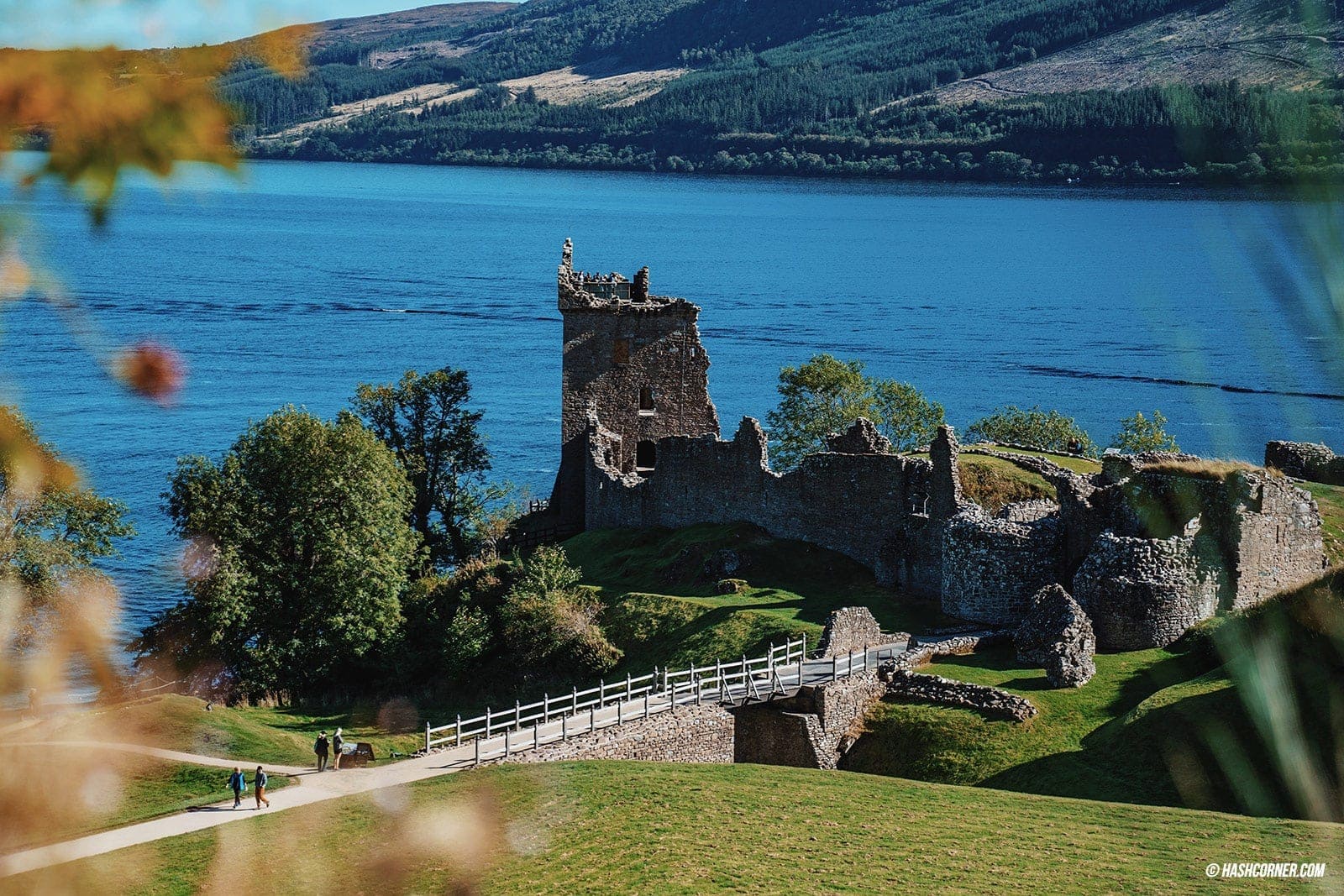 If counting the Urquhart Castle age, it has been around for almost a thousand years and encountered various tough circumstances. Since the events of the Glorious Revolution in which James II was banished by the Parliament of England and William III of Orange-Nassau, according to James II had become a Catholic and had a close relationship with France. (At the time, the reformation changed England's official religion from Catholicism to the new Protestant faith.) But the event which consequence the castle to receive the heaviest damage was the Jacobite Rebellion, son of James II, 'James Francis Edward Stuart' returned to reclaim the English throne.
All of this incidence was prolonged for 50 years. The British established a military base at Urquhart Castle as a fortress. After this event had been settled, British troops withdrew their forces in 1692 and destroyed the castle, leaving only the remains as seen nowadays.
Eilean Donan Castle
Keep driving from Urquhart Castle via A82 and A87 roads, these roads are assumed to be another charming scenery in Scotland. I drove around for a short while, then reached the destination in which Eilean Donan Castle stood out in front of my view. This is one of another famous picturesque castle in Scotland that frequently appears in photographs. So, don't miss out on a visit before crossing over to the Isle of Skye.
Eilean Donan Castle is located on a small island where three sea lochs meet. The castle has 2 significant events in Scotland's history. The first was the castle had been constructed since the 13th century as a fortress for defending the north-west coast of Scotland, which locals call Kintail, from the invading Viking that dominated Scotland on the north and west coast.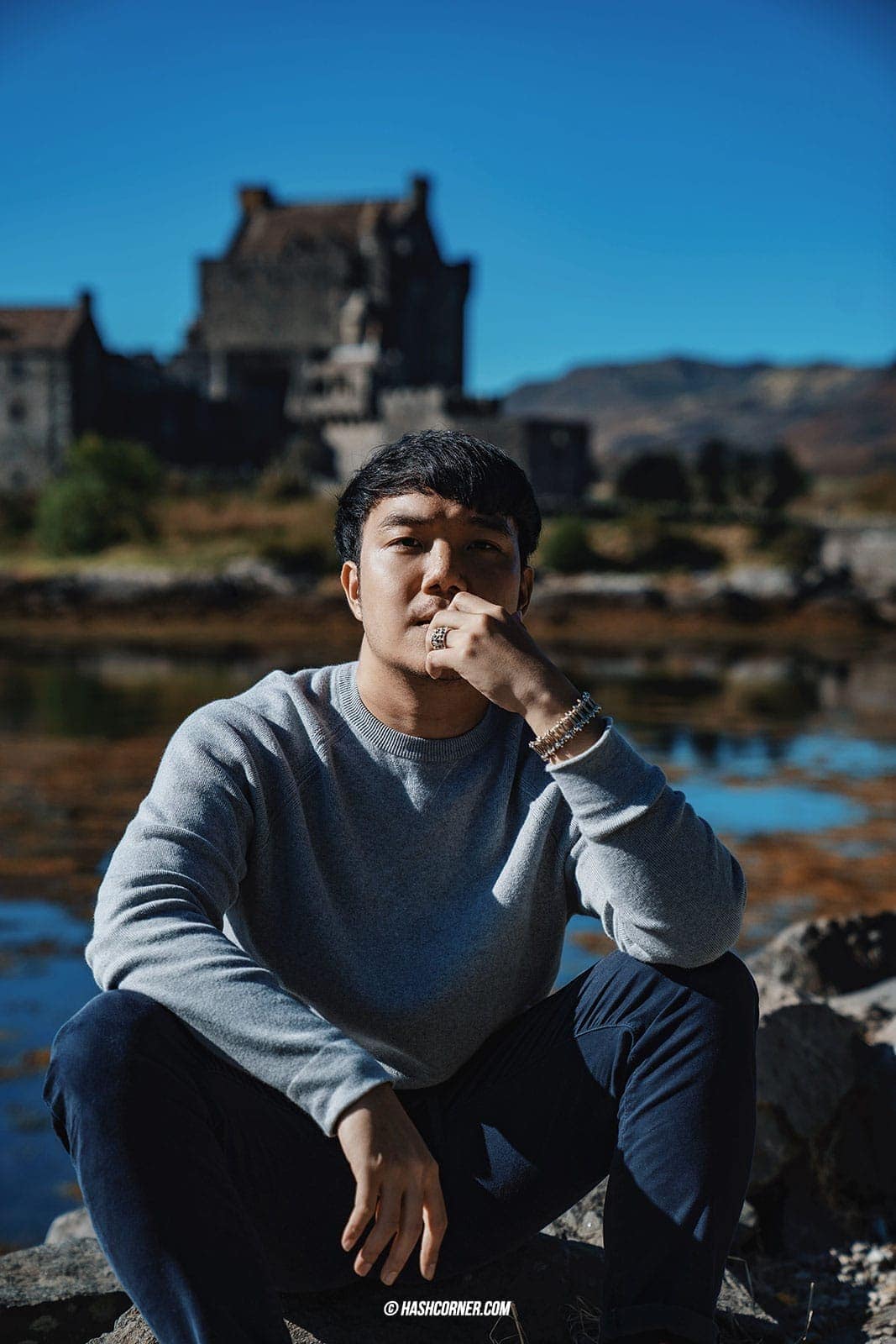 Another important event that occurred at Eilean Donan Castle was the Jacobite Rebellion in the 17th and 18th centuries that caused the most disastrous collapses since the castle was built. This was due to the Spanish soldiers invaded the castle to defense and support the Jacobite. Later, England sent warships to attack this castle until it was ruined and left only the remains of the base for over 200 years.
Until Colonel John MacRae-Gilstrap came to buy the island and revived the castle by reconstruction, it has become a popular place for tourists to take pictures, including sightseeing in various chambers which established as a semi museum. Again, I'm telling you this long history because I want you to know the place background before traveling, so it will make you more understanding and into what you see and touch. Well, it's better to know everything in advance, right? // I confess, I have come to realize this depth information while writing this travel review, goshhh.
After completing a trip to Eilean Donan Castle, it's time to drive to the Isle of Skye, which I'd like to separate this destination (Isle of Skye) into an exclusive travel guide review. Let's follow to read 🧡